This Healthy Halloween Pumpkin Dip is naturally gluten & dairy free, vegan, clean and utterly delicious. It's also the perfect balance for all the usual sugary Halloween treats.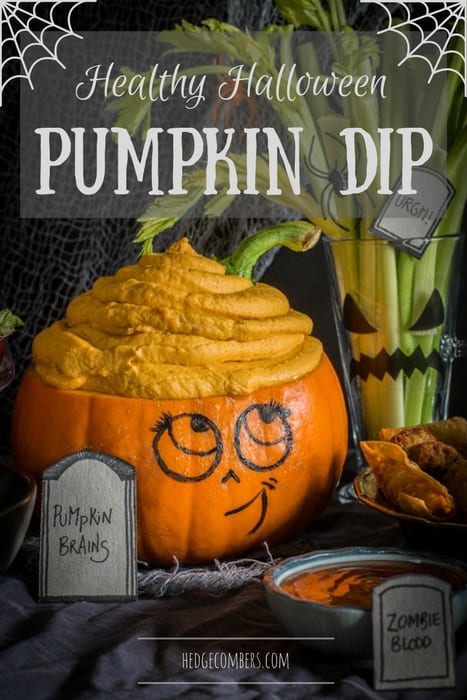 Halloween seems to be the season for eating sugar in a myriad of forms. This fantastic recipe combines vegetables, tahini and a pinch of salt into the most delicious dip EVER! And whilst it won't stop anyone from devouring their own body weight in sweeties, hopefully it'll help balance out those blood sugar levels. If only a little!
I don't really go in for themed holiday recipes so much, but there's something about Halloween that brings out my inner 12 year old. And this bad haired, stroppy 12 year old wants to decorate!
Long time readers may remember these Halloween biscuits I made a couple of years back. Oh boy, they were fun. And yes there is a cookie that is actually as big as my head!
However this year, as my Pinterest feed fills up with recipe after recipe for sickly sweet bakes, I've been turned in the opposite direction. I wanted to celebrate in a more wholesome, but no less fun way.
Healthy Halloween Pumpkin Dip
When you come to make your own healthy Halloween pumpkin dip, you have a couple of options. Firstly, you could buy an extra pumpkin or butternut squash to make the dip. Just remove the skin and seeds from your sacrificial pumpkin, dice up the flesh and roast.
However, if you're in need of a shortcut like me, you can buy bags of frozen butternut squash or pumpkin, and chuck it straight into the roasting pan. You don't even need to let it defrost first.
You can also add in chilli, smoked paprika or fresh herbs like coriander or parsley for a different flavour profile. But the first time you make this dip, I recommend you stick to the basic recipe as it is utterly delightful in its simplicity.

If you're going for the whole Pumpkin Brains look (and honestly, why wouldn't you?!), slice the top 1/3 off your fresh pumpkin and pop a plate or upturned bowl on top. Use this to pipe your dip onto – it'll save you time and a LOT of dip if you had to fill the whole cavity up! Swirl the dip round and round until you have a faux brain. Perfect!
And if you're after a fun Halloween spread of party food then there are some tasty bits in the Iceland Halloween party food range. The Mummy Prawns above were dead quick & easy to prepare and tasted superb when dunked into some Zombie Blood (sweet chilli sauce). The Jalepeno Roulette is great fun too, it comes on its own spinning platter. Each player (aka victim) spins the wheel, with the hope that it doesn't land on the ones containing the extra hot Carolina Reaper chillis!
I also grabbed a pack of frozen Macarons and, using an icing pen kit, had everyone decorate their own with spooky messages.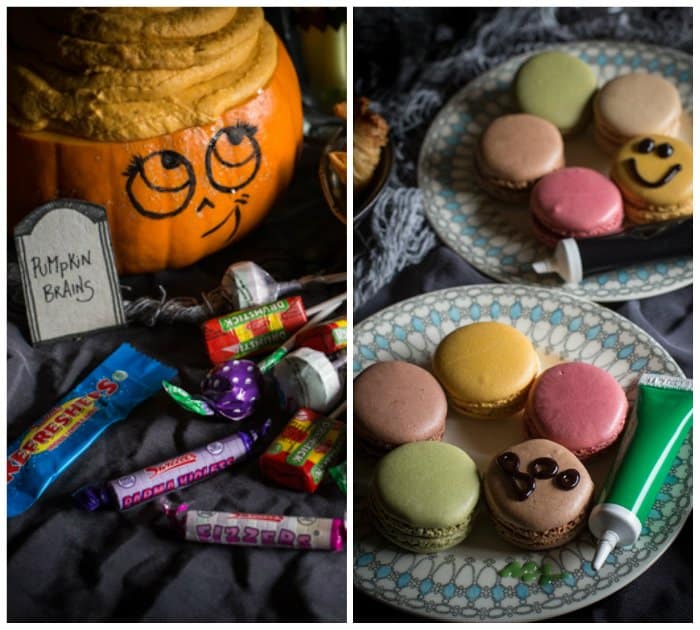 So, what are your horrible plans this Halloween? Do let me know if the comments below! And if you give this Healthy Halloween Pumpkin Dip a go, please be sure to share pics with me on social media! It gives me the biggest buzz when I see my recipes made all around the world!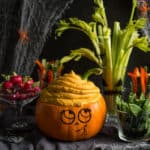 Healthy Halloween Pumpkin Dip
Ingredients
500g

butternut squash or pumpkin, diced

1 tablespoon

oil

pinch

salt

2 tablespoons

lemon juice

2 tablespoons

tahini

2 cloves

garlic, finely minced
Instructions
Toss the squash in oil and salt, then gently roast for 30 minutes or until soft and lightly golden around the edges.

Remove from oven and let cool a little.

Tip into a food processor and add in all the other ingredients and whizz until smooth and creamy.

Taste and adjust the seasoning. If it tastes flat, add a little more salt and/or lemon juice. Whizz again, then taste again.

Scrape into a piping bag with no nozzle. I used a disposable bag so I had control over how large the piping hole could be. If you only have a fabric piping bag you may prefer to make a disposable one from baking paper.

Pop the dip filled piping bag into the fridge, and let cool for about 20 minutes.

Meanwhile, slice the top 1/3 off of a small to medium sized pumpkin. If there is a large gaping cavity, you may wish to lay a small plate across the gap and pipe directly onto that.

When the dip is nice and firm, pipe onto the pumpkin 'head' in long, smooth coils. Feel free to practise first and scoop any dip back into the bag to pipe properly.
Huge thanks to Iceland for sponsoring this frighteningly ghoulish recipe, thereby allowing me to continue bringing you tasty recipes, for free! As always all thoughts (and leftovers!) are my own.
Jane x