These Halloween biscuits bring a fun element to Halloween or Dia de los Muertos (Day of the Dead in Mexico).
Eek, did I have fun putting these tasty little biscuits together! Unfortunately (fortunately?) Jonny wouldn't eat them as he doesn't share my love of lashings of thick icing which meant I ended up eating the entire batch to myself. It did take me three days, but I think that delay was due to waiting for icing to dry so I could photograph them, rather me having learnt any trace of self control. True story.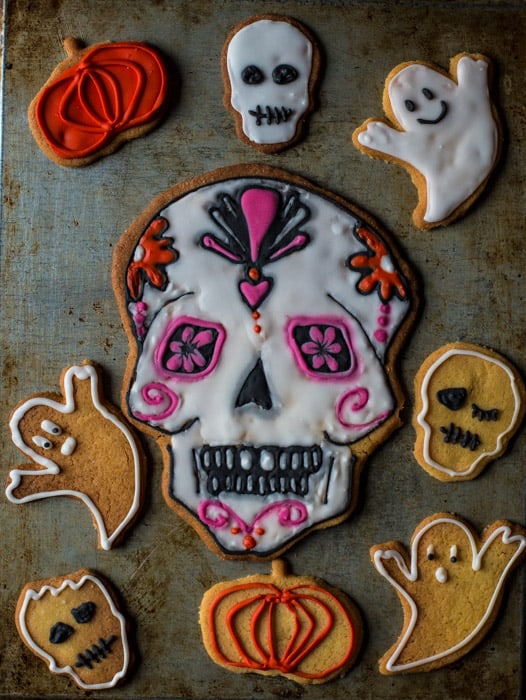 The little cookies are made with cutters that I bought in a cookware shop which included a ghost, skull and pumpkin. The large cookies (that just happen to be the size of my head!) were made by printing out a skull picture from google, cutting it out and then using it as a template to cut out a giant cookie. The batch of dough below made 2 huge ones, and maybe a dozen smaller ones.
Halloween Biscuits
By popping the dough in the fridge before rolling out, you'll make it less sticky and far easier to work with. I also recommend cutting off about a quarter of the dough to roll out and pop the rest back in the fridge until you are ready to cut more off.
If the dough is still a little sticky, use plenty of flour on your work surface, and dust the rolling pin regularly. If any stick to the work surface once you've cut the shapes out, carefully slide a pallette knife underneath to remove them.
Once baked, gently slide each biscuit off the hot baking sheet and onto a cold dry surface. A piece of marble is ideal as it'll cool them quickly and keep them nice and crisp.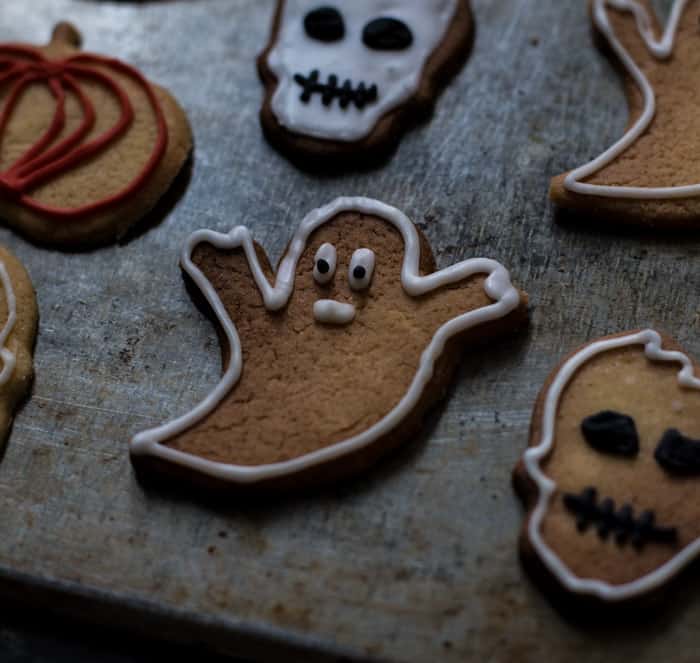 Some tips for icing your Halloween biscuits
To decorate the biscuits, mix up a batch of icing and scoop out portions onto cups or small bowls to colour. To keep it really simple, keep the icing plain white and use sweets and sprinkles to create the eyes etc.
Using a piping bag, pipe the outline, then go back and fill in the centre. Carefully shake the cookie from side to side to spread the icing and use a toothpick if necessary to drag the icing into any holes and pop any air bubbles.
If you are planning to use a second colour, wait for the first icing to dry if you want the lines to be raised and sharp, or add the second colour straight away if you want the colours to merge into each other a little and the surface to be flat.
For the large Dia de los Muertos biscuits, I preferred icing the entire base first and waiting for it to dry and then adding the different colours the next day. I found the base was smoother and the colours were stronger this way and had far more definition.
If you are using more than four colours, it might be best to make two batches of icing so you have enough of each to work with.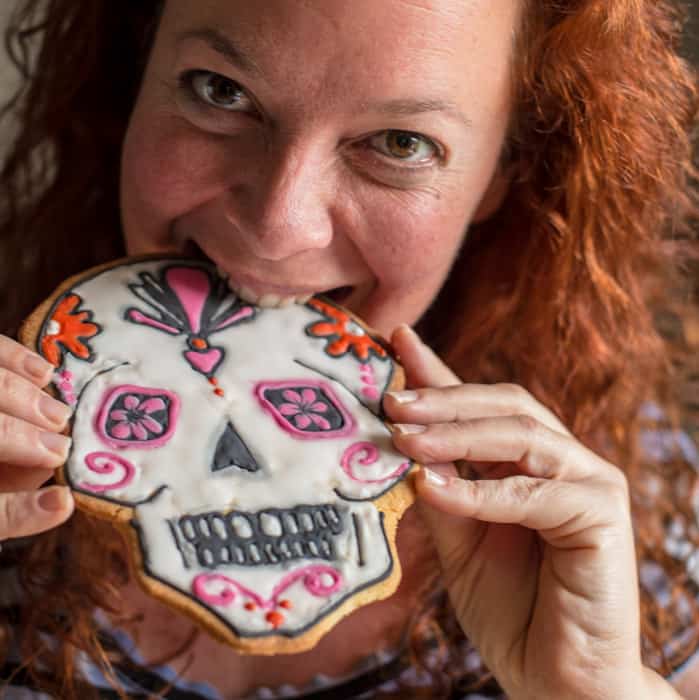 If you give this recipe a go, please do share the pics as I'd love to see them! Feel free to tag me wherever you share them, here are my links: Facebook, Twitter, Instagram, Pinterest, Google+.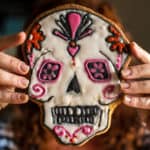 Halloween Biscuits
Servings
:
12
-30 cookies, depending on size
Ingredients
Halloween Biscuits
240

g

plain flour

1/4

teaspoon

salt

170

g

butter

softened

150

g

sugar

1

egg

1

teaspoon

vanilla extract

Range of food dyes if you'd like to colour your icing.
Halloween Biscuit Icing
1

egg white

225

g

icing sugar

sieved
Instructions
Halloween Biscuits
Preheat the oven to: 325/170/gas 3.

Cream the butter and sugar together until smooth. Add in the egg and vanilla and mix again until smooth.

Scrape down the sides of the bowl and add the flour and salt and gently combine on a low speed just until there are no dry ingredients left showing. Do not overmix at this stage.

Scrape the dough onto a piece of cling film, wrap, and pop in the fridge for an hour or overnight.

Dust the work surface well and cut off 1/4 to a 1/3 of the dough. Roll out to about 1/4 inch thickness, cut with cookie cutters or use a template to cut around and pop the biscuits onto an ungreased, cold baking sheet.

Bake for 12-15 minutes until lightly golden. Slide each cookie onto a cool, flat surface until completely cool before decorating.
Halloween Biscuit Icing
To make the icing, simply mix the egg white and icing sugar together. Scrape into a piping bag if you're just keeping it white, or split and colour into as many portions as you like.

Decorate the biscuits however you fancy, then leave them out unstacked overnight or until the icing has hardened. Keep fresh by storing in an airtight tin.