This traditional Guernsey Bean Jar recipe is a frugal meal that uses butchers offcuts and dried beans to create a deep, rich bean stew.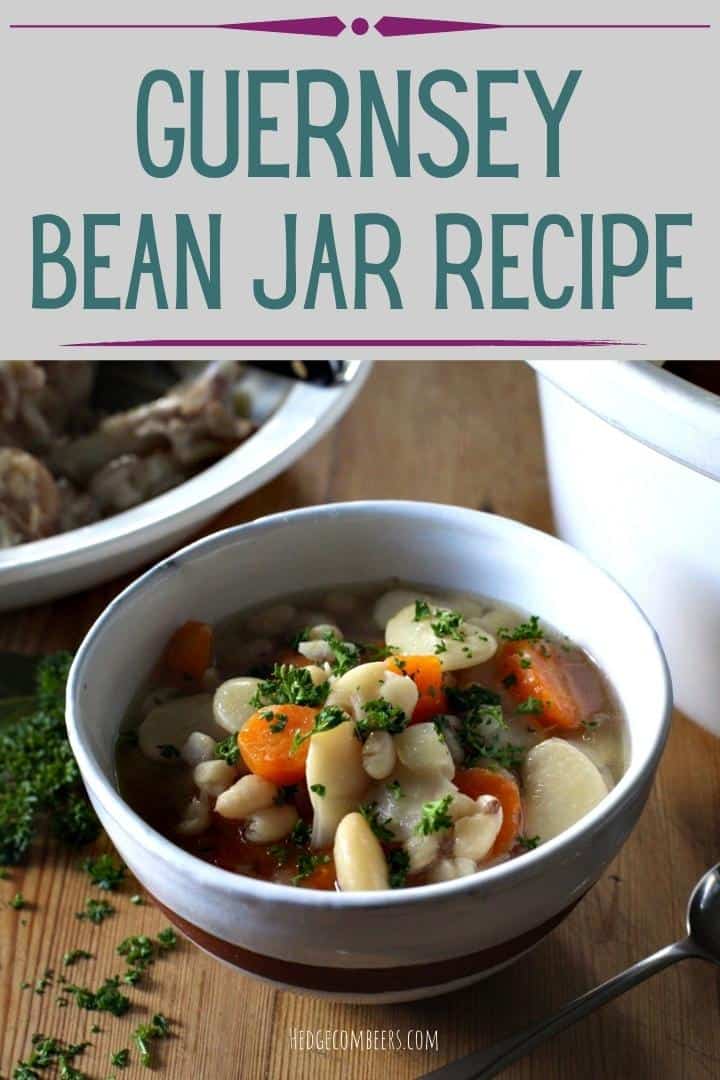 This recipe was last updated in 2022.
What is Guernsey Bean Jar?
I was first introduced to the Guernsey Bean Jar by ways of a postcard.
I was born in Guernsey, and we moved to Cornwall (on the South West tip of England) in the late 70's. In fact we still live on the little farm my parents bought on the South Cornish coast today.
After my Dad passed away, when mum was ready, she went back to the island to reconnect with old friends and no doubt old memories too.
It was on this trip that she found this postcard. And knowing of my love of old recipes, sent it home.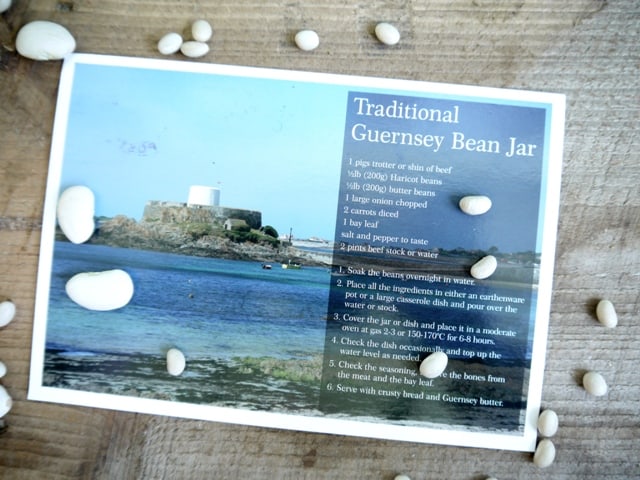 I was so intrigued that I set to researching, and making this bean jar for myself.
A traditional Guernsey Bean Jar is a very old fashioned and frugal recipe. It uses very basic, cheap ingredients and is slowly cooked to make a rich, tasty stew.
A frugal housewife's recipe
Beans have long been a cheap staple in a thrifty kitchen. The only down side being that they can take a long time to cook.
So, tradition has it that villagers on the little island of Guernsey would take their 'bean jars' to the local baker after his loaves were finished for the day.
Several jars would be placed into the still warm oven and would be left there overnight to very slowly and gently cook.
The following morning the soupy pots would be collected and enjoyed.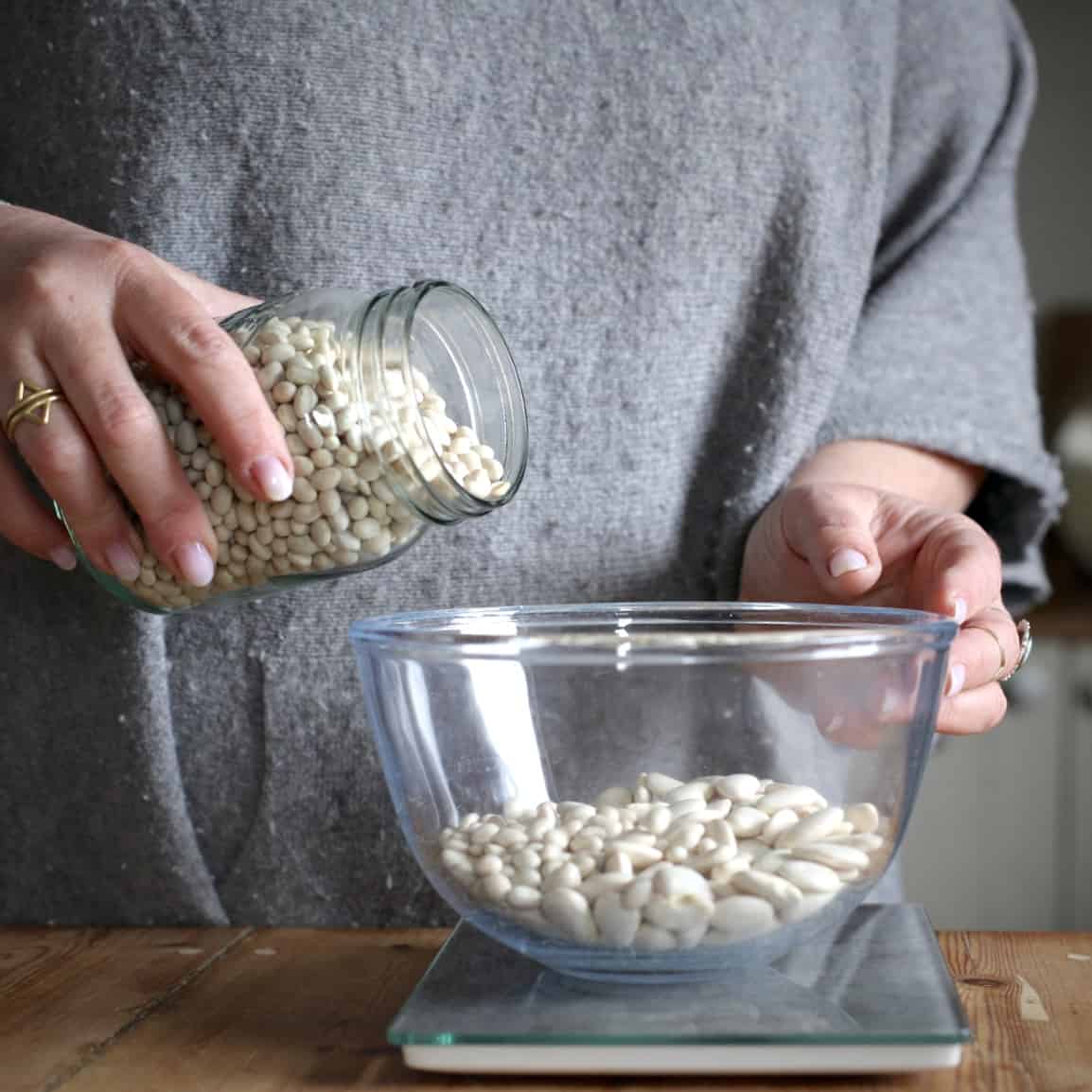 How to make a Guernsey Bean Jar in the slow cooker
Whilst I don't own a traditional bean 'jar' and don't have access to the free heat from a bakers oven. I decided to replicate this recipe in a slow cooker.
Editors note: Since first sharing this recipe back in 2015, new advice suggests that before cooking dried beans in a slow cooker or crockpot, they should be boiled for 10 minutes.
This neutralises any phytohaemagglutinin in the beans that can make you unwell.
This compound is mostly found in red kidney beans, but as there are some levels in most dried beans it's advice I urge you to follow.
The following recipe has been updated with this new information.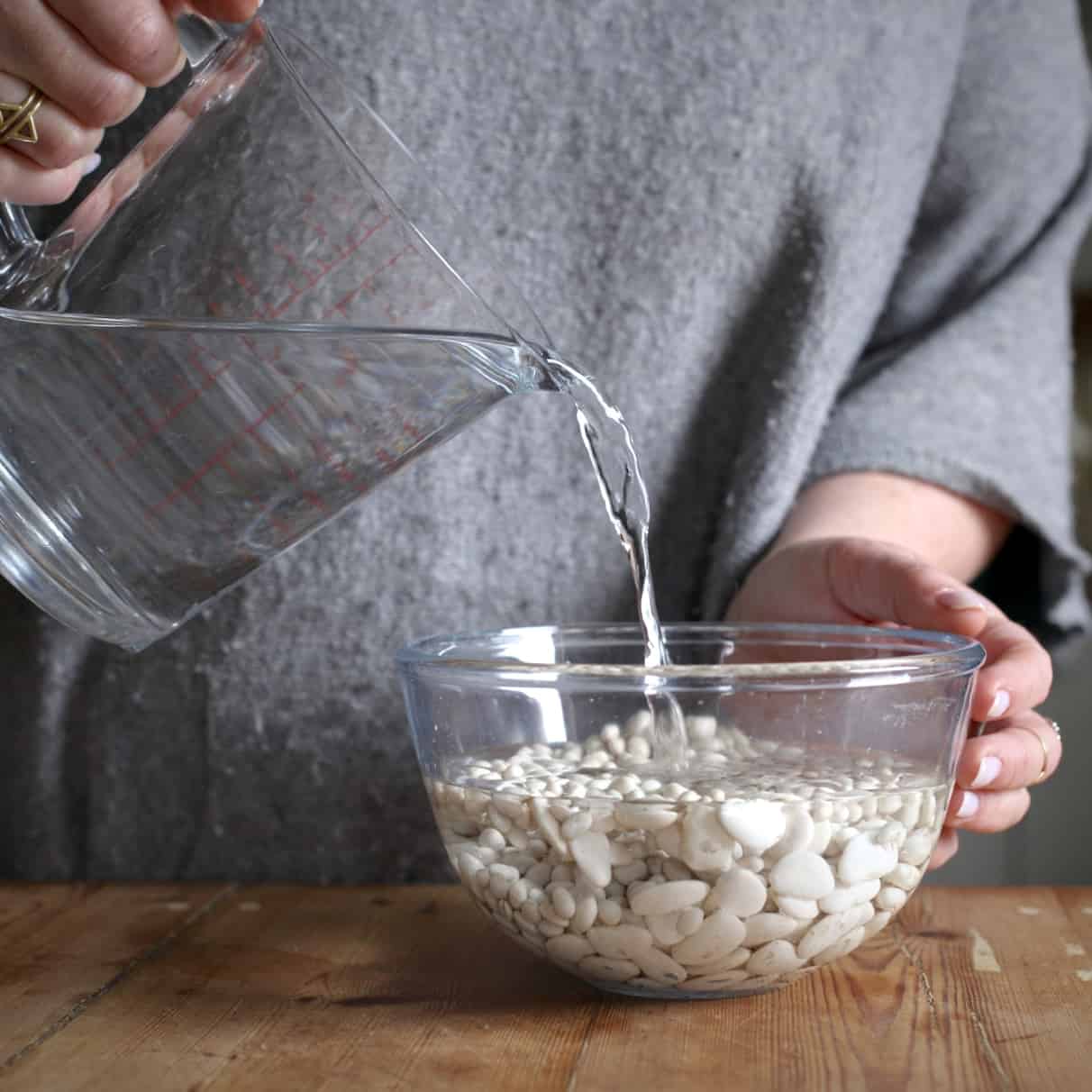 1/ presoak your beans
This recipe starts the night before you want to make the bean stew.
Pour your beans into a large bowl or saucepan and cover with cold, fresh water.
Leave to soak for 8 hours.
I moved my beans into a bigger bowl for the soaking process. But I wanted to show you this image to see just how much they swell up during the soak time!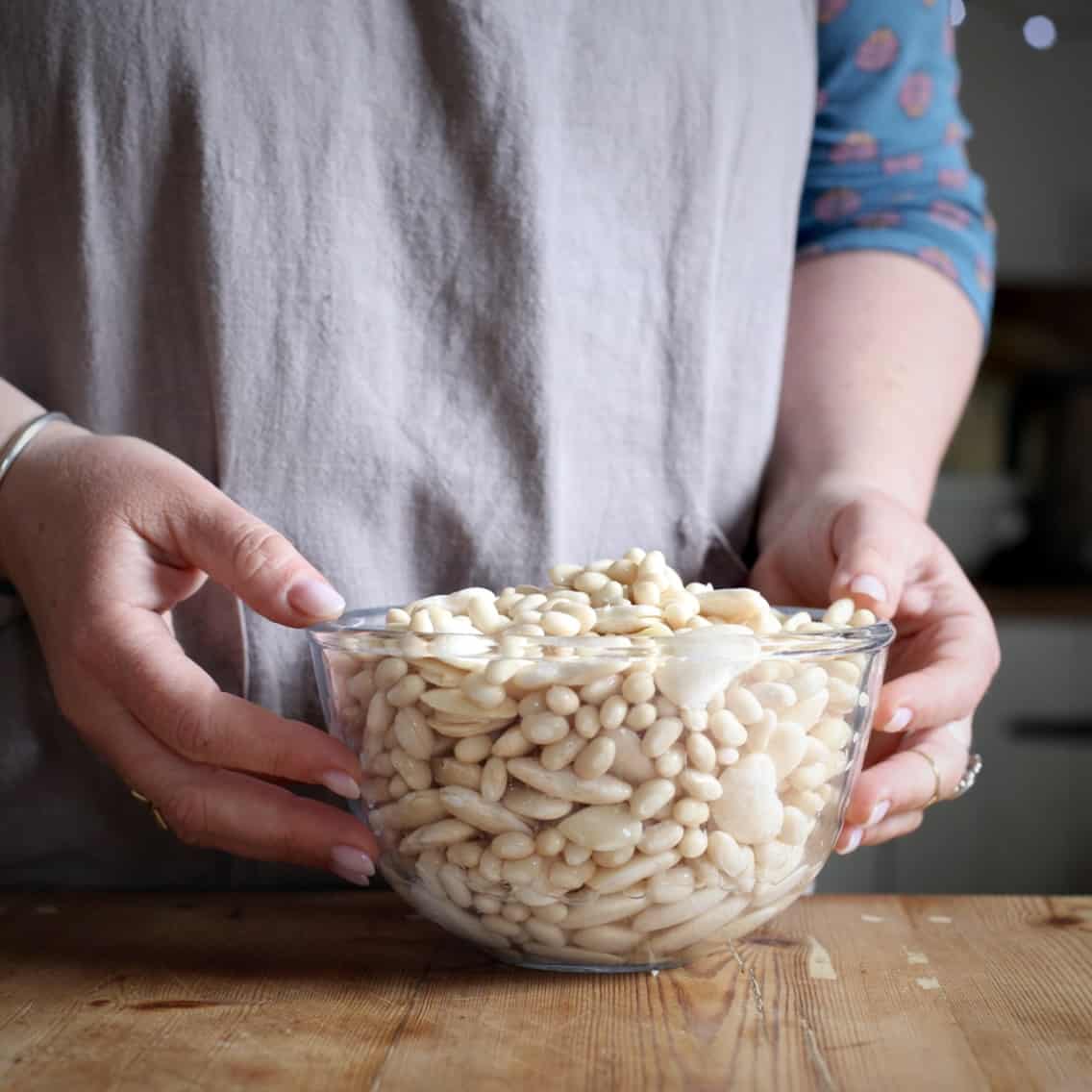 2/ preboil your beans
As mentioned above this is necessary to neutralise a compound found in beans that can make people poorly.
Simply drain them, add to a large saucepan, and cover with fresh cold water.
Bring to a boil and continue to boil for a full 10 minutes.
Drain once again and then add your beans to the slow cooker.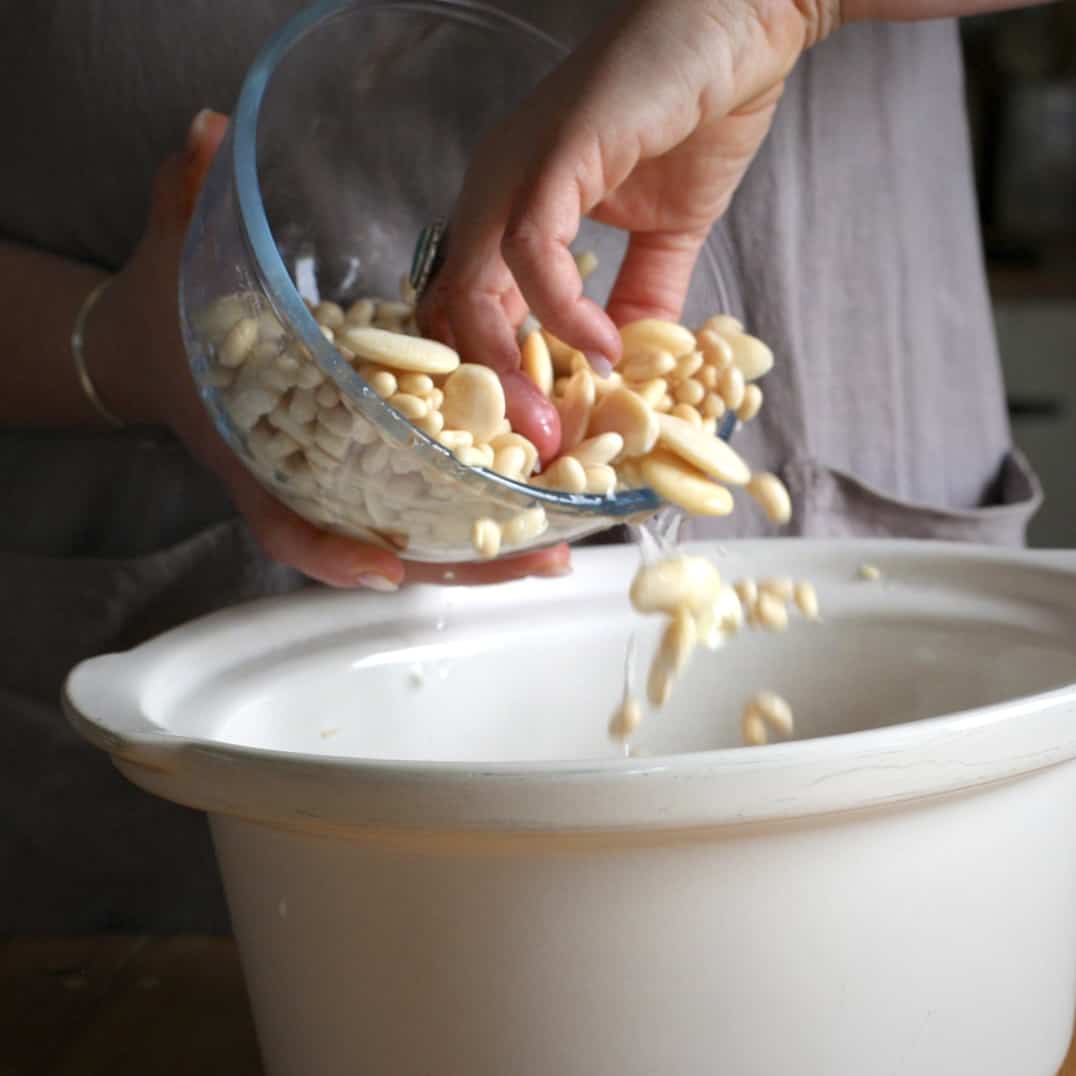 3/ load the slow cooker
Next, simply add all the other ingredients.
Along with the ingredients listed on the postcard above, I also like to add a potato.
This will break down over the cooking time and help create a thicker sauce or gravy.
Not sure this is entirely authentic, but I do prefer my bean jar with it added!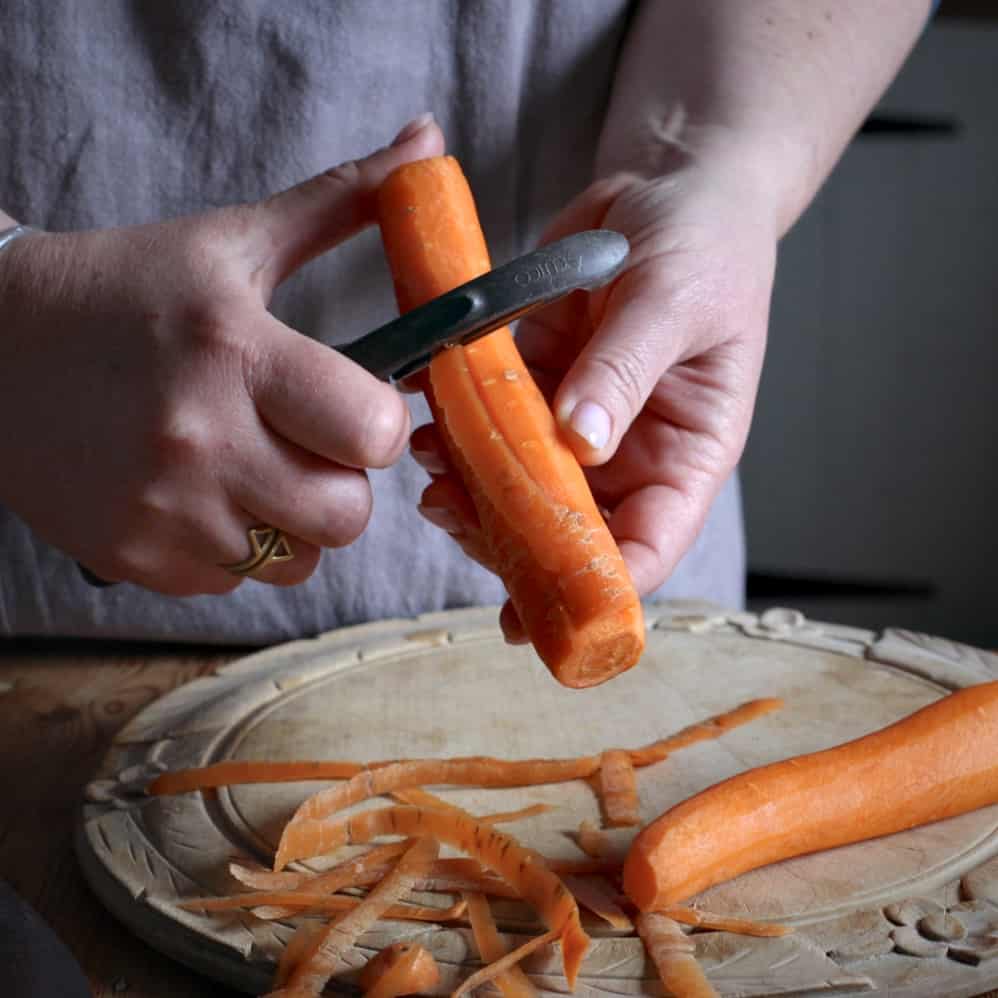 Should I add salt to the water beans are cooked in?
Also don't worry overly about adding the salt at the beginning of the cooking time.
There is much speculation if it prolongs cooking time and/or make the beans hard.
But in my experience of cooking this dish several times, the cooking time is plenty long enough to turn those hard pebbles of beans into soft, delicious and creamy cooked beans.
In the recipe down below I am using a beef stock cube and water rather than the more traditional beef stock. As stock cubes contain lots of salt, I'm not adding any extra at this stage. Once the stew is cooked I recommend tasting it and adding salt then if you feel it is needed.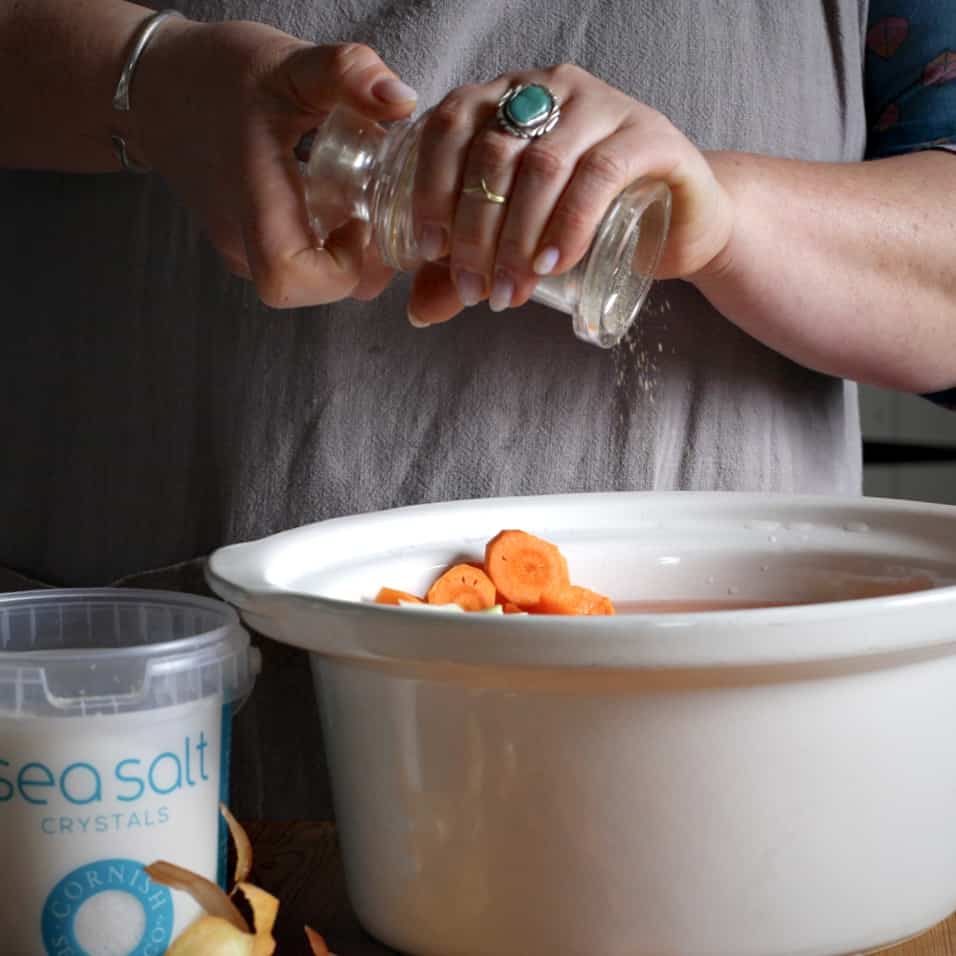 Switch the slow cooker on, and choose your setting.
* High: your bean jar will be ready in 3-4 hours
* Low: your bean jar will be ready in 6-8 hours
I chose the quicker version today as I wanted to eat this for dinner.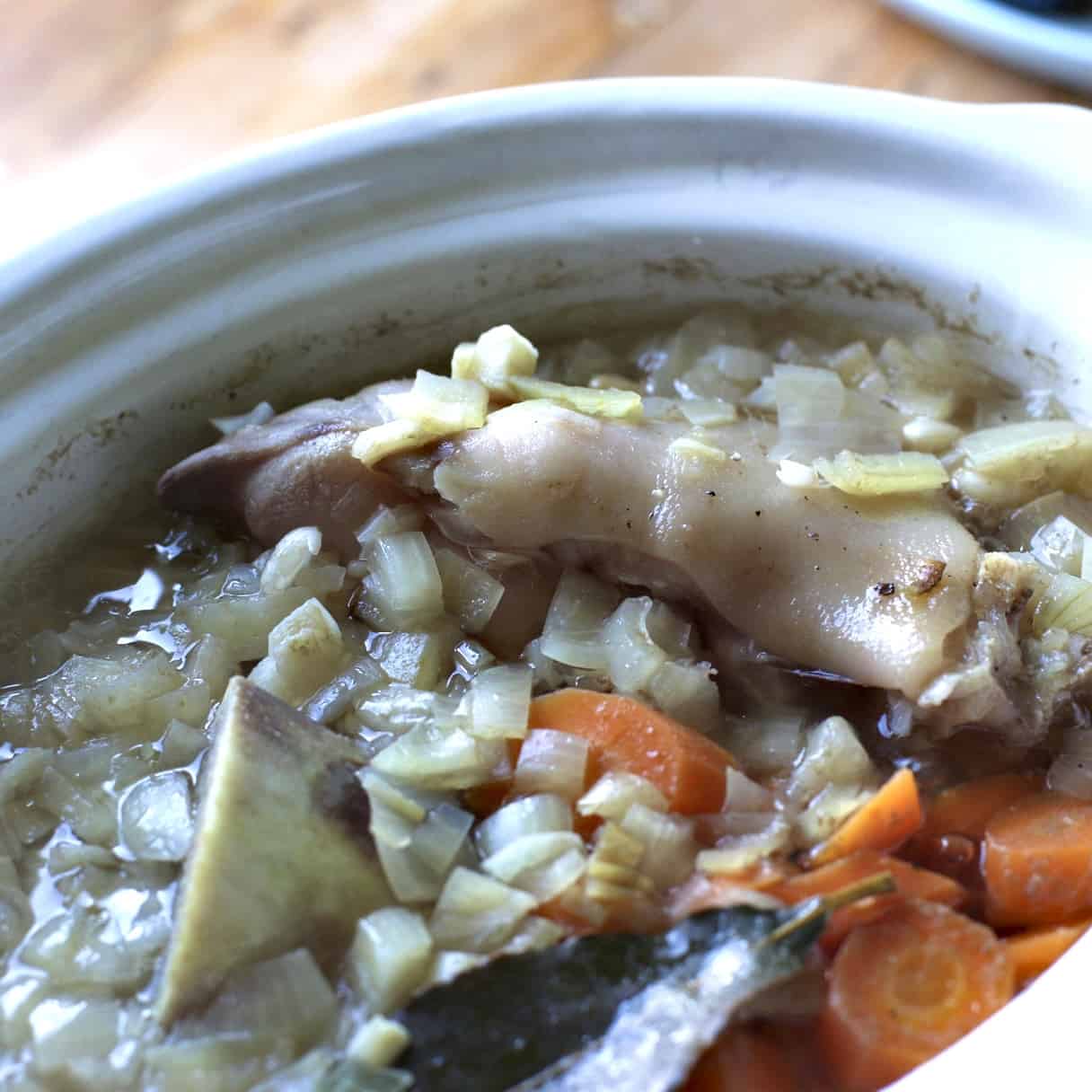 4/ remove the pigs trotter and/or beef shin
Once cooked, use a pair of kitchen tongs to remove the bones from the slow cooker.
You can dispose of them straight away, or you remove any scraps of meat first.
Here's how…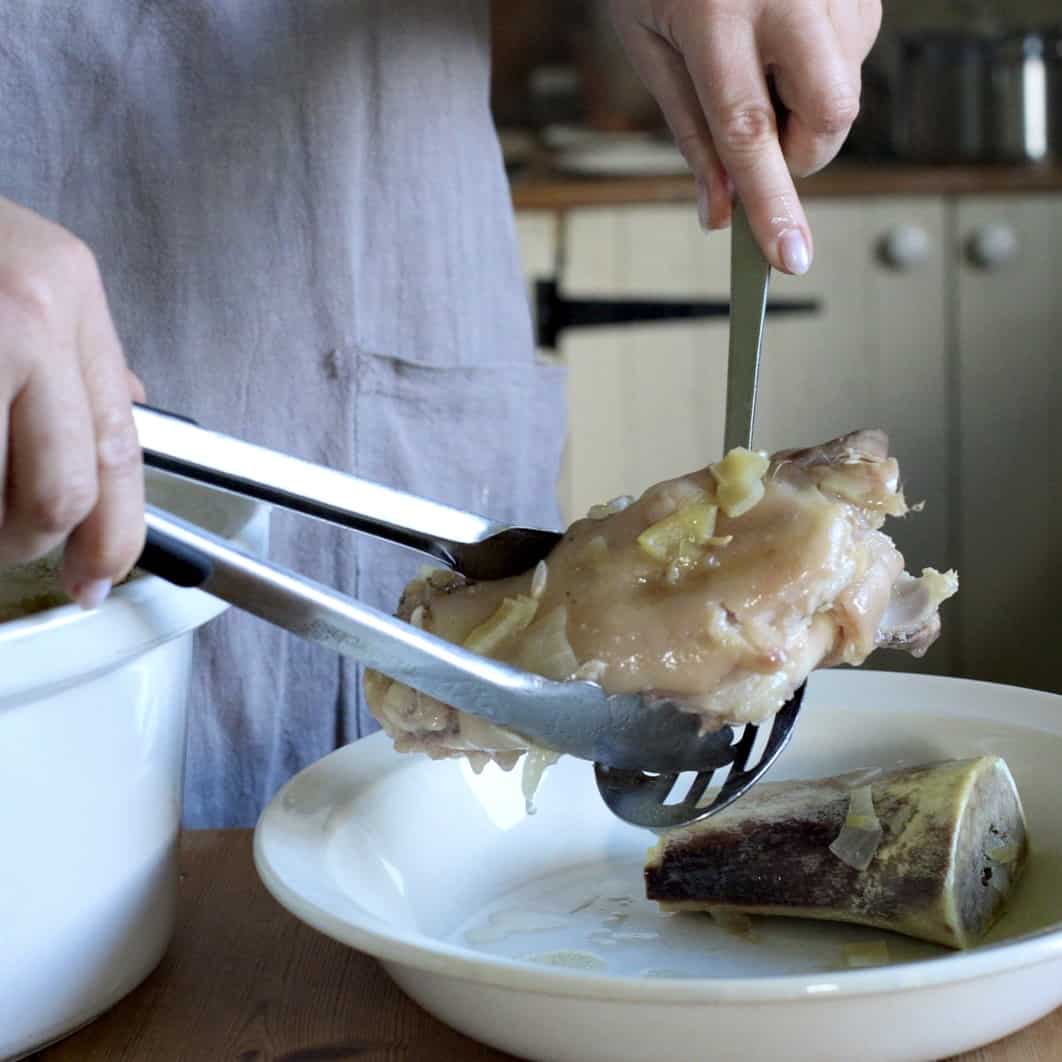 Removing the meat from the pigs trotter
Slice open the skin of the trotter. Inside will be a lot of bones, tendons and gelatine.
Dependant on the breed and age of the pig will determine whether there are any scraps of meat in there too. If there are, you can remove them and add back to the pot.
Some people enjoy lots, or a little of the gelatinous gel. All I will say is that it's extremely nutritious, being a very high source of protein and many other nutrients [source].
And because you won't see much of the gelatine in your bean stew, I would recommend scraping at least a little of it back into the cooking pot. Chop any large lumps up into smaller pieces if you prefer!
Most people I know (including all my family members sadly) are totally grossed out by the thought of eating pigs feet. So you may wish to keep this all a secret until after they've eaten, and enjoyed, the bean stew!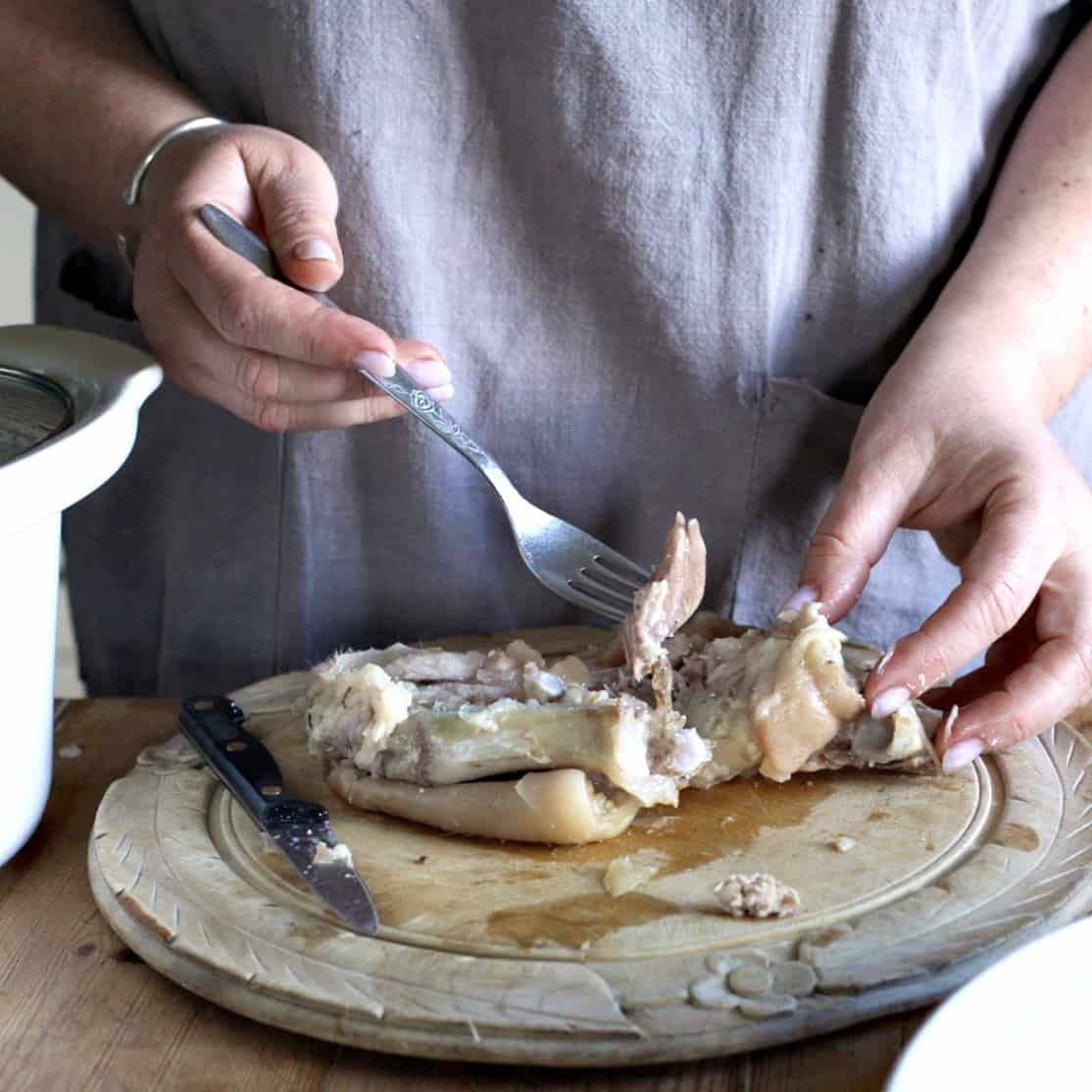 Removing the meat from the beef shin
This is much easier than the trotter. Simply scrape any little scraps of meat from the bones, adding it back into the stew pot. I like to use a fork for this job as it scratches the meat off well.
If there is any marrow inside the beef bone you have, push it out with the handle of your fork.
You can chop it up if it's one big lump, and add it back into the stew pot.
Again, marrow is highly nutritious and it's definitely recommended not to waste it.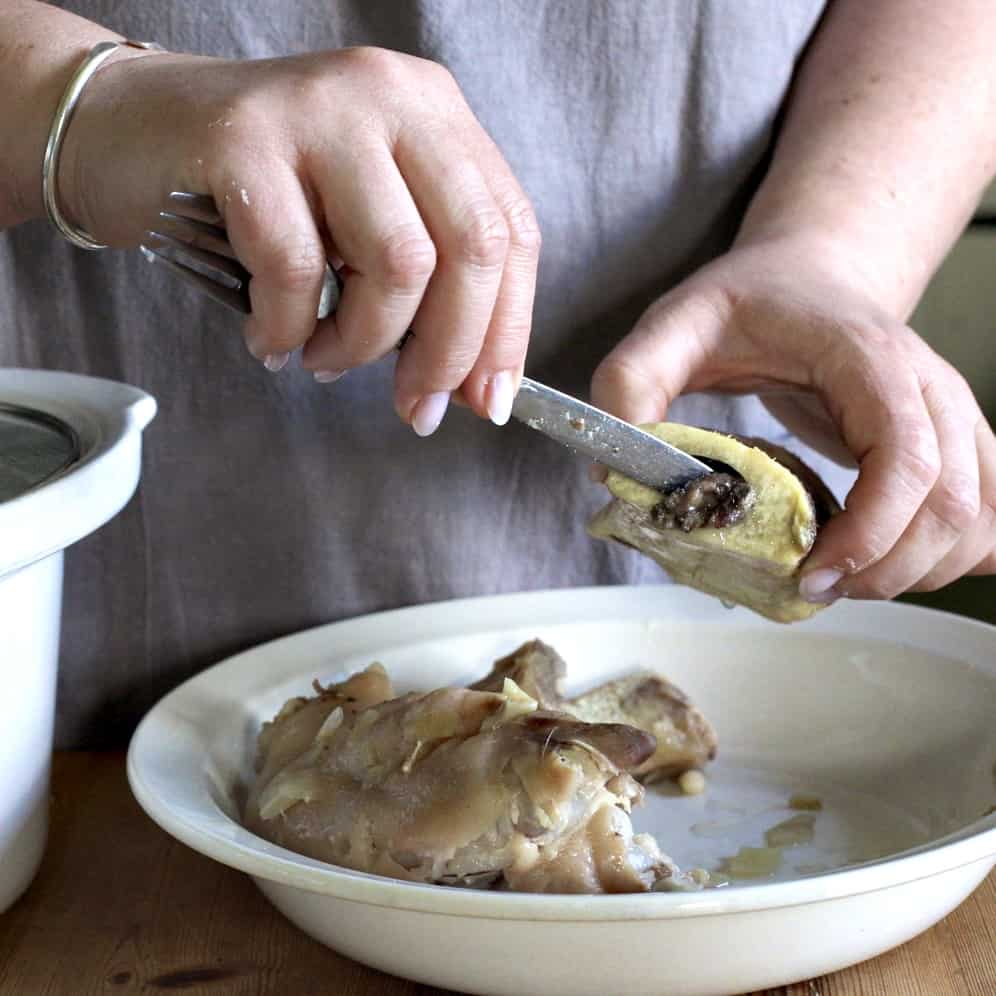 5/ season your Guernsey bean jar
At this point your bean soup should be cooked and ready to enjoy.
Before serving I like to taste the broth and season again if I feel it's a little flat.
Traditionally salt and pepper would be the only universal flavourings added to the pot. But I'm sure that as seasons changed on the little island of Guernsey, cooks would add in sprigs of different herbs now and again.
With this in mind I added a small bunch of fresh parsley for colour as much as flavour.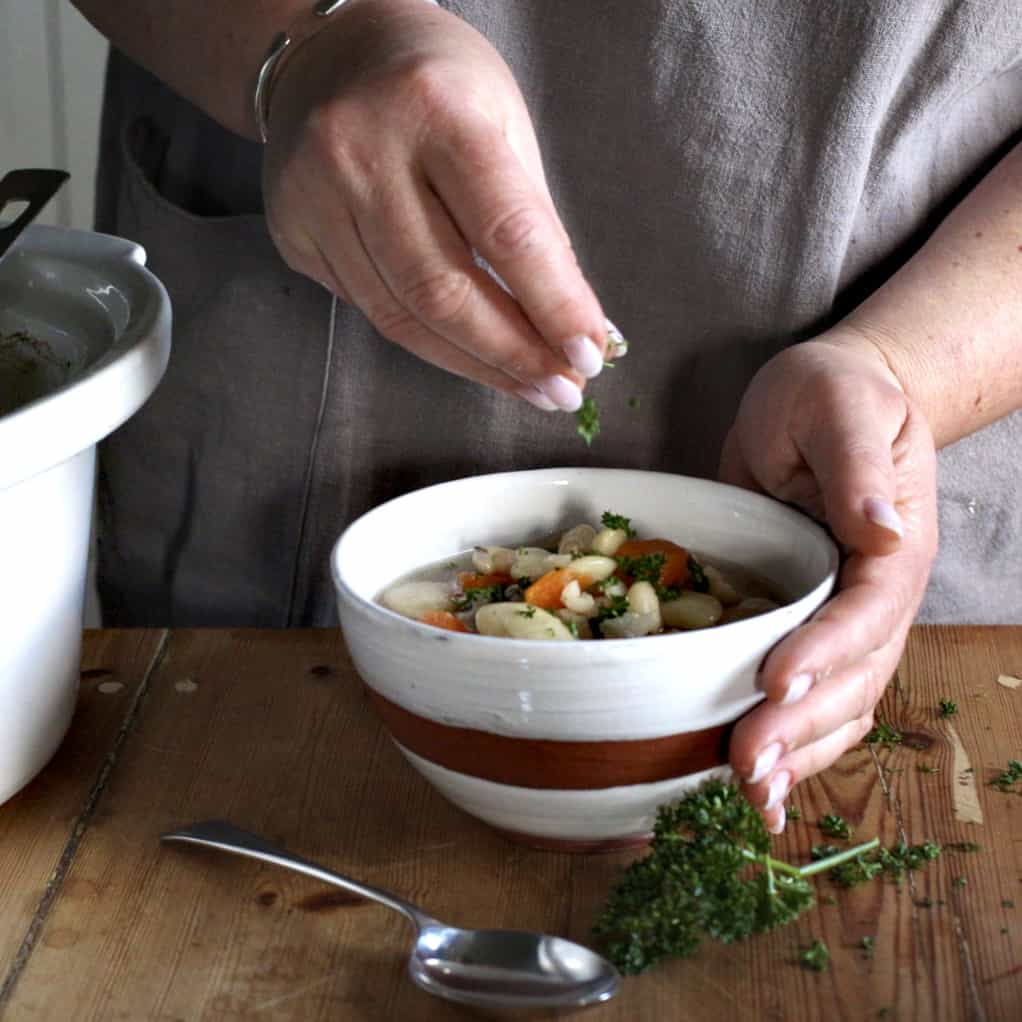 6/ serve!
And there we have it!
A delicious bowl of a deeply nourishing Guernsey bean jar stew that is guaranteed to make your soul smile :)
I love to serve it with a slice of buttered crusty bread. Yum.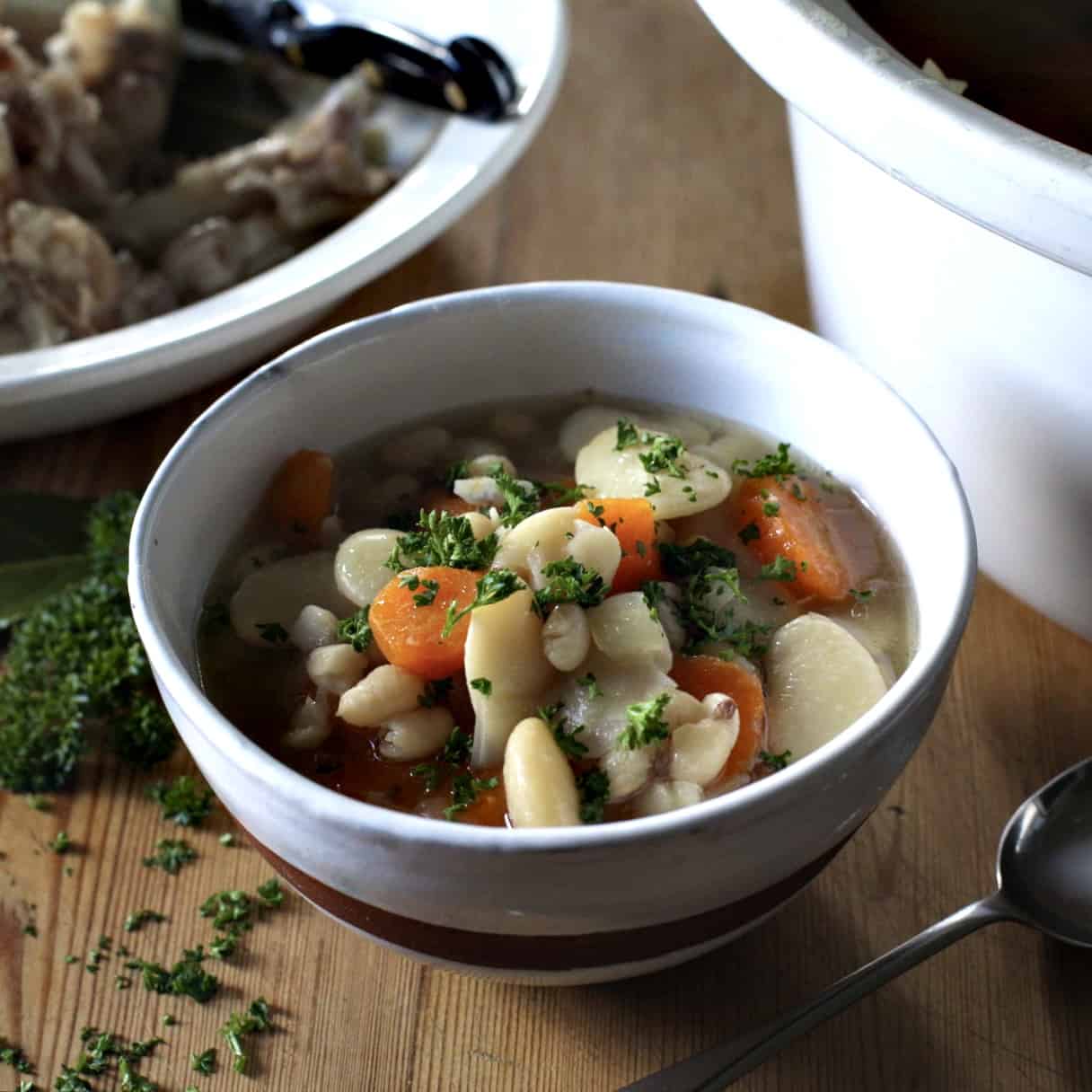 Where can you buy pigs trotters?
Unless you rear and butcher your own piggies, you're going to need to find a local butcher to acquire some trotters.
Most butchers will be delighted to give you a couple of pigs feet to pop in the freezer, as they usually go to waste.
On the occasions a butcher has charged me for the trotters, the most most I've ever paid was £1 for 4.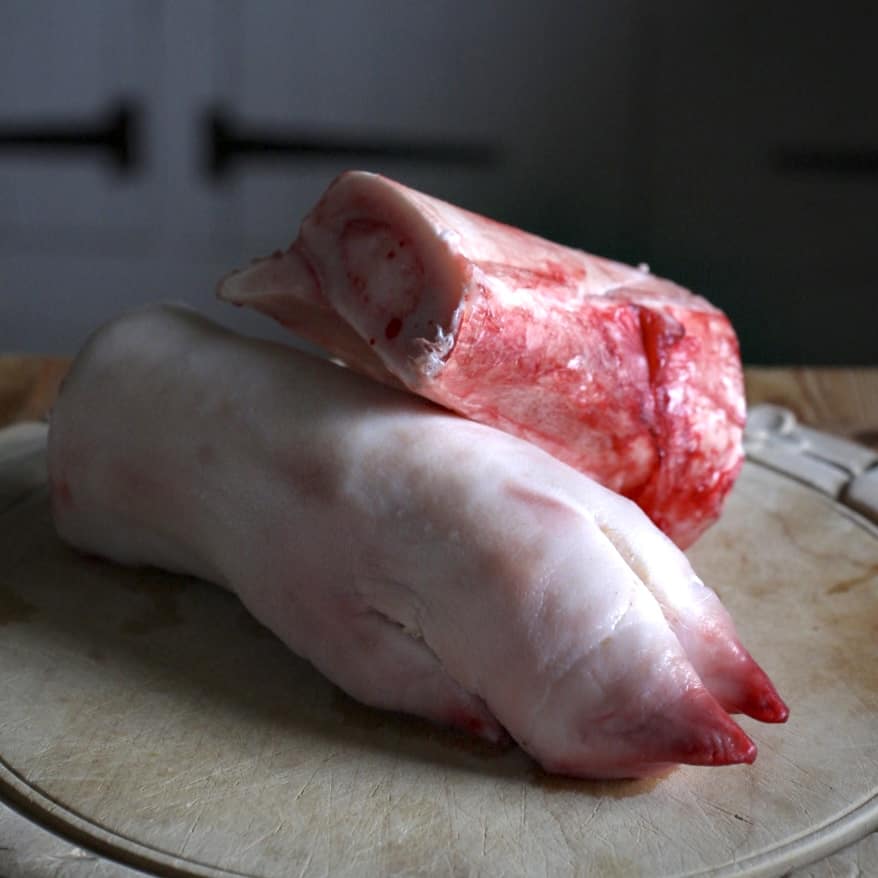 They come pretty clean, although I always give them a good scrub under cold running water before cooking with them.
When cooked slowly, pigs trotters cook down releasing a rich, thick gravy.
They create a silky texture with a gentle porky flavour.
Can you freeze pigs feet?
It's also handy, when scoring a few trotters, to know that they can be frozen.
Simply clean the trotters well, dry, then place into a freezer bag or Tupperware tub.
They will last in the freezer happily for months.
Every time you plan to make a slow cooked stew, casserole or even a curry you can add one to the cooking pot.
You won't even need to defrost them first!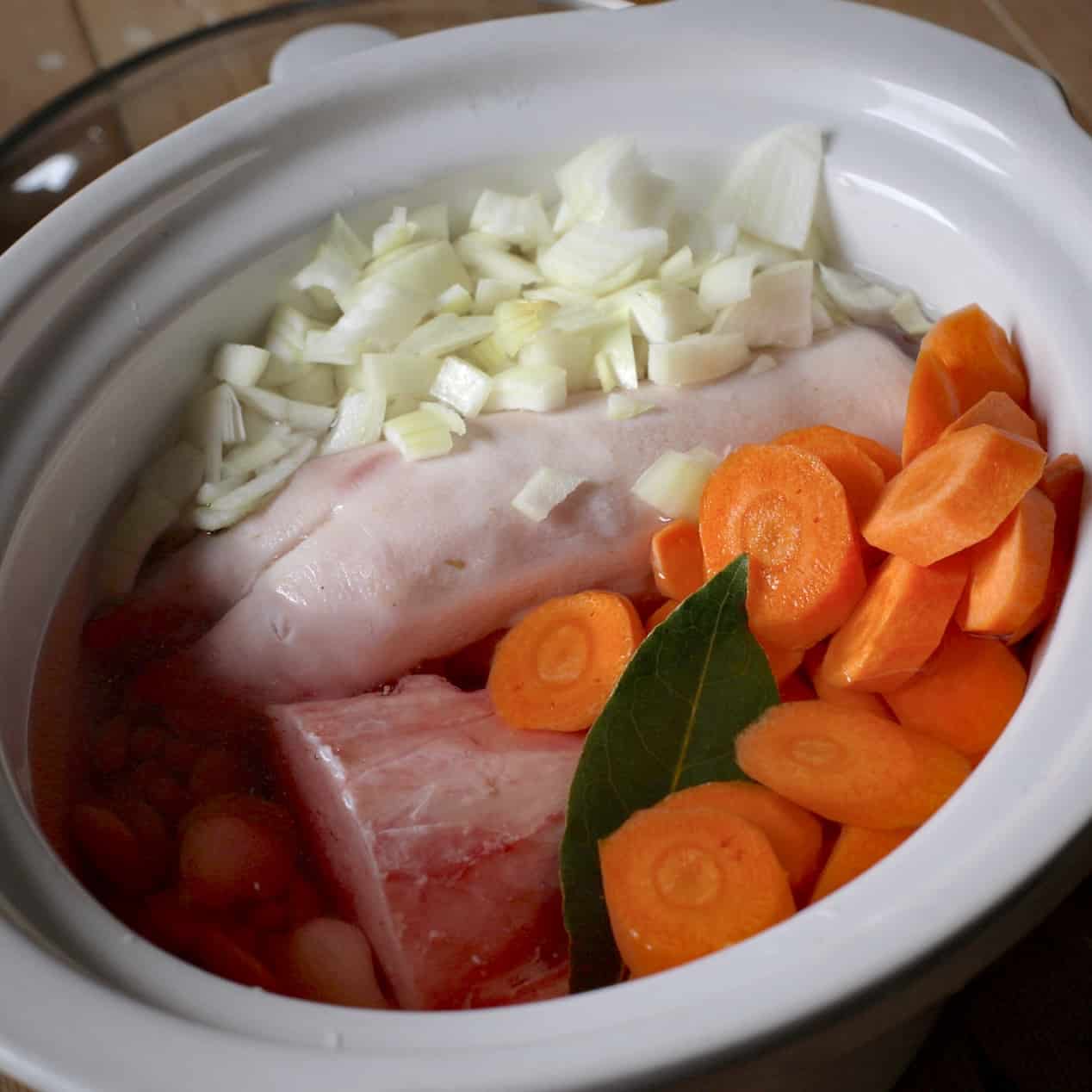 If you can't find pigs feet, or you don't eat pork, the recipe stated you can swap them out for beef shin.
And as I was going to the butchers today to restock my freezer with pigs trotters, I asked if he had any beef bones I could also have.
Happily I came away with a few lovely pieces of marrow bone. So I added one to the pot too!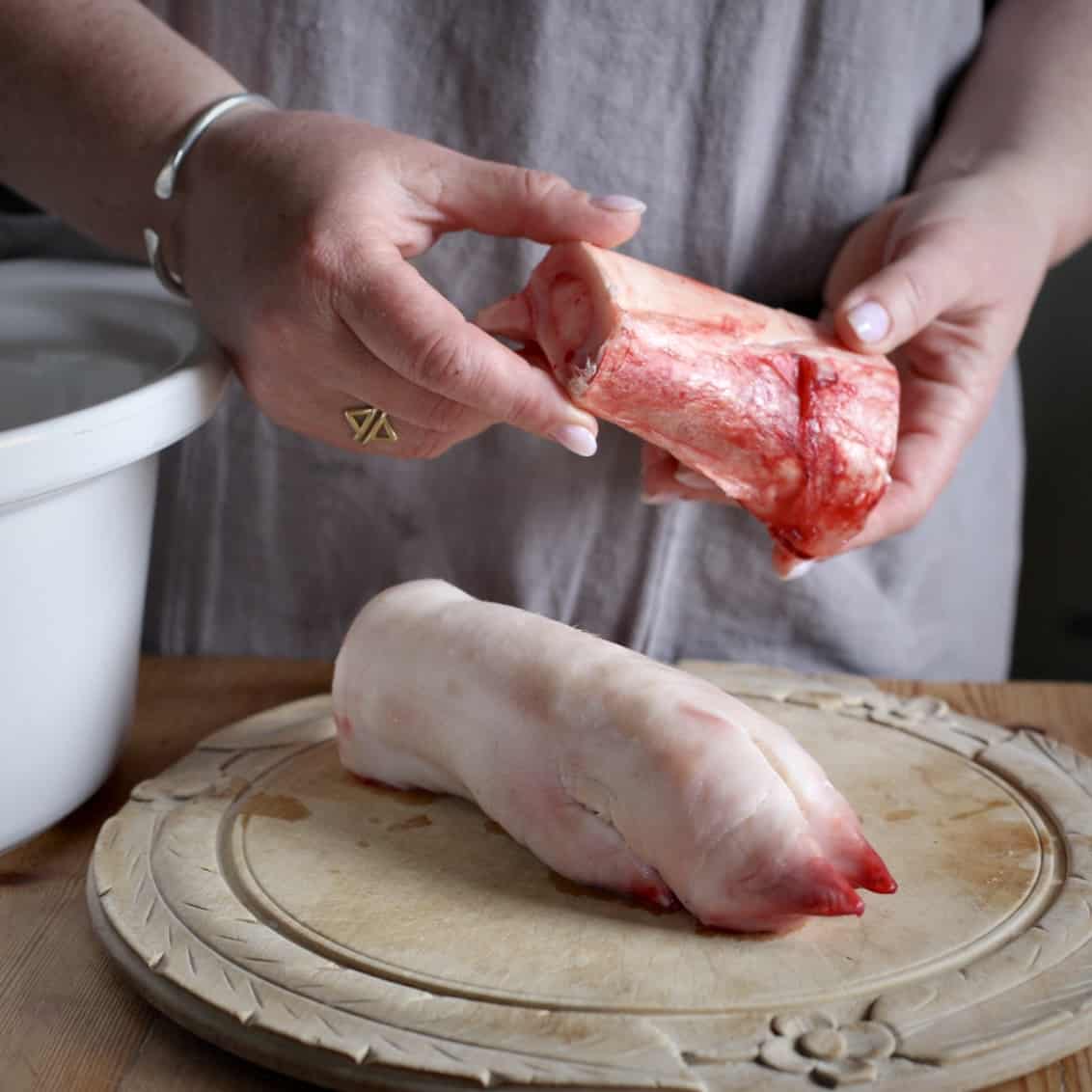 And finally, if you'd more ideas of how to use nutritious pigs trotters in your kitchen, please do check out my traditional pork pie recipe! A British pork pie has a water crust pastry shell and is filled filled with pork that is suspended in a delicious savoury jelly made from pigs feet!
It's s great recipe although you'll need to dedicate a good few hours to making it :)
Jane x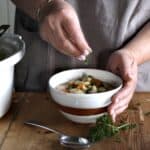 Traditional Guernsey Bean Jar cooked in a Slow Cooker
Keyword:
Guernsey Bean Jar
Ingredients
200

g

haricot beans

- dried

200

g

butter beans

- dried

1

large onion

- chopped

2

carrots

- diced

1

potato

- optional, finely diced

1

pigs trotter

- or shin of beef

1

bay leaf

1

litre

water

1

beef stock cube

1

tsp

freshly ground black pepper
Instructions
to prepare the beans
Place the beans into a large bowl and cover with plenty of cold water. The beans will swell whilst soaking so make sure there's enough water to keep them covered.

Leave to soak overnight (or for at least 8 hours).

If any skins slide off the beans during soaking you can remove them.

Drain the water from the beans, then place them into a large saucepan.

Cover with fresh, cold water and bring to a boil.

Reduce the heat a little, until the water is just boiling and cook them for 10 minutes.

Drain the water form the pan and tip the semi cooked beans into the slow cooker.
to make the bean jar
Place all the other ingredients into the slow cooker along with the beans.

Ensure the water covers the ingredients, and if not add a little more.

Switch the slow cooker on and choose which setting you prefer:

* high - cook for 6-8 hours

* low - cook for 3-4 hours

At the end of the cooking time the beans should be soft, the bones will have rendered out their fat and gelatine and the potato should have disintegrated.

Switch off the slow cooker and remove the trotter and/or shin of beef with a pair of kitchen tongs.

Discard both, or remove any meat or marrow as discussed in the article above.

Return any scraps of meat from the trotter back to the slow cooker bowl and stir.

Taste the broth and season with more salt and pepper if necessary.

Dish up and scatter with a little chopped fresh parsley (optional).

If you'd like it to stretch further, serve with bread and butter on the side.
Nutrition Facts
Traditional Guernsey Bean Jar cooked in a Slow Cooker
Amount Per Serving
Calories 112
Calories from Fat 9
% Daily Value*
Fat 1g2%
Cholesterol 3mg1%
Sodium 178mg8%
Potassium 409mg12%
Carbohydrates 20g7%
Protein 7g14%
Vitamin A 3400IU68%
Vitamin C 3mg4%
Calcium 42mg4%
Iron 2mg11%
* Percent Daily Values are based on a 2000 calorie diet.
Recipe shamelessly pilfered from a postcard by
Jill Vaudin Publishing
, whose recipe is taken from the
BBC Guernsey
.