My family name, Sarchet, originates from the Channel Islands. Guernsey to be precise.
The story goes that there were two Sarchet families, one which was law abiding and godly, and then the one that I'm from :)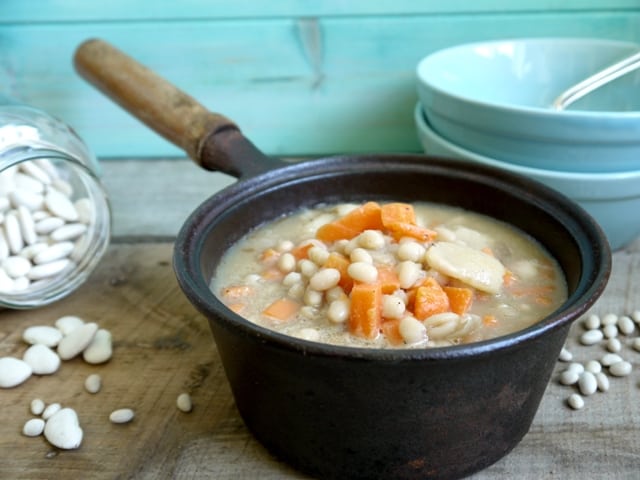 Mum & Dad married on the island in the late 60's, built their own house, had my brother & I then sold up and moved to the mainland, buying our little farm in Cornwall. Back then it was restrictively expensive to leave the island and they didn't want Stuart & I growing up feeling held back or isolated by island life.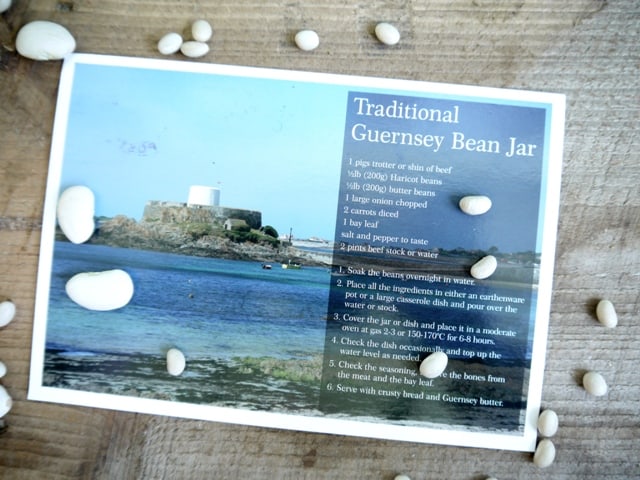 And now, with the 'year of firsts' since losing Dad behind her, Mum was finally ready to go back and visit the little island and all her old friends again.
Her postcard home to Jonny & I was a recipe card, for a dish I'd never heard of before but I was really excited to make. Not only did it feel like a little part of my heritage, it calls for a pigs trotter, which our freezer has in abundance. Trotters cook down releasing a rich, thick gravy and bring together ingredients of a stew or casserole with a gentle porky flavour and a silky texture. They're lip smackingly delicious.
If you don't grow your own pigs, your local butcher will always be able to get them for you and they are really cheap.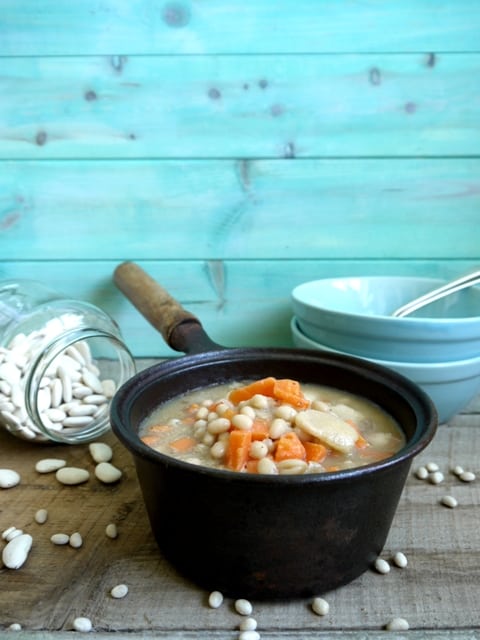 Guernsey Bean Jar tastes great, is nourishing and filling, and just perfect for flu recovery mode.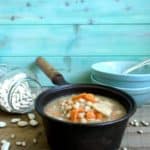 Guernsey Bean Jar
Keyword:
Guernsey Bean Jar
Ingredients
1

pigs trotter

or shin of beef

200

g

haricot beans

200

g

butter beans

1

large onion

chopped

2

carrots

diced

1

bay leaf

1

litre

beef stock

or water

Salt & pepper
Instructions
Soak the beans overnight in plenty of cold water.

Drain and rinse the bean the following morning, then load them and all the other ingredients in the slow cooker.

Cook on low for 8-10 hours, or high for 5-6 hours or until the beans are soft.

Switch off the slow cooker and remove the trotter and/or shin of beef. Remove the meat from both, discarding the bones, skin or gristle.

Pop the meat back in with the beans, stirring well and check seasoning adding more slat & pepper as necessary.

Serve with crusty bread and butter.
Nutrition Facts
Guernsey Bean Jar
Amount Per Serving
Calories 165
Calories from Fat 9
% Daily Value*
Fat 1g2%
Cholesterol 3mg1%
Sodium 26mg1%
Potassium 602mg17%
Carbohydrates 28g9%
Protein 9g18%
Vitamin A 5095IU102%
Vitamin C 4.3mg5%
Calcium 59mg6%
Iron 2.6mg14%
* Percent Daily Values are based on a 2000 calorie diet.
 Recipe shamelessly pilfered from a postcard by
Jill Vaudin Publishing
, whose recipe is taken from the
BBC Guernsey
.