This easy iced coffee will see you right through the summer if, like me, you're finding it hard to keep up your caffeine levels in this heat!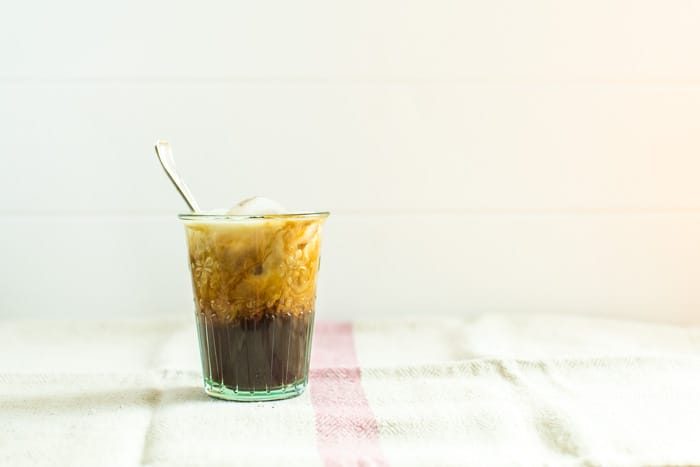 This past weekend Jonny & I ran away to Chagstock festival on the edge of Dartmoor and had a blast!
Plenty of cider, great company and (mostly) superb live music. The Stranglers, Ferocious Dog and our latest-new-found-awesome-band Noble Jacks topped our musical list.
I was also interested to see Donovan, even though I didn't know a thing about him or his music. Sadly he totally bombed. It was all a bit mortifying watching his set if I'm honest, and I didn't even make it to the second song :(
Even though the weather forecast was pants we had wall to wall sunshine. In fact dare I say it was too hot at times, certainly too hot for drinking my regular black Americano.
Luckily there were two stalls on site that were offering dairy free iced coffees which, along with the cider, became my weekend staple.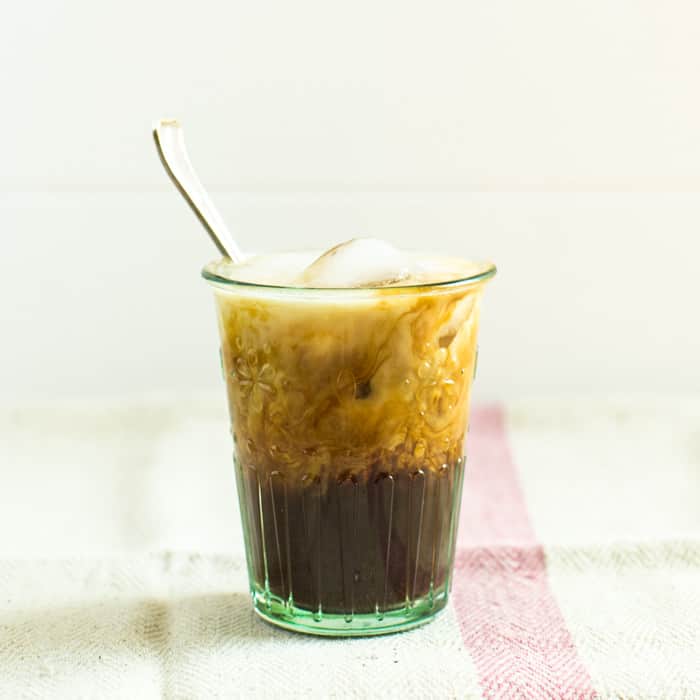 Love My Coffee
I often order an iced hazelnut soya latte at Costa, so was a bit dubious whether a small-time festival stall could make me anything that ticked those Costa buttons. One stall was purely coffee, with espresso machines and barista coffee and the other stall was an eco juice bar that happened to also sell iced coffee.
When I ordered my iced coffee at the latter, I didn't look past their fruity menu and colourful stand to see that there was no espresso machine. Just a little jar of Nescafe sat forlornly on a shelf.
My inner coffee snob died inside a little at this point. I'd already ordered it, already paid for it, and the woman serving me had actually gone to Waitrose that morning specifically to buy the soya milk as when I'd ordered one the day before they realised they hadn't packed any.
Being the polite English girl that I am, I smiled graciously as I was told to sit on the blender bike to crush my ice and mix my coffee. I'd already decided that I'd pour it away as soon as I was round the corner and go order a real one at the barista place.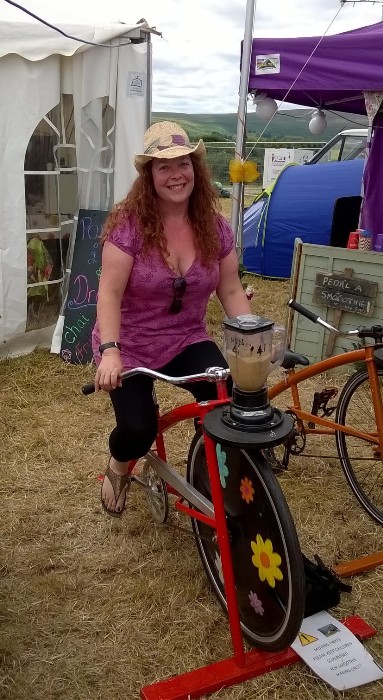 I smiled again as I took a polite sip whilst walking away from their stand and realised, to my horror, that it tasted just like the baristas iced coffee.
Easy Iced Coffee
I have become such a self billed coffee snob that I was a bit thrown by this to be honest. I love the pomp and ritual surrounding coffee. It reminds me of being a smoker that enjoyed rolling my own tobacco just as much as smoking it.
So this morning, rather than dashing out on a Costa run, I decided to brew my own easy iced coffee using the jar of Alta Rica I save for baking. It was a success and tasted just fine. It would have been better with a single shot of hazelnut syrup, but was just as dandy as the Aeropress iced version. Huh. Go figure.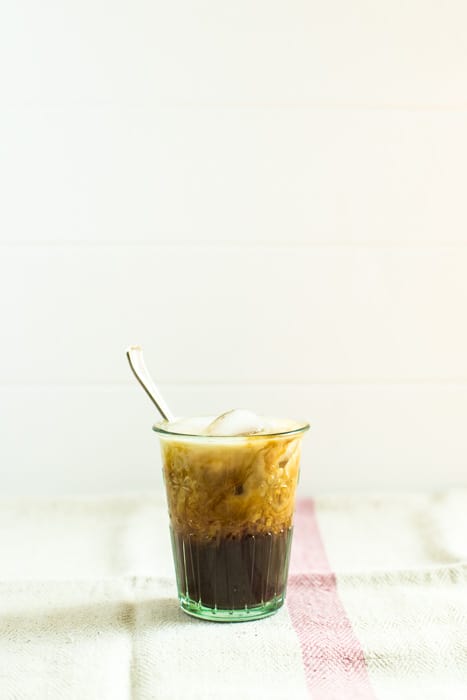 I guess like everything in life it's worth trying things before you knock 'em, eh?
PS Whether you opt for the instant or real stuff, brew the coffee stronger than you would normally as the ice will water it down.
PPS whilst you're throwing all your coffee snob toys out of the pram too, why not give this cardamom coffee recipe a go?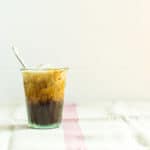 Easy Iced Coffee
Keyword:
Easy Iced Coffee
Ingredients
2

shots

espresso

- alternatively, make an instant coffee with 2 tsp instant coffee and enough boiling water to dissolve.

1

tsp

sugar

- optional. Flavoured syrups also work well.

2

tbsp

oat milk

- or other type of milk

ice

- enough to fill your glass
Instructions
Pile up the glass with ice.

Make your coffee in a mug and dissolve the sugar (or syrup) in it by stirring well.

Pour over the ice slowly.

Next pour over your milk of choice and watch those ripples swirl.

Stir and indulge.

If you'd like a thicker, creamier brew, pour the whole lot into a blender and whizz into a frappe.
Nutrition Facts
Easy Iced Coffee
Amount Per Serving
Calories 345
Calories from Fat 9
% Daily Value*
Fat 1g2%
Sodium 47mg2%
Potassium 3151mg90%
Carbohydrates 74g25%
Protein 11g22%
Vitamin A 62IU1%
Calcium 168mg17%
Iron 4mg22%
* Percent Daily Values are based on a 2000 calorie diet.