This easy Butter Bean Dip is a creamy, nutritious spread that is similar to hummus, but is made with butter beans (aka Lima Beans) instead of chickpeas (aka garbanzo beans).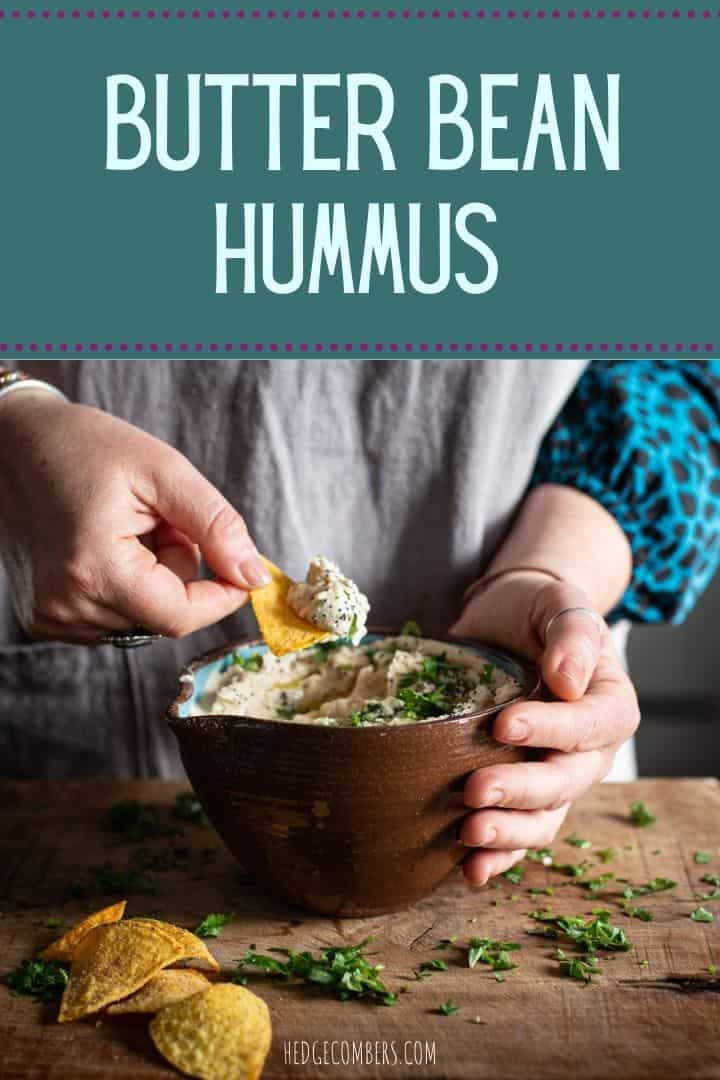 This quick little recipe came about when I had an extreme craving for hummus, but no cans of chickpeas in the pantry.
I did, however, have butter beans.
And the rest, as they say, is history!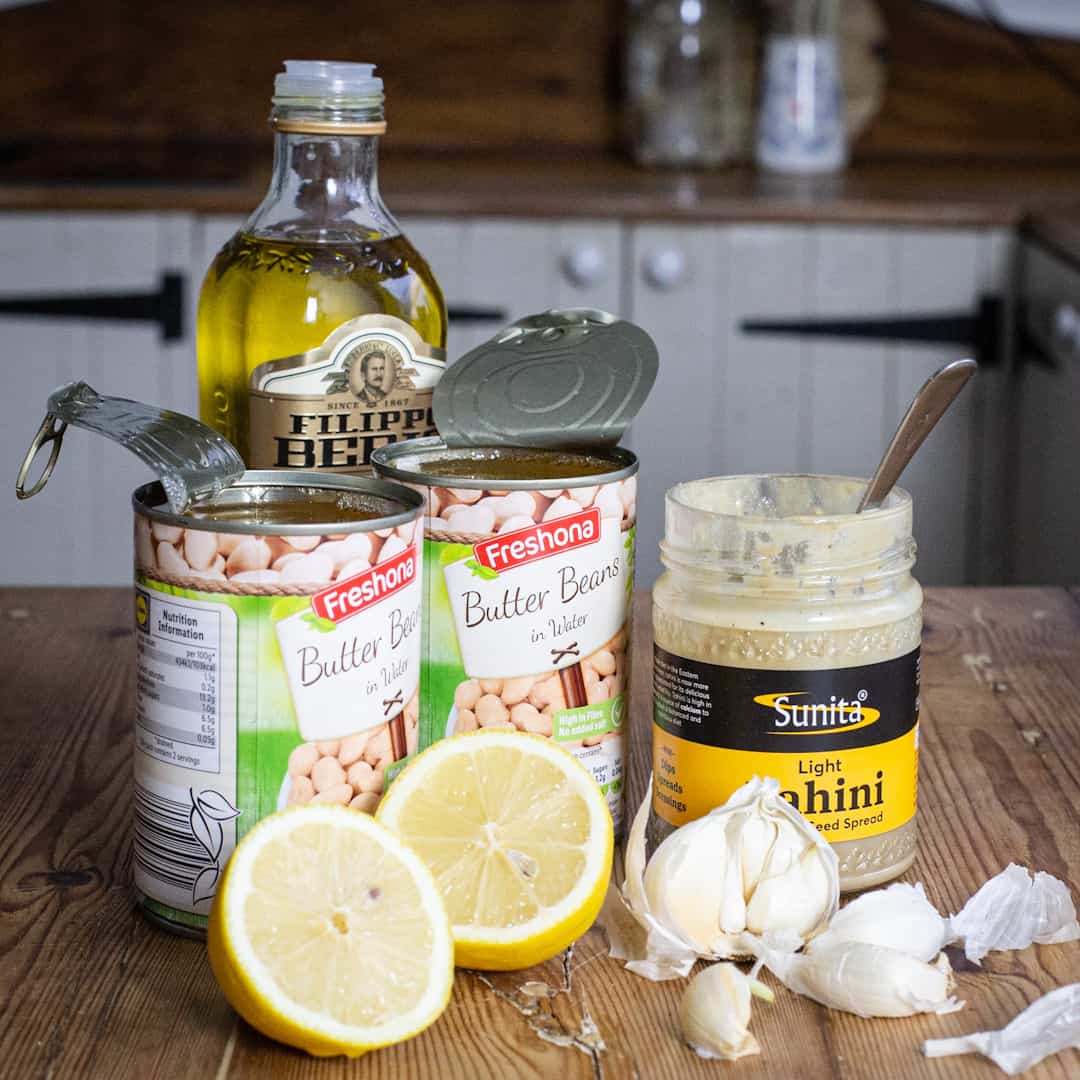 Butter Bean Dip Ingredients
This make this creamy, nourishing hummus, you'll need:
1 can of butter beans
tahini (tahini is a paste made from ground sesame seeds. It's what gives a hummus its rich creaminess)
olive oil
lemon juice
garlic
salt
ice cold water
You'll also need a food processor or blender. However, if you don't have either, you can make a slightly more textured version using a potato masher – see how step by step recipe here: How to make hummus without a blender.
How To Make Butter Bean Dip
1/ add the butter beans and tahini to the food processor.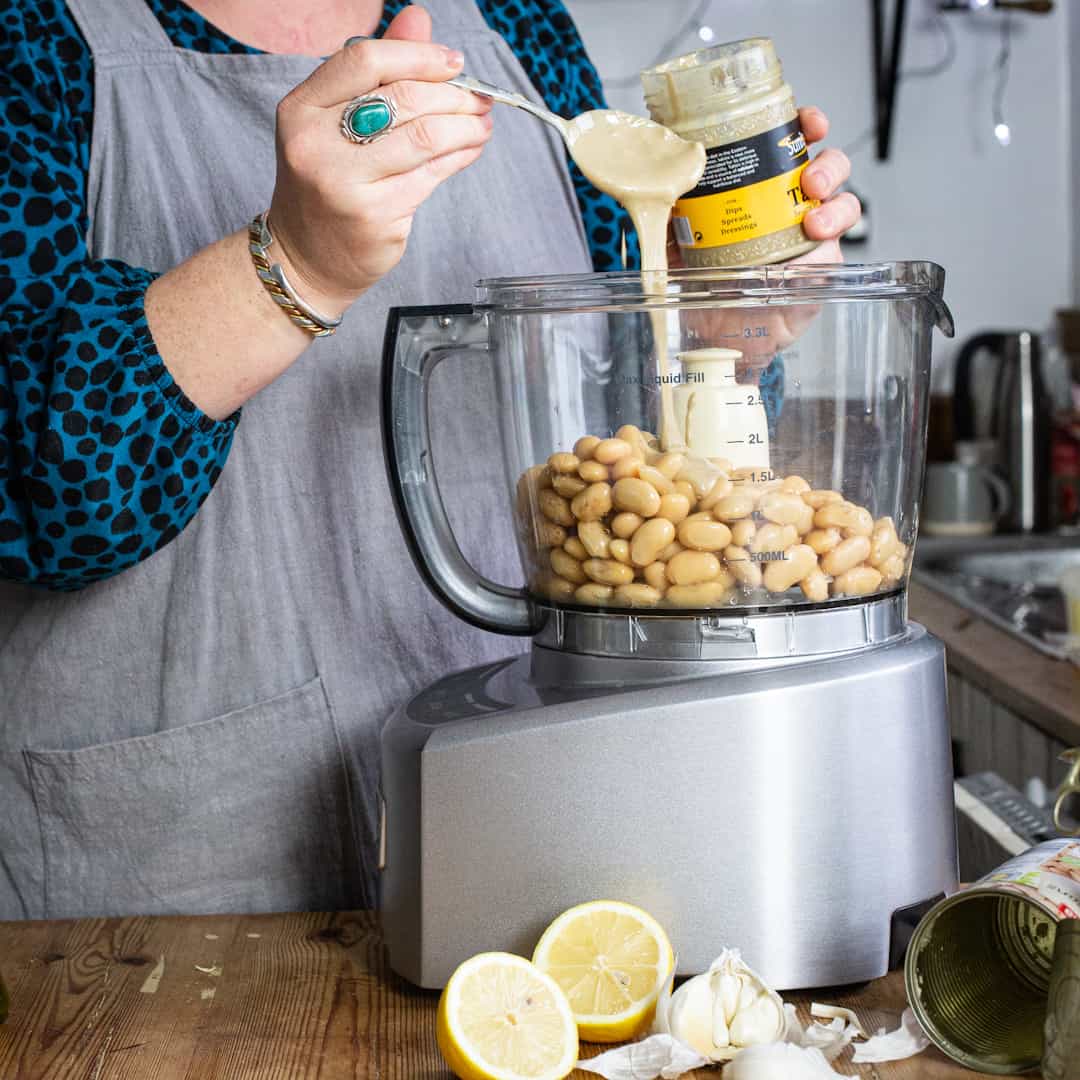 2/ pour in the olive oil.
I'm using a light olive oil, which is milder in flavour than an extra virgin olive oil.
However the latter would work just as well.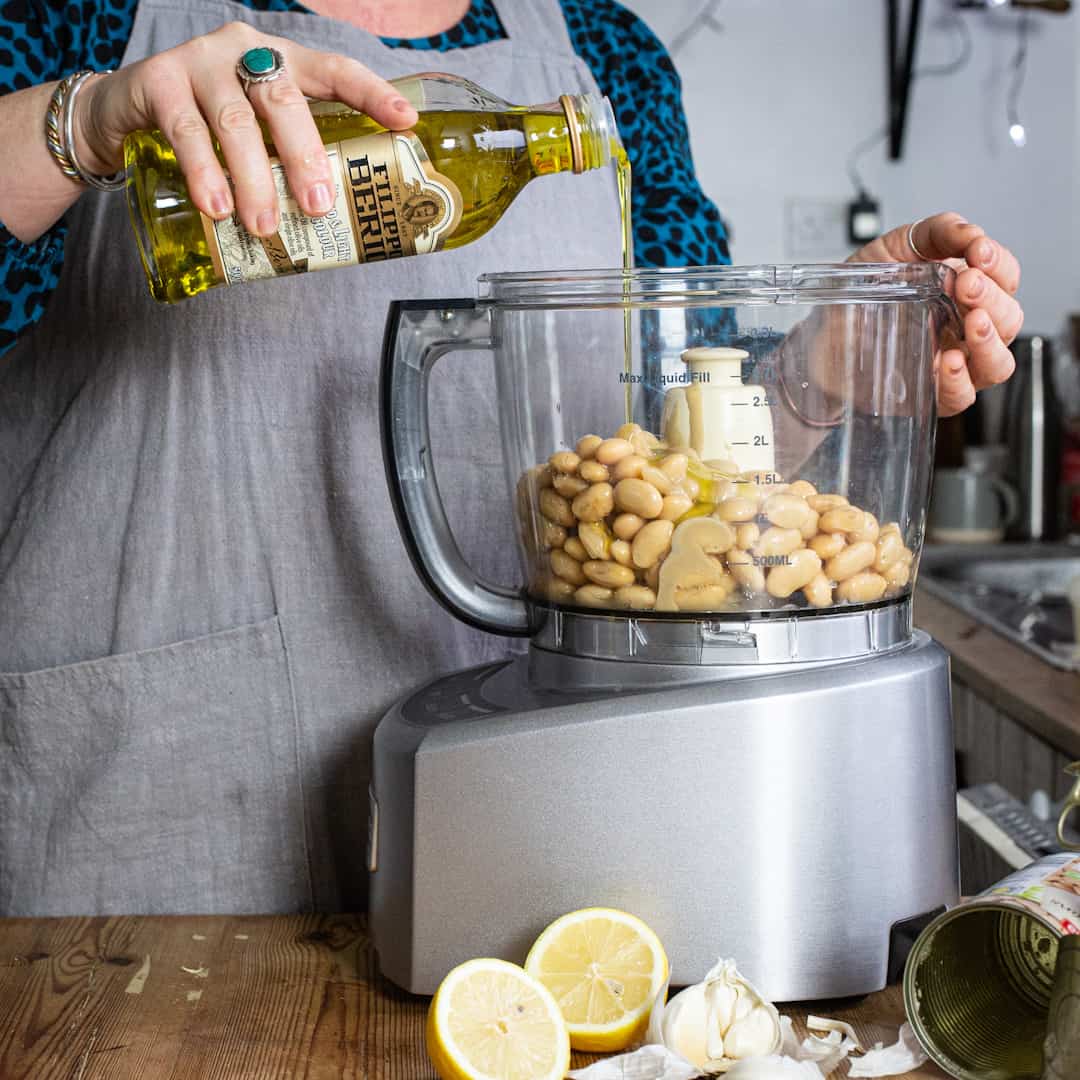 3/ squeeze in the lemon juice.
Squeeze through your hand to catch the pips, or use a lemon squeezer that collects the pips.
If you drop any pips into the bean mix, you'll have a hard job finding them again!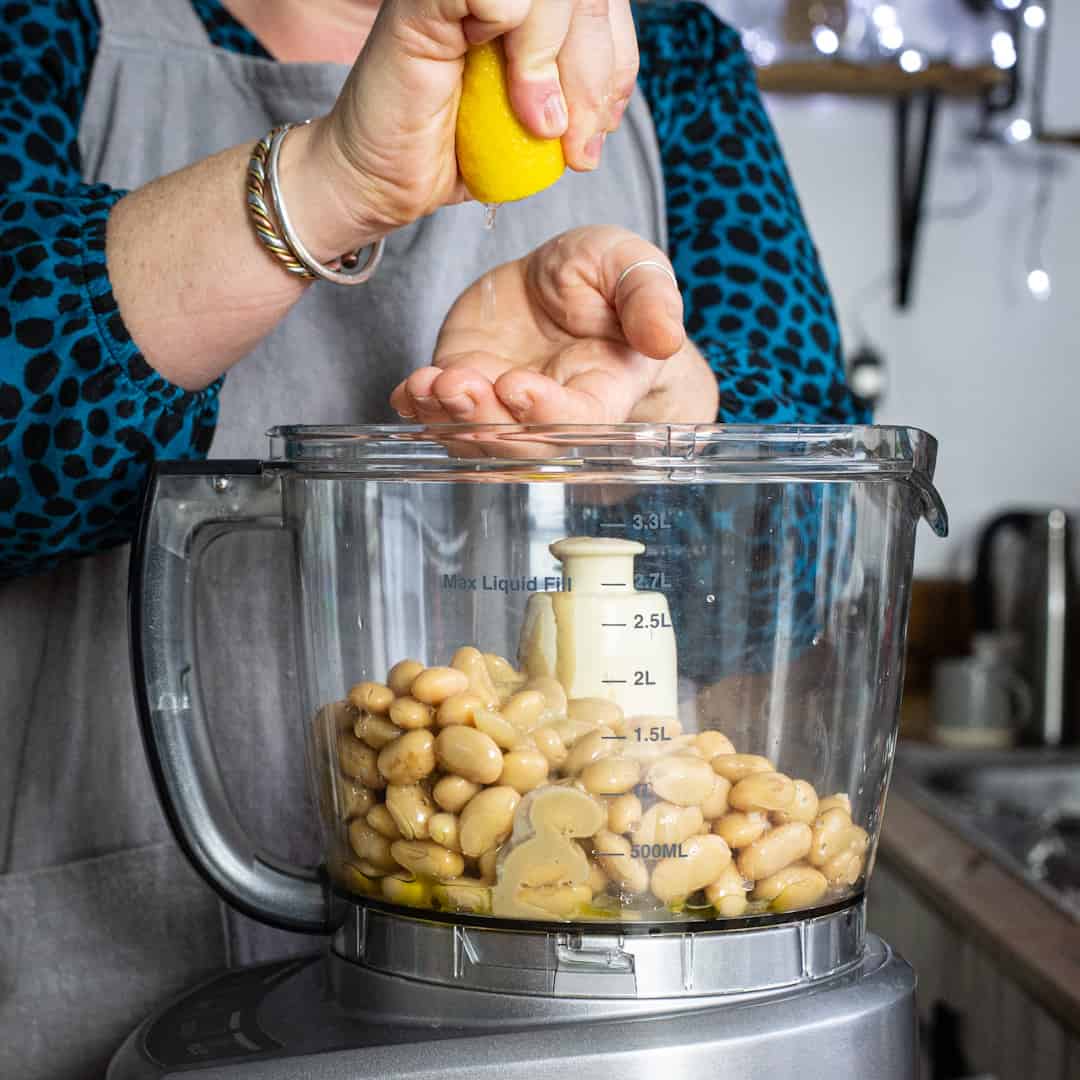 4/ sprinkle in the salt.
Regular readers will know how much I love using Cornish Sea Salt in my kitchen (and no, my recipes aren't sponsored by them, I just love the stuff!)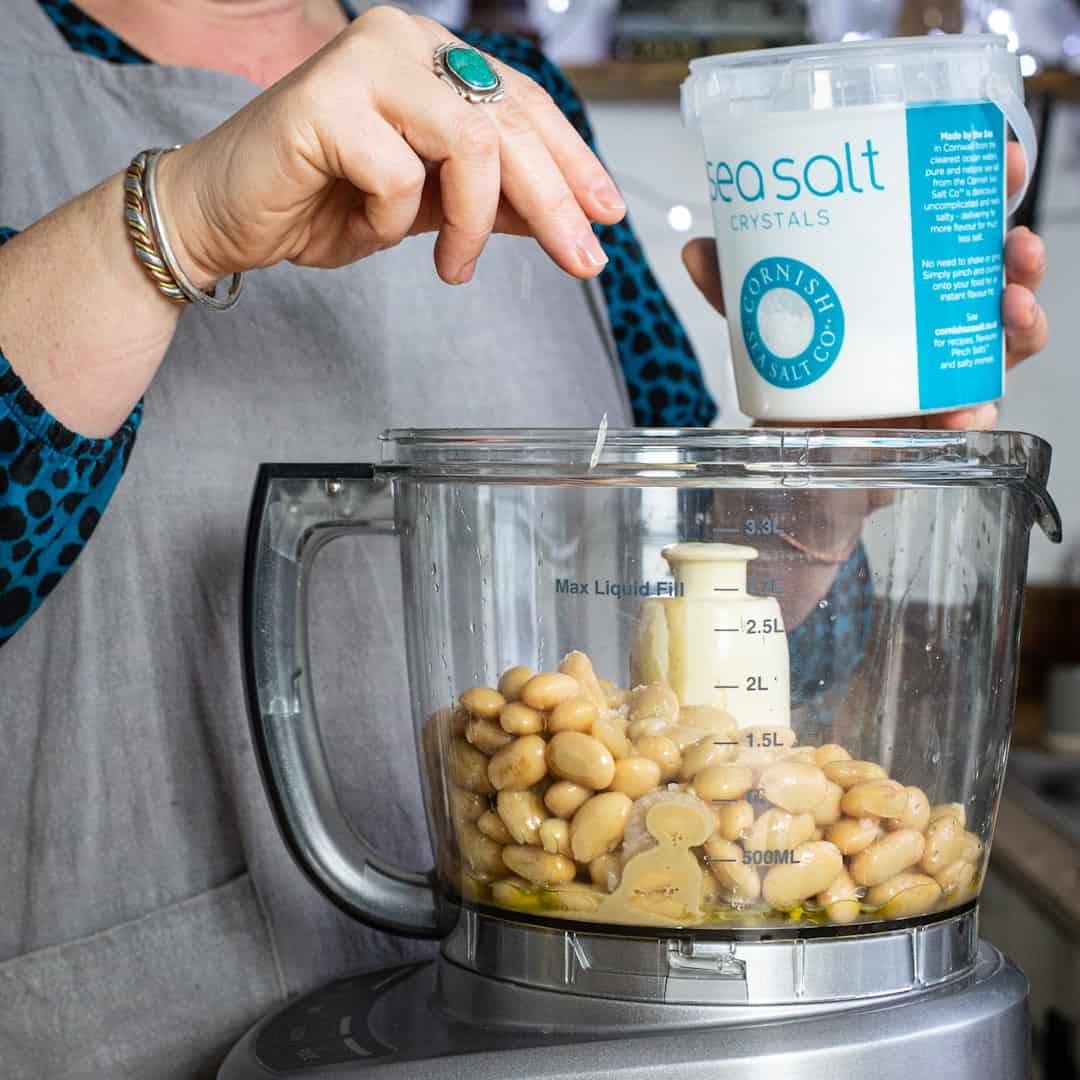 5/ add the garlic powder.
(I totally forgot to add my garlic until I'd already started blending, so forgive me for the out of sync photo!)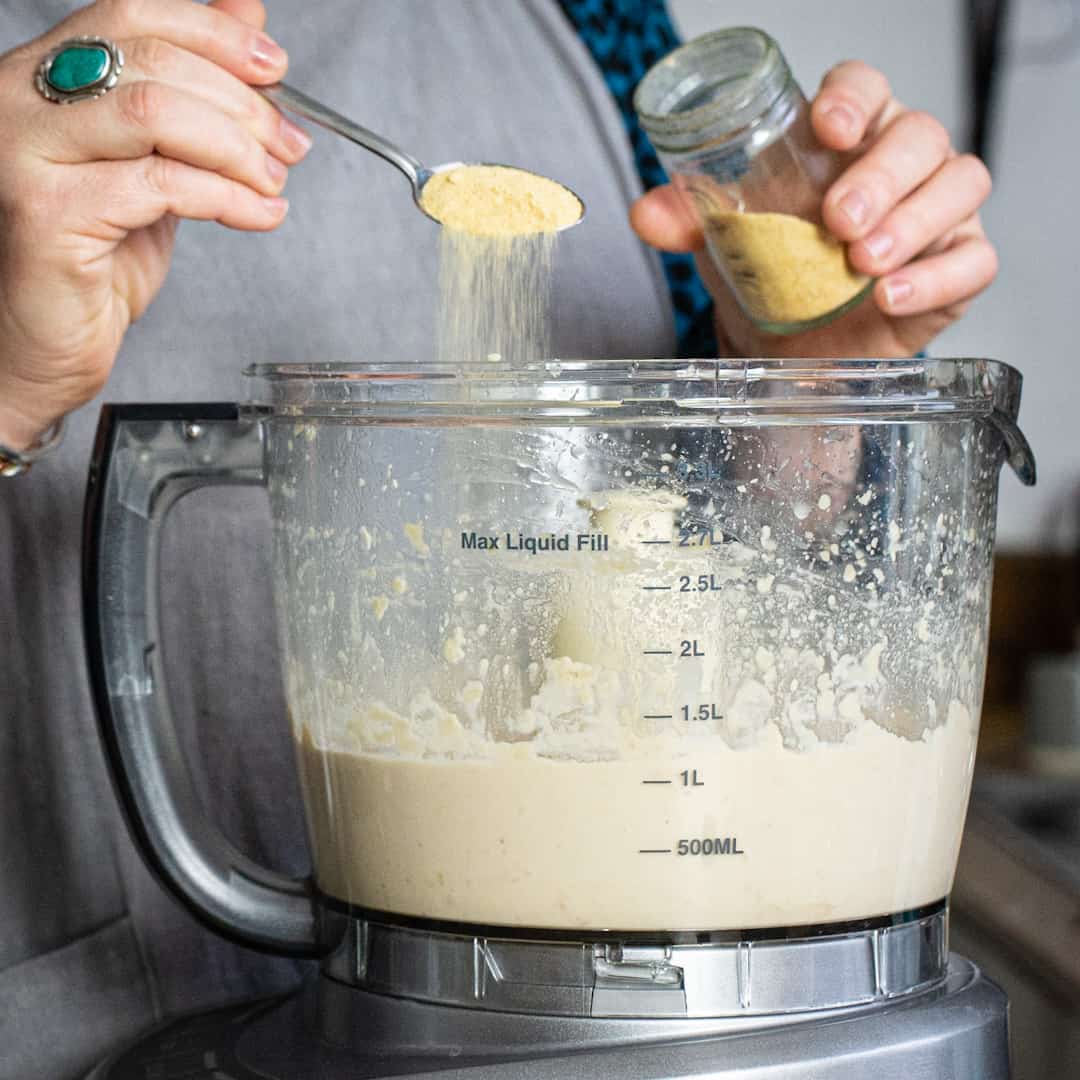 6/ blend.
Pop on the food processor lid and blend until all the ingredients are smooth and combined.
You'll likely want to scrape the sides down a couple of times.
I like to use a silicone spatula for this job as it bends round the shape of the mixer so well.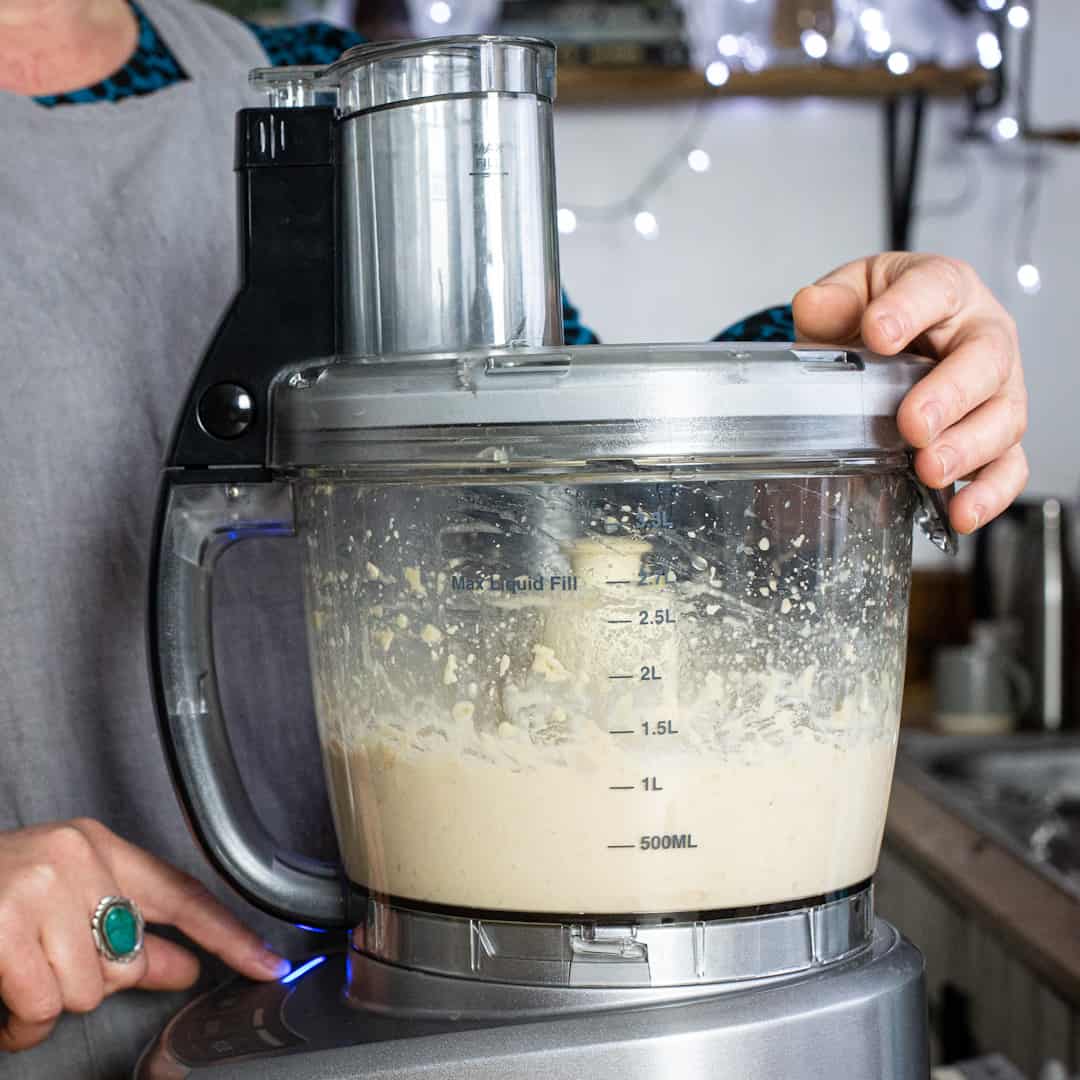 7/ add the water.
I find by using water that is ice cold, that my bean dips become smoother and fluffier.
I just filled a glass with ice cubes, topped with cold water from the tap, and then added it with a spoon.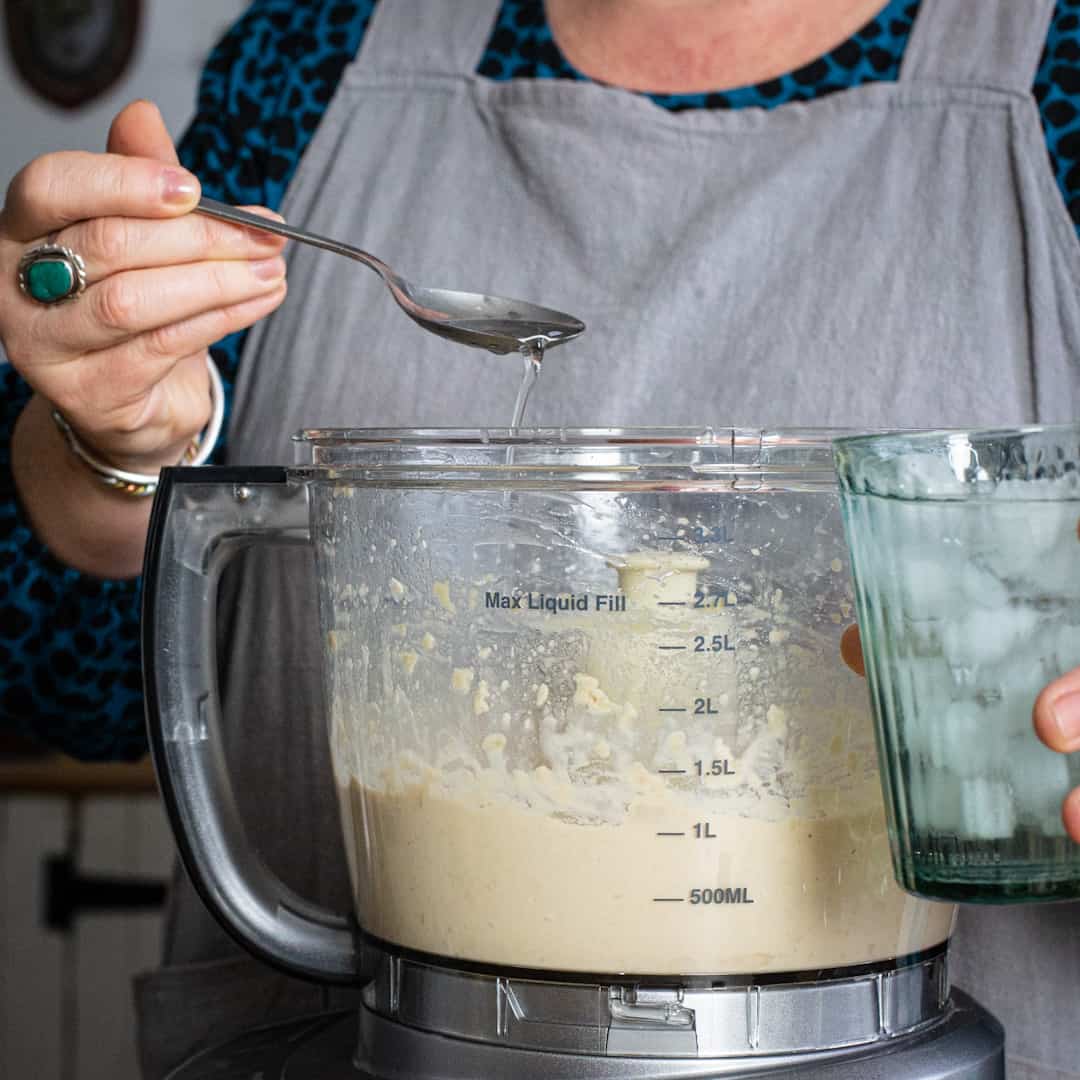 8/ scoop your butter bean dip into a bowl.
I'm using that trusty silicone spatula again.
I find it so much easier to get into the nooks and cranny's of a mixer bowl with one of these.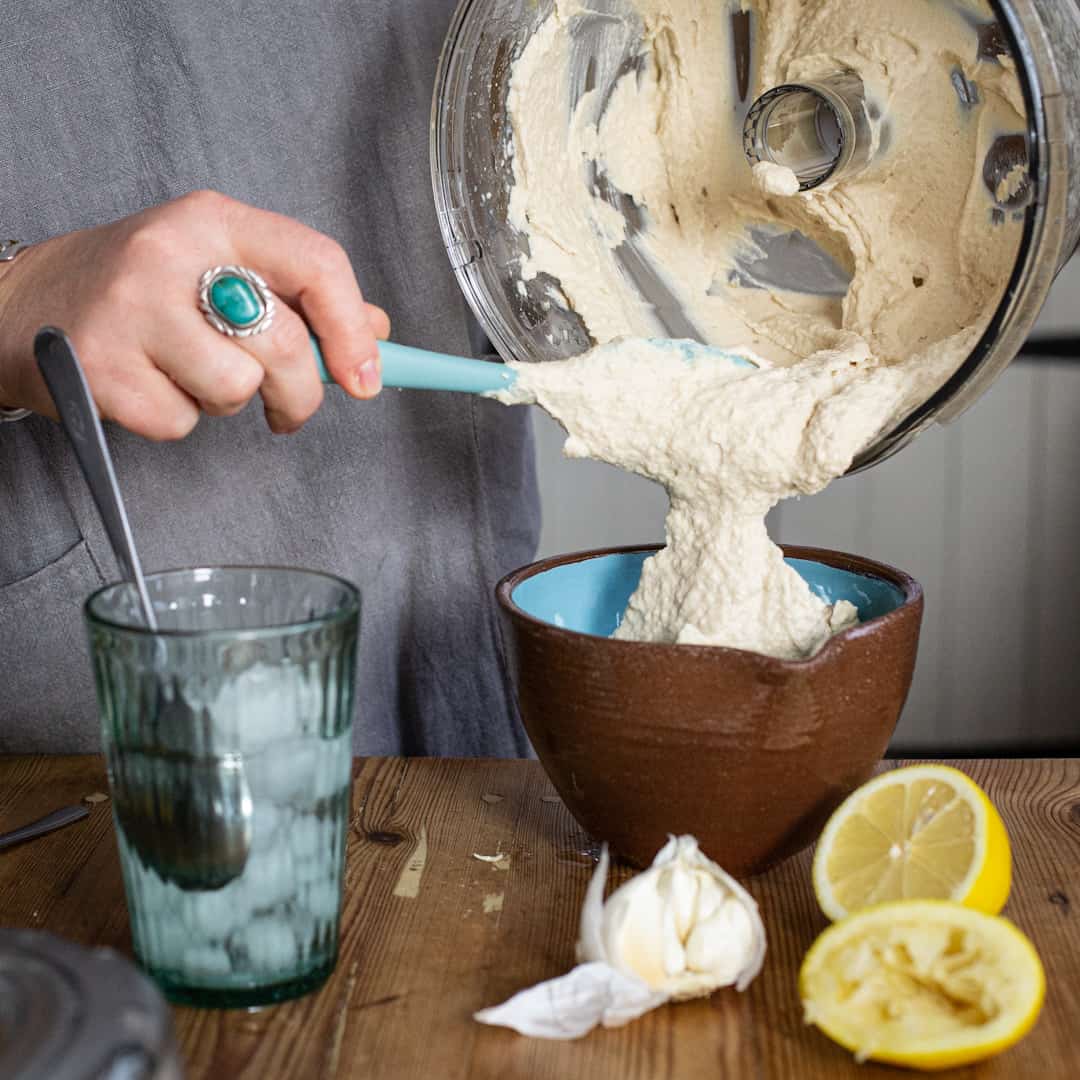 9/ drizzle with oil.
Once I smooth the butter bean dip out in the bowl, I like to pour over a little extra olive oil.
This step in entirely optional, and please note it will add more calories and fat to your dip than stated in the nutritional data down below.
However, if you're serving this dip to friends, I highly recommend doing so as it's such a pretty way to serve it.
10/ chop the parsley
Use a sharp knife to chop the parsley up before sprinkling it over your butter bean hummus.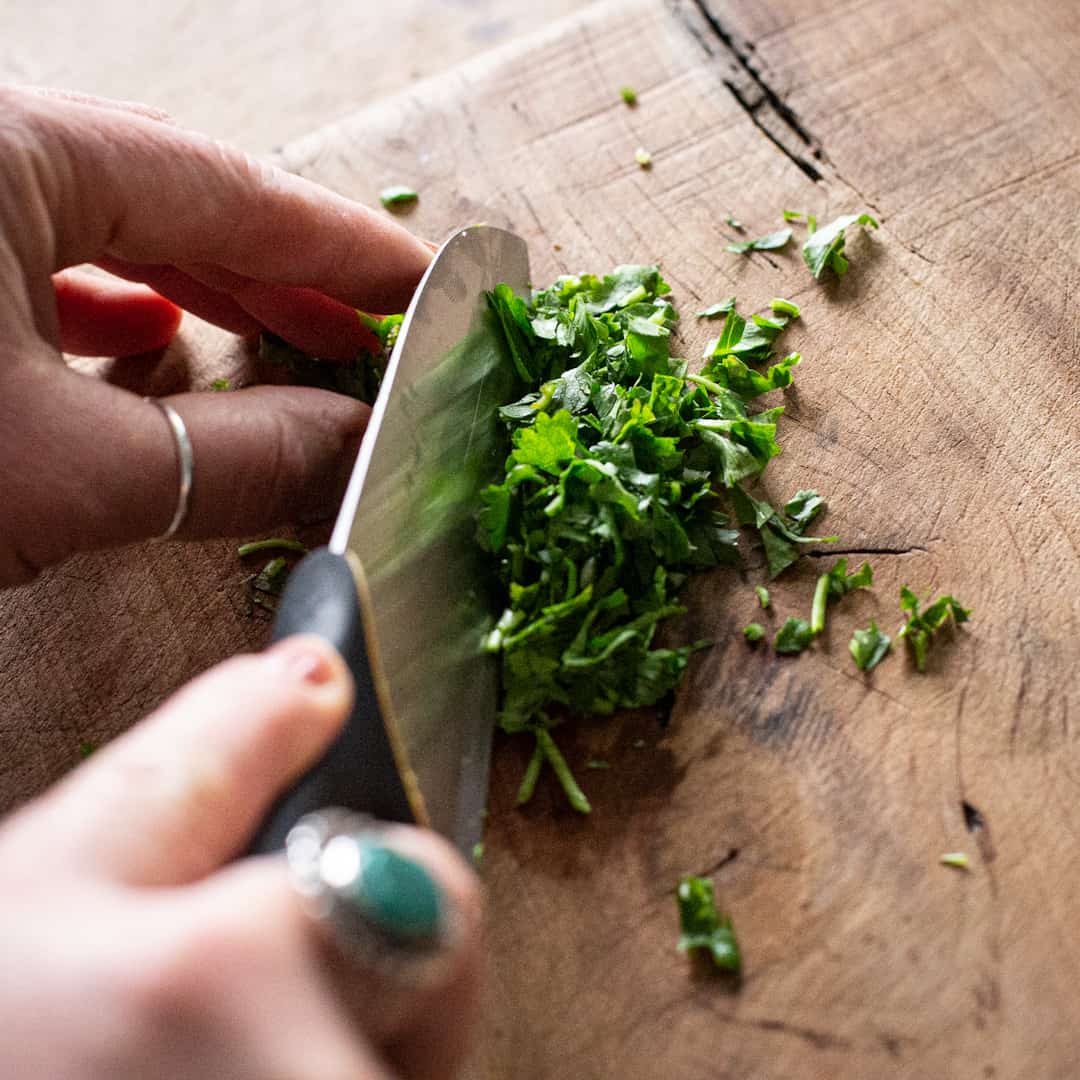 11/ and as a final flourish, I sprinkled over some teeny little poppy seeds.
This is another entirely optional, but lovely-to-look-at addition!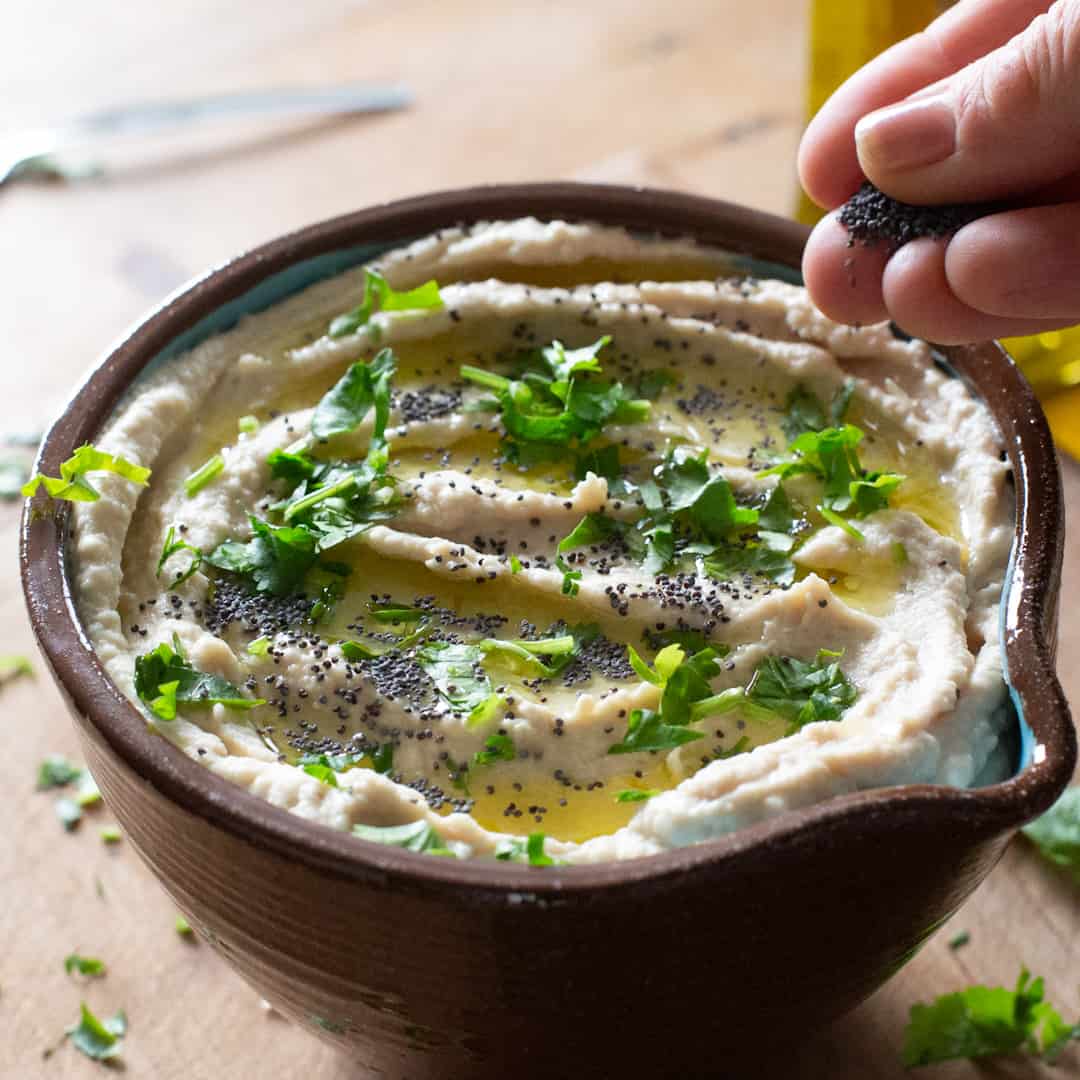 And there we have it! A quick and easy, creamy and delicious hummus made with canned butter beans!
If you give this recipe a try, please be sure to let me know below how you like it!
And don't forget to tag me in any pics you share online. You can find me pretty much everywhere as @hedgecomber :)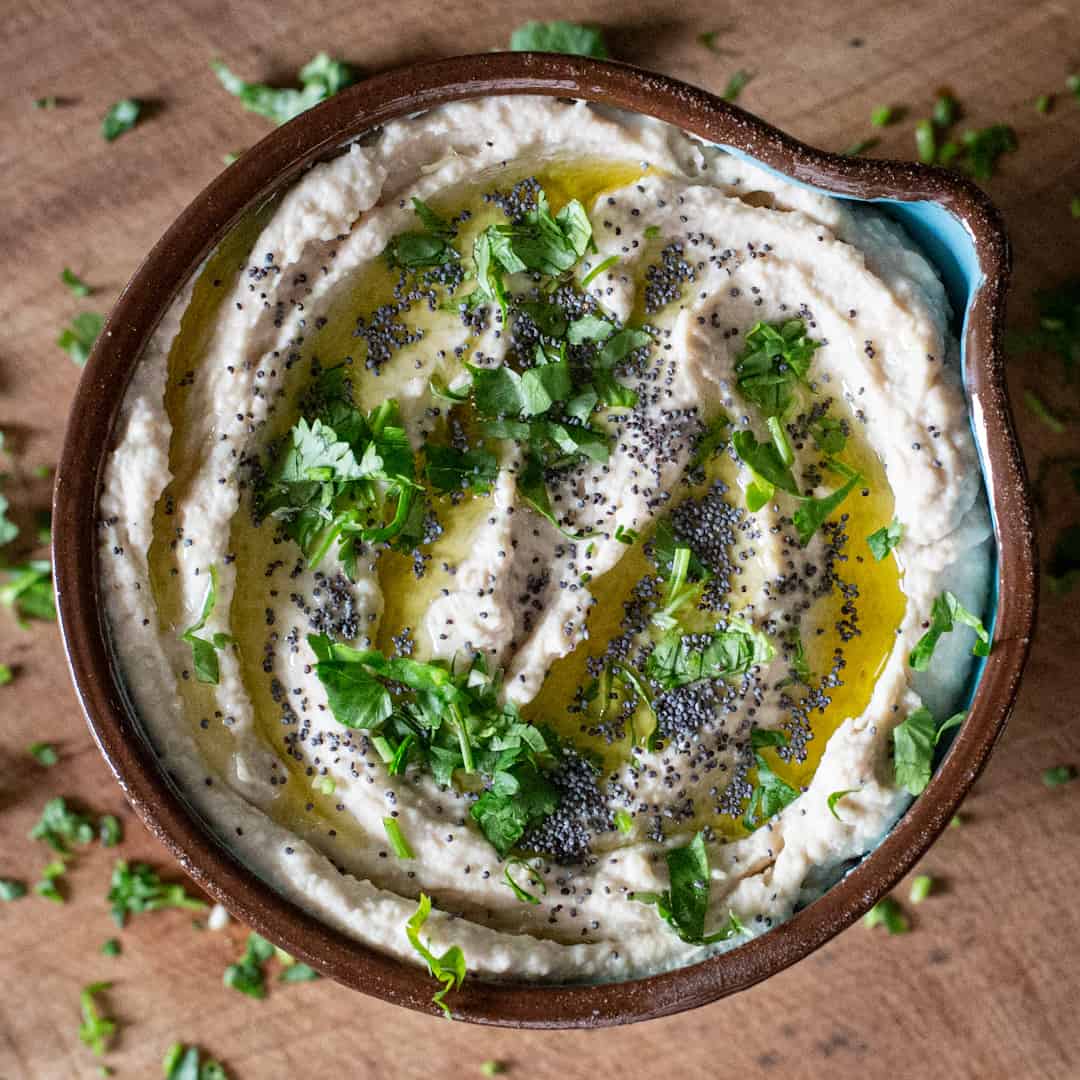 I love making a batch of this healthy homemade dip to squirrel away in a packed lunch for days that I'm travelling. And a favourite sweet treat I also like to make ahead for road trips is my Best Flapjack Recipe. It really lives up to its name!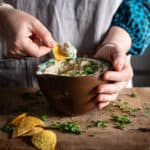 Easy Butter Bean Dip
This easy Butter Bean Dip is a creamy, nutritious spread that is similar to hummus, but is made with butter beans (aka Lima Beans) instead of chickpeas (aka garbanzo beans).
Keyword:
butter bean dip, butter bean hummus
Ingredients
400g

can

butter beans

- drained. Butter beans are also known as Lima beans in different countries.

2

tbsp

light tahini

- tahini is a paste made from ground sesame seeds. It's what gives a hummus its rich creaminess. Find it in the Middle Eastern section of your supermarket.

1

tbsp

olive oil

- light olive oil has a lighter, milder taste if you find extra virgin olive oil a little too strong in flavour.

1

lemon

- juice only

½

tsp

salt

1

tsp

garlic powder

1

tbsp

water

- ice cold water preferably.
Instructions
Start by adding your drained can of beans to a food processor.

Spoon in the tahini, olive oil and lemon juice.

Add the salt and garlic, then blend for a few minutes on high.

Remove the mixer lid and scrape down the sides of the bowl.

Add 1 or 2 tablespoons of the ice cold water, replace the lid and blend for one more minute.

Remove the lid and scrape down the sides once again. At this point it should be getting nice and smooth adn creamy.

If it's looking a bit too dry and thick, add a little more water and blend another time. Keep repeating this until your butter bean dip looks glossy and seriously smooth.

Tasta and make sure the seasoning is to your liking. You can add a little more salt, lemon juice or garlic to change the flavour that you'd like.

Re blend if necessary.

Scrape the food processor bowl out with a silicone spatula into a serving bowl.

Smoothe the surface over a little with the back of a spoon and pour over a little extra olive oil.

Finally, top with the chopped parsley and poppy seeds and serve with crudités, baguettes, crackers on as a side to meat or cooked vegetable dishes.
Nutrition Facts
Easy Butter Bean Dip
Amount Per Serving
Calories 158
Calories from Fat 72
% Daily Value*
Fat 8g12%
Sodium 296mg13%
Potassium 398mg11%
Carbohydrates 18g6%
Protein 7g14%
Vitamin A 11IU0%
Vitamin C 15mg18%
Calcium 29mg3%
Iron 2mg11%
* Percent Daily Values are based on a 2000 calorie diet.