Jonny & I both reached a health junction recently. Surprisingly, it's the first time we've ever had the same desire to clean up our diets, at the same time.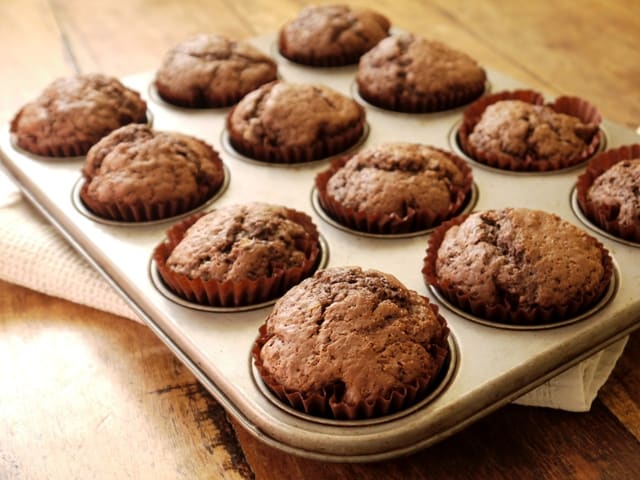 His was initiated by a routine 40+ health check from our surgery, mine was sparked by a mild despair at the numerous, minor health conditions I've been living with for the the past few months and years. And the knowledge that if I don't change things soon, it might be too late.
So, whilst I'm cooking up a delicious moist batch of muffins today that contain both sugar & white flour (both of which I'm planning to cut back on in our every day meals) once cooled they'll be headed straight for the freezer. I'll freeze them in individual bags, making them easy to pull out and pop in Jonny's lunchbox first thing in the morning (this sumptuous looking Tunisian orange cake would fill the same hole, equally well!)
By being frozen we won't be able to mindlessly snack on them, and hopefully they'll be sweet enough to stop him from needing to buy chocolate bars when he's at work.
What tips do you have for us to clean up our kitchen, and diets?
Chocolate Orange Muffins
Ingredients
Zest & juice of 2 oranges

Water

or milk

1

egg

beaten

90

ml

vegetable oil

250

g

plain flour

2

teaspoons

baking powder

1/2

teaspoon

salt

1/2

teaspoon

bicarbonate of soda

5

tablespoons

cocoa powder

you want the neat powder, not anything already mixed with sugar or anything else

110

g

sugar
Instructions
Preheat the oven to 190/375/gas 5. Line a muffin tin with paper or silicone cases (remember, muffin cases are bigger than cupcake cases, so if you're using a cupcake tray, this mix will probably make more than 12 and will need a little less cooking time).

Pop the zest & juice from the oranges in a jug, then top up with enough water (or milk) to reach 250ml.

Add in the beaten egg and oil and stir well.

In a large mixing bowl, sift the flour, baking powder, salt, bicarb and cocoa powder together. Add the sugar and mix to combine.

Pour the jug of wet ingredients into the bowl of dry, and quickly and smoothly fold them together.

Spoon into the awaiting cases and bake for 20 - 25 minutes until the tops spring back when pressed, and a skewer comes out clean.

Let cool fully before storing or freezing.