These Spiced Pear Muffins are light, moist and so very moreish! They'll stay fresh for a good few days (if of course, they last that long!)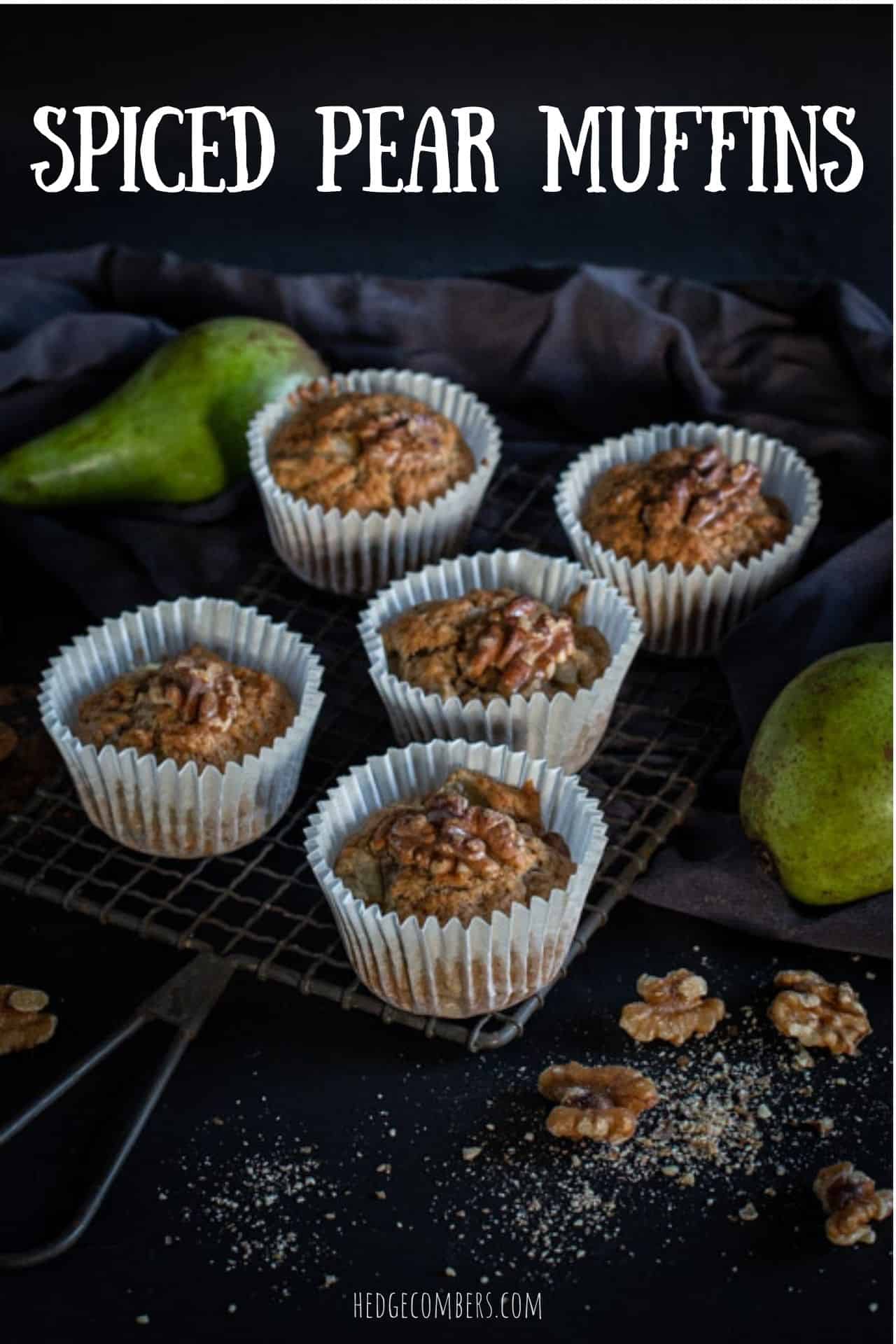 Although I am rather partial to a chocolate muffin or two, I think my favourite muffins are the ones made with fruit.
Fresh fruit not only gives its unique flavouring.
But I've also found that it adds a level of moisture to a muffin that is hard to otherwise reach.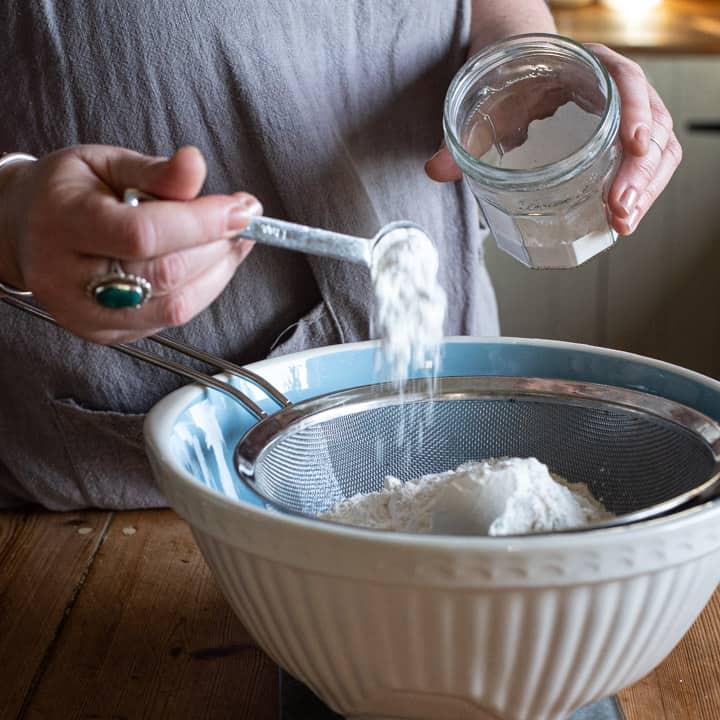 And this spiced pear muffin recipe is one of my favourite fruit muffins recipe. I hope you'll love it too!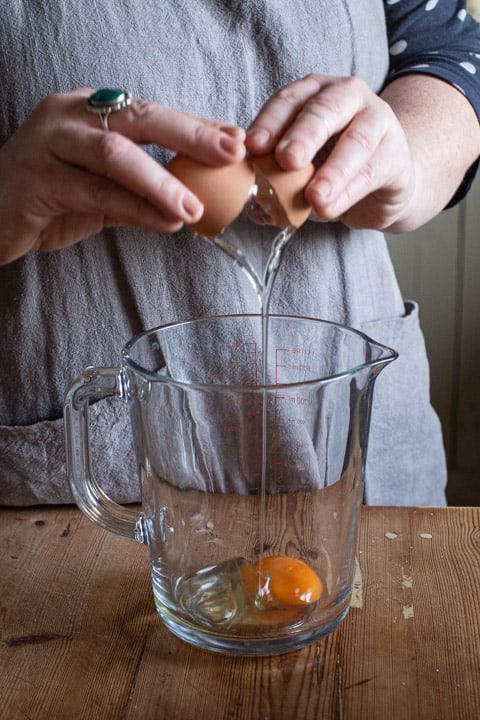 The season for pears here in the UK officially starts in September and finishes at the end of October.
Although there are varieties which you can successfully harvest for longer than this.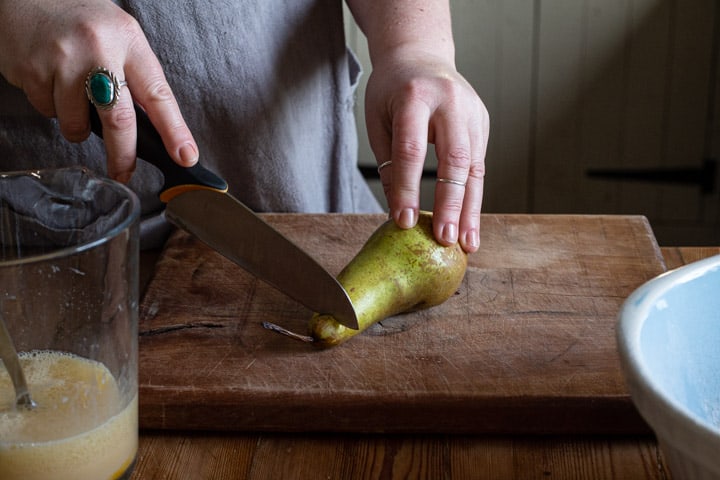 I think this is probably why I associate pears with autumnal dishes.
Which to me means warm spices and, of course, baking!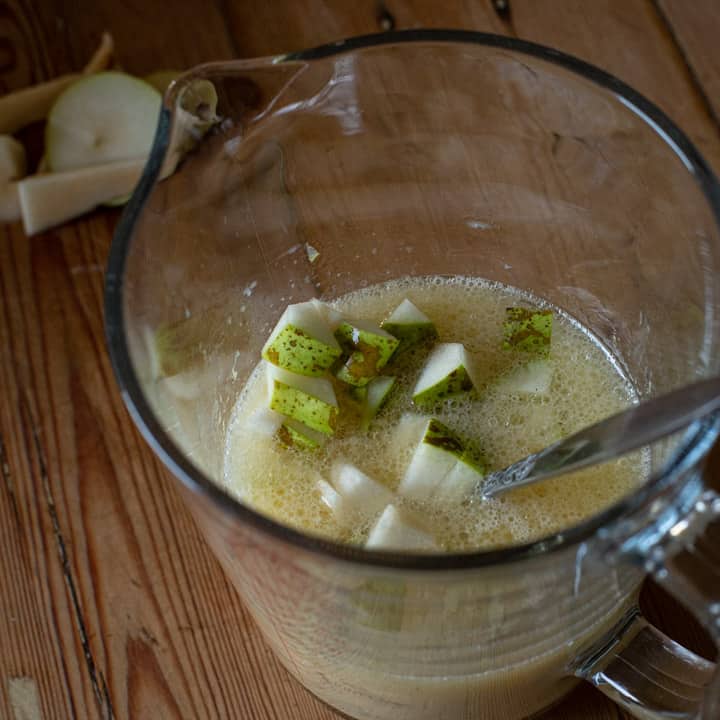 As with all muffin recipes, you want to mix up your wet ingredients and your dry ingredients separately.
I use a large mixing bowl for the dry (think flour, baking powder, sugar, salt etc).
And I use a glass jug for the wet ingredients.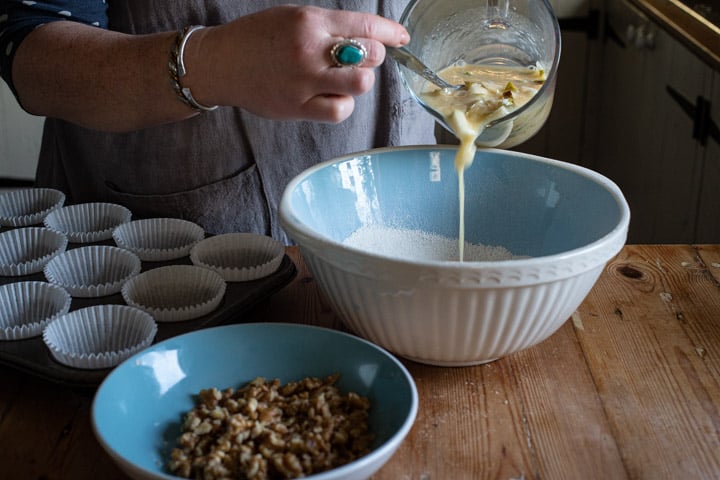 The wet then gets poured into the dry and mixed just until no dry ingredients are showing. It's important not to overmix at this stage!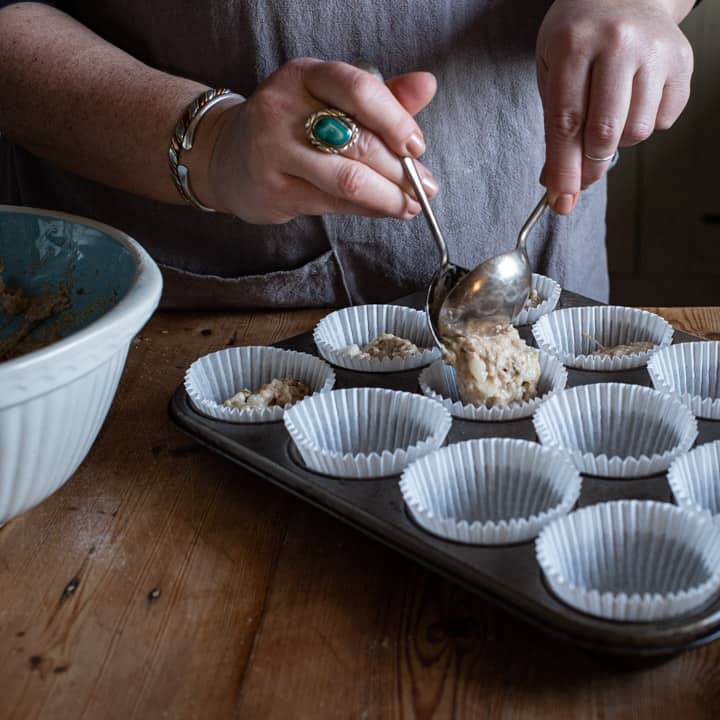 You can then scoop the mixture into your waiting muffin cases.
I like to use two soup spoons for this job.
They hold just the right amount of muffin batter to make it really quick and easy.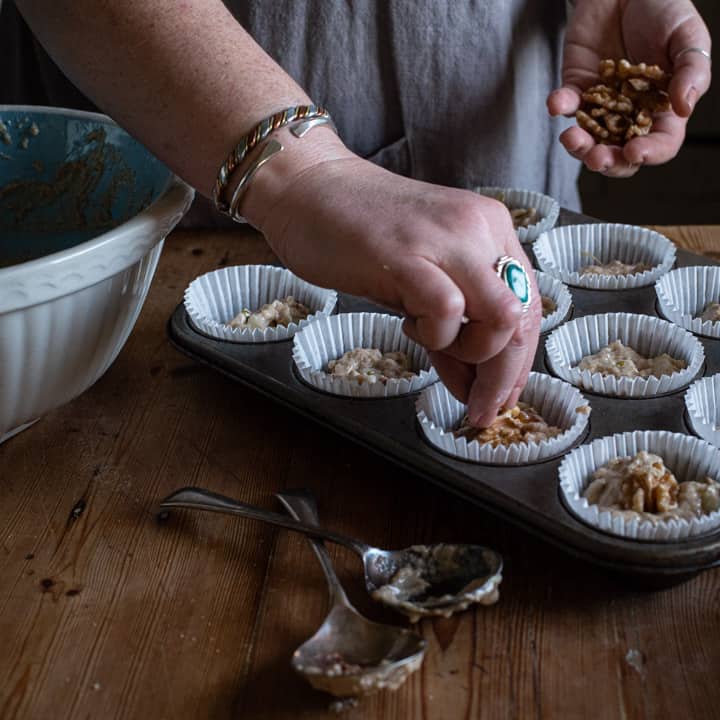 And finally, as walnut goes so well with pears, I like to top each of my muffins with half a walnut.
This bit is entirely optional though, so feel free to leave them out if you have nut allergies to consider.
I promise your pear muffins will still taste wonderful if you don't use them!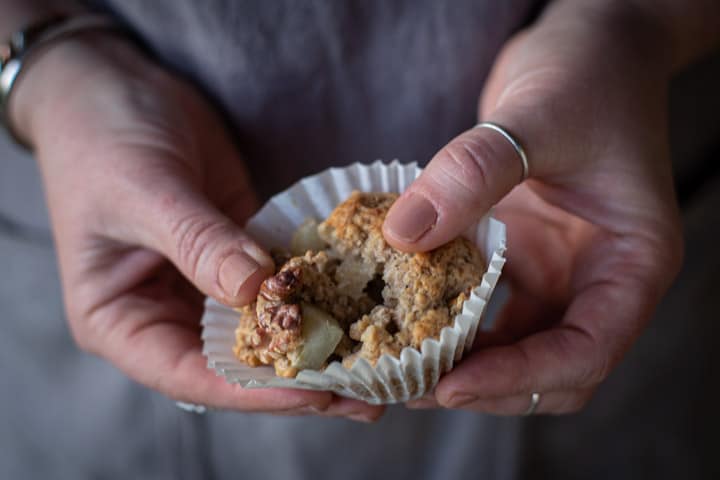 Not sure the image above captures just how moist and delicious these muffins are inside.
Until you bake your own batch, you'll have to take my word for it. They are really, really good!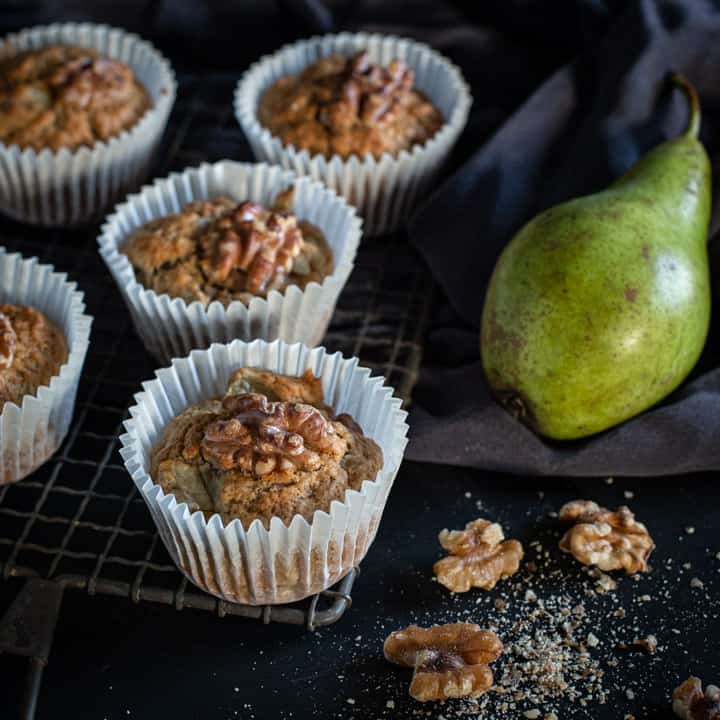 How Should I Store Fresh Muffins?
Once they are out of the oven, remove them from the muffin tin.
Place each muffin onto a cooling rack and leave until they've reached room temperature.
Then place them inside an airtight tin or tub. Because of the fruit content, they'll stay moist for several days (sorry I can't be more accurate, but muffins don't tend to last long in this house!)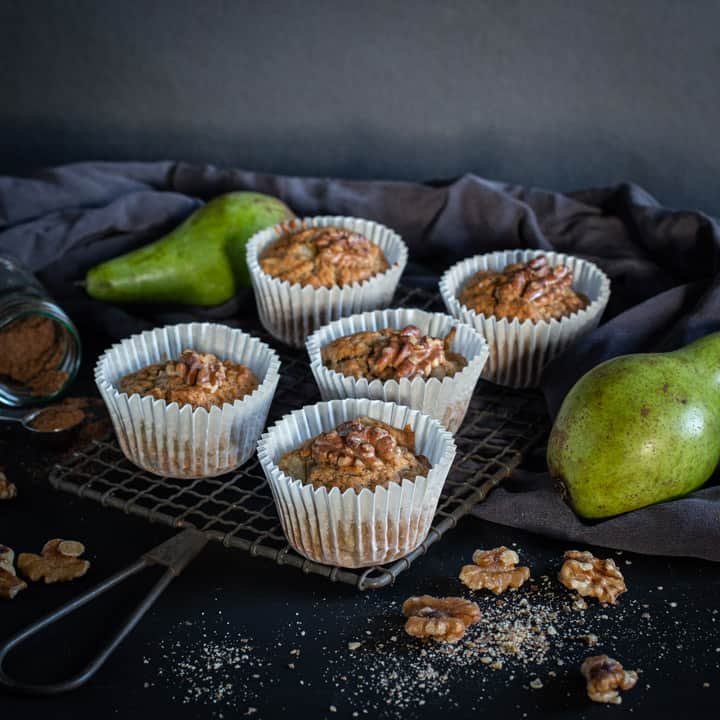 Can I Freeze Muffins?
Yes, absolutely! Once cool, pop them into the freezer.
Ideally, freeze them loose, then bag them up when they are frozen solid. This will help them keep their shape.
If you do this, please remember to place them all into a freezer bag within a day or two! If you leave them loose in your freezer for longer, they'll be more prone to freezer burn or picking up weird smells/flavours from the other foods in your freezer.
They'll also likely make a mess!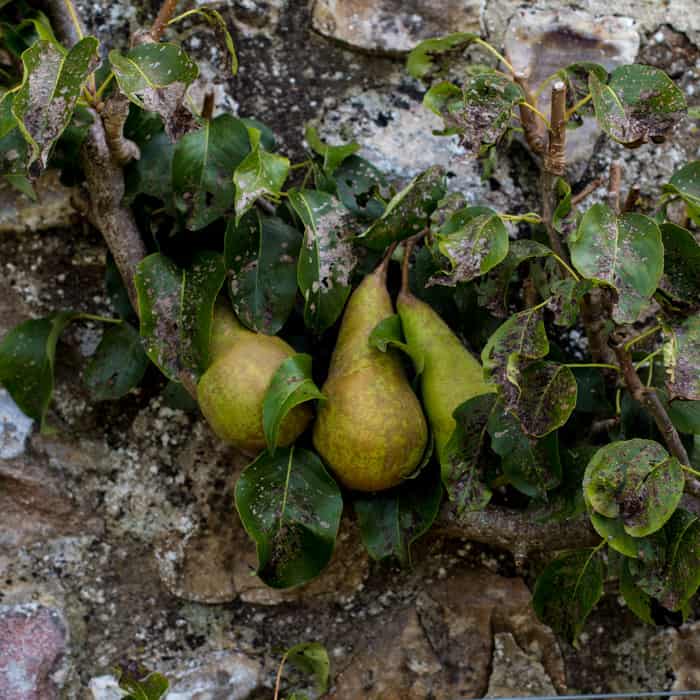 Pear muffins with cinnamon spice
In the following recipe, I used cinnamon but also added a little bit of ground ginger and a good scraping of nutmeg too.
These warm spices really compliment the flavour of the pear and make for a really sweet treat!
You could also swap out the pear for apple if you prefer.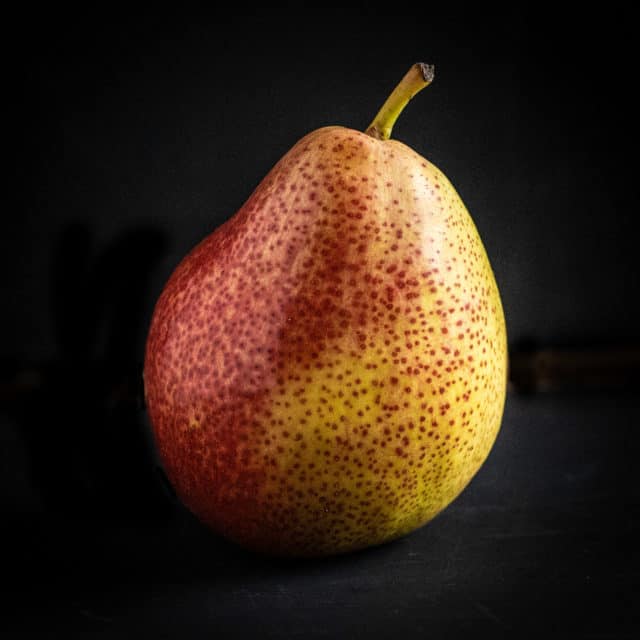 Spiced Pear Muffins Recipe
If you give this recipe a try, I'd love to know what you think! Feel free to drop a comment below, send me an email, or tag me in any pics you share on social media. I love seeing my recipes being made around the world and try to share all those that I see! You can find me pretty much everywhere as @hedgecomber.
Enjoy! ;)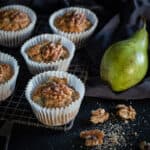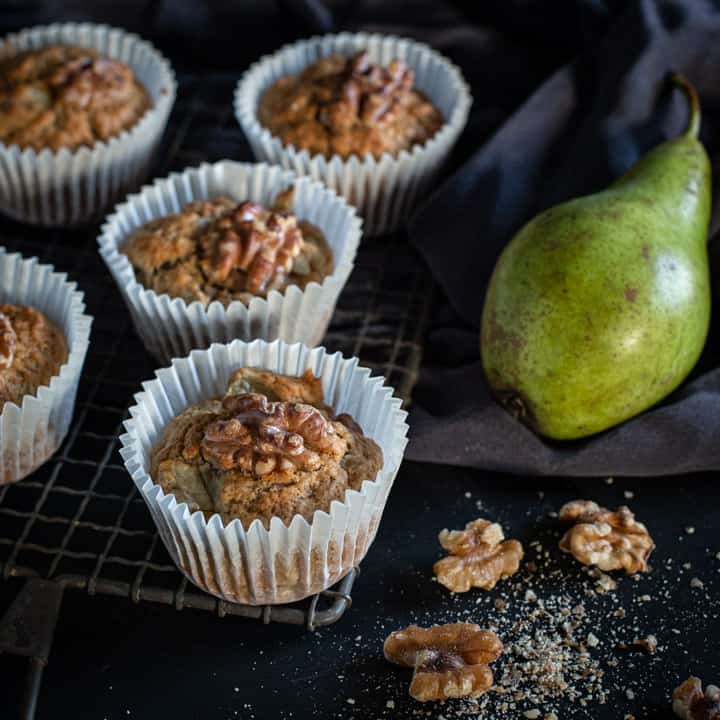 Spiced Pear Muffins
Keyword:
spiced pear muffins
Ingredients
Dry Ingredients
250

g

plain flour

3

tsp

baking powder

1/2

tsp

salt

1

tsp

cinnamon

1/2

tsp

ground ginger

nutmeg

a good scraping

80

g

sugar
Wet Ingredients
1

egg

beaten

150

ml

milk or water

90

ml

vegetable oil

180

g

fresh pear

chopped
To Finish
12

walnut halves

- optional
Instructions
Preheat the oven to 190c/375f/gas 5.

Line a muffin tray with paper or silicon muffin cases. If you are using a cupcake tray & cases, this mix will make more than 12 and they'll need less cooking time.

Sift the dry ingredients into a large bowl.

Mix all of the wet ingredients together in a large jug.

When the oven is at temperature, pour the wet into the dry and mix gently but quickly just until there are no traces of flour left.

Spoon the mixture into the waiting cases and bake for 20-25 minutes, or until the tops are golden brown and spring back when pressed.

Carefully remove the muffins from the tray and pop on a cooling rack.

Once cool move to an airtight tin ro the freezer to store.
Nutrition Facts
Spiced Pear Muffins
Amount Per Serving
Calories 202
Calories from Fat 90
% Daily Value*
Fat 10g15%
Cholesterol 15mg5%
Sodium 109mg5%
Potassium 196mg6%
Carbohydrates 26g9%
Protein 3g6%
Vitamin A 40IU1%
Vitamin C 1mg1%
Calcium 78mg8%
Iron 1mg6%
* Percent Daily Values are based on a 2000 calorie diet.