I am so excited and honoured to share this – THE best mincemeat recipe EVER, with you! There is a very special ingredient. Without this, any other mincemeat recipe simply won't match up…what could it possibly be?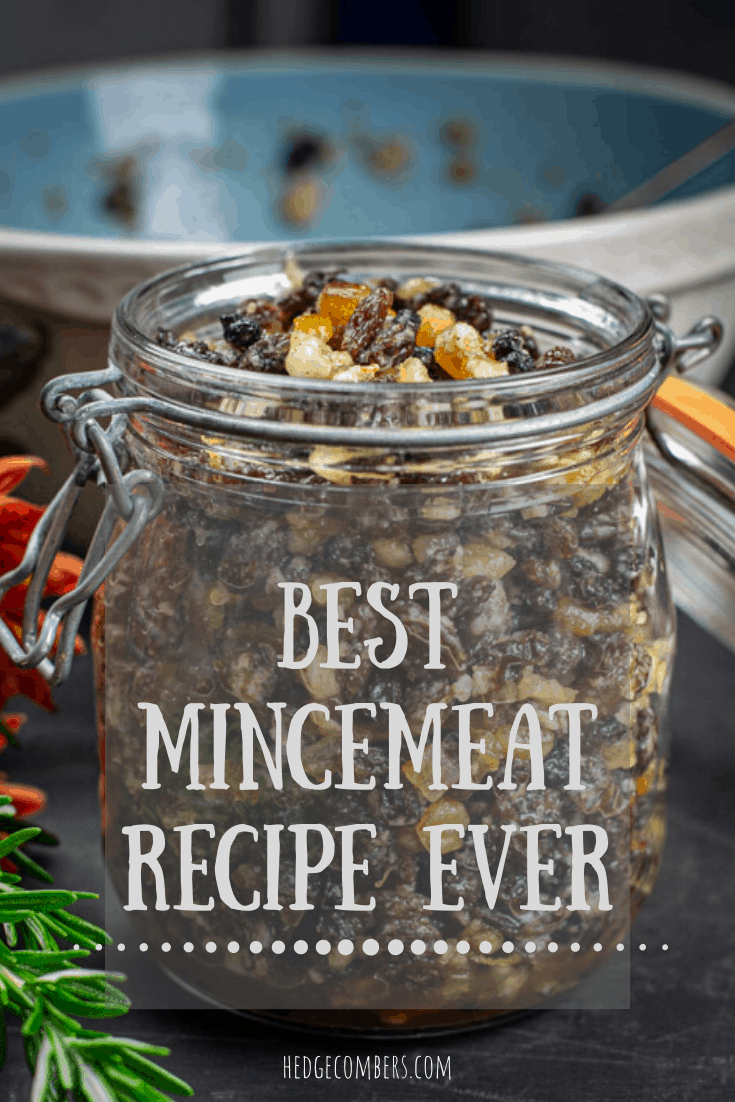 There is a chill in the air, the faint sound of 'So here it is, merry Christmas' as you pass shop doors, and somebody somewhere has a neighbour (or perhaps they ARE the neighbour) who is first in the street to put up their tree.
Which surely means that it must be early November! ;)
This is that magical time of the year when I need to double check the list (nope, not the one where I'm making sure I've got enough good v's bad points – I don't have to check that one! I'm always good! ;) ). This is the list of potential homemade goodies I'll be making for my Christmas gift-giving!
Lynne's delicious gift!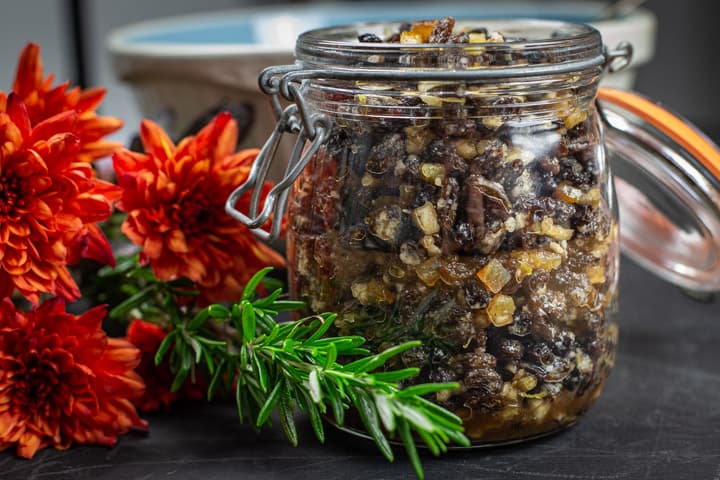 I love this time of year. It takes a bit of organising but I'm generally all lined up with ideas for baking, making, boozing and infusing (if you'd like inspiration for your own homemade Christmas gifts, you'll find 25 of them here). Timings are what I'm keeping my eye on and right about now, the clock is ticking on one of my favourites. It is time to make jars of mincemeat!
Now, you'll find ready-made mincemeat in all the supermarkets. However, every year, my good friend Lynne and her mum Jean, make a huge batch of their own. I consider myself extremely fortunate to receive a jar! This is seriously the BEST mincemeat recipe I've ever had the pleasure to enjoy. One day, my jar nearly even made it to Christmas!
Anyway, one dark November when I was almost down to the bottom of the jar I'd been gifted, I asked Lynne and Jean if they would allow me to share the recipe, so I could pass it on to all of my readers. What a treat!
This year, I decided it was time to pull the mincemeat recipe out of the Hedgecomber archives. I've re-made it so that I may share it with you. All in the name of the spirit of Christmas giving, of course!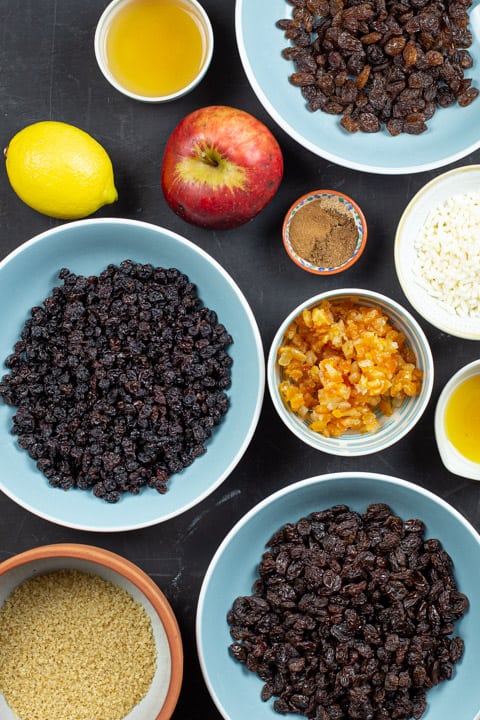 Festive Mincemeat Ingredients
It goes without saying that the best mincemeat recipe ever is a moist mix with the perfect blend of flavours. It is a bazillion times tastier than any supermarket version.
There are a couple of ingredients I've used here which my friends in other parts of the world may not be familiar with.
The first is mixed peel. Also known as 'candied peel' this refers to orange and lemon peel which has been soaked in a sugar syrup until the syrup replaces the natural moisture in it. It is used to preserve peel and tastes amazing in this recipe.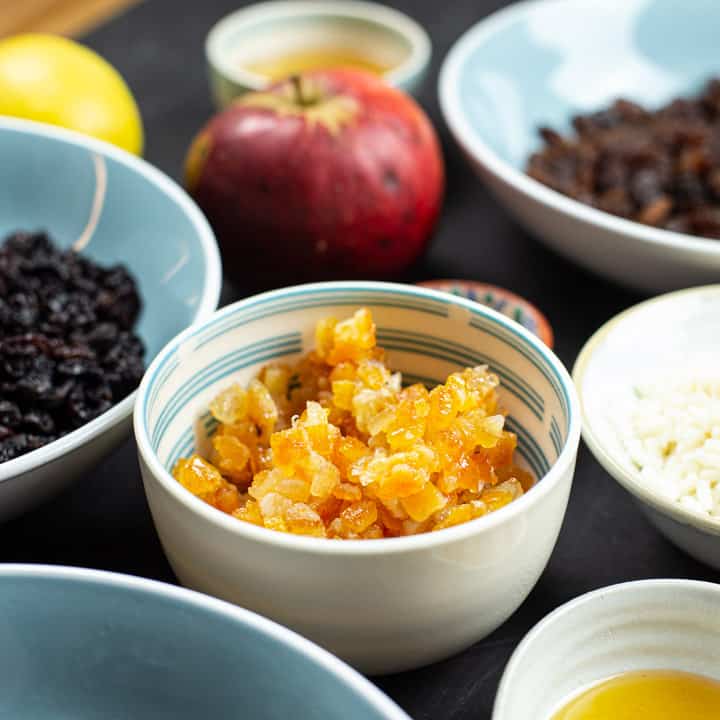 The second ingredient is suet. This is traditionally used in a number of English puddings.
You can choose to use either beef suet or vegetable suet – either works very well in this mincemeat recipe.
What is it? Effectively suet is the fat of the beef which is found around the kidneys or loins.
Vegetable suet is a fat combined with wheat flour or rice flour (note: do check what the suet is made of – if you are cutting out / cutting back on palm oil, this is a fat commonly used in vegetable suet and it may not be sustainable palm oil).
A quick side note – if you have some suet leftover after making this recipe, this traditional figgy pudding recipe uses it too! Two sweet Christmas suet recipes in one place!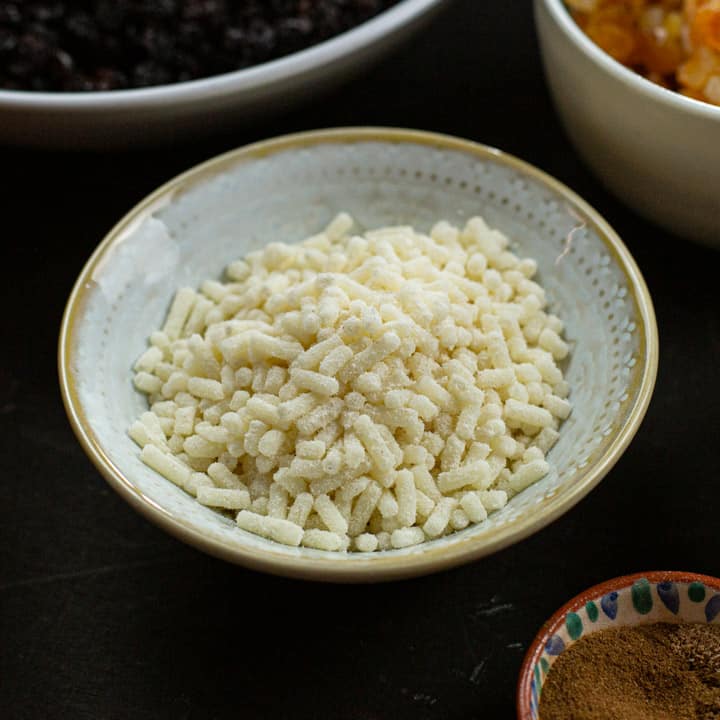 As well as the mixed peel, this recipe calls for a range of dried fruits including sultanas, currants and raisins. However, if you had these and other dried fruits in the storecupboard, you could try adjusting the recipe slightly to use up your goodies.
Finally, as well as some chopped up apples, there is a little sugar, spice and something extra nice (brandy or whiskey to be specific!) added to the mix!
Secret ingredient which makes this the best mincemeat recipe EVER!
Let's go right back to the beginning however. I said that there was a very special ingredient included in this recipe. But you won't find it on the recipe card below.
The most important ingredient in this BEST mincemeat recipe EVER is…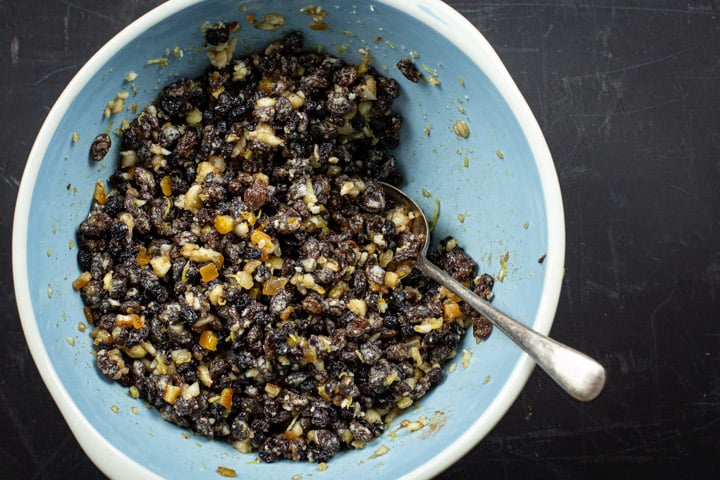 A whole lot of love! Whenever I have enjoyed the delicious jars gifted to me by Lynne and her mum, I just know that a whole lot of love went into making them. Family traditions at Christmas-time are sweet and special. These traditions are based as much on the magical, memorable time a family spends together as they are about the activity taking place.
When I've received my gift in the past, I have imagined being in the kitchen with these two lovely ladies. Chatting all warm and cosy together, knowing that they are making the jars to give to others. All those wonderful spices making the room smell delicious! Perfect!
I'd love to know about your family traditions at this time of the year. Do you have any which involve food? If you don't, perhaps you could start with this recipe. Invite a loved one around, pour yourself a glass of mulled wine and prepare and create your own jars of mincemeat magic!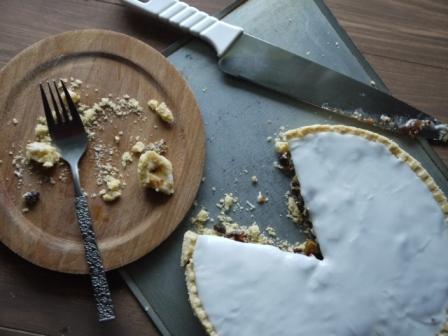 Mince pies topped with icing
Just one quick mention before we head into the kitchen…
Normally, I use this best mincemeat recipe in traditional little mince pies with pastry lids and all, but I have also been inspired! When Jean mentioned her friend who makes one big pie, and drenches it in icing…yes, I said icing, I was SOLD! Seriously, this is ALL the good stuff! Why not give it a try as a delicious alternative to your traditional mince pies?! If you do, please let me know how it goes!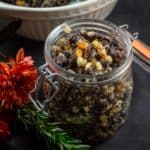 Best Mincemeat Recipe
Keyword:
christmas, christmas dessert, christmas gift
Ingredients
225

g

seedless raisins

110

g

sultanas

110

g

apples

peeled & cored

110

g

mixed peel

50

g

suet

beef or vegetarian are both fine

225

g

currants

110

g

soft brown sugar

1

tablespoon

golden syrup

1

teaspoon

mixed spice

1

teaspoon

cinnamon

¼

teaspoon

nutmeg

4

tablespoons

brandy or whisky

Juice & zest of 1 lemon
Instructions
Blitz the raisins, sultanas, apple, peel & suet briefly until coarsely minced. Leave the currants whole.

Mix all the ingredients together well, cover the bowl and let it rest stirring occasionally.

24 hours later pot into sterile but cold jars, leaving a little space at the top of each jar. Pop on a waxed disc and cover with the lid or jam pot cover.

Keep in the fridge until ready to use.