These Welsh Lamb Kebabs, made with lamb neck fillet, and are so tender and juicy.
They combine my homemade fiery harissa spice blend and cooling minted yogurt for the perfect combo.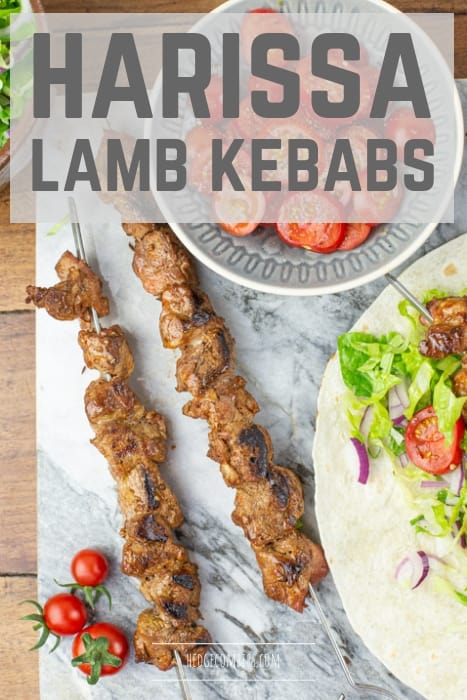 I initially intended to make these juicy lamb kebabs with diced leg steak, which is really easy to get hold of.
However I recently got whisked off to Wales to learn all about the PGI Welsh Lamb brand and whilst there I met 'Dai the Muscle', previous Britain's Strongest Man and chief butcher at Hugh Phillips Gower Butcher.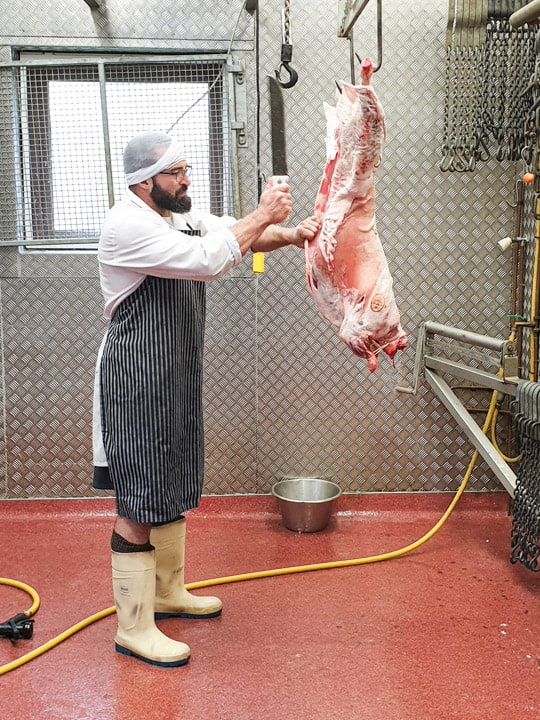 Whilst breaking down a lamb for us, he talked through the various cuts you could get from a carcass.
The farmers' daughter in me learnt a tonne and I came away vowing to use a different cut for my kebabs.
Turns out that the lamb neck fillet, being a muscle that doesn't do an awful lot of work as a sheep grazes those lush green hills, is one of the tenderest cuts of lamb.
And the soft fat around the muscle melts down to create a kebab that is both juicy and extremely tender.
If you've never used neck fillet before either, I urge you give it a try!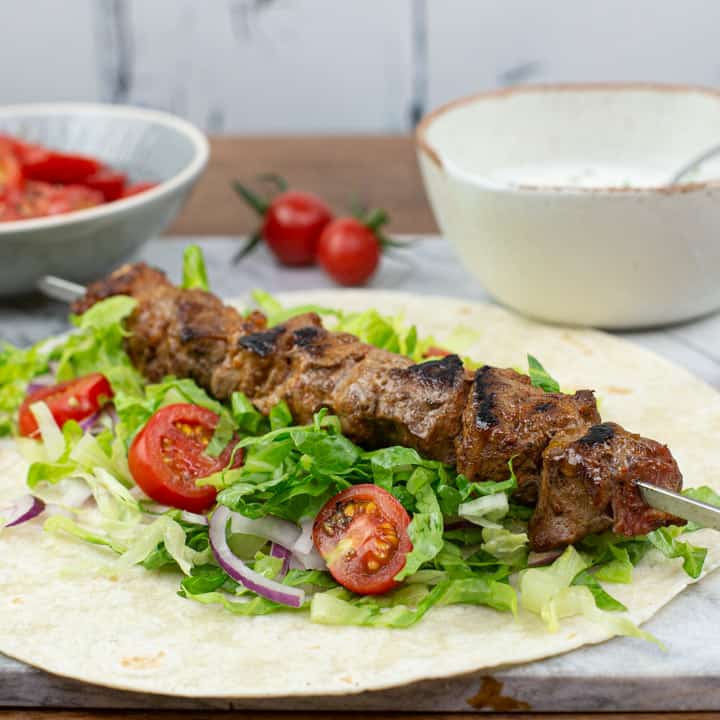 Learning about Welsh Lamb
The PGI status of Welsh Lamb shows just how serious the Welsh are about their lamb.
The landscape, topography and yes, even generous rainfall all combine to make the perfect conditions for rearing sheep.
Whether on the salt marshes in the south, the mountains in the north or anywhere in between.

And as the vast majority of agricultural land in Wales is unsuitable for growing cereal or vegetable crops, lamb and beef are two of the best uses of this pasture.
So you can feel good about the environmental aspect of buying Welsh Lamb too.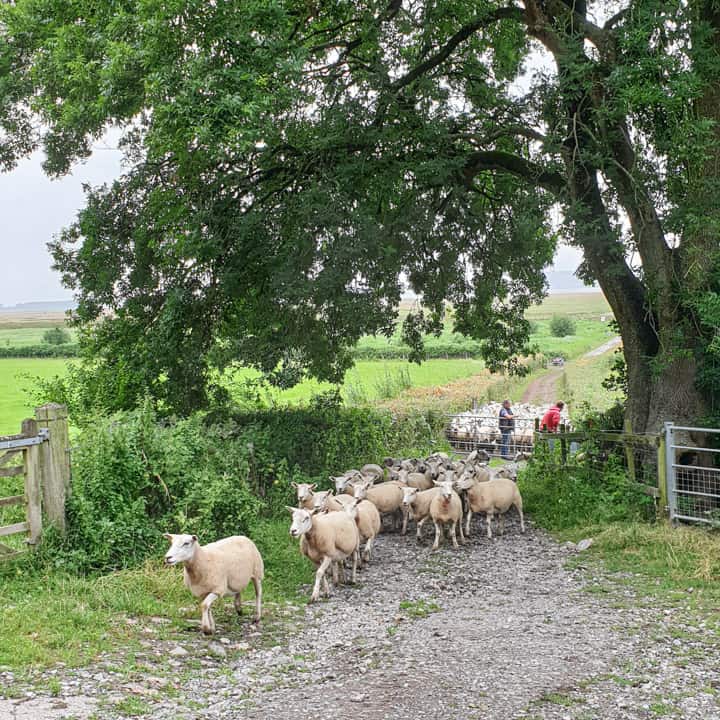 Following on from our butchery masterclass, we visited the salt marshes (above) at Gower Salt Marsh Lamb.
Our visit coincided with the flock being moved up off the marshes to higher ground.
Apparently, the sheep have trouble navigating the marshland when the tides get too high, and can be at risk of drowning.
So a few times a month they are herded up to the farm where they graze among the beautiful ruins of Weobley Castle and the farm's own campsite.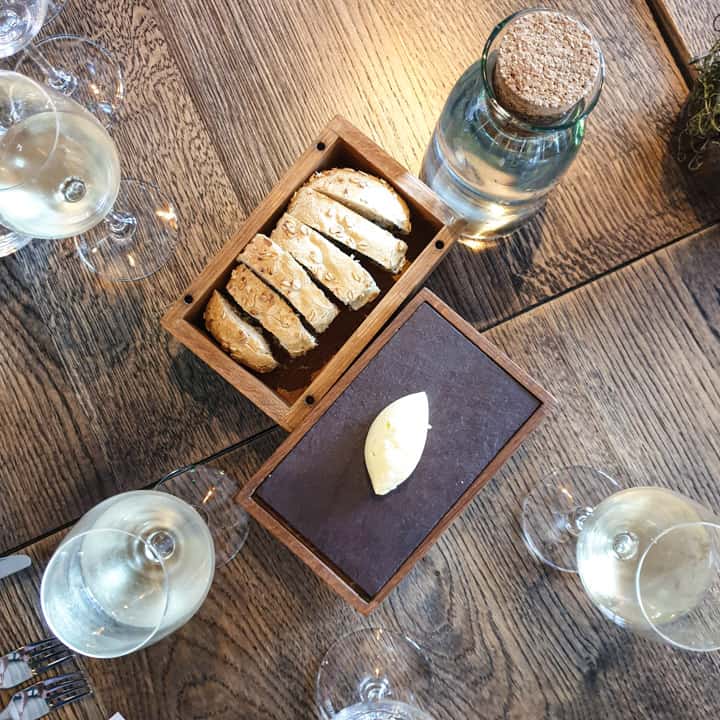 Next on the agenda was a lamb cooking demo from Hywel Griffith's at his fabulous restaurant the Beach House in Oxwich Bay.
He walked us through a variety of cuts and dishes including faggots (which were fabulous!) and the most incredible laverbread sauce.
Hywel's passion for local Welsh produce, and particularly Welsh lamb shone through.
And the glorious four-course meal, with three different lamb variations, was a testament to that passion.
Thanks for a lovely evening Hywel.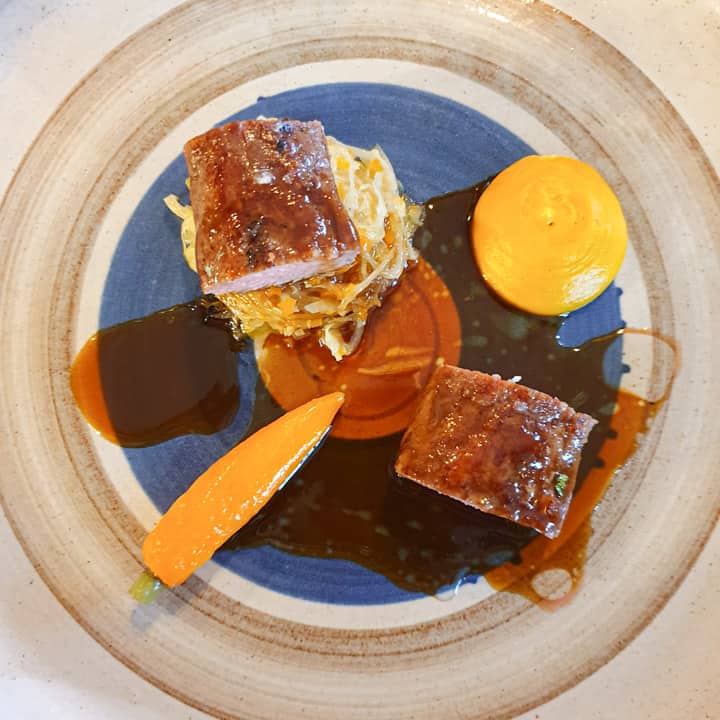 Welsh Lamb Kebabs
And so, here's the promised recipe for those juicy and tender lamb neck kebabs.
As you'll see in the video linked below, I bottled out of firing up the BBQ as the forecast this past weekend here in Cornwall was horrendous.
However, apart from a very light mizzle (Cornish love child of mist & drizzle) the weather turned out to be just fine.
Dang it.
You can watch the recipe & adventure video here!
Homemade Harissa Spice Blend
Regular readers will know that I love making up my own spice blends.
Not only does it give you full control over exactly what you're eating.
But you can adapt your blend to suit your family's taste too.
I've used a mix of coriander, cumin and caraway seeds, paprika, garlic and chilli (full recipe below).
Depending on the type, and amount, of chilli you use will depend on how hot your final blend is.
So as always, err on the side of caution and add more if you fancy.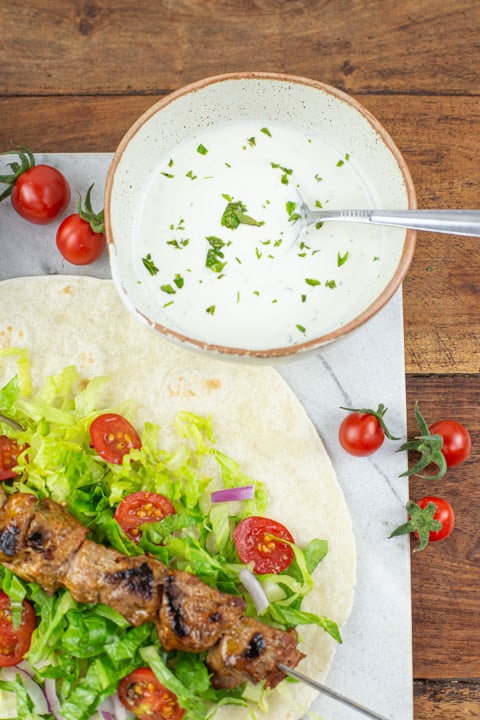 Mint Yogurt Sauce
And if you do get a little heavy handed with the chilli, this cooling mint yogurt sauce will save the day!
I used a lactose-free Greek-style yogurt with fresh mint leaves from the allotment.
Then I thinned it out with lemon juice and 'savouryed' it up with the addition of salt and garlic powder.
So quick and easy, yet so delicious!
And can we all just take a moment to adore those tomatoes?!
Freshly picked from the polytunnel, and lightly dusted with salt and pepper.
It's lovely having my tomatoes back on the menu again!)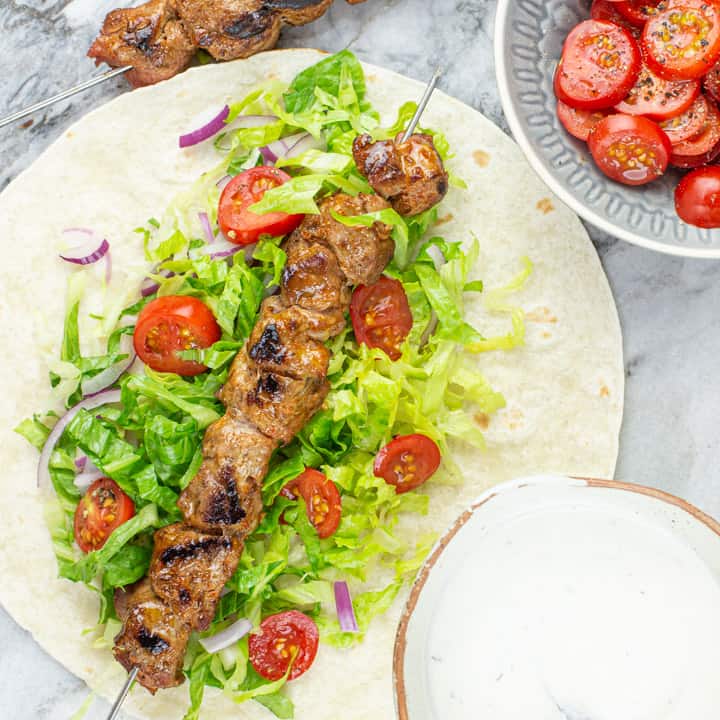 If you'd like more one-pot recipe inspiration, please check out my archives here: Stove Top Recipes. And if you'd like to find more fun ways to cook with lamb, give this readers favourite Slow Cooker Pulled Lamb a try. It's delicious!
And if you make this, or any of my recipes, please feel free to tag me in any pics you share online. You ca find me pretty much everywhere as @hedgecomber.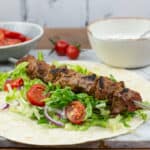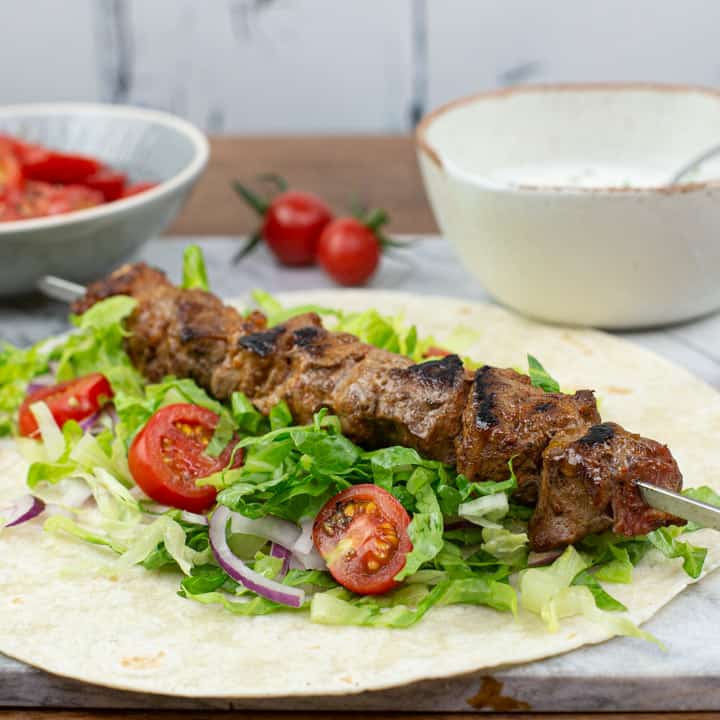 Welsh Lamb Kebabs
This Welsh Lamb Kebab recipe is made with lamb neck fillet, and they are so tender and juicy. They combine my homemade fiery harissa spice blend and cooling minted yogurt for the perfect combo.


Keyword:
Lamb Kebabs, mint yogurt sauce
Ingredients
Harissa Spice Blend
1

tbsp

coriander seeds

1

tbsp

paprika

(plain, not smoked)

1.5

tsp

garlic powder

1.5

tsp

cumin seeds

1

tsp

chilli flakes

1/2

tsp

caraway seeds

1/2

tsp

salt

1/2

tsp

pepper
Mint Yogurt Sauce
4

tbsp

plain yogurt

10

mint leaves

very finely chopped

2

tsp

lemon juice

1

pinch

salt

1

pinch

garlic powder

600

g

lamb

neck fillet
Instructions
How to Make the Harissa Spice Blend
Mix all the spices in a spice grinder or pestle and mortar and grind until the seeds are crushed.

You will need 1 tbsp of the blend for this recipe. The rest will store happily in an airtight jar.
How to Make the Mint Yogurt Sauce
Mix all the ingredients into a small bowl. Taste, and add more of your favourite flavours until you are happy with the consistency and flavour profile.
How to Make Welsh Lamb Kebabs
Dice the neck fillet into bite sized chunks.

Tip into a mixing bowl and sprinkle with one tablespoon of the harissa spice blend.

Massage the spices into the meat, ensuring each piece is well coated.

Thread 1/4 of the meat onto 4 metal skewers, or wooden skewers that have been soaking in cold water for 20+ minutes.

Fire up the BBQ or griddle pan until hot. Add the kebabs and cook for 10-12 minutes, turning occasionally.

Serve with your choice of flatbreads and salads.
Recipe Video
Nutrition Facts
Welsh Lamb Kebabs
Amount Per Serving
Calories 456
Calories from Fat 333
% Daily Value*
Fat 37g57%
Cholesterol 112mg37%
Sodium 411mg18%
Potassium 471mg13%
Carbohydrates 5g2%
Protein 27g54%
Vitamin A 1112IU22%
Vitamin C 2mg2%
Calcium 74mg7%
Iron 4mg22%
* Percent Daily Values are based on a 2000 calorie diet.
Need Even More Welsh Lamb Inspiration?
Check out the recipes form my fellow travellers!
These PGI Welsh Lamb Sheftalia with Laver Flatbreads from Helen look awesome.
Nicky has shared a slow roast shoulder of lamb which totally made my mouth water.
Pippa, aka The Slimming Foodie, shared a Bombay Hotpot and the lovely Eb plumped for a Welsh Lamb Paella!
As you can see lamb is such a versatile meat that has the most unique flavour profile. Do let us know you favourite way to prepare it is!
Huge thanks to PGI Welsh Lamb for my recent adventure and for sponsoring this recipe. As always all thoughts (and leftovers!) are my own.
Jane x