Traditional Shetland Reestit Mutton Stew is a hearty, deeply flavoured dish of the stick-to-your-ribs variety. It's just perfect after a long day exploring the beautiful islands of Shetland.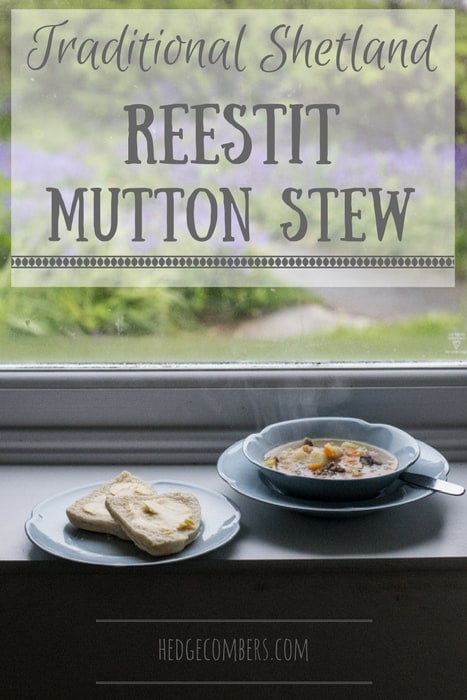 Shetland. Wow. We have seen some beautiful places on this road trip, but for me, nothing came close to Shetland.
The landscape is breathtaking, the roads are immaculate, the wild camping in awesome. The houses are colorful and the people… ahh the people. Courteous, kind, softly spoken with the lovely Shetland lilt. I could have happily spent our entire month long trip exploring the islands of Shetland, and I'm pretty sure I'll be going back at some point.
I feel like I've left a little piece of my heart in those islands.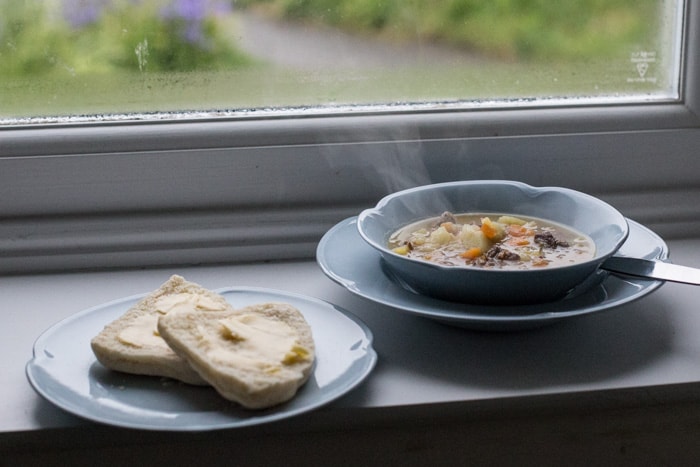 The reason we made the trip to the most northerly part of the UK was to visit my good friend Elizabeth who I have known for years but never met. She is a fellow food blogger over at Elizabeth"s Kitchen Diary, and as we live at polar extremes of the UK our paths were unlikely to cross by sheer accident.
Reestit Mutton
As I was researching the island, and particularly the cuisine, I happened across this article for traditional Shetland reestit mutton stew. Amusingly I discovered that it was written two years ago by… Elizabeth!
It piqued the interest of my inner smallholder as it referred to an age old method of preserving meat that I'd never come across before. Reestit mutton is a joint of mutton that is brined, then air dried by hanging in the rafters above the peat fire that kept the family warm and well fed through out the colder months. There it would happily hang for months at a time, picking up the smoky flavours of the fire below and mellowing out into a delicious final product.
If you manage to hunt some down this is how it looks in it's dried state…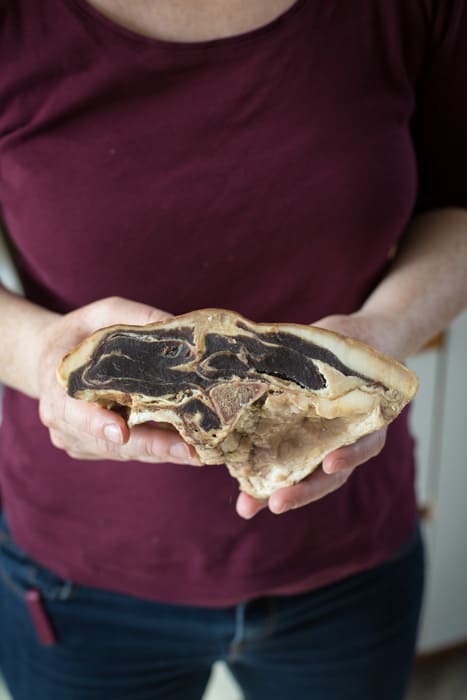 To turn this rock hard lump of meat into a deliciously tender bowl of stew, you first of all need to simmer it for two hours. This would have tricky to achieve over over campfire so Elizabeth kindly took it home and cooked it for me :)
Once cooked, the meat is pulled from the fat and bones and it's definitely worth sneaking a taste at this point. It's a lovely, well rounded flavour and so so tender. A simple stew is then made using root vegetables and the resulting dish is nourishing and deeply flavourful.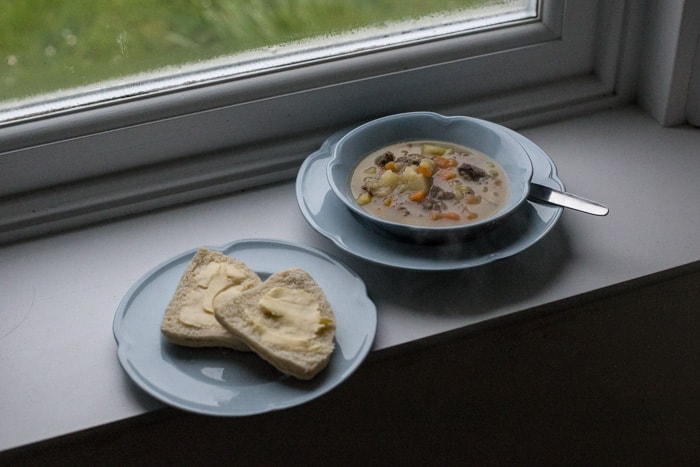 Traditionally it would have been serves alongside some buttered bannock, but that recipe is for another day!
Here's hoping you enjoy this recipe if you give it a go. And if you're a huge lamb fan like me, why not give this Slow Cooker Pulled Lamb recipe a try? It's one of our most popular recipes here at The Hedgecombers, and readers rave about it!
Jane x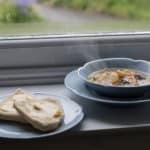 Traditional Shetland Reestit Mutton Stew
Keyword:
Traditional Shetland Reestit mutton stew
Ingredients
1

kg

Reestit mutton

cold water (to cover)

1

onions, finely diced

300

g

potatoes, finely diced

200

g

turnip, finely diced

200

g

carrot, finely diced

1

litre

stock, or water & stock cube
Instructions
Pop the mutton in a large saucepan and cover with cold water. Bring to the boil, then reduce the heat a little and simmer for two hours or until the meat is tender.

Discard the cooking water and when the mutton is cool enough to handle, strip the meat from the bone.

In the same pan add the mutton, vegetables and stock and simmer for 20 - 30 minutes or until the veggies are all tender.

Using a potato masher, crush around half of the vegetables which will thicken the broth whilst leaving some bite to the stew. Stir through the mutton and simmer for a couple of minutes to heat through.

Season to taste (do bear in mind that the mutton can still be a little salty) and serve with buttered bannock or bread.
Nutrition Facts
Traditional Shetland Reestit Mutton Stew
Amount Per Serving
Calories 424
Calories from Fat 117
% Daily Value*
Fat 13g20%
Cholesterol 162mg54%
Sodium 239mg10%
Potassium 1315mg38%
Carbohydrates 19g6%
Protein 53g106%
Vitamin A 8355IU167%
Vitamin C 24mg29%
Calcium 83mg8%
Iron 7.2mg40%
* Percent Daily Values are based on a 2000 calorie diet.
Huge thanks to Elizabeth and her gorgeous family for helping bring this traditional recipe to life, for showing us round their beautiful island home. You can find out more about her and lots more about Shetland over at her fab blog, Elizabeth"s Kitchen Diary.