It's probably not the done thing to be making pies when so many of you have New Years resolutions fresh on your mind, but the masses of veggies in this pie counteract the ridiculously thin layer of pastry on the top. Honest.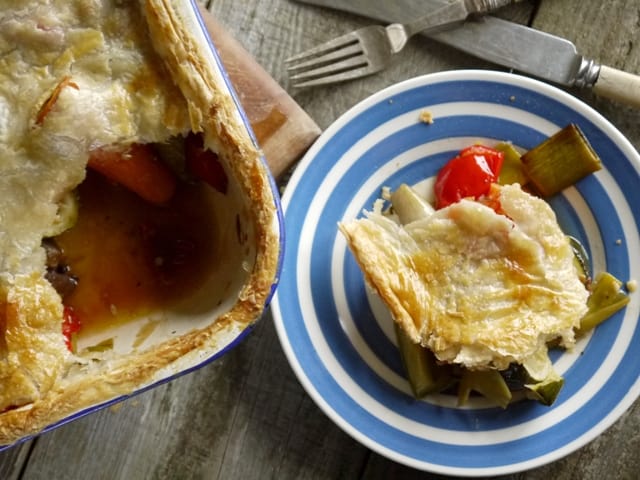 And why a 'Sunny' roast veg pie? Well, Cornwall has been making headlines yet again for the ferocious weather hitting our shores over the past couple of weeks, so I figured we all needed a little bit of sunshine, if only on our plates.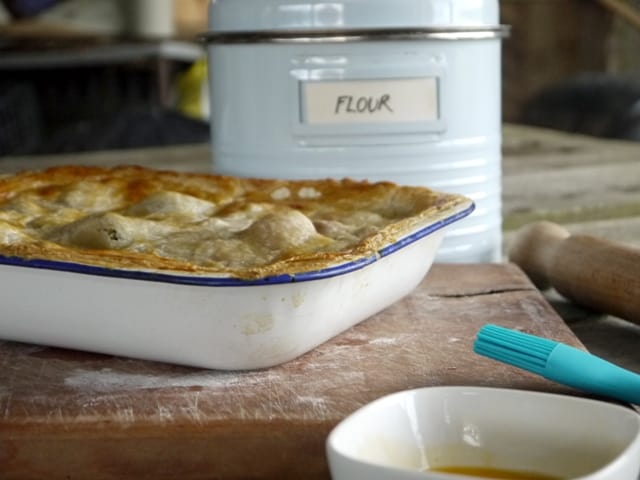 Find the most colourful veggies you can if you make this pie for the family. Red, orange & yellow peppers are a great place to start, courgette, carrots, leeks, mushrooms, broccoli, sweet potato etc etc. Beetroot would taste great too, although it would turn everything purple making the pie more psychedelic than sunny.
And the sun-dried tomatoes, whilst not strictly a roast veg, get through purely cos I like them so much. And this pie likes them. So don't argue, just add them. It is also worth adding mushrooms as they add a lovely little juice to the pan when they are roasting, allowing you to keep the oil at a minimum. There, that hint was for everyone aiming to lose a few pounds this New Year :)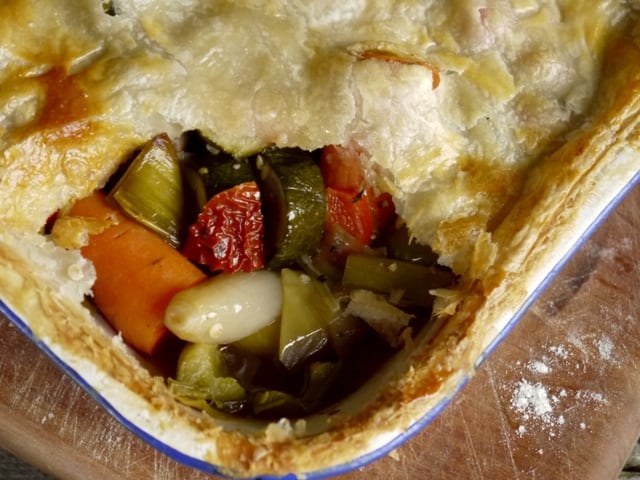 I sprinkled a chopped fresh chilli over the veggies before topping with the pastry lid, but feel free to omit if you don't need that much sunshine in your life.
Serve with a large glass of wine on the side to make up for all the virtuousness contained within the healthiest pie in the world.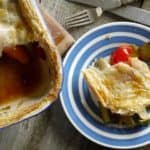 Sunny Roast Vegetable Pie
Servings
:
4
-6, depending on appetites & side dishes
Ingredients
A baking pan full of colourful veggies

chopped into good sized chunks.

A little oil

1/2

jar of sun-dried tomatoes

Save that oil for cooking with another day as it tastes so good, drained & chopped.

Salt & pepper

1

chilli

optional, finely chopped

250

g

puff or shortcrust pastry

1

egg

beaten
Instructions
Preheat the oven to 180/350.gas 4

Toss any root veg you are using in a little oil before roasting for 15 minutes.

Add in the other veggies, coating them lightly in oil too, and roast for another 30 minutes, stirring them up every now & then.

Season the veggies, and sprinkle with the fresh chilli pepper if using.

If you are cooking the pie straight away, then top the veggies with a pastry lid making it stick to the pan with a little egg wash round the sides. Egg wash the top of the pastry too before baking for around 20 minutes or until the the top is golden brown and smells delicious.

If you are baking it later, let the veggies cool first before topping with pastry and leaving in the fridge until ready.

Egg wash the lid just before baking, and add 5 or 10 minutes onto your cooking time if baking straight from the fridge (and bring the dish up to room temperature first if you are using a glass or ceramic baking dish).