This quick & easy stir fried squid with lemongrass recipe is super light and fragrant. You can pair it with rice or noodles, or keep it as is for a low carb option.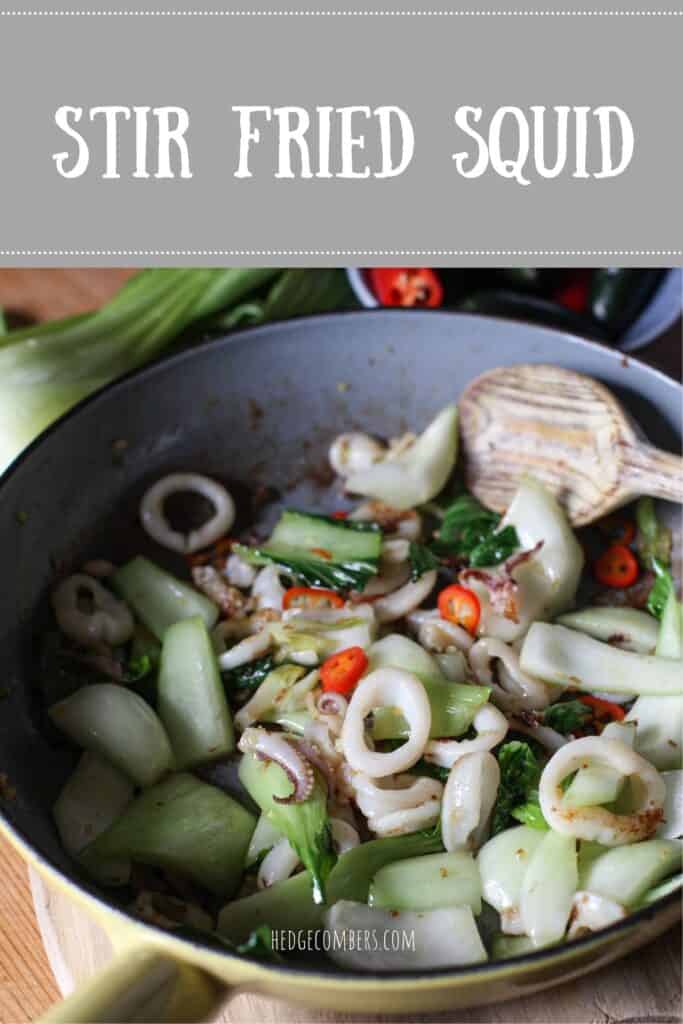 Squid cooks so fast, literally in 3-5 minutes.
So it's the perfect protein source to pair with other quick-to-cook ingredients to make your mix week suppers ready in no time!
And in this super quick squid stir fry, we're pairing it with the following speedy foods:
lemongrass – fragrance & flavour
Pak choi – crunch & vibrant greens
chilli – flavour & heat
sesame oil – flavour
coriander – more vibrancy & flavour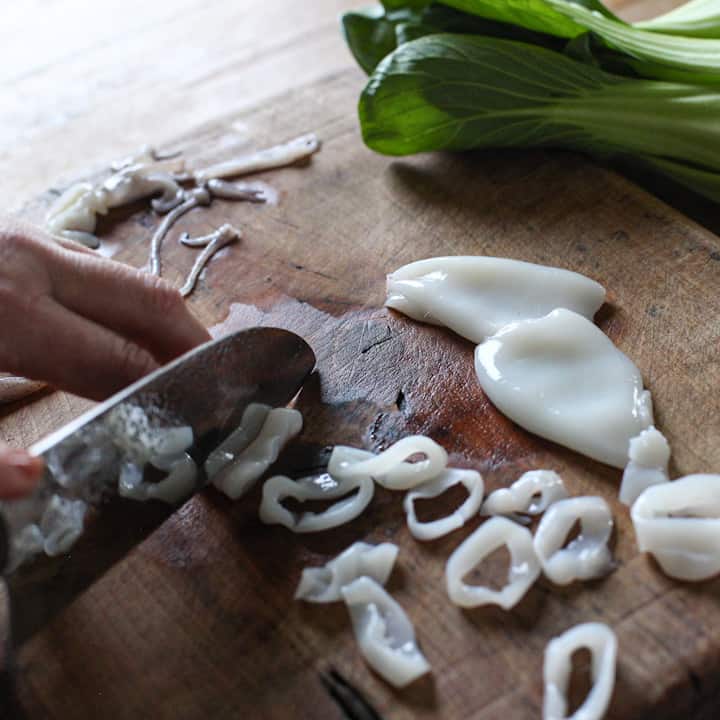 As with most recipes in this world, if you don't have/like one of the ingredients. Swap it out!
And if you have other stuff in your fridge that needs using up. Swap it in!
Use a recipe as a base when you need a little burst of tasty inspiration :)
How to Make Stir Fried Squid
1/ prepare your squid.
I bought these small ones frozen, from the supermarket, so they'd already been cleaned. However, your fishmonger will be more than happy to clean them for you too.
Slice the squid body across, creating little rings.
Then chop the tentacles & legs into bite sized pieces. Remove any hard, or rough pieces at this point too.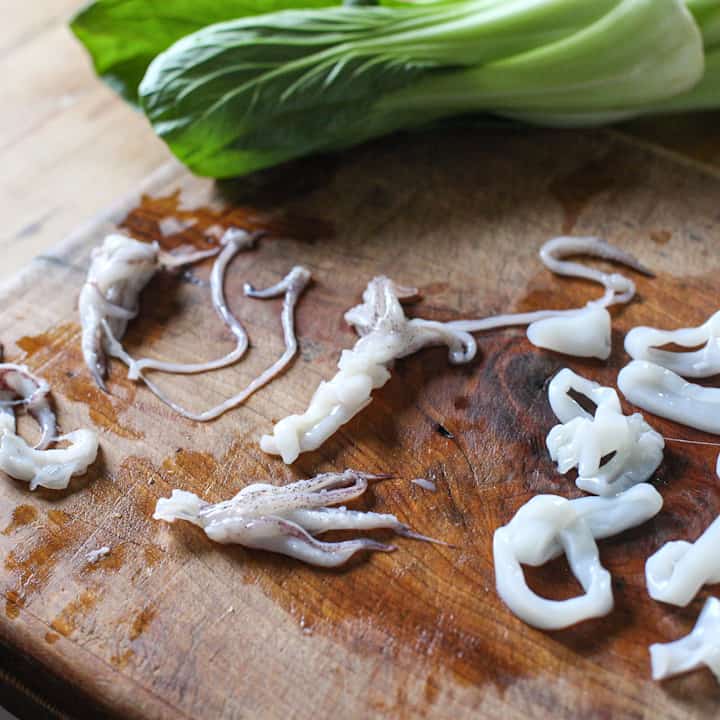 2/ prep your veggies
Chop your pak choi into bite sized pieces.
The green leaves will wilt very quickly, and the stalk part will keep some crunch. So chop the latter into pieces that aren't too big.
I also used a red chilli pepper that was a medium strength, but you could use more, or less, to suit your taste.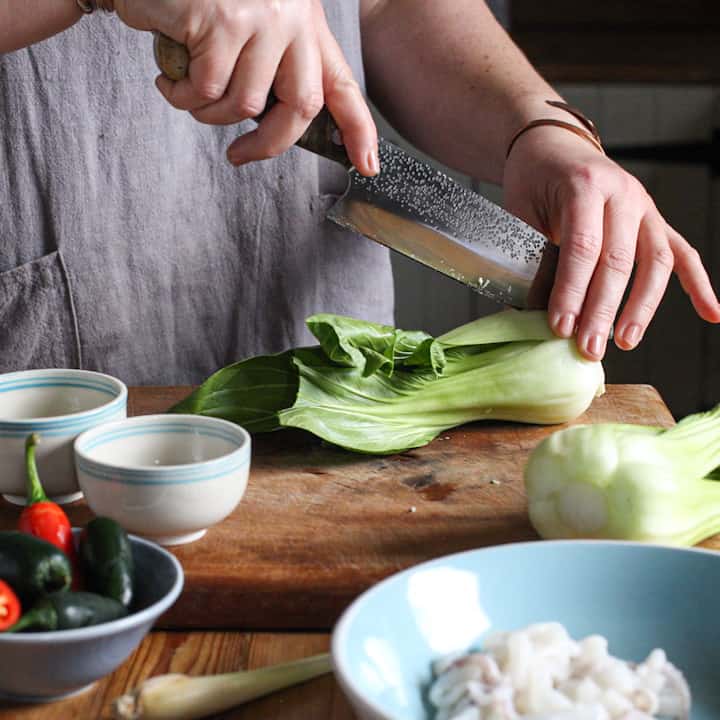 3/ how to prepare lemongrass
If you can find fresh lemongrass stalks, I highly recommend pairing them with squid in this dish.
They bring such a fragrant lightness that tastes (and smells!) amazing.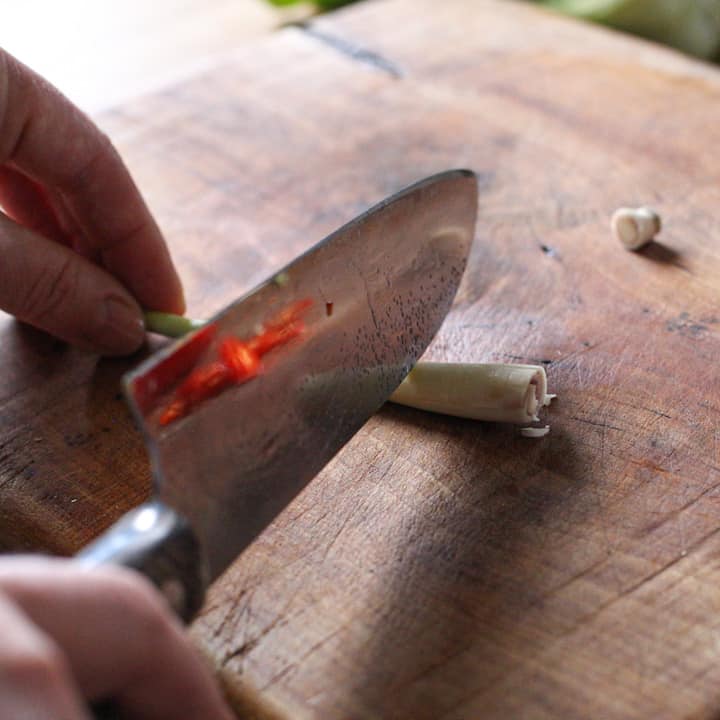 To prep your lemongrass stalks, bash up and down the length of the stalk repeatedly with the back of a heavy kitchen knife.
This is to break up the cell structure of the internal leaves, and release the aromatics.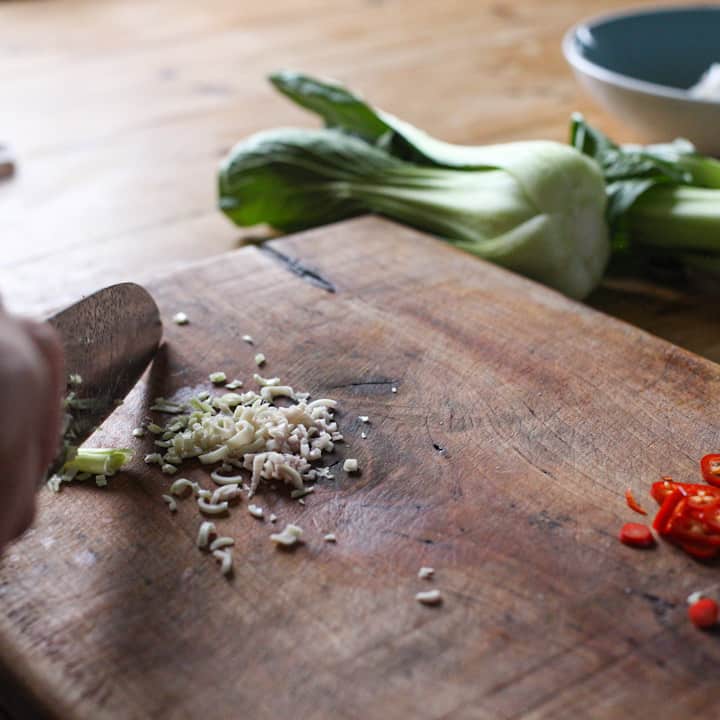 You can then finely chop the whole stalk and add this to your squid and stir fry.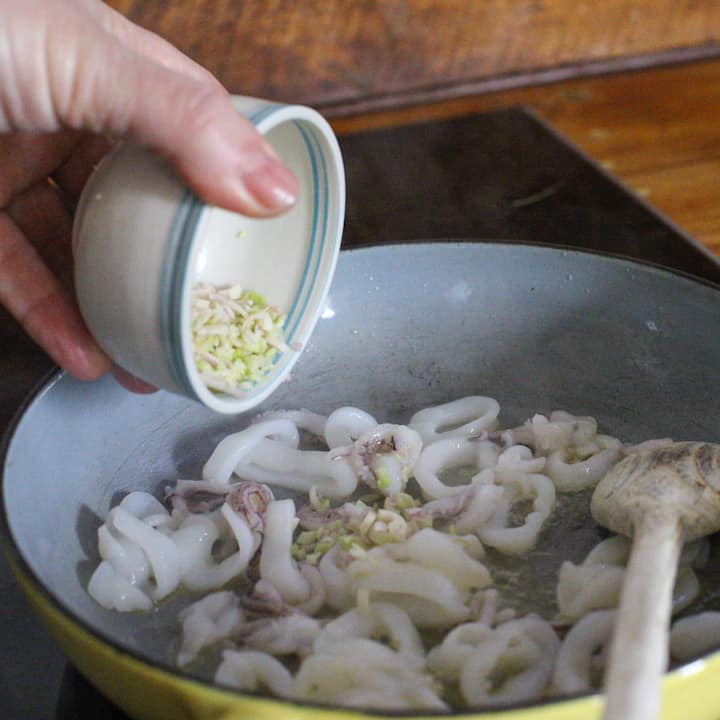 4/ stir fry all your ingredietns
Preheat a frying or sauté pan over a medium high heat.
Add in a little oil (I use ghee), then throw in the squid, lemongrass, pak choi and chilli and stir fry together.
Keep the ingredients moving in the pan so they cook evenly, and in 3-5 minutes, your meal will be ready!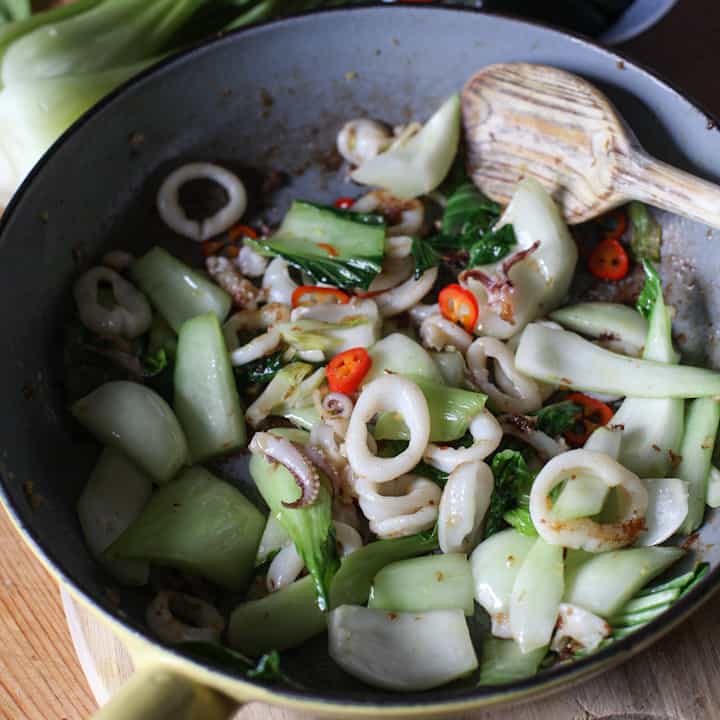 5/ serve your squid stir fry!
Once the cooking is done, I like to remove the pan from the heat and drizzle a little toasted sesame oil into the pan and toss the stir fry round in it.
This is purely for flavour, as toasted sesame oil is delicious added at the end of the cooking time.
I also like to sprinkle a little chopped fresh coriander and a few sesame seeds over my finished dish too.
Yum!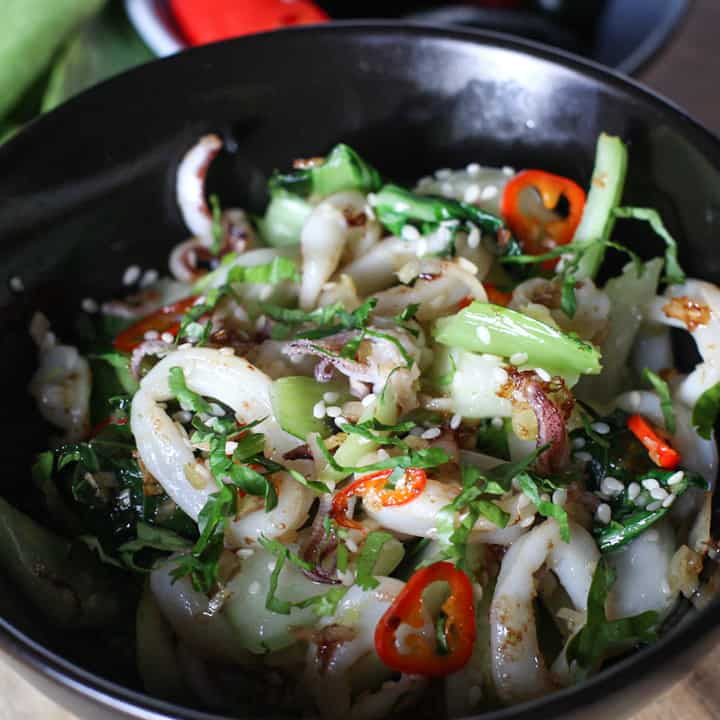 If these flavours make your heart happy too, you might like to give this delicious razor clam recipe a go. It's a winner :)
And now folks, on to the full recipe!
If you give this, or any of my recipes a go, please feel free to tag me in any pics you share online! I love to see my recipes being made all around the world :)
You can find me everywhere as @hedgecomber.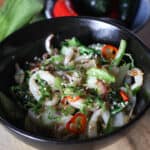 Stir Fried Squid with Lemongrass
Keyword:
stir fried squid
Ingredients
2

tsp

oil

200

g

squid

– cleaned and sliced into rings

2

pak choi

– chopped into bite sized pieces

1

lemongrass

1

red chilli pepper

– finely sliced

2

tsp

toasted sesame oil

3

tbsp

coriander

– finely chopped

1

tbsp

sesame seeds
Instructions
Preheat a frying or saute pan over a medium high heat.

Add the oil, then the squid rings and toss in the hot oil for 30 seconds.

Add in the pak choi, red chilli pepper and chopped lemongrass and stir fry together for a further 3-5 minutes.

Remove the pan from the heat and pour in the toasted sesame oil.

Stir for a few seconds to coat the seafood and veggies, then dish up.

Scatter with the fresh coriander and sesame seeds and serve.
Nutrition Facts
Stir Fried Squid with Lemongrass
Amount Per Serving
Calories 315
Calories from Fat 117
% Daily Value*
Fat 13g20%
Cholesterol 233mg78%
Sodium 599mg26%
Potassium 2606mg74%
Carbohydrates 27g9%
Protein 30g60%
Vitamin A 37954IU759%
Vitamin C 432mg524%
Calcium 995mg100%
Iron 10mg56%
* Percent Daily Values are based on a 2000 calorie diet.