Pimp your winter roast with these delicious Smashed Roast Sprouts with Bacon and Chestnuts and celebrate #OrganicChristmas in style.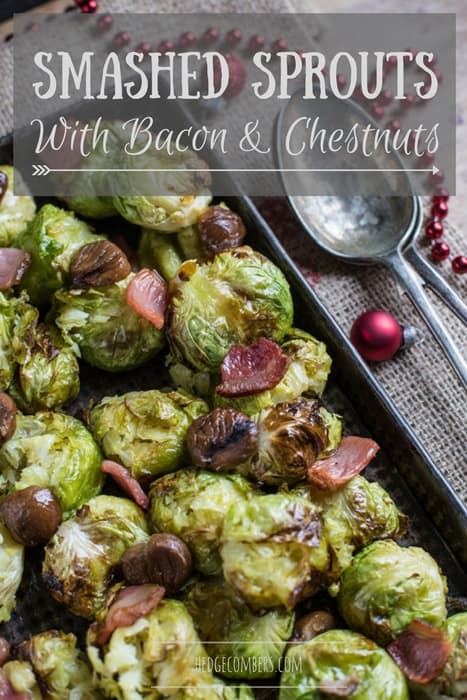 commissioned recipe
As a child my Dad grew the vast majority of our fruit & veg here on the farm. He was a real early bird and would be up long before the rest of us, either chopping logs or tinkering in the allotment or polytunnel.
There was an unspoken rule at dinnertime that would require us to pay extra compliments to anything on our plate that he may have grown. It became a bit of a standing joke, but looking back I realise how darn lucky I was to be brought up on real food. Real organic food. Those veggies were never fed anything other than 'black gold' (aka compost).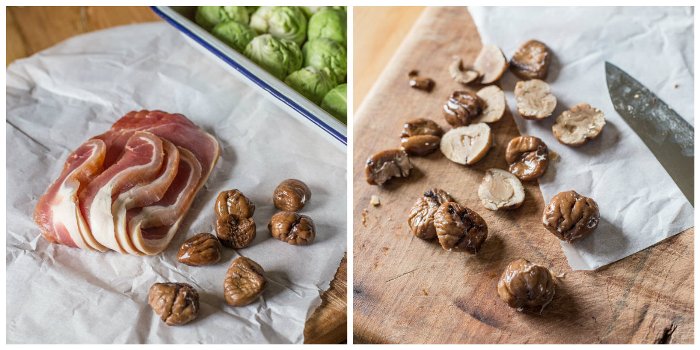 I appreciate not everyone has access to an allotment, poly tunnel or even a back garden to grow their own veggies in. But happily these days we can access good quality, organic foods in every major supermarket, farmers market or health food shop. Yes, it's a little more expensive, but the peace of mind in feeding your family foods that are safe to consume, is priceless (although, ermm, shouldn't this be the norm?).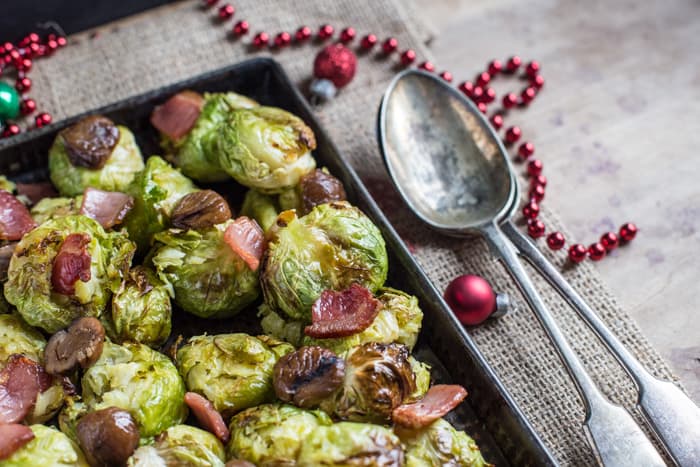 So, to celebrate this years 'Organic. Feed Your Happy' campaign, I was asked to create a festive side dish bursting with organic goodies. And I reckon these festive smashed roast sprouts with bacon and chestnuts fit the bill perfectly!
If you'd like to place organic produce top of your shopping this season, pop over to the Organic Christmas Market courtesy of the Soil Association. A quick search turned up 160 organic producers, products or sellers within a 50 mile radius of our little farm. Mind blown!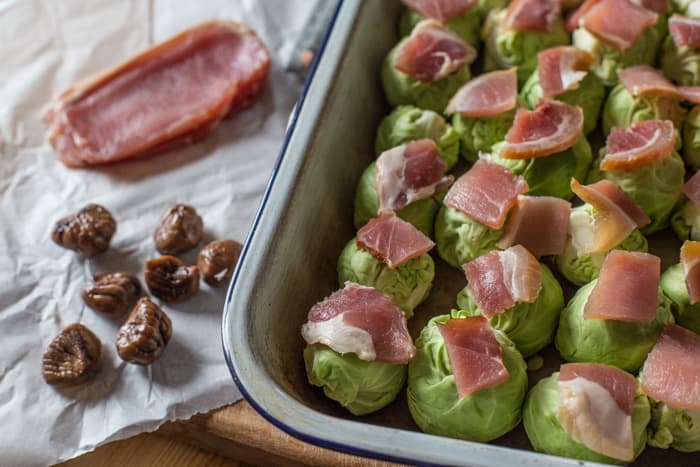 Smashed Roast Sprouts with Bacon and Chestnuts
What's the idea wish smashing Brussels sprouts I hear you cry?
If you haven't tried roasting sprouts yet, please give it a go! The outer skins get a little bit caught and ever so slightly caramelise. The insides are soft, juicy and almost buttery. Pair that with the salty umami flavour of the bacon, and these really are a damn fine side dish.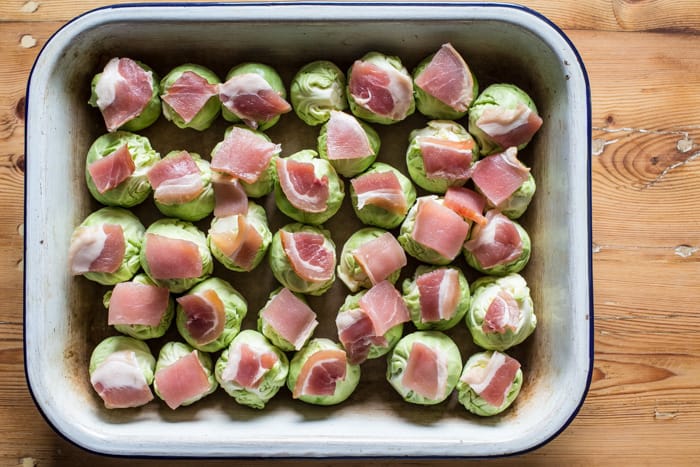 Let's talk bacon. I would have preferred streaky bacon for this dish, but could only source some smoked organic back bacon. So I bought a bit extra, and only used the streaky part, leaving the 'eye' of the bacon for my Sunday morning butties :)
I chopped it into little pieces so I could pop them on top of the raw sprouts. As the bacon cooks, the fat renders and drips down into each sprout, pumping it full of even more flavour.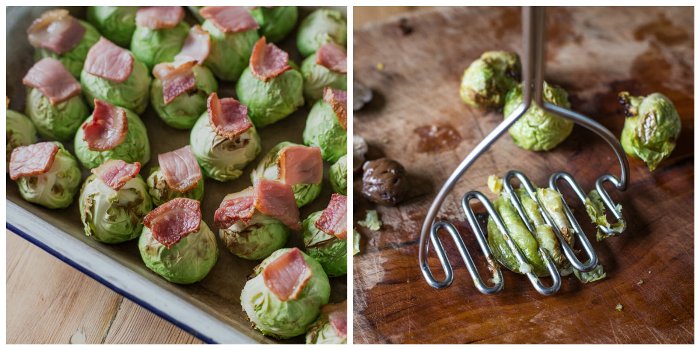 When they are partially cooked, squish each sprout with a potato masher. Toss them around in the pan to coat in the bacon fat and pop back in the oven to finish off cooking.
I managed to find some gigantic Brussels sprouts, so after removing the outer leaves I was still left with a decent size sprout. If yours are small to regular size, you may want to reduce the cooking time a tad.
It's worth noting though that you can always take the baking tray out of the oven whilst waiting for other elements of the meal to finish cooking, and just pop them back on for a few minutes to heat through at the end.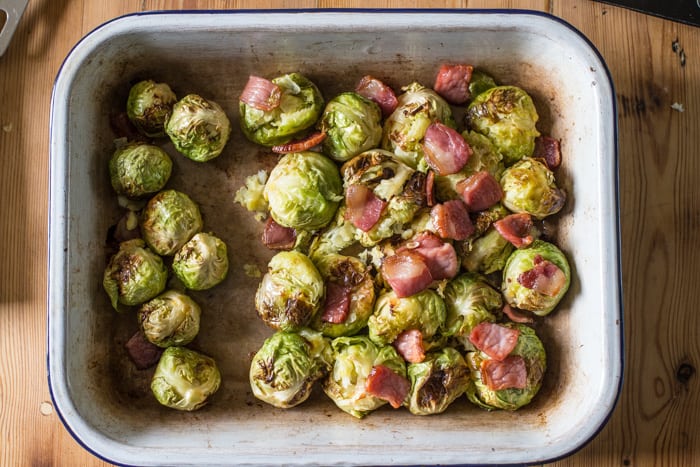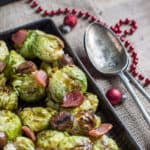 Smashed Roast Sprouts with Bacon and Chestnuts
Keyword:
Roast Sprouts with Bacon and Chestnuts
Ingredients
1

tbsp

your favourite cooking fat (I used ghee)

1

kg

Brussels sprouts

4

rashers

smoked streaky bacon

100

g

chestnuts

peeled(I used vac packed ones. Fresh is fine, just peel first)
Instructions
Preheat the oven to 180/350/gas 4

Slice the bottom off each sprout and peel off any tatty leaves. Tip into a baking tray. Add a tablespoon of your favourite cooking fat at this point if your bacon is very lean.

Top the sprouts with the bacon pieces and pop into the oven.

Cook for 15 minutes. Remove from the oven and gently but firmly squish each sprout with a potato masher - you're looking to open up the leaves of the sprout, not entirely flatten it!

Sprinkle with a little salt and pepper, add in the chestnuts, and toss everything around in the oil the bacon has released.

Roast for another 10 - 15 minutes or until the sprouts are cooked through and delicious.

Nutrition Facts
Smashed Roast Sprouts with Bacon and Chestnuts
Amount Per Serving
Calories 139
Calories from Fat 54
% Daily Value*
Fat 6g9%
Cholesterol 7mg2%
Sodium 104mg5%
Potassium 568mg16%
Carbohydrates 16g5%
Protein 5g10%
Vitamin A 945IU19%
Vitamin C 111.3mg135%
Calcium 55mg6%
Iron 1.9mg11%
* Percent Daily Values are based on a 2000 calorie diet.
Huge thanks to the Organic Trade Board for Sponsoring this festive recipe, thereby allowing me to continue bringing you tasty recipes, for free! As always all thoughts (and leftovers!) are my own!
Jane x