Christmas Day is one of the BEST annual celebrations of all things foodie! But will your fridge be groaning under the weight of your Christmas dinner leftovers tomorrow? Still your beating heart whilst you gaze upon this Turkey Leftover Pie. OK, I could have found a sexier name for it, but I was too busy sitting down to eat :)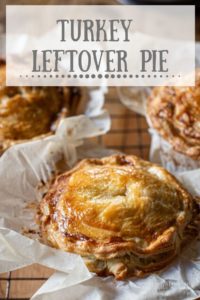 Originally published: December 2012
Christmas dinner is easily in my top 10 foodie annual experiences. I absolutely adore that it is the one day of the year when many families (certainly here in the UK) are enjoying the same meal.
It isn't something we necessarily consider when we are tucking into our own, but just take a moment to sit and think about that. All those families sitting down to eat a dinner which is (practically) the same as yours on exactly the same day as you. It's like we are all experiencing the same joy of food at once.
There may be variations – turkey, goose, duck, gammon, a delicious nut roast perhaps? Everyone will have their own special ways that they serve the Christmas dinner: Roast potatoes in goose fat? Brussel sprouts with bacon? Pigs in blankets? A family recipe for stuffing? Yorkshire puddings – yes or no??
Generally though, the theme is the same…a roast dinner with a big selection of trimmings, all served with love, laughter and a big hearty 'cheers' to all!
Perfect!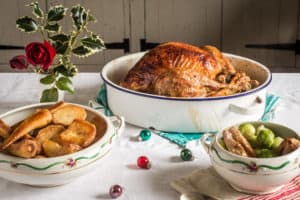 Christmas dinner leftovers
I love a sneaky turkey, cranberry and stuffing sandwich as we head into the evening on Christmas Day. Then Boxing day is often the time for using up even more of those Christmas dinner leftovers.
So how come after all the festivities have become quieter, family and/or friends have been and gone, everyone has been stuffed silly for at least 2 days, there is STILL a fridge full of food?!
Easy turkey leftover pie to the rescue!
I have a delicious solution. It is this delicious and easy turkey leftover pie recipe!
This really is easy: first, line a pie dish with shortcrust pastry. Either make this yourself or use shop-bought pastry (do you really want to be doing more cooking after you've maxed-out out for a good couple of days straight?).

Our leftovers consisted of chicken, sprouts, cabbage, shallots, roast potatoes, parsnips & carrots, broccoli, stuffing, sausage meat balls, the jelly goo under the chicken and the leftover gravy.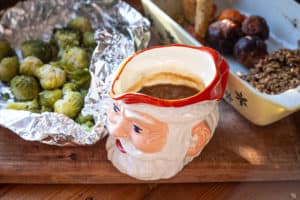 Fill that pastry to the rafters with everything that featured in your Christmas main course (and maybe your starter too?). Chop it all up into bite size chunks and throw it in.

I topped it off with a pastry lid, egg-washing between the layers and on the top. It was then baked for around 45 minutes in a medium hot oven, until all inside was piping hot.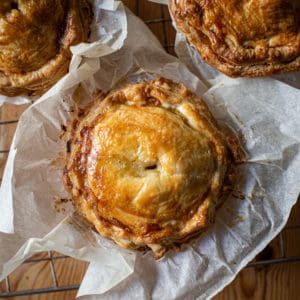 As I was feeling particularly exhausted after all that chopping, and there was so much veg inside the Turkey Leftover Pie, I served it naked. Yep, just a plate of pie. Happy Days :)
For all those who celebrate it, may I wish you a wonderful Christmas and New Year from Hedgecombers xxxxx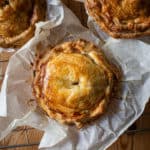 Turkey Leftover Pie
Make this easy Turkey Leftover Pie from your Christmas dinner leftovers!
Course:
Lunch, Main Course
Cuisine:
British, English
Keyword:
Christmas dinner pie, Christmas leftovers pie, Turkey leftover pie
Ingredients
320

g

Ready rolled shortcrust pastry

Mixed Christmas dinner leftovers (turkey, stuffing, veggies, gravy etc)

Salt and pepper

(to taste)

1

tbsp

Butter

1

Egg

(beaten)
Instructions
Chop all Christmas dinner leftovers into bite sized pieces

Mix leftovers together, along with cold gravy and season well with salt and pepper

Line pie tins with 2/3 of pastry

Fill pastry with leftovers mixture, pressing down gently

Top leftovers with a knob of butter

Top with remaining pastry 'lids', crimping edges to seal

Pierce a hole in the top of each pie for steam to escape

Egg wash the top of the pastry lid

Bake in oven at 180 degrees C, 350 F for 30 to 40 minutes, until golden brown