This easy recipe for slow cooker duck legs requires very little hands on effort, yet tastes like a restaurant quality meal!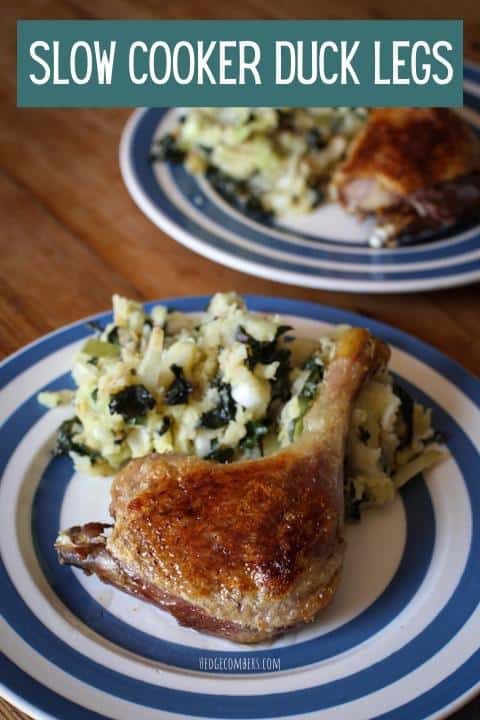 I love duck legs when the skin is crisp and golden, yet the meat inside is soft and tender.
And whilst you can certainly achieve that using an oven, I love to use my slow cooker and then finish off the cooking in a skillet.
Keep reading as I walk you through how easy it is to make this impressive (yet ridiculously easy!) dinner.
Slow Cooker Duck Legs
1/ cook the legs fully in the slow cooker
First, place your duck legs into the slow cooker.
Mine had previously been frozen, but I'd defrosted them overnight in the fridge.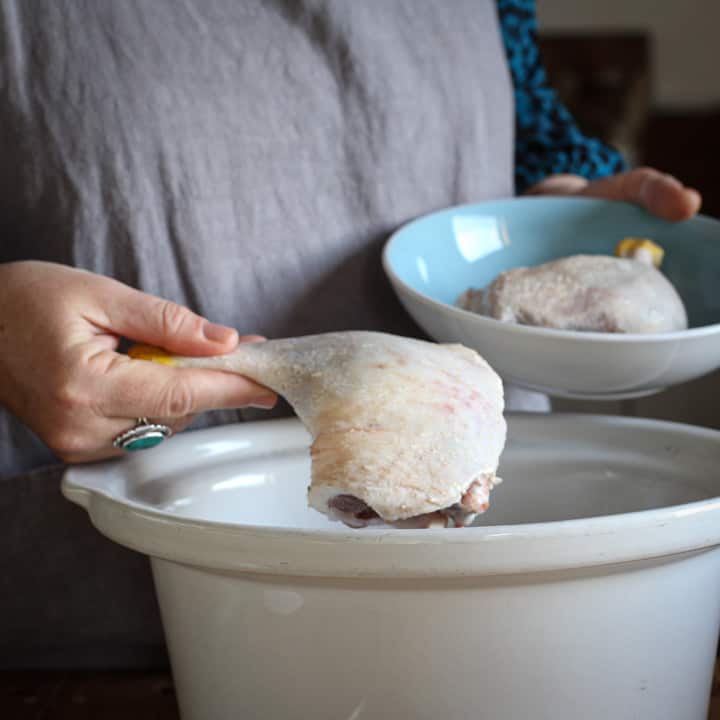 As I was only cooking two duck legs I could lay them out flat in the bottom of the crock pot bowl.
However, if you're cooking for more people you may need to stack them.
Do bear in mind that you want the skin to stay intact on each leg joint, so try not to let then stick together and tear the skin when you remove them.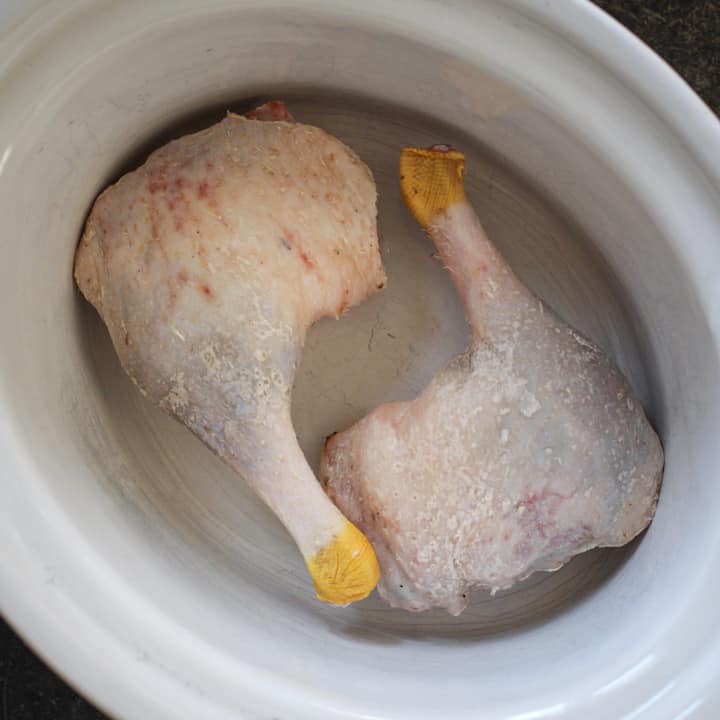 Cook on high for 3-4 hours, or low for 4-6 hours, or until the meat is soft and tender all the way through.
I don't season them at this stage.
Nor do I add any liquid to the bowl as I want the duck to slow cook but not fall apart.
2/ fry the legs to get crispy skin
Once the legs are cooked through, gently remove them from the slow cooker onto a chopping board.
Pat dry with some kitchen paper all over. By removing as much moisture as possible, you'll get the skin extra golden and crisp.
Preheat a heavy bottomed skillet or frying pan and melt the oil.
Season the duck legs on both sides. Then place them carefully into the pan, skin side down, and let sit for a few minutes to crisp.
Turn over (being careful not to splash yourself with hot oil) and repeat on the second side.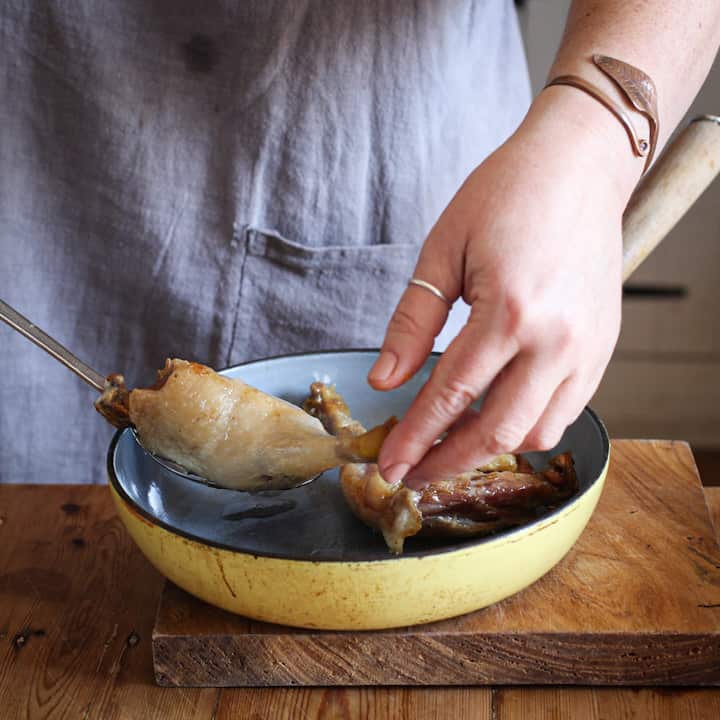 I served the duck legs with a pile of buttery Colcannon (mashed potatoes with chopped cabbage) which was super simple but delicious.
However your crispy duck legs would work well served with a myriad of different side dishes.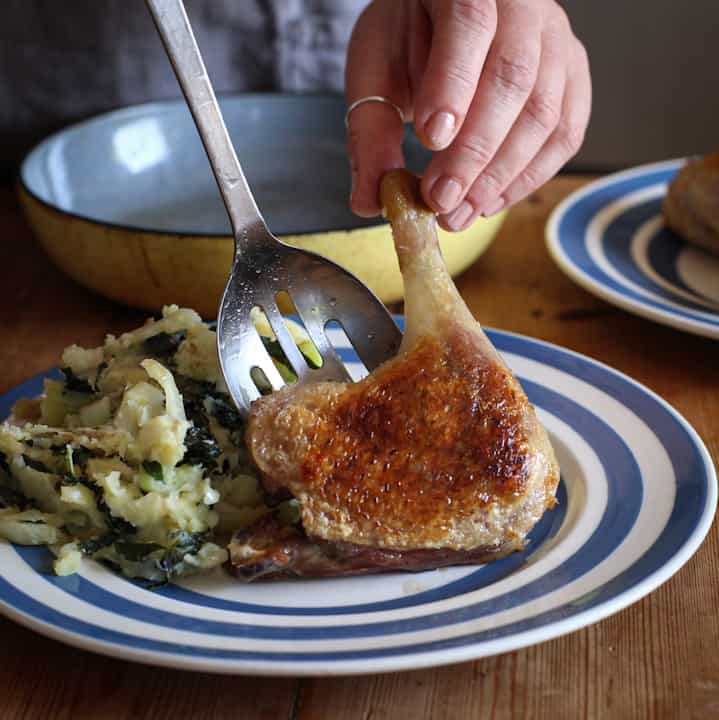 If you give this recipe a try, do feel free to tag me in any photos you share online! I love seeing my recipes getting made all around the world and I try to share as many as I see!
You can find me pretty much everywhere as @hedgecomber!
And if you love the ease and simplicity of cooking meat in a slow cooker, I urge you to give my Slow Cooker Pulled Lamb recipe a go. It's so simple and so delicious!
Enjoy :)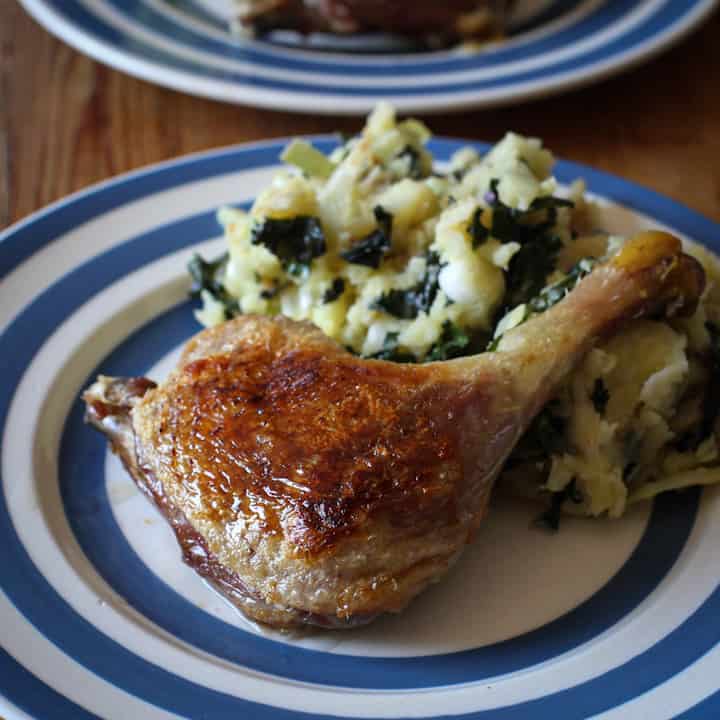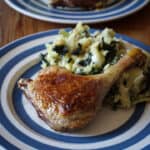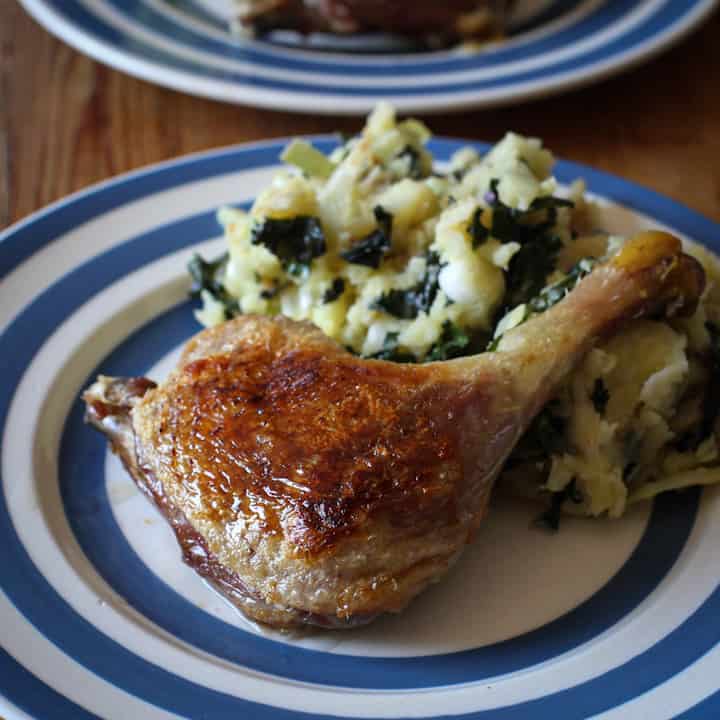 Slow Cooker Duck Legs
Keyword:
slow cooker duck legs
Ingredients
2

duck legs

2

tsp

salt

2

tbsp

oil
Instructions
slow cooking the duck legs
Place the duck legs into the slow cooker. Try to get them in one even layer so that the skin doesn't tear when you remove them once cooked.

Cook on high for 3-4 hours, or low for 4-6 hours.

Once cooked the skin will have shrunken slightly and the meat will be extremely tender and will easily shred.

Carefully remove from the slow cooker pot and place onto a plate or chopping board.

Pat dry all over with kitchen paper, then get ready to pan fry them to make the skin super crispy.
pan frying the duck legs
Place a heavy bottomed frying pan or skillet onto a medium high heat.

Once hot, add the oil and let it evenly cover the pan.

Carefully slide each duck leg, skin side down, into the hot fat.

Leave for 4 or 5 minutes to get gorgeously golden in colour, then flip and repeat on the other side.

Once the skin is as golden as you like, serve with buttery mashed potatoes or Colcanon.
Nutrition Facts
Slow Cooker Duck Legs
Amount Per Serving
Calories 498
Calories from Fat 306
% Daily Value*
Fat 34g52%
Cholesterol 197mg66%
Sodium 2515mg109%
Potassium 1mg0%
Protein 46g92%
Vitamin C 3mg4%
Calcium 19mg2%
Iron 4mg22%
* Percent Daily Values are based on a 2000 calorie diet.