This Sheet Pan Sausage and Veggies recipe is SO easy, and lets the oven take care of dinner whilst you can get on with other things.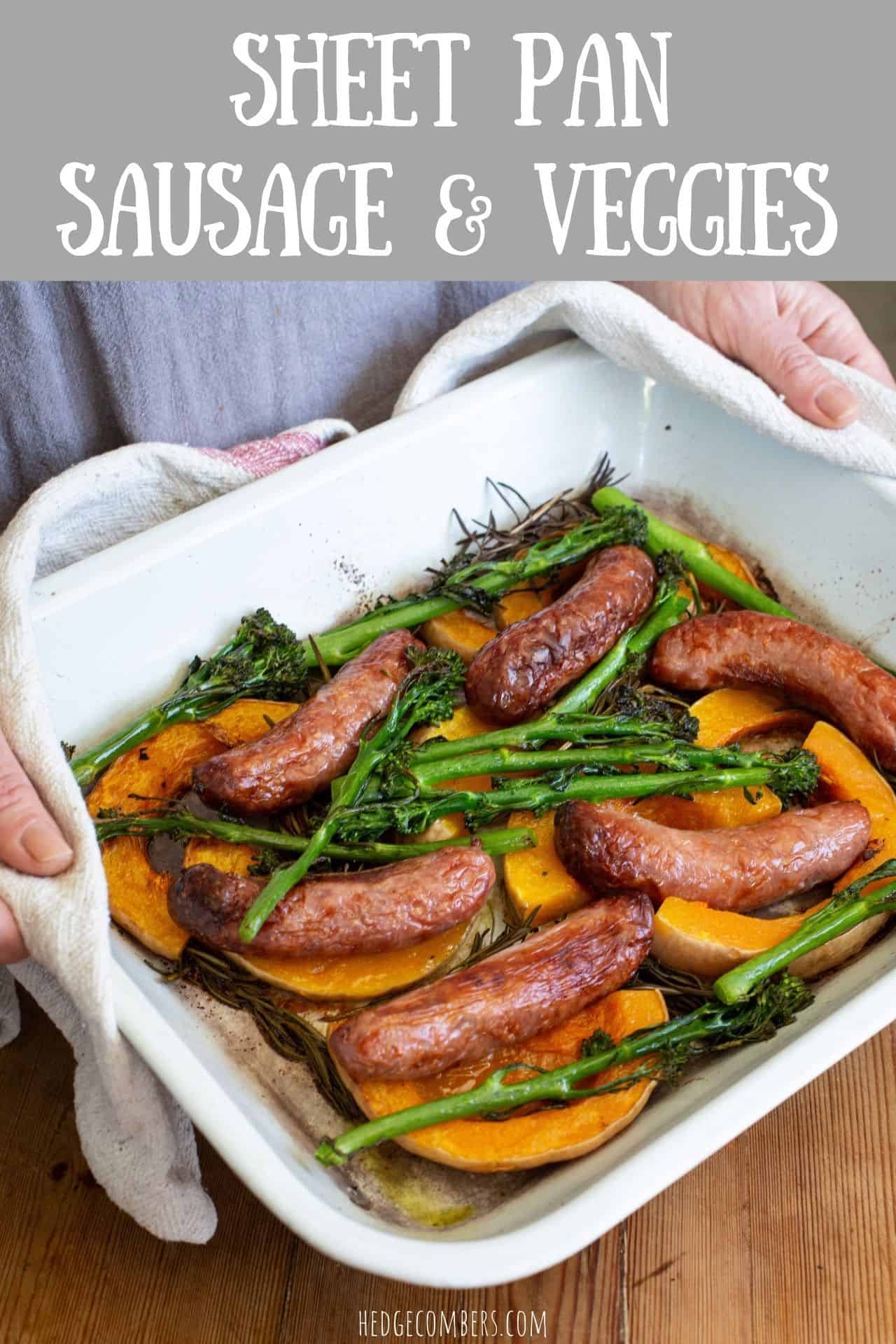 Roasting sausages in the oven is probably my favourite way to cook them.
I love how they become crisp and almost chewy, and there's no mess from spitting fat.
And when you cook them on top of a bed of vegetables, you're basting said veggies with the juices and flavour from those porky treats.
If you're using vegetarian sausages, add a little more oil to the pan at the start. Then reduce the cooking time of the sausages to the recommended time on the packaging. The squash will still need the full cooking time stated in the recipe below.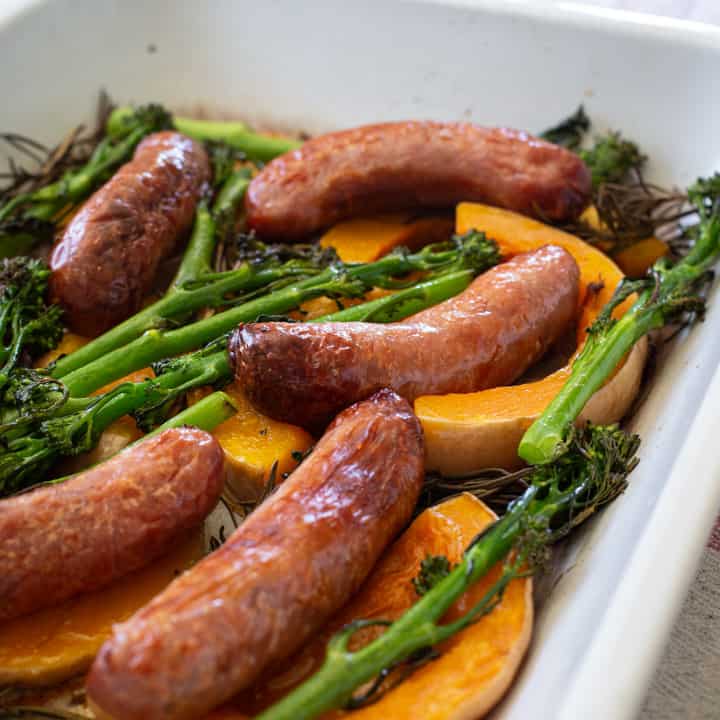 In this sausage and veggie dish I'm using slices of butternut squash and Tenderstem broccoli (also known as Broccolini).
But you could change this up every time you make it to use what's fresh, in-season on in need of using up.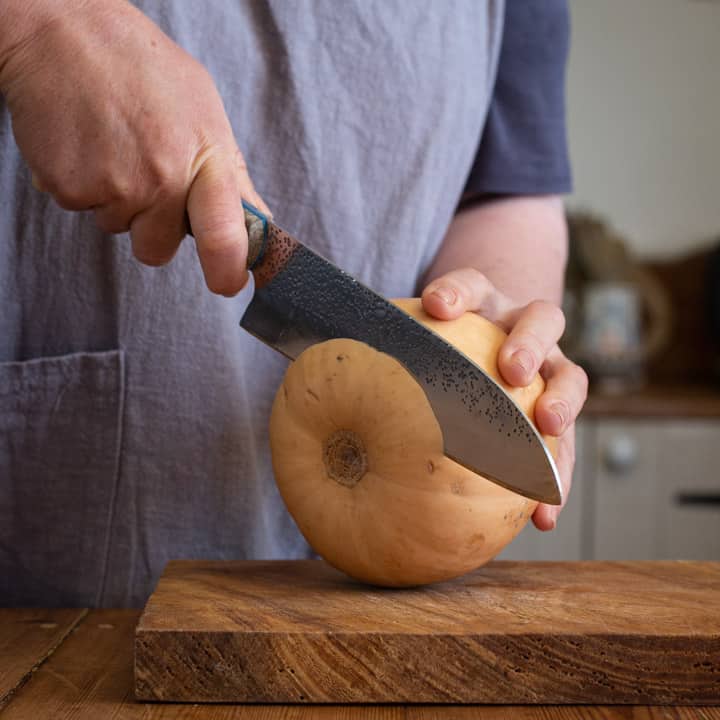 How to Slice a Butternut Squash
OK, let's prep that squash! You're going to need to sharp, strong knife for this job.
Start by slicing off the top and the bottom of the squash. This will help it stand up safely on the chopping board.
Then, slice the whole squash in half, from top to bottom.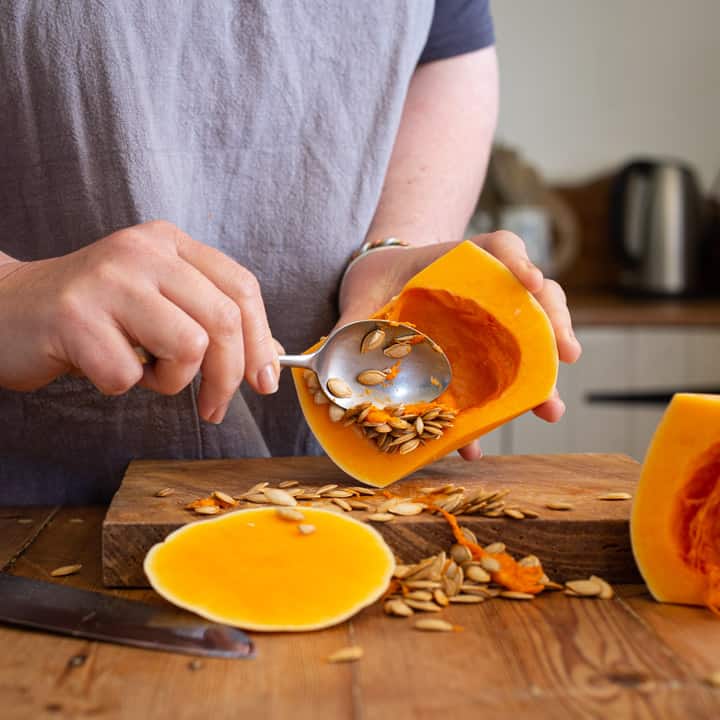 Next, use a spoon to scoop out all the seeds from the centre of the squash.
Can you eat Butternut Squash Skin?
Yes, you can!
I find leaving the skin on a butternut squash whilst it's roasting adds a nutty, wholesome flavour.
I also really like the difference in texture between the soft, almost gooey flesh and the firmer skin.
Apparently, there are lots of vitamins in, and just under that skin too.
However, you can of course remove the skin of the squash if you prefer. Simply carve it away with a potato peeler or small knife.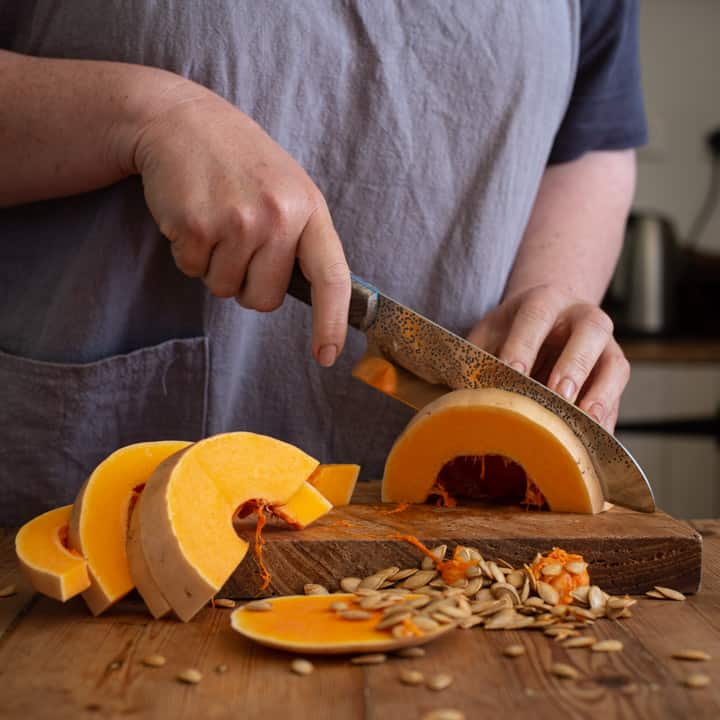 Next, cut each half into inch thick slices.
Any thicker and you may need to cook for longer. Any thinner and they may burn a little.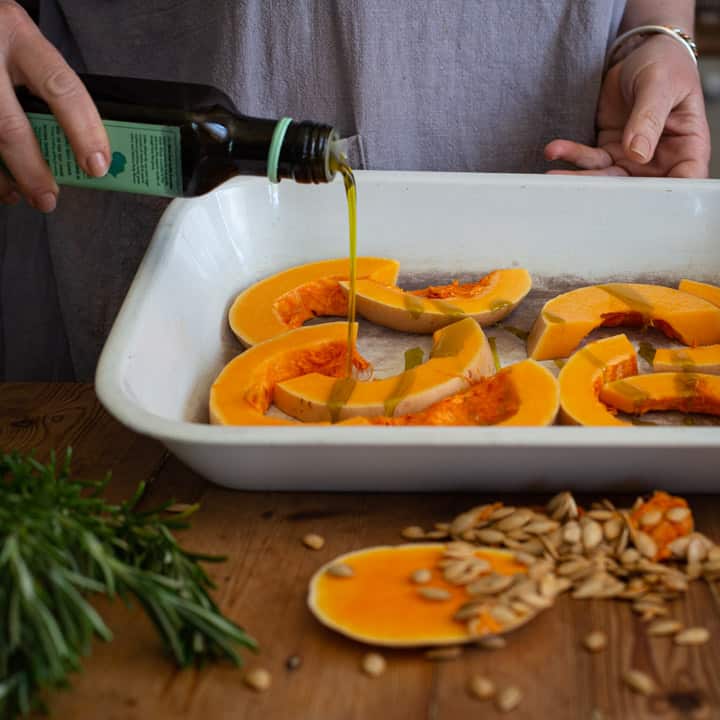 Sheet Pan Sausage and Veggies
Pop them into a baking tray or sheet pan and toss with the oil and season with salt and pepper.
Pork sausages contain fat and this will drip into the pan and baste the veggies as they cook.
If you're using vegetarian sausages, you may wish to double the amount of oil you use.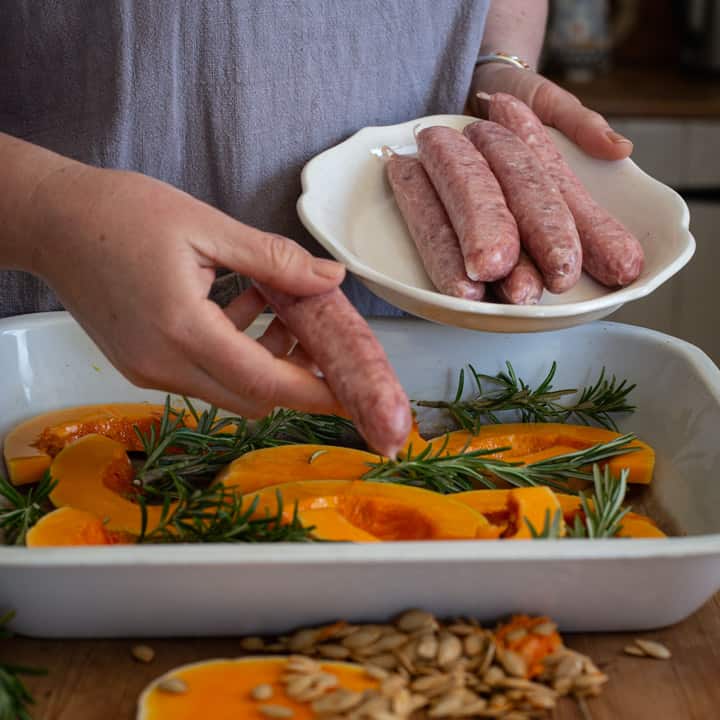 I'm also using some sprigs of rosemary I picked fresh from the garden.
This is entirely optional, but I love the way it gently flavours the sweet squash.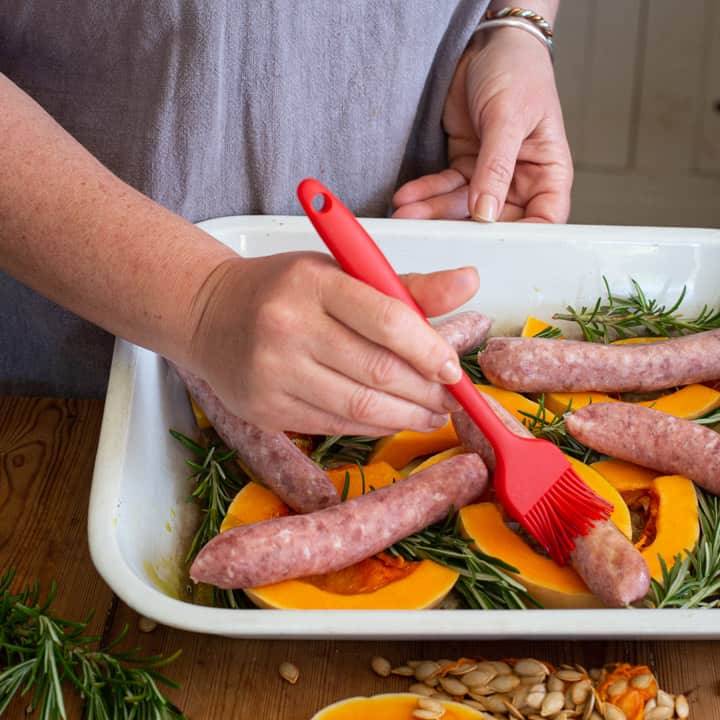 I then used a silicone kitchen brush to swipe each sausage generously with the oil from the bottom of the pan.
This will help them to turn a gorgeous dark golden brown evenly.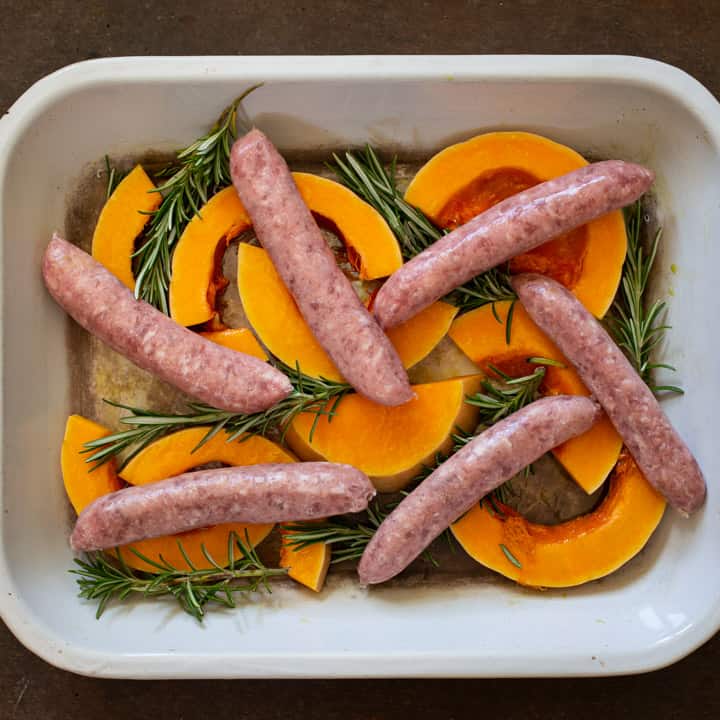 At this point the sheet pan of sausages and veggies can baked in a preheated oven.
At 180°C/350°F, these took 50 minutes to cook.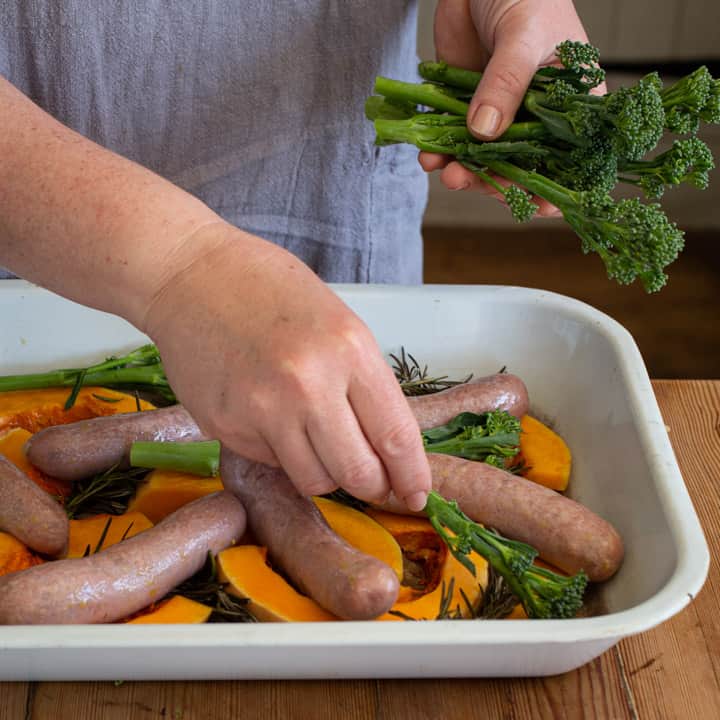 Halfway through the cooking time, you can add the more delicate vegetables.
Things like green beans, mange tout or in my case, Tenderstem broccoli.
Just pop them in the pan, toss to coat in oil, and let it all finish cooking together.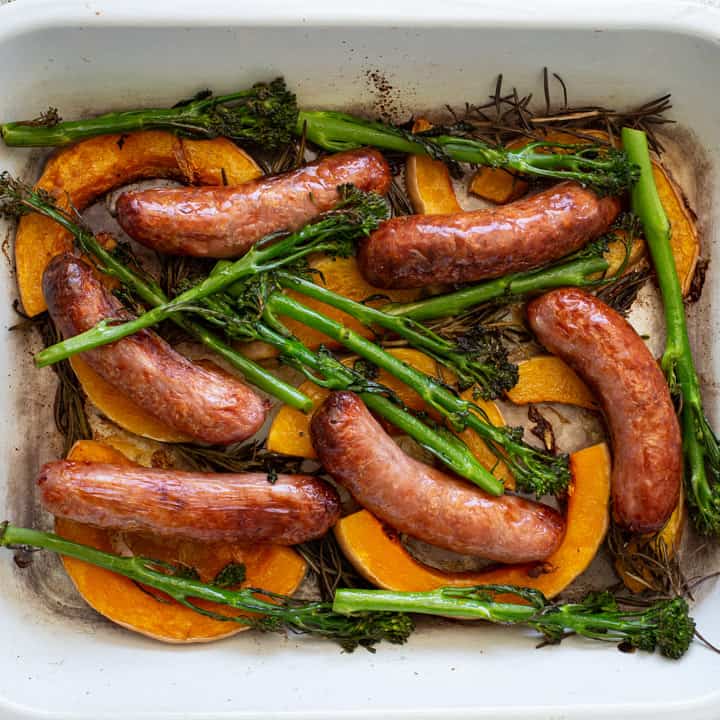 Not only do I love how good this sheet pan dinner tastes. But I also LOVE how easy and stress-free it is to get on the table!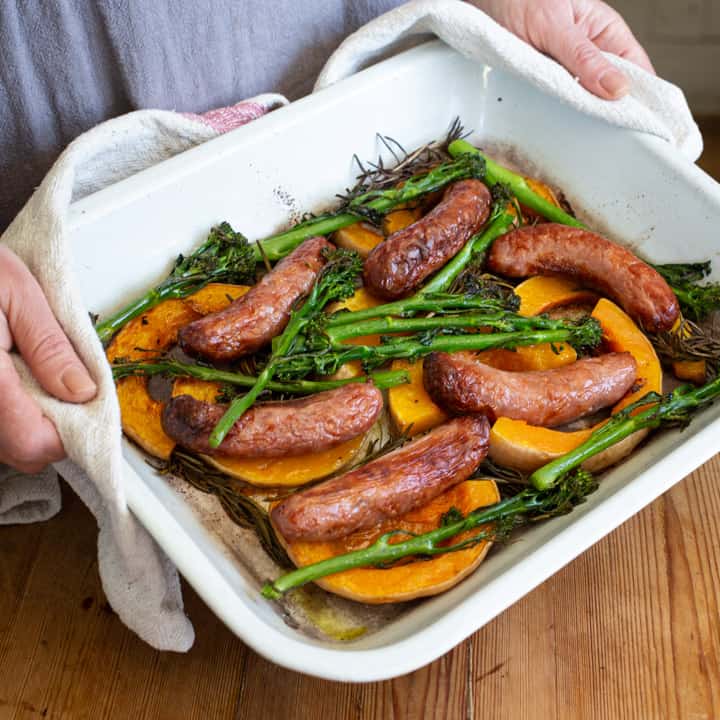 I do hope you love this recipe and that it becomes a firm family favourite!
If you'd like more one-pot recipe inspiration, visit my other recipes here: Sheet Pan Recipes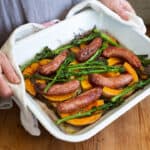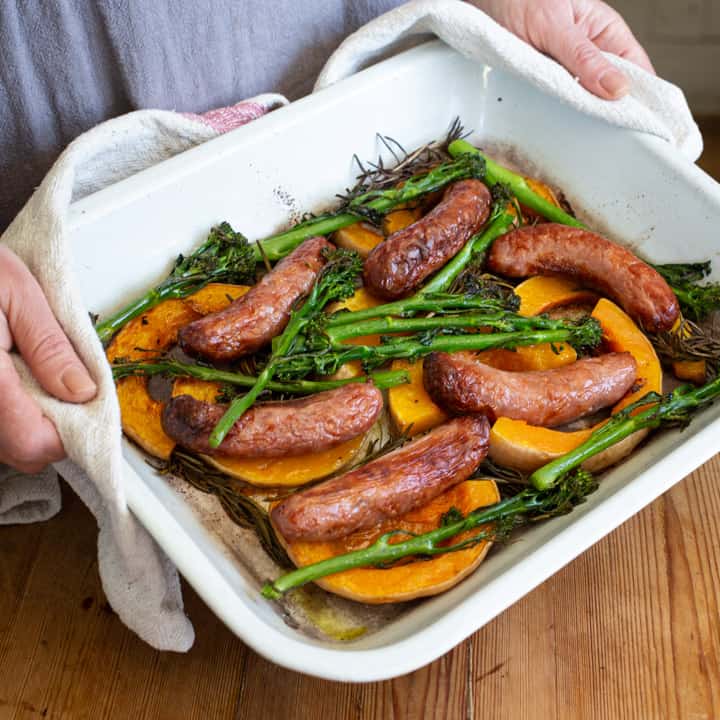 Sheet Pan Sausage and Veggies
This Sheet Pan Sausage and Veggies recipe is SO easy, and lets the oven take care of dinner whilst you can get on with other things.
Keyword:
one pan sausage and veggies, sheet pan sausage
Ingredients
1

tbsp

oil

6

sausages

1

small

butternut squash

250

g

Tenderstem broccoli

pinch

salt & pepper

4

sprigs

rosemary

- optional
Instructions
Preheat the oven to 180C/350F/Gas 4.

Lay out your squash slices (or other firm vegetables) on the bottom of your baking tray. Ensure they are a similar thickness so they cook evenly.

Drizzle with the oil, season with the salt and pepper and toss together well.

If you are using rosemary too, you can add it at this point.

Lay the pork sausages on top of the squash. Tilt the baking tin so the oil collects in the bottom corner.

Use a silicone basting brush to 'paint' the oil across the sausages.

Slide the tray into the oven and cook for 50 minutes.

Halfway through the cooking time, remove the tray from the oven, toss the vegetables again then top with the Tenderstem broccoli (or other more delicate veggies). Baste them with the oil and return to the oven to finish cooking.

When the cooking time is up, remove from the oven and divide between two plates.

Enjoy!
Nutrition Facts
Sheet Pan Sausage and Veggies
Amount Per Serving
Calories 957
Calories from Fat 675
% Daily Value*
Fat 75g115%
Cholesterol 184mg61%
Sodium 1672mg73%
Potassium 1822mg52%
Carbohydrates 28g9%
Protein 44g88%
Vitamin A 4073IU81%
Vitamin C 141mg171%
Calcium 148mg15%
Iron 5mg28%
* Percent Daily Values are based on a 2000 calorie diet.