Satsumas Poached in Red Wine recipe is my absolute favourite Christmas day dessert. It is light, full of flavour and so settling after a big meal.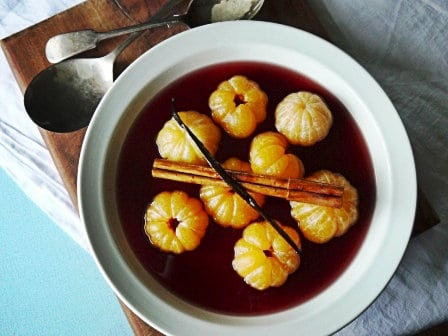 This recipe for Satsumas Poached in Red Wine is so versatile. It can be served hot or cold, with a dollop of clotted cream or just as it is. It can be made a day or two ahead of time. And if it's popped in a pretty sterilised glass jar, it'll make a perfect homemade Christmas gift too. If you're not sure how to sterilise your jars first, there's a useful video here.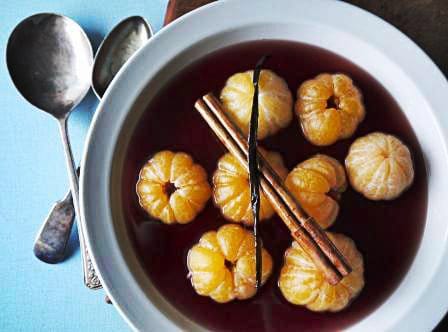 Now don't get me wrong, I love Christmas pudding. And Christmas cake (sans marzipan for me please!), and mince pies and yule long. But I don't want any of those after indulging in my Christmas dinner. They are just to heavy and don't sit comfortably at all.
But I do want dessert. Because it's Christmas. And unnecessary gluttony is just part of the deal.
So that my friends is where this awesome dessert for satsumas poached in red wine come in. Full of satisfying flavours that soothe your tastebuds into a festive trance. With none of the carby, starchy, heaviness of a more traditional Christmas pud.
It's dairy free, gluten free and because it's Christmas, 100% guilt free too :)
I choose to have mine naked, just as it is. And believe me, I slurp that red wine syrup with total glee. However, the rest of the family opt for either a dollop of clotted cream, ice cream or both.
It's funny how a dish can become such a huge tradition in itself. This dessert is probably my contribution to our festive family history. I always make it, without fail, on Christmas Eve. It then either gets reheated gently whilst we devour the turkey, or it's simply served cold.
Satsumas Poached in Red Wine
The basic recipe is for 4 or 5 people, but scale it up to suit as many as you're having for dinner.
If there are any leftovers, pop in the fridge for supper or the next day. Left over syrup poured over ice cream is just heavenly, so don't throw any leftover syrup away!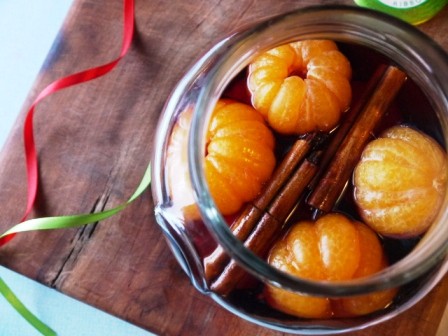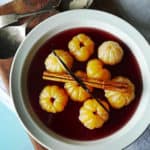 Satsumas Poached in Red Wine
Keyword:
christmas dessert, poached satsumas
Ingredients
5

Satsumas

1

bottle

red wine

100

ml

cold water

400

g

sugar

2

cinnamon sticks

1

vanilla pod
Instructions
In a saucepan bring the wine, water & sugar to the boil. Once the sugar has dissolved, add the cinnamon & vanilla and keep boiling until it has reduced by half.

Meanwhile, peel the satsumas (leaving them whole) and cover with boiling water in a large bowl, letting them poach for 2 minutes.

Pour the hot water away and refill with cold water. Take a small knife & gently scrape away the pith from each fruit.

When the wine had reduced, pour it over the satsumas and serve immediately, leave to cool then refrigerate, or pop into sterilised glass jars for gifts.

I prefer mine neat, but the family have ice cream, clotted cream or crème fraiche with theirs.
Nutrition Facts
Satsumas Poached in Red Wine
Amount Per Serving
Calories 489
% Daily Value*
Fat 0g0%
Cholesterol 0mg0%
Sodium 9mg0%
Potassium 336mg10%
Carbohydrates 97g32%
Protein 0g0%
Vitamin A 600IU12%
Vitamin C 23.5mg28%
Calcium 59mg6%
Iron 1mg6%
* Percent Daily Values are based on a 2000 calorie diet.