This is my absolute favourite Christmas day dessert. It is light, full of flavour and so settling after a big meal.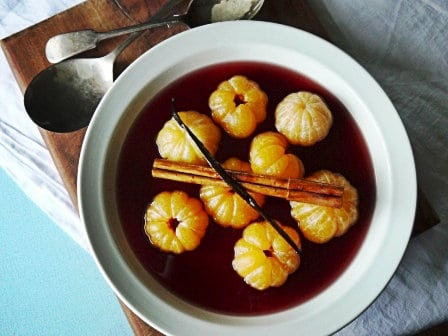 It can be served hot or cold, made a day or two in advance and a jar makes a great gift.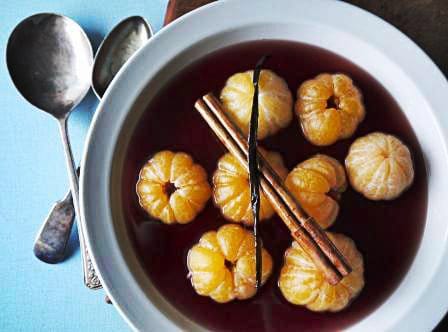 The basic recipe is for 4 or 5 people, but scale it up to suit as many as you're having for dinner. If there are any leftover, pop in the fridge for supper or the next day. Left over syrup poured over ice cream is heavenly.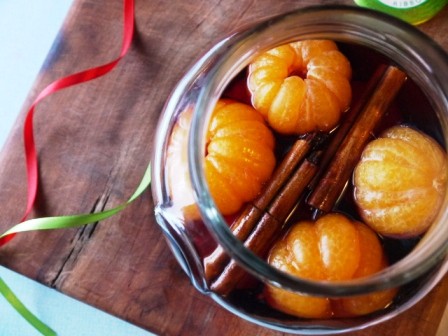 Satsumas Poached in Red Wine
Ingredients
5

satsumas

1

bottle of red wine

100

ml

cold water

400

g

sugar

2

cinnamon sticks

1

vanilla pod
Instructions
In a saucepan bring the wine, water & sugar to the boil. Once the sugar has dissolved, add the cinnamon & vanilla and keep boiling until it has reduced by half.

Meanwhile, peel the satsumas (leaving them whole) and cover with boiling water in a large bowl, letting them poach for 2 minutes.

Pour the hot water away and refill with cold water. Take a small knife & gently scrape away the pith from each fruit.

When the wine had reduced, pour it over the satsumas and serve immediately, leave to cool then refrigerate, or pop into sterilised glass jars for gifts.

I prefer mine neat, but the family have ice cream, clotted cream or crème fraiche with theirs.
Shared with; Homestead Barn Hop, Mix it up Monday, Melt in your mouth Monday, Meatless Monday, My Meatless Mondays, Fat Tuesday, Anti Procrastination Tuesday, Tiny Tip Tuesday, Cowgirl Up, Hearth & Soul, Backyard Farming Connection, Tutorial Tuesday, Frugal Days Sustainable Ways