This recipe for Satsumas Poached in Red Wine is my absolute favourite Christmas day dessert. It's light, full of flavour and so settling after a big meal, whilst being decadent and visually stunning.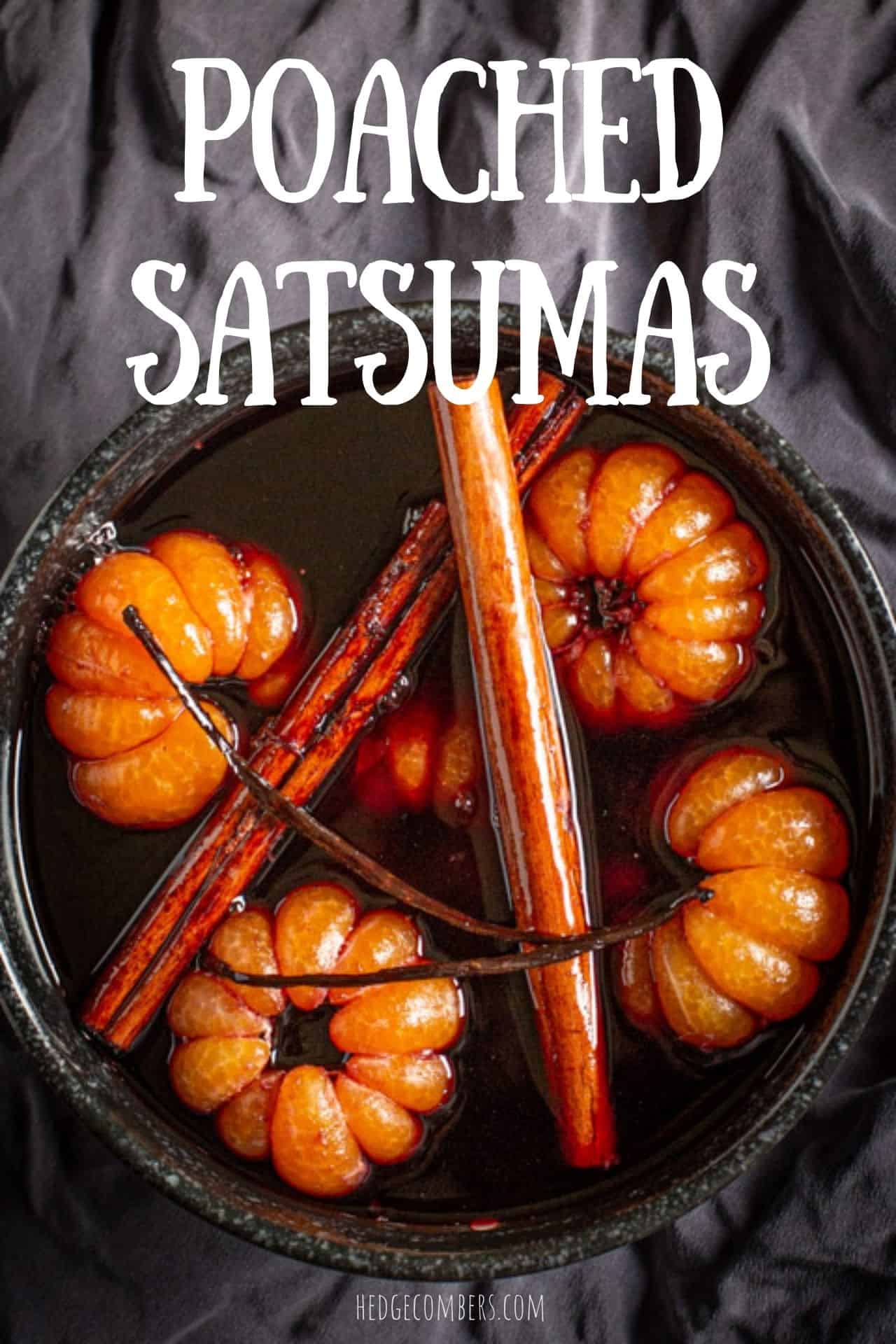 This recipe for Satsumas Poached in Red Wine is so versatile.
It can be served hot, warm or cold. With a dollop of clotted cream, ice cream, or just as it is.
It can also happily be made a day or two ahead of time.
And if it's decanted into a pretty sterilised glass jar, it'll make a perfect homemade Christmas gift too.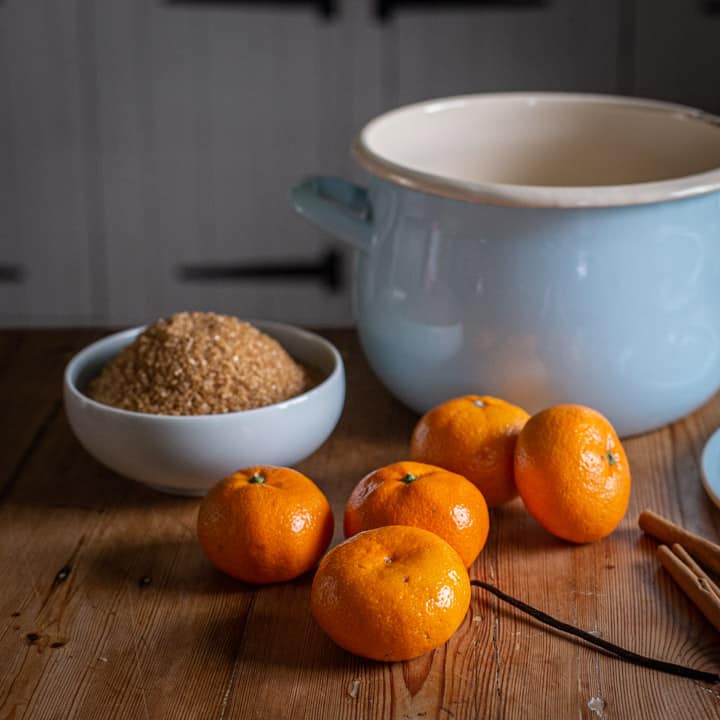 Now don't get me wrong, I love Christmas pudding.
And Christmas cake (sans marzipan for me please!).
And especially mince pies.
But I don't want to eat any of those after indulging in my Christmas dinner. They're just too heavy and don't sit comfortably at all.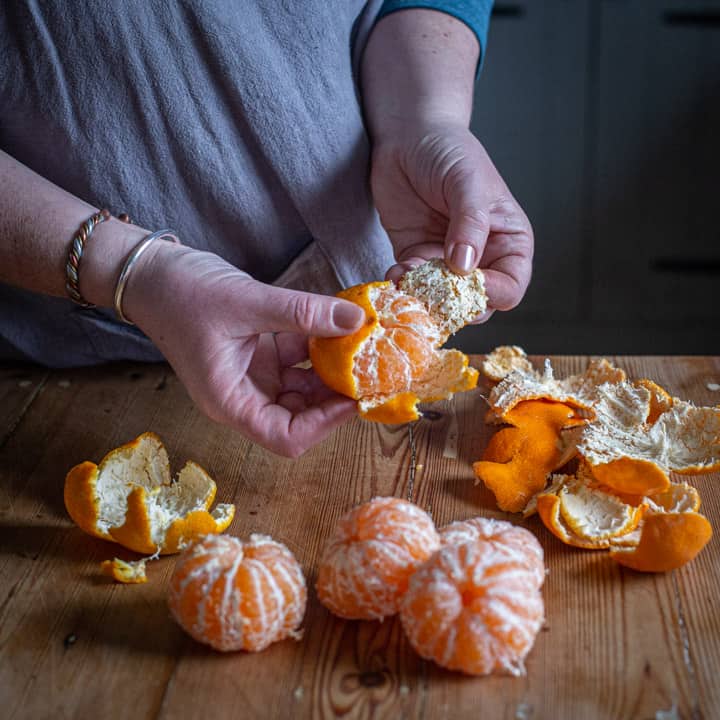 But I do want dessert.
So that my friends is where this awesome dessert for poached satsumas comes in.
Full of deep satisfying flavours that soothe your tastebuds into a festive trance.
Yet with none of the starchy, heaviness of a more traditional Christmas pud.
And not only is it dairy free and gluten free. But because it's Christmas, it's 100% guilt-free too :)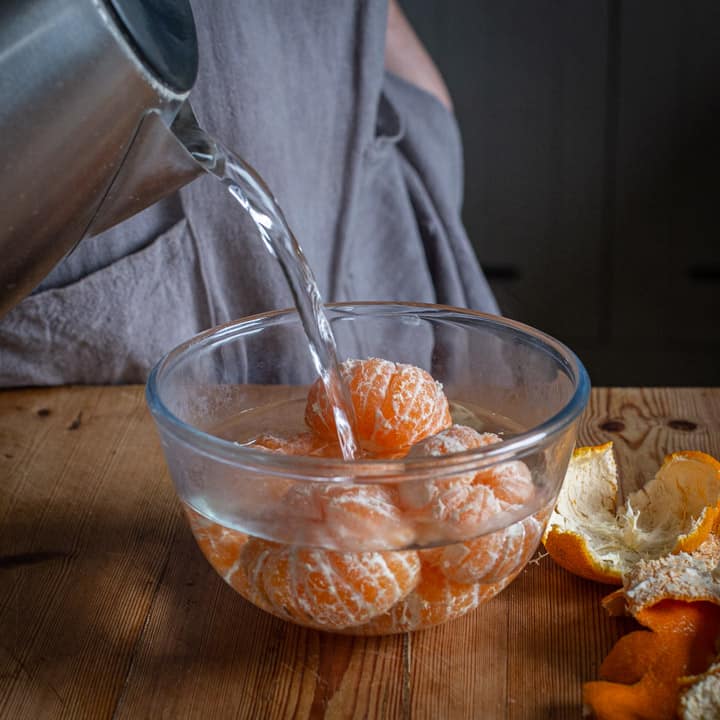 How to Poach a Satsuma
Peel your satsumas, trying to keep them whole and intact. I try to find the satsumas with really puffy skins for this recipe.
Whilst it would still taste great with clementines for example, the skin is often much more difficult to peel. And you then risk splitting up the fruit into segments rather than keeping them whole.
You might want to buy a couple extra just in case any do split as you're peeling.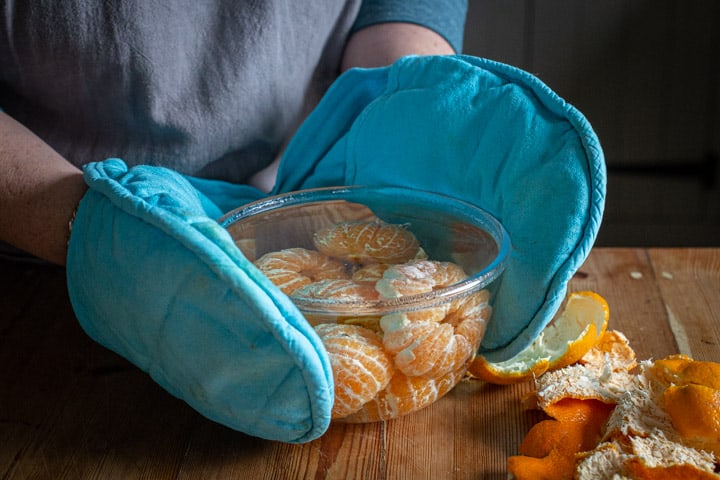 Pop the fruit into a bowl and cover with boiling water straight from the kettle.
Leave for 2 minutes, then carefully (the bowl will be very hot!) pour the water away.
This will make removing any stringy white bits of pith from the fruit incredibly easy.
I use a small pairing knife and gently scraped the pith all away.
Don't forget, the skin and the pith can go into the compost bin so you're not wasting a thing.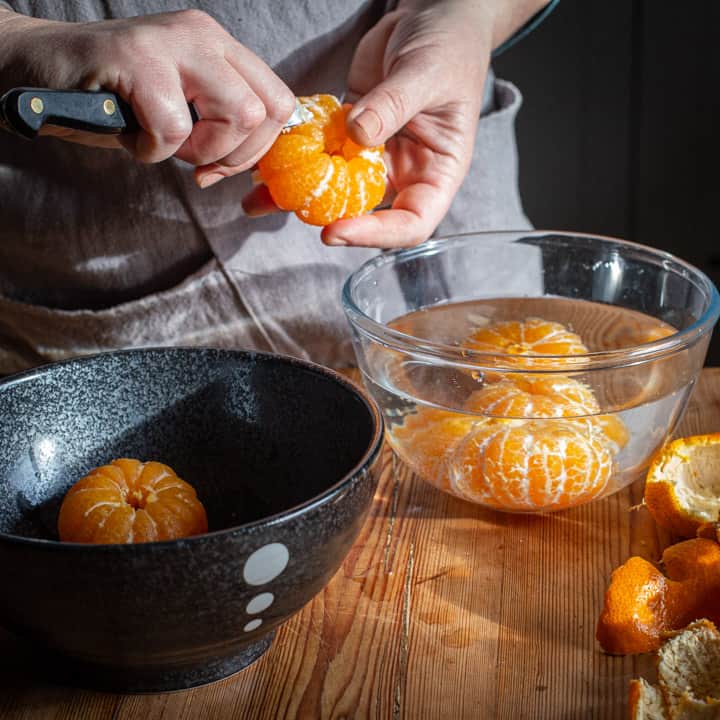 Here you can see how different the fruit look once the pith has been removed.
They certainly look a lot more appealing!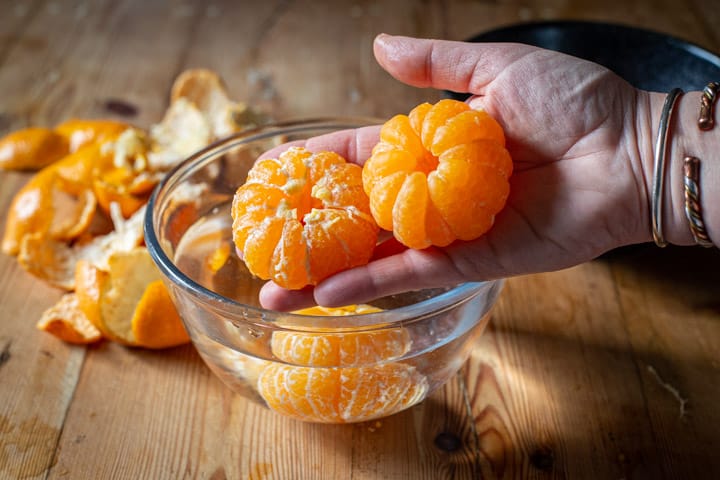 How To Make a Spiced Red Wine Poaching Syrup
To make the utterly delicious red wine syrup, pour the wine, water and sugar into a saucepan and bring to a boil.
Stir, and when the sugar has dissolved, add in the cinnamon stick and vanilla pod.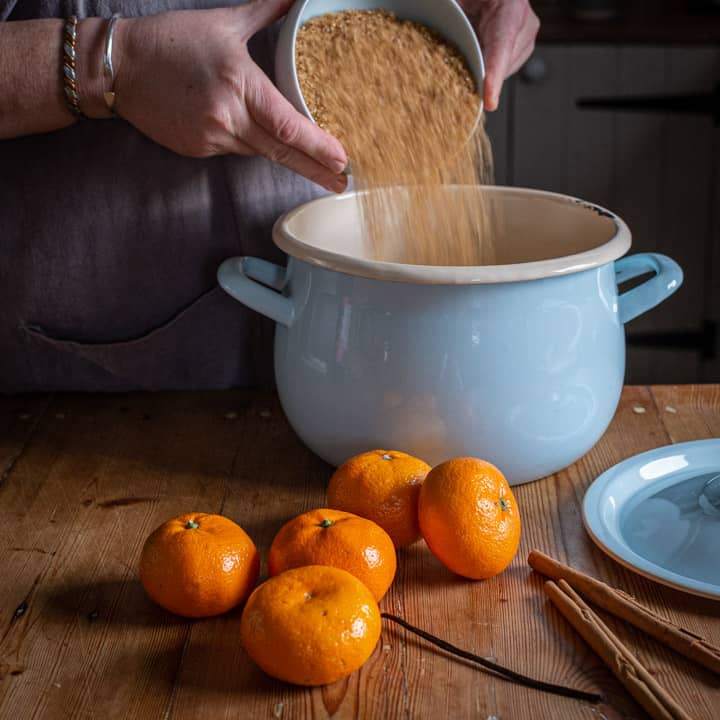 You then want to boil until it has all reduced by half.
I found the easiest way to measure this is to place the handle of a wooden spoon into the pan, and the red wine will lightly stain it.
You can then test again as the wine gets reduced until you've roughly reduced it by half.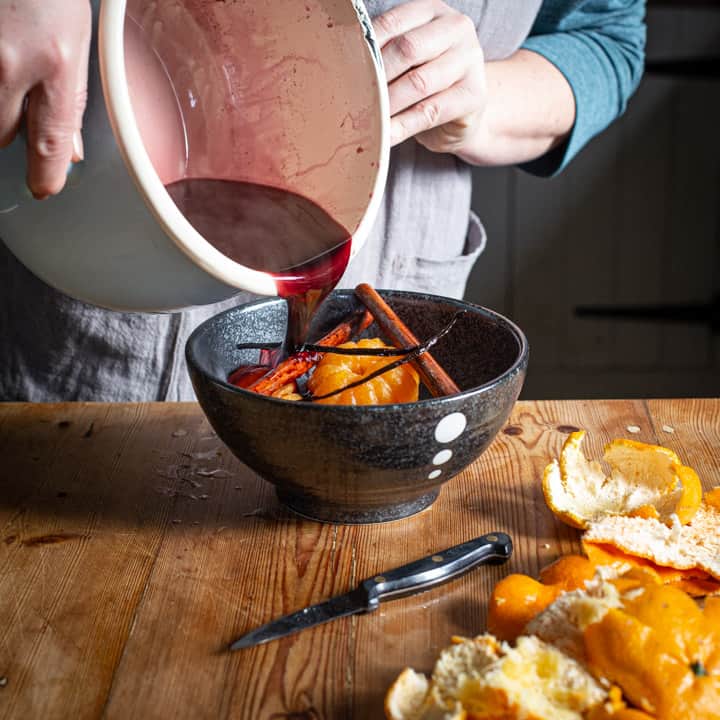 Then simply pour the spiced wine over the peeled satsumas and serve hot, or let cool.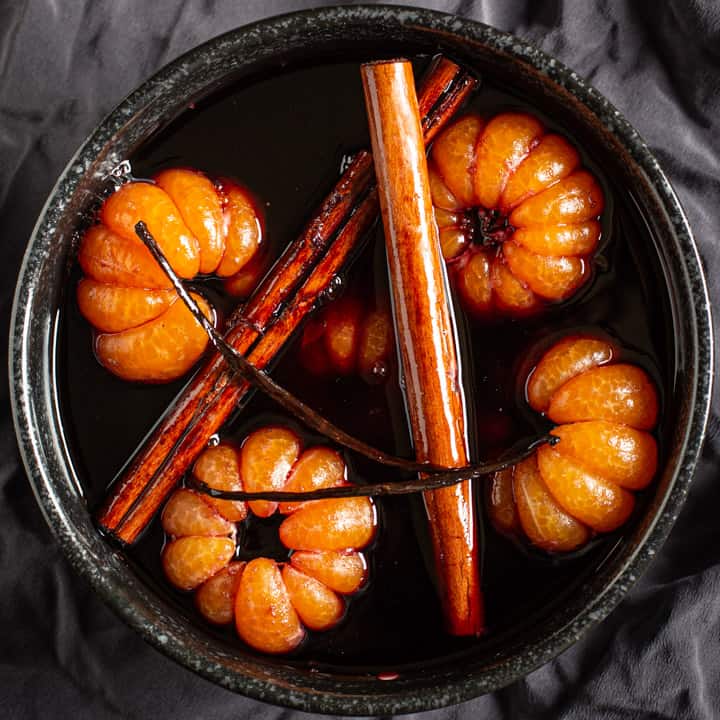 When you serve, give each person one whole satsuma and a good glug of the spiced wine too.
We always have plenty of the red wine syrup left, and I love it poured over vanilla ice cream (and I've even been known to slurp it straight from the spoon too!).
You could add more satsumas into this recipe without increasing the amount of liquid. As a total guesstimate, I would say there was enough red wine syrup to comfortably serve up to ten people/satsumas. So feel free to increase the amount of fruit you add whilst keeping all the other ingredients the same.
Or just enjoy the syrup over the next few days. I won't judge ;)
Giving the Gift of Poached Satsumas
If you've like to give these poached satsumas as a gift, you'll need to find a good-sized jar to gift them in.
The one I'm using in the picture below is a large recycled olive jar. However, a good-sized Kilner jar would work well too.
You'll need to give it a good scrub in hot soapy water and then sterilise it.
I have a dishwasher, so I simply run the jar and the lid through on a hot wash and they come out magically sterile.
However, if you don't have a dishwasher, there are several other ways you can sterilise both the jar and the lid. Take a peek at this article for some ideas: BBC Good Food.
You could make the poached satsumas up to 5 days before they will be eaten. However please note that I haven't tried this (they would never last that long with me around!), so I'm unsure if the fruit texture would change over time.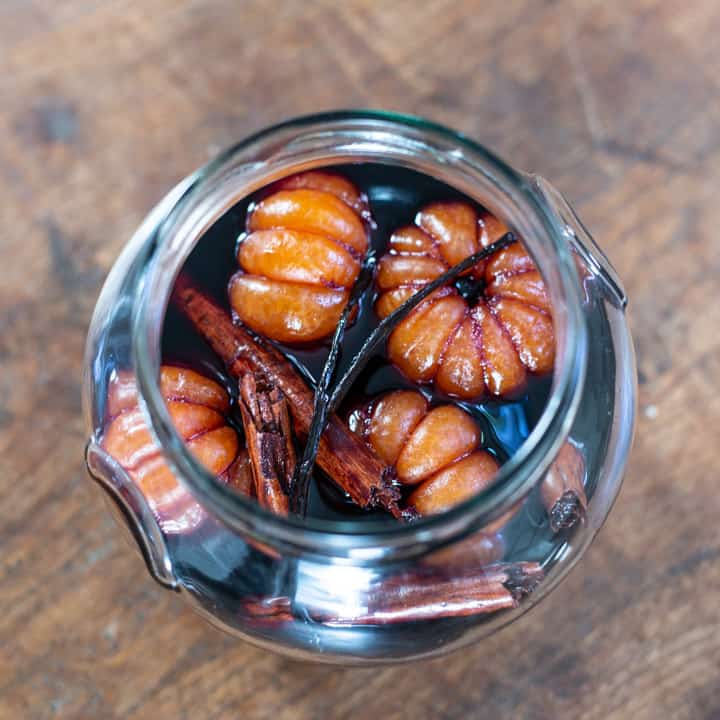 Christmas Food Traditions
It's funny how a dish can become such a huge tradition in itself.
This single dessert is probably my most famous contribution to our festive family history. I always make it, without fail, on Christmas Eve.
It then either gets reheated gently whilst we devour the turkey, or it's simply served cold. It's so, so good.
However, if you're more of a traditionalist and like a warm, stodgy dessert on the big day, why not take a peep at my traditional figgy pudding recipe? Not promising you'll have room after indulging in Christmas dinner, but it's a fun read if nothing else!
As always if you try this, or any of my other recipes and would like to share the pics online, please tag me so I can see! You can find me pretty much everywhere as @hedgecomber. This recipe was originally published in 2012, and has been updated with some pretty new photos!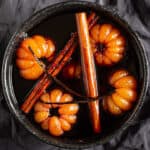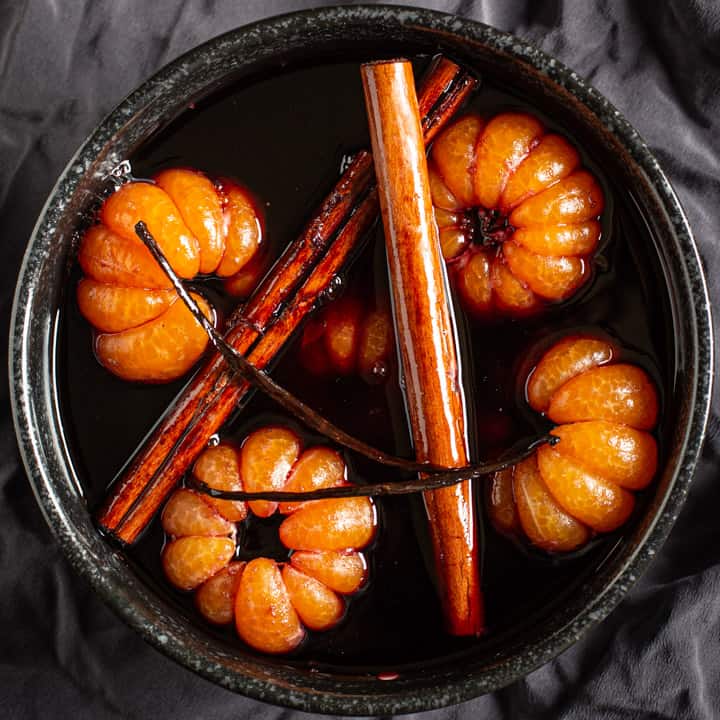 Satsumas Poached in Red Wine
Keyword:
christmas dessert, poached satsumas
Ingredients
1

bottle

red wine

100

ml

cold water

400

g

sugar

- white or brown is fine

6

satsumas

2

cinnamon sticks

1

vanilla pod

- use a sharp knife to cut it down the whole length of the pod
Instructions
In a saucepan bring the wine, water & sugar to the boil.

Stir, and once the sugar has dissolved, add the cinnamon & vanilla pod.

Keep boiling hard until it has reduced by half.

Meanwhile, peel the satsumas (leaving them whole).

Place in a bowl and cover with boiling water from the kettle.

Set a timer and let them poach for 2 minutes.

After 2 minutes carefully pour the hot water away and refill with cold water.

Then use a small pairing knife to gently scrape the white pith away from each fruit.

When finished, place the satsumas into your serving bowl or glass jar that you wish to gift them in.

When the wine has reduced by half, pour it over the satsumas and place the cinnamon & vanilla on top.

You can serve it immediately or leave to cool before storing in the fridge until needed.
Nutrition Facts
Satsumas Poached in Red Wine
Amount Per Serving
Calories 416
Calories from Fat 9
% Daily Value*
Fat 1g2%
Sodium 8mg0%
Potassium 305mg9%
Carbohydrates 83g28%
Protein 1g2%
Vitamin A 599IU12%
Vitamin C 23mg28%
Calcium 54mg5%
Iron 1mg6%
* Percent Daily Values are based on a 2000 calorie diet.