My neighbour asked me yesterday 'What on earth do you do with all those tomatoes?'
I admit this is a fair question when you consider that she was looking at 66 plants dripping with ripe fruit.
When you also consider they are pretty much all used to feed just 5 adults, I guess it may sound like a bit of an overkill to most. But not to us!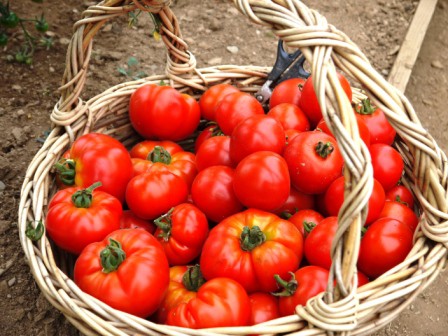 I don't remember the last time I bought tinned tomatoes, but it wasn't within the last 2 or 3 years for sure. Every time we need a can, we go to the freezer and pull out a block or tray of frozen ones and use them instead.
We do have a lot of freezer space though (3 large chests, 1 small chest, 1 large upright & our small kitchen fridge/freezer). When you grow your own animals for food, you inevitably end up with this many freezers as a butchered pig or 27 chickens take up a lot of room!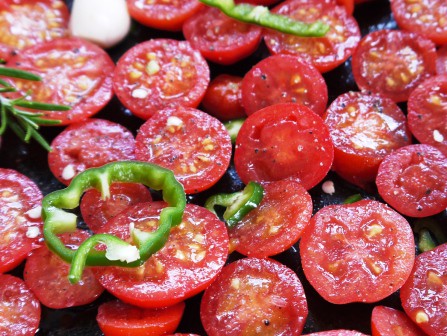 Anyway, back to the tomatoes…
At the height of the tomato season, when we are literally buried under the things, we tend to get pretty lazy and just throw them onto trays in the freezer to dry freeze. When solid, we bag them up & forget about them.
(These are beautiful if you pour some out into a metal oven dish, sprinkle with salt, pepper & dried herbs & cook in the oven alongside a roast. They colour slightly and have a hint of caramelisation about them. Just lovely.)
If I have the time & inclination (ie if I can be bothered) then I skin them by ducking in boiling hot water for a minute or two. This splits the skin and loosens it enough to peel it off.
Although, after a couple of batches of this I revert to dry freezing. Life really can be too short for some tasks, don't you think?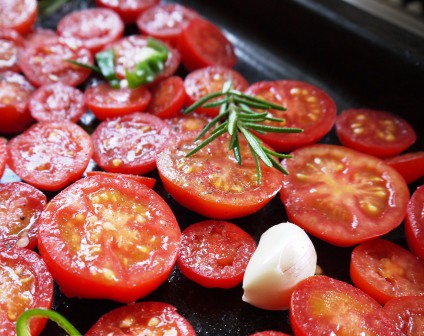 If I have time, inclination and the desire to eat some of my pickings that day, suddenly I get all enthusiastic and generally make a big batch of this roast tomato sauce, scoffing what I like & freezing the rest into little blocks.
A block can then be defrosted and mixed with stock for a warming soup, or added to casseroles or stews. Whizz it up with a stick blender and you can use it on a pizza base or as a sauce or dressing. Mushed hot onto fresh bread with a hunk of cheese on the side, or on top of a baked potato. Seriously, I could happily use these roasted tomatoes in just about any savoury dish you could think of (and maybe even a couple of deserts too!)
I just wish I had a house elf that would freeze all of my tomatoes this way for me. They are so simple & tasty, and far nicer in flavour than even the most expensive can of tomatoes you can buy.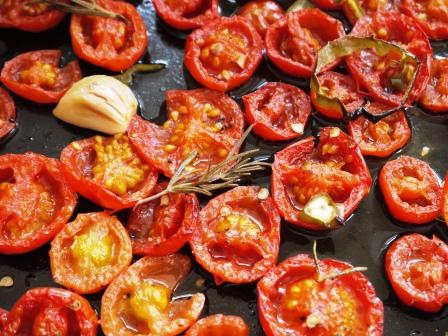 Oven Roasted Tomatoes
You'll need lots of fresh, very ripe tomatoes. Picking them when the sun has warmed them and they are slightly soft to the touch will ensure the roasted fruit are super sweet and tasty. If you are using bought ones, plump for the very red ones, and it's perfectly fine if they are a little too ripe.
Cut them in half & lay out on a baking tray that has been sprayed or lightly wiped with oil.
I added some fresh rosemary, garlic cloves and sliced jalepeno's, but feel free to add anything (or absolutely nothing). Perhaps try stoned olives, anchovies, onion or hot chilli's.
Drizzle or spray with oil, sprinkle with salt & pepper and roast for at least an hour in a medium hot oven, or longer in a cooler oven to maximise sweetness. When they are perfectly cooked, there will be little black tinges on the edges of the fruit, and a little syrupy juice in the bottom of the pan. Make sure to scrape this out as the flavour is so concentrated & awesome.
Use what you want straight away, freezing the rest whole, or blitzed with a stick blender or food processor for a smooth sauce.
And if you grow courgettes too, chances are you'll be getting a glut of them soon too. Hop on over to Bintu's blgo and she'll show you how to make simple roasted courgette.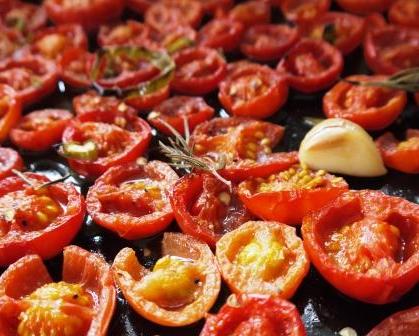 I do hope you get a chance to make them for yourself sometime. If you haven't grown any this year, don't worry as they are really cheap in the greengrocers right now.
Enjoy!