These roasted vine tomatoes are such a delicious way to cook, and serve, the best of the seasons' tomatoes! Sweet, lightly charred and so, so juicy!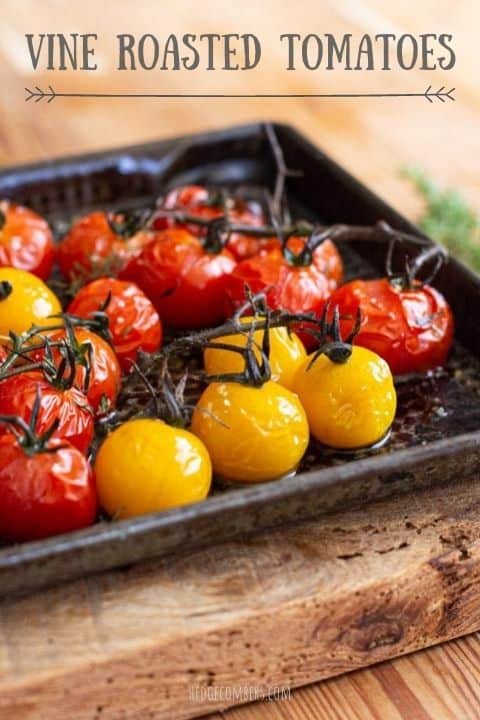 We are deep into tomato season here on the farm.
The first fruits of the year get picked with pure joy and eaten barefoot in the garden.
A week or two in, and some inevitably make it into the kitchen. These generally get thickly sliced and used in a simple tomato and black pepper sandwich.
Oh, how I spend all year craving that first homegrown tomato sandwich!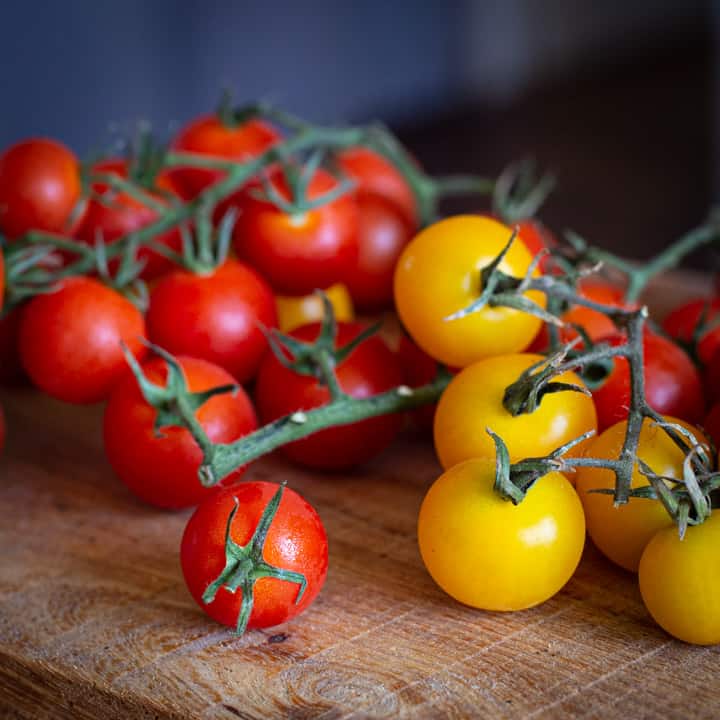 But here we are in mid-September. The nights are getting cooler, and warm comforting meals are making a comeback.
And inevitably, our glut of homegrown tomatoes start spending time in the oven. Where those starches transform into sweet, sticky sugars. Making this side dish the perfect balance to roast meats, fish and root vegetables.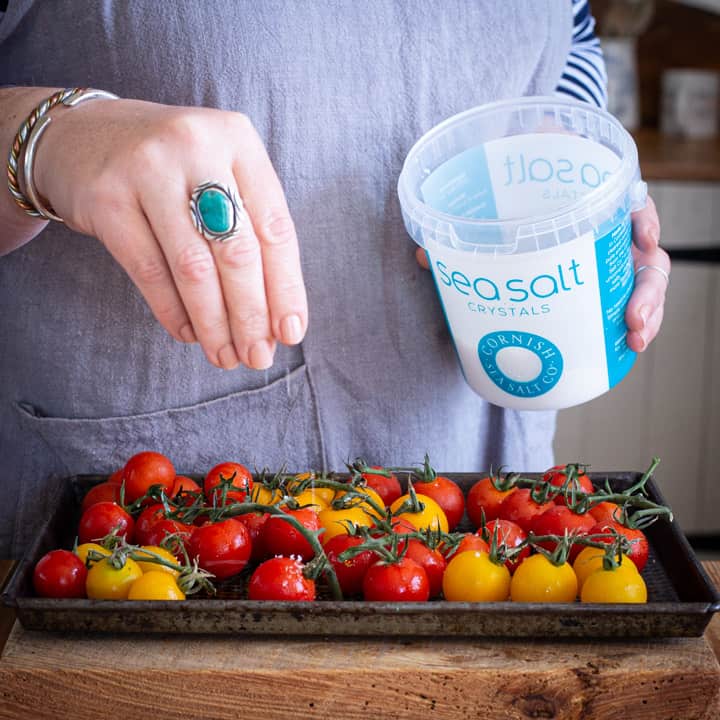 Tomatoes that are still attached to the vine tend to have more flavour than those that are sold loose. (This is especially true when you compare them to the large, pale 'salad tomatoes' that you find at the supermarket. These are generally grown for weight rather than taste. They are bland, watery and 'pappy' as they are generally forced to ripen in storage or transit).
Tomatoes that are sold on the vine are more perishable than those sold loose, which is why you'll pay a bit more for them.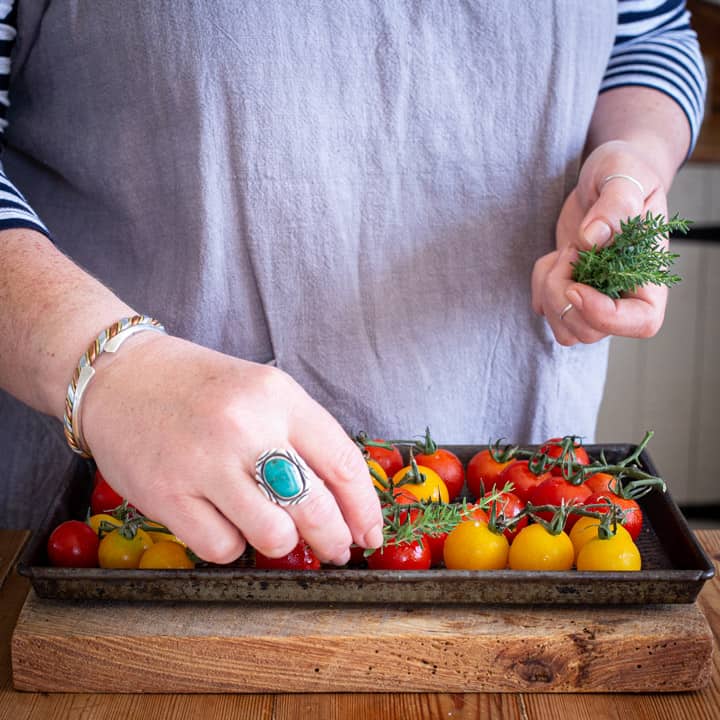 Of course the cheapest way to get a good stash of full-flavoured vine-ripened tomatoes, is to grow your own!
And I have a couple of hacks for maximising the flavour of home-grown ones too:
Pick on a warm day if you can. Sun boosts the sugars making them taste extra sweet.
Don't overwater your plants. Heavy watering seems to dilute the flavours making your special homegrown goodies taste bland.
Pick before you water. Same reason as above.
Never eat a tomato cold, straight from the fridge (this goes for home-grown & supermarket ones).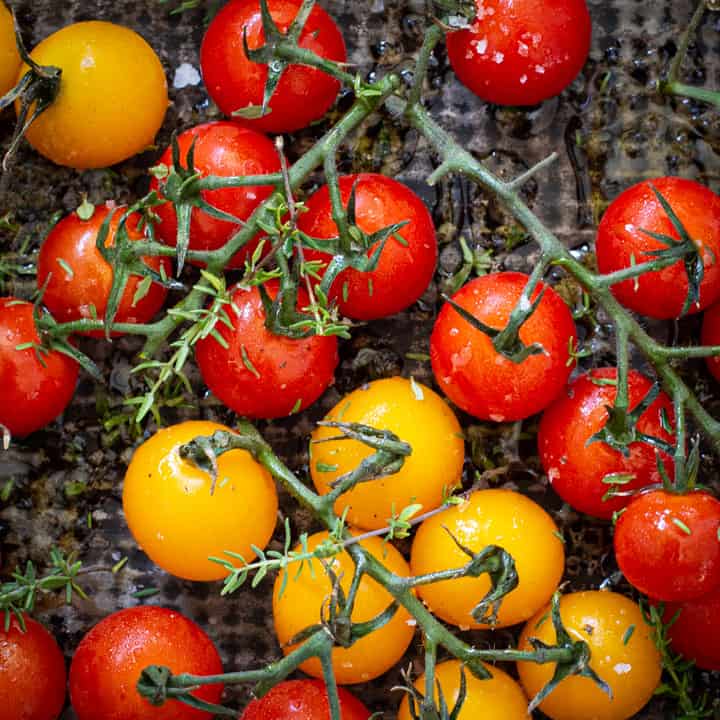 Roasting Tomatoes
The only ingredients that are non-negotiable in my mind when roasting tomatoes are salt and oil.
I prefer to use a crumbly, flaky sea salt in cooking (Cornish Sea Salt to be precise). Salt brings out even more flavour from your little roasted gems, so please don't skip it!
And as for oil, you can use whatever oil you fancy. I went with avocado oil as it has a high smoke point (meaning that it is excellent for cooking at high temperatures with), but you could use olive, vegetable or even homemade lard if you use it.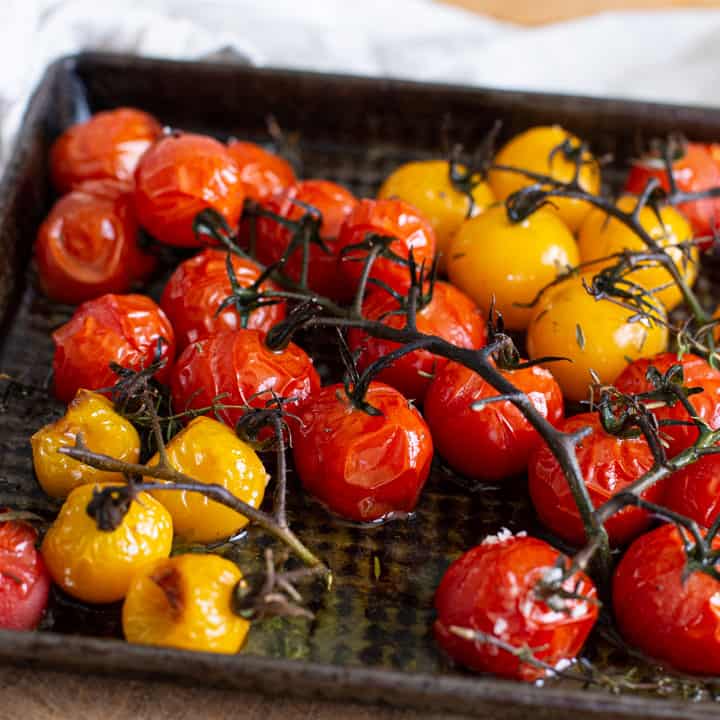 I also like to add sprigs of fresh herbs, but this is optional. Thyme, oregano, rosemary, basil, actually it's hard to think of a herb that doesn't go well with roast tomatoes!
And if you don't have fresh herbs to hand, dried herbs are also a great choice. In fact, my Mum tends to sprinkle hers with a Herbs de Provence blend which is delicious.
There are also other additions you could add to the roasting pan once in a while. How about:
Black olives
Anchovies (and use the oil from the jar instead of plain oil too)
Garlic cloves
Balsamic vinegar (just splosh a tablespoon or two over the tomatoes before roasting – yum!)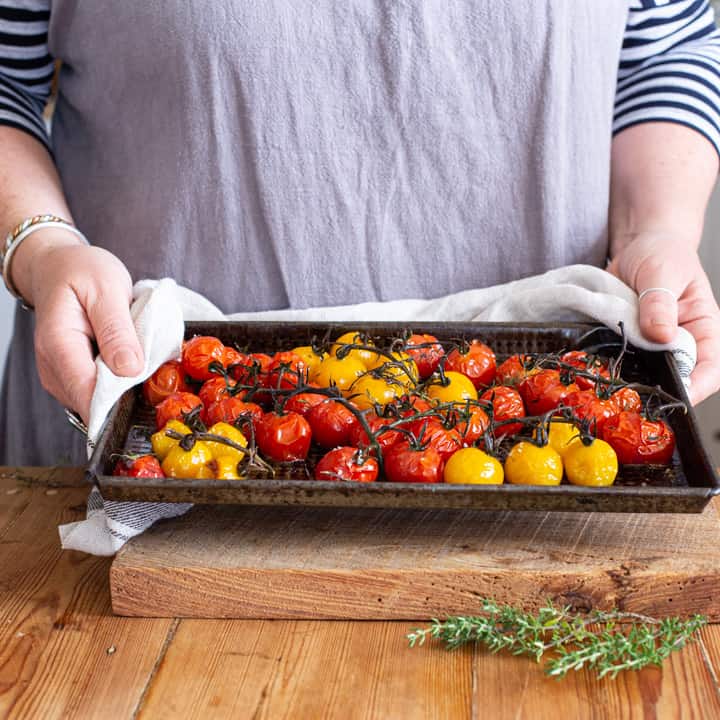 Roasted Vine Tomatoes
So to roast your tasty little tomatoes, simply pop onto a baking tray.
Drizzle with oil & sprinkle with salt. Add any extras you fancy.
And place the tray into a preheated oven. 20 minutes later you'll have the most wonderful side dish!
PS in the following recipe I'm using cherry tomatoes. If you are using larger tomatoes, they will require a slightly longer cooking time.
Keep them in the oven and check every 5-10 minutes beyond the initial cooking time.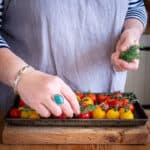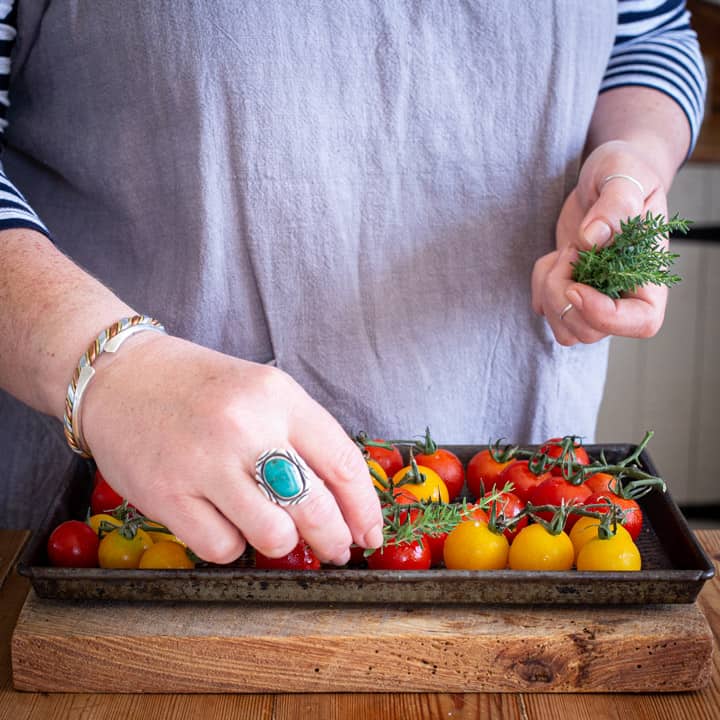 Roasted Vine Tomatoes
These oven-roasted vine tomatoes are sweet and delicious!
Keyword:
roasted vine tomatoes
Ingredients
500

g

cherry tomatoes

2

tbsp

oil

1

tsp

sea salt

4

sprigs

thyme

(optional)
Instructions
Preheat the oven to 200C / 400F / Gas 6

Place your tomatoes, still on the vine, onto a baking tray.

Drizzle them with the oil, and sprinkle with the salt.

Add the herbs if you are using, or any of the other additions mentioned above.

Roast in the hot oven for 15-20 minutes, or until the skins start to burst and the vines start blackening.

Remove from the oven and serve hot, warm or cold.
Nutrition Facts
Roasted Vine Tomatoes
Amount Per Serving
Calories 57
Calories from Fat 45
% Daily Value*
Fat 5g8%
Sodium 397mg17%
Potassium 182mg5%
Carbohydrates 4g1%
Protein 1g2%
Vitamin A 439IU9%
Vitamin C 20mg24%
Calcium 12mg1%
Iron 1mg6%
* Percent Daily Values are based on a 2000 calorie diet.