Have you ever wondered how to render bacon fat to create your own natural dripping? If so, keep reading, as we have all the various types of animal fats,and their best uses, covered…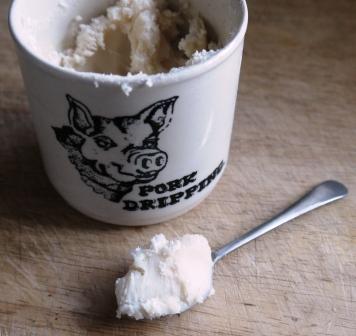 In the days of my Grandmother, dripping suet and lard were useful by-products of rearing and butchering meat, and would have been used on a daily basis. These fats were used in cooking, medicine, candle & soap making, seasoning cast iron pans and even shining shoes!
However, in the so called 'health conscious' years of the 80's, these natural fats were demonised to the point that people think you're mad if you admit to spreading a piece of hot toast with dripping.
Have you ever tried it?
When you realise that bacon lard in particular contains less saturated fat, cholesterol & sodium than salted butter, perhaps you won't be so repulsed. As with most (naturally produced) foods, eating it in moderation won't kill you (can you say the same for the trans fats, found in margarine up until the 1990's?) but will however add an amazing flavour to so much of your cooking.
To put it simply, when you render bacon fat, you heat a solid lump of fat until it melts. You are left with a liquid (the bit we are after) and crispt pork scratchings. The latter be sprinkled with a little salt and happily (and healthily!) consumed on a keto dite. Or they can be to the hens, cat or dog as a treat and only in small quantities.
How to Render Bacon Fat
To make your own Bacon lard, all you need to do is heat the fat until the liquid fat separates from the solid. You can do that in the oven or on the hob, whichever is easier for you. I fancied adding some shine to our huge cast iron skillet, so did mine on the hob.
To extract as much oil as possible, chop up bacon fat into small pieces, pop in a pan and heat over a medium hot heat. You don't want it to burn or splatter you too much, so turn the heat down if it's getting fierce.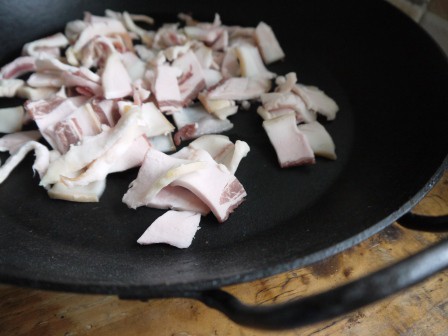 When it is swimming in oil and the scratchings look crispy and lightly browned, pour the oil off into a jam jar or pot. Once cool it can be stashed in the fridge. It doesn't really matter if there are little crispy specks of bacon in it, as the fridge & the fat will preserve it well enough. However, you can strain it through a coffee filter or muslin if you want it perfectly clear.
Top your pot up every time you fry a few rashers of bacon, it doesn't really matter if you've fried your eggs and sausage or two in the same pan as the bacon, just tip the grease all in.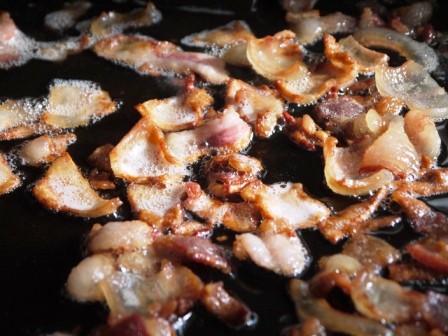 If you keep pigs, you'll tend to work with huge batches of fat. You'll probably find that using the oven is easier and creates a cleaner lard than the frying pan. Pour off into tubs, cool, label and pop in the freezer where it will keep indefinitely.
Once you build up a little stash of this glorious fat, try roasting potatoes till crisp and super tasty. Leek & onion pan fried in it tastes glorious, as does popcorn. Or replace the butter in bread, scones or pastry with it.
Or you could spread it on hot fresh toast, just like Granny.
Let me leave you with this interesting fatty snippet from The Independent site.
On the menu? Know your fats
Butter: Mainly saturated fat, which should be refrigerated and well wrapped to protect it from light and absorbing strong smells. Humans have been eating butter for more than 10,000 years.
Lard: Real lard is hard to find, so terrified are we of the creamy rendered pig fat. Foods fried in lard become very crisp and absorb less fat than foods cooked in oil, and it makes great flaky dough.
Dripping: This is the fat that drips from meat while it cooks. Beef dripping is the most popular. Brown beef or lamb in their own dripping and the flavour will intensify.
Suet: This fat surrounds an animal's kidneys and is rarely found any more. It is a hard fat with a high melting point so great for deep-frying and making pastry. Grate it into your mincemeat and dumpling mixes.
Tallow: A general term for fat rendered from cows or sheep, best known as an ingredient for candles and soap. Save some for your roast potatoes and Yorkshire puddings.