Here is my rather fancy sounding Roast Asparagus, Oyster Mushroom and Pearl Barley Salad with a side order of creamy Tahini and Orange Dressing. Be still my beating heart.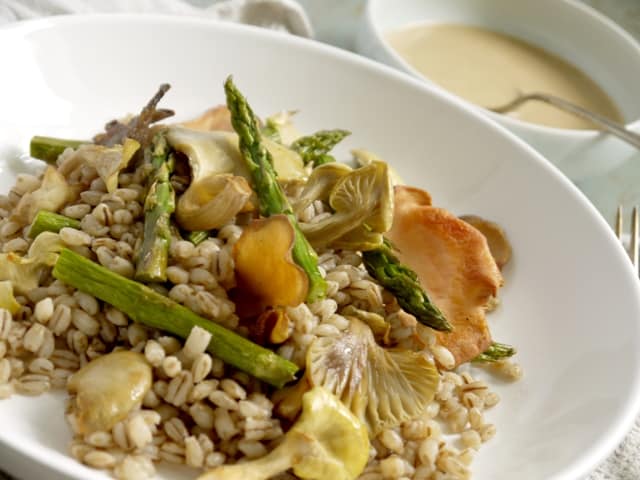 At the awards ceremony last week, Jonny & I both received a goody bag which contained, among other things, a mixed pack of mushrooms that had been donated by Smithy Mushrooms.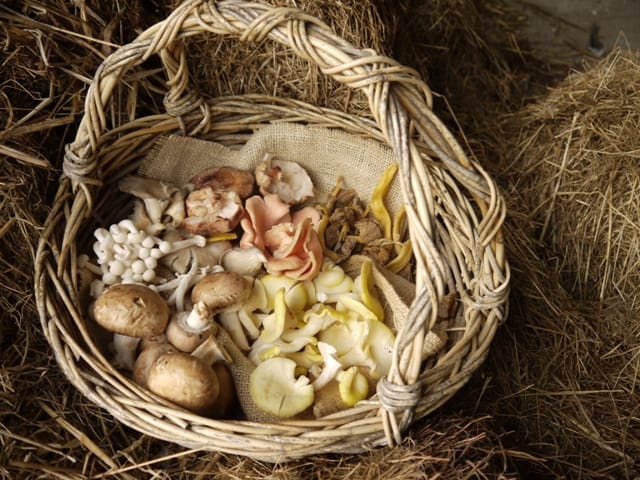 In each tub was a mix of pink, yellow and grey oyster mushrooms. There were also shiitake, chestnut and shimeji and those brown & yellow ones top right that I have no clue as to what they are.
I had so much fun planning how to use them, this warm barley salad being the first recipe I came up with. There is a Japanese inspired soup to come later in the week using the shimeji (those funny white bobbly looking white ones on the left), whilst the shiitake and the unknown brown & yellow ones have been dehydrated for another day.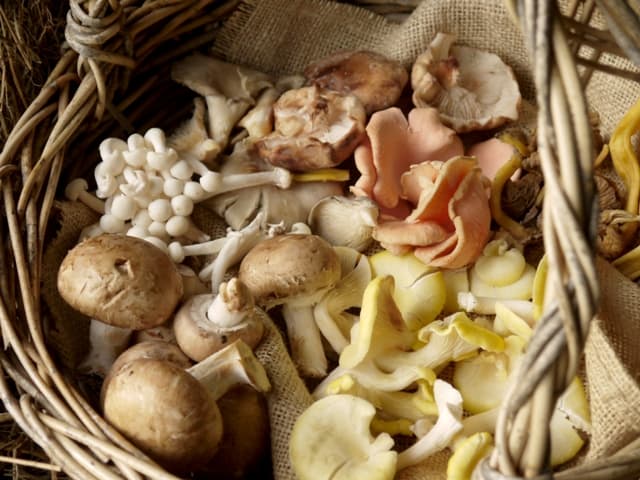 Roasting the oyster mushrooms works so well as they stay meaty (rather then going slimy) and you get yummy little crispy bits on the edges. Oh, and that tahini and orange dressing is an absolute show stopper. Only three ingredients and it is out of this world. I can picture it being drizzled on absolutely anything from jacket potatoes to stir-fry's, from noodles to burgers, please give it a try.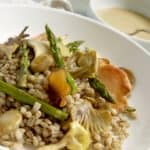 Roast Asparagus and Oyster Mushroom Salad with Tahini Orange Dressing
Ingredients
The Barley
125

g

pearl barley

400

ml

water

1/2

a vegetable stock cube
The Dressing
3

tablespoons

tahini

2

teaspoons

soy sauce

Juice of 1 orange
The Roast Veggies
1

teaspoon

oil

1

pack of tender asparagus

trimmed

1

pack of oyster mushrooms

hard stems removed & flesh torn into largish pieces that will lay flat in the pan
Instructions
Preheat the oven to 200/180 fan/gas 6/400.

Rinse the pearl barley in cold water then bring to a boil with the water and stock cube before turning down to a simmer. Cook for 30-40 minutes, or until it is soft to bite.

To make the dressing, pop the 3 ingredients in a small bowl and mix well until they have all combined and it looks creamy and delicious.

Meanwhile, heat the oil in a large baking tin until it is shimmering. Tip in the asparagus and oyster mushrooms, coating each side in a little oil. Cook for 10 minutes, shaking the pan vigorously halfway through the cooking time.

When the barley is cooked through, mix the veggies through and dish up onto plates. Serve with the dressing on the side.