This recipe for rabbit satay skewers is a great way to introduce people to wild rabbit meat. They are
Fresh, wild rabbit meat is pretty much as good as it gets.
There are no food miles to worry about and it's as fresh and free range as is possible.
If you're not into hunting, your butcher may be able to source them for you.
On our land we are literally riddled with them, to the point that our hedges & stone walls are collapsing with the extent of their ancient warrens. So culling them is part of the farm maintenance.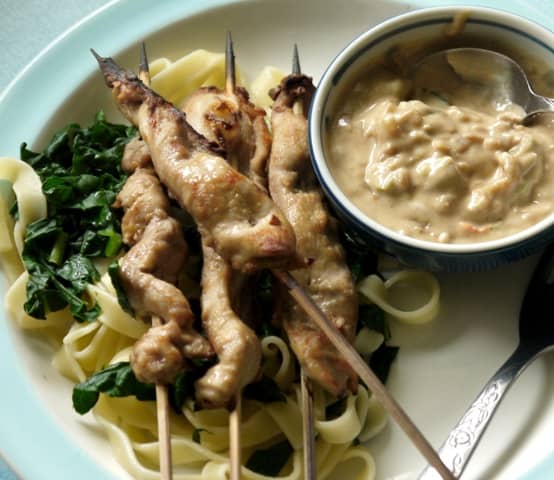 Due to the mass of fiddly bones, I have taken to removing the saddle* and thighs, and using the carcass in the slow cooker for a wonderful bunny stock.
All the little bits of meat left on the bone then just flake off really easily.
As a safety note, I've not been able to find conclusive information on whether wild rabbit meat is safe to eat slightly pink.
There are some parasites that can live in/on rabbits that are killed by freezing prior to cooking. But until I find out one way or the other my advice would be to ensure it is well cooked right through.
This recipe uses English wild rabbit which are pretty skinny little things. I've never cooked with farmed rabbit before, but I imagine the saddle would be much thicker and meatier, so adjust the cooking time as necessary.
And if you're a hunter and ever score a deer, may I recommend this gorgeous Venison Liver Pâtê recipe a go? It's a smooth, rich and creamy recipe that everyone that tries it begs for!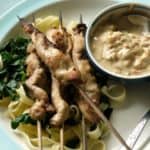 Rabbit Satay
Ingredients
Satay Sauce
A splash of oil

1

chilli pepper

finely chopped

2

garlic cloves

finely chopped

1

small onion

finely chopped

3

spring onions

chopped, white and green parts separated

1

giant

heaped tablespoon of crunchy peanut butter

Juice of 1/2 a lemon

1

tablespoon

soy sauce

1/3

of a can coconut milk
Instructions
Heat a splash of oil in a small pan. Add in the chilli, onion, garlic and the white parts of the spring onion and fry until the onion is translucent.

Add in the peanut butter, soy sauce, lemon juice and coconut milk and mix well.

Use a tablespoon of the mixture to run into the rabbit meat, cover and pop in the fridge for 2 hours or even overnight.

Soak wooden skewers in water for 20-30 minutes, then thread the long strips of rabbit on in a zig zag pattern.

On a really hot grill or BBQ, cook for 2-3 minutes each side making sure they don't burn.

Reheat the sauce and serve in little dipping bowls with noodles or salad.
What's your favourite rabbit recipe?
*The saddle refers to the two long muscles that run down either side of the spine. They are tender, even on an older bunny, and honestly taste a whole lot like chicken.