This Rabbit Rillettes is a delicious recipe that turns a wild rabbit or two into a traditional country-style type of pate or terrine that uses pork fat to preserve.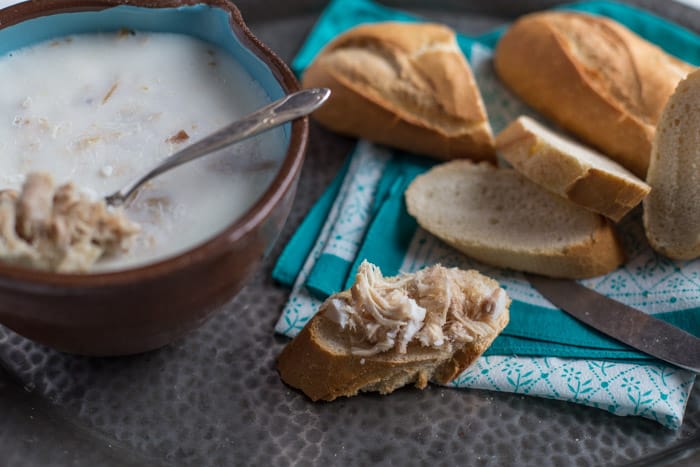 What is Rillettes?
Rillettes is a fancy name for what my Grandmother would likely have called 'potted meat'. It's very similar in texture to a coarse pate, with tender shreds of cooked meat suspended in a rich, creamy jelly.
The main differences between a pate and a traditional rillettes recipe is that the latter is usually dairy-free. Most rillettes recipes call for rendered animal fat for the richness, whereas pates are most often made with butter or cream. I'm using pork fat, but I've heard of people using goose or duck fat too.
Secondly, pates are usually made with organ meats (such as liver), whilst rillettes recipes tend to call for shredded meats.
I cook the rabbit in a slow-cooker so the meat is tender and literally falls off the bone. Don't worry if you don't have a slow cooker as I leave guidance below for slow cooking a rabbit in the oven too. That said, a slow cooker is a fantastic investment if you are exploring the world of game recipes. It will turn the toughest joint into tender, fully flavoured meat with very little input for you. And slow cookers are extremely cheap to buy and to run.
It's worth noting at this point that rabbit meat is extremely lean. For this recipe to work you will definitely need to add the fat from another animal as rabbits don't carry enough to flavour and preserve your rillettes.
Is Rabbit an Environmentally Sound Meat Choice?
If you've ever heard the expression "at it like bunnies" you'll have some idea at how quickly rabbits procreate. To give you some idea, a female has an average of 6 babies per litter, and can have one litter every single month.
Wow.
And as most country folk will know, rabbits are a much-underused protein resource. They are delicate in flavour, tasting quite similar to chicken. They are free from air miles, factory farming, plastic waste, and so many other negative side effects to the food we put on our plates.
In fact, most farmers in my area consider rabbits to be a vermin and welcome an experienced shooter to help clear them from their land.
If you are lucky enough to have access to freshly shot wild rabbits, I urge you to give this recipe a go. It's truly delicious!
A quick side note: please avoid buying farmed rabbit unless the welfare can be guaranteed. The vast majority of farmed rabbits are kept in tiny wire cages for their entire lives. Even the floor they stand on is made of wire so that all their waste drops through the floor making less work for the human involved in their 'care'. This is barbaric, and not a style of meat production that should be allowed.
Preparing a Rabbit for Cooking
If your local butcher sells prepared rabbits then you can skip this bit.
A freshly shot rabbit will usually arrive 'paunched'. This simply means that the stomach and intestines are removed soon after shooting to prevent the meat spoiling.
The skin, head and feet will also need to be removed which is very quick work for someone that has experience. If you are new to cooking with wild game, there's no shame in asking your hunter friend to show you how. It's a valuable skill to be able to skin and butcher your own meat.
Rabbit Rillettes
To make the rabbit rillettes we're going to slow cook the rabbits with some pork belly and spices. It will take around 4 hours for the meat to fall from the bone. At this point the pork fat will have rendered and you'll have so much flavour condensed in the pot.
Then remove the carcass from the fat using a slotted spoon, and let the meat cool enough to handle.
Next, removed and shred the meat from the bone. Rabbit bones are tiny and plentiful and this bit can take some time.
Next, remove and shred any pork meat into the mix. It's entirely up to you how much, if any, of the pork fat you add back in.
will then shred into the most amazing, tender pieces. And the fat from the pork belly will lubricate and preserve it.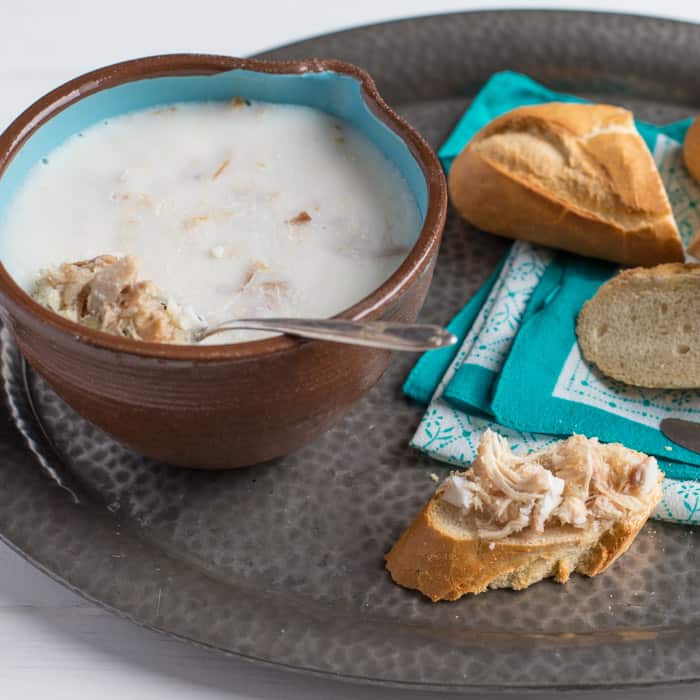 Rabbit Rillettes
I've been wanting to make a rabbit rillettes for ages but I wanted to come up with a dairy free version as so many pate, terrines and rillettes use butter and/or cream which make me a poorly girl.
By mixing the very lean meat of rabbit with the fatty belly pork, I just knew the perfect balance could be achieved. Sans dairy.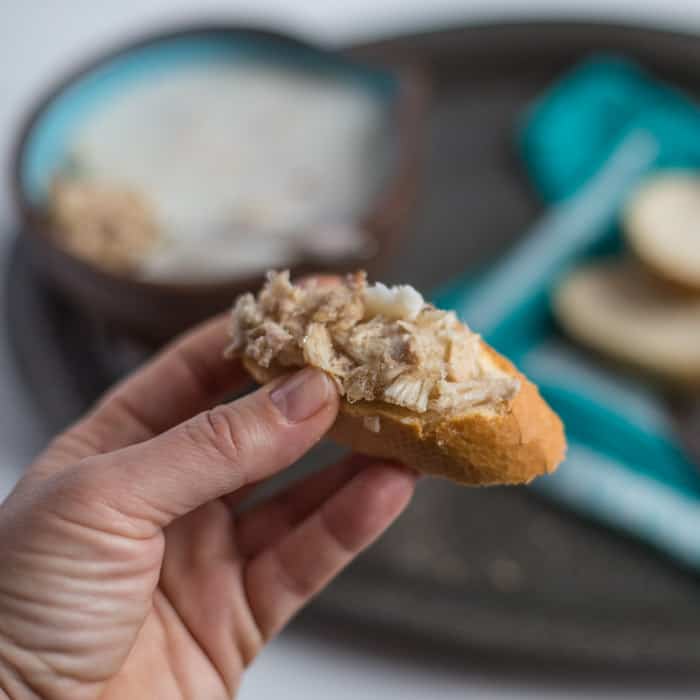 Could you taste the rabbit and the pork individually?
Nope.
Could you make it with all pork? Absolutely.
And as rabbit tastes soo much like chicken, you could even try subbing chicken for rabbit too.
If you fancy some more inspiration in the world of rillettes and pates, please do go and check out my delicious venison liver pate – it's a keeper!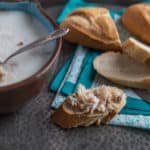 Rabbit Rillettes
Keyword:
rabbit rillettes
Ingredients
700

g

rabbit

one large farmed rabbit or two wild ones, cut into about 3 or 4 pieces

700

g

pork belly

chopped

300

ml

water

1

teaspoon

salt

1/4

teaspoon

black pepper

1/4

teaspoon

nutmeg

1/4

teaspoon

allspice

1

clove

garlic

minced
Instructions
Pop the pork belly, rabbit, water and spices into a large slow cooker and cook on high for 4 hours or in a large covered casserole dish and cook at 140/275/gas 1 for 4 hours.

When the cooking time is over, the rabbit meat should fall away from the bones, the pork should be soft and the pork fat should have partially rendered down into the liquid.

Drain the juices from the meat, saving them into a jug or clean pan. Once cool, pop in the fridge to firm up.

Once the meat is cool enough to handle, remove all the bones from the rabbit. I prefer to remove any lumps of fat from the belly pork too, although I'm sure that most chefs would raise their eyes heavenwards and call me foolish. Your choice.

Shred the meat with your fingers and pack the meat into individual ramekins or a terrine dish and leave to cool completely, I left mine overnight.

Reheat the stock and liquid fat if it has solidified, and pour through a sieve to remove any little bits and bobs. Pour over the shredded meat and leave to cool at room temperature before covering with cling film and popping in the fridge.
Nutrition Facts
Rabbit Rillettes
Amount Per Serving
Calories 738
Calories from Fat 576
% Daily Value*
Fat 64g98%
Cholesterol 178mg59%
Sodium 485mg21%
Potassium 656mg19%
Carbohydrates 0g0%
Protein 36g72%
Vitamin A 10IU0%
Vitamin C 0.5mg1%
Calcium 20mg2%
Iron 4.3mg24%
* Percent Daily Values are based on a 2000 calorie diet.
Huge thanks to Tesco for sponsoring this post and helping me to continue to bring you unique and tasty recipes. As always all views (and leftovers!) are my own.