I love baking muffins. I prefer them to cupcakes, they have more substance in my mind. They are more like a rustic little meal, full of fibre and goodness and great to have with you when you're late for a meal. They are hearty and you can pack them full of nutritional boosts whilst only adding to the texture & flavour.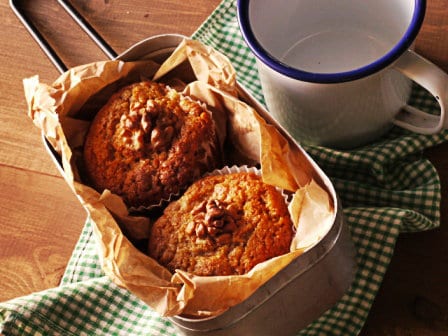 This recipe cooks up a BIG batch of 12 muffins. Muffin cases are larger than cupcake cases so if you are using the latter, you may need to use a second tray if you have one. If you do make smaller ones, just keep as eye on the timings as they won't need so long in the oven.
Any muffin you make with fresh or tinned fruit will stay moist for days. The chocolate muffins I bake tend to dry out really quickly, by the next day no one wants to eat them. Although they are sublime still warm from the oven.
When making muffins, the trick is to keep dry & wet ingredients separate until the last possible moment. Work the dry stuff in a bowl, the wet stuff in a jug. Mix the two together and dollop straight into the waiting muffin trays and into the oven.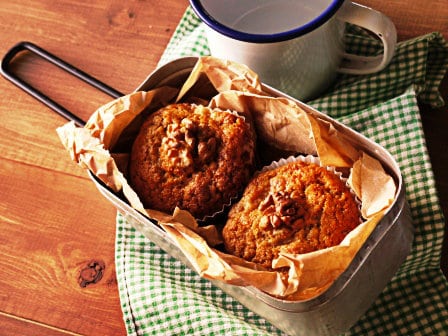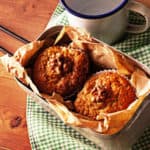 Pear & Walnut Muffins
Ingredients
250

g

plain flour

3

teaspoons

baking powder

1/2

teaspoon

salt

1

teaspoon

ground ginger or mixed spice

75

g

sugar

1

egg

well beaten

150

ml

milk

coconut milk, fruit juice or water

175

g

fresh pear

peeled & chopped

75

ml

vegetable oil or melted butter

75

g

walnut halves broken up

reserving 12 halves for decorating muffins
Instructions
Pop 12 muffin cases in the muffin tray, or lightly grease a silicone muffin tray. Preheat the oven to 375f / 190c / 170fan / Gas 5.

In a large bowl sieve together all the dry ingredients (excluding the 12 walnut halves)

In a jug, measure out the wet ingredients.

When the oven is at temperature, lightly fold the wet ingredients into the dry, just until there are no dry bits left showing. Do not over stir.

Spoon into the cases, pop a walnut half on top of each muffin and bang in the oven.

After 20 - 25 minutes, check that the top of a muffin springs back when pressed. Take out and let cool on a cooling rack.

These will freeze brilliantly.