The Padstow Christmas Festival never fails to impress! Great Cornish food, chefs and gifts are round every tasty corner.
Here's my highlights of 2018…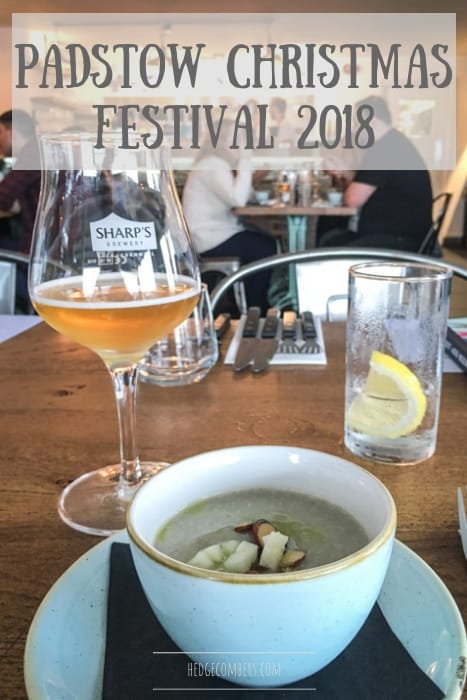 You know that Monday morning feeling when you're exhausted and want nothing more than to go back to bed?
But then you remember the preceding weekend and break out in a grin as you had SO much fun?!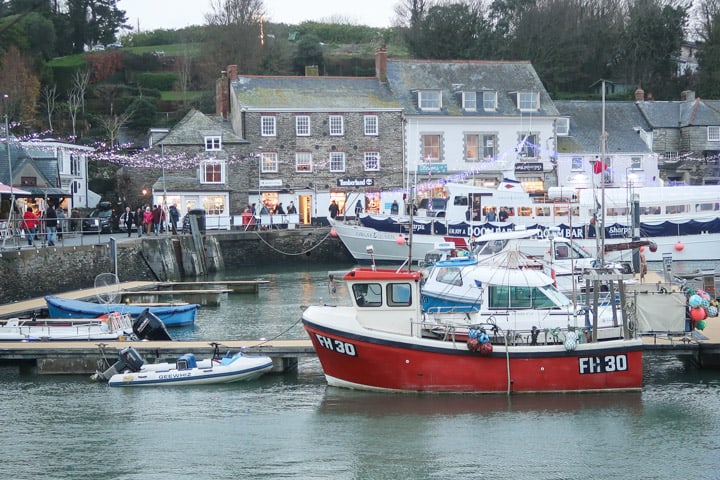 Well that right there was my Monday morning friends!
The Padstow Christmas Festival is the grand finale in the Cornish foodie calendar. With two chef demo tents, a massive marquee of festive traders and street food, and a town that pulls out ALL the stops.
This is how our weekend went…
St Moritz Hotel, Rock
First up, we checked into the stunning St Moritz Hotel in Rock.
Our room was gorgeous and really comfortable. It may be a 4* hotel, but it was laid back and relaxed without a hint of stuffiness. The staff were attentive and fun. And the guys in the bar make a mean Mojito.
Sadly we didn't have time to check out the hotel Cowshed Spa. But if the Cowshed products in our en suite were anything to go by, I would have been hooked.
In fact, I've asked Santa for a pot of the Grumpy Cow Shower Gel as it smelt soooo good (and I LOVE the name!)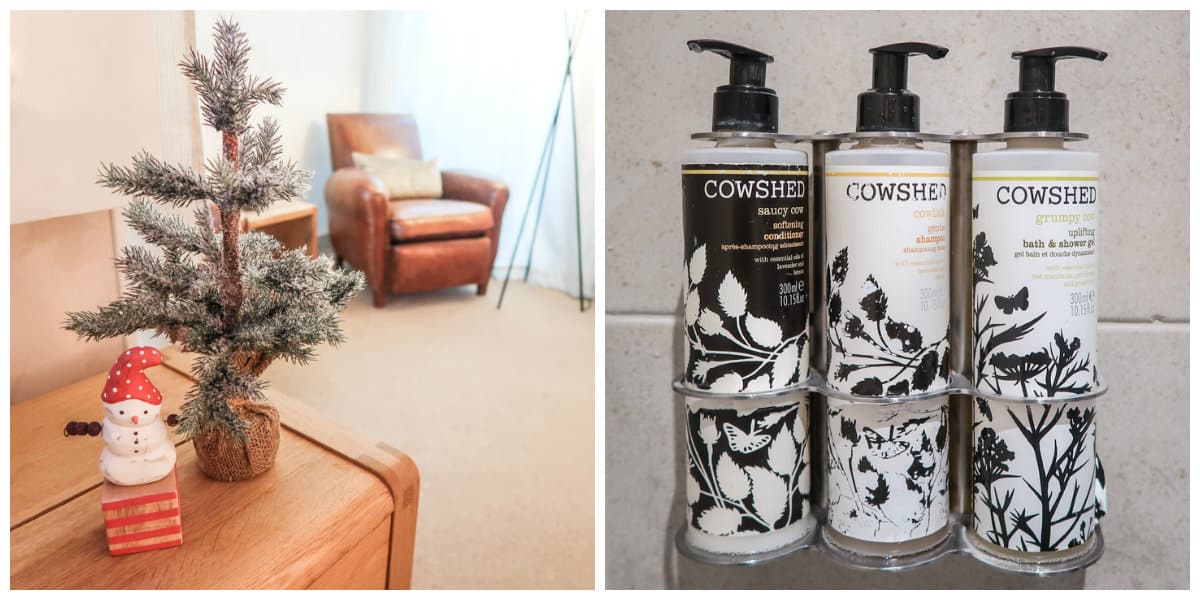 The Mariners, Rock
The Mariners restaurant in Rock is a joint venture between Nathan Outlaw and Sharp's Brewery.
It boasts the River Camel as the most perfect backdrop.
And as we arrived at low tide, we watched the oyster tractors hard at work collecting the days oysters for the hungry festival goers.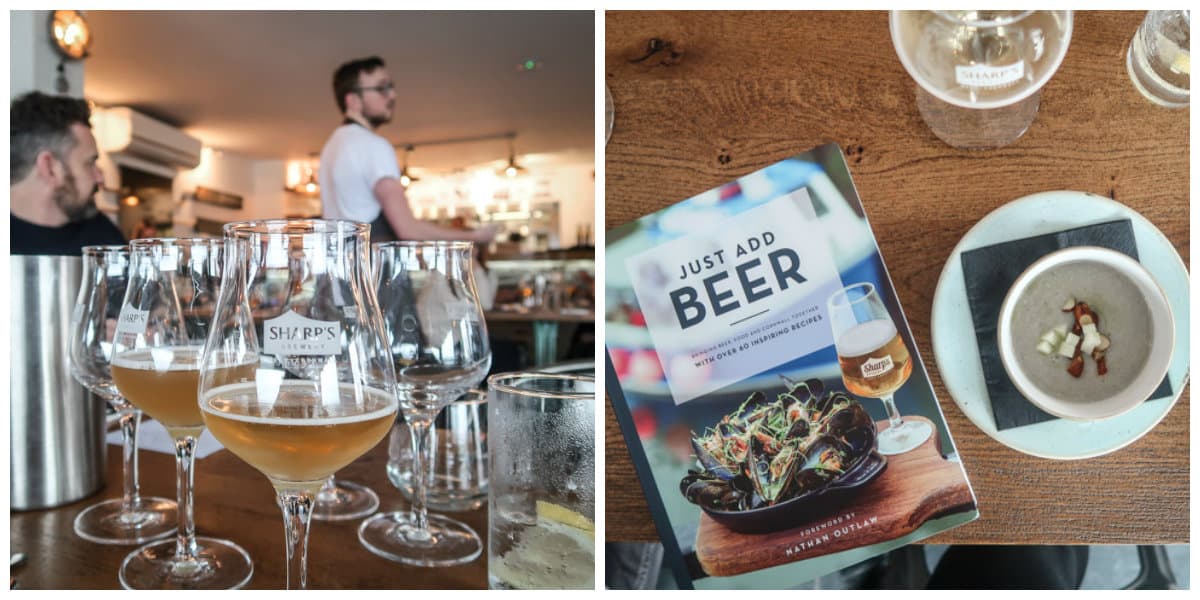 We were treated to a specially designed menu of small plates that were each paired with a specific beer.
The beers were chosen to either complement or contrast with the notes in the food.
And even though I'm not a huge beer fan, I can totally appreciate the marriage of flavours at each course.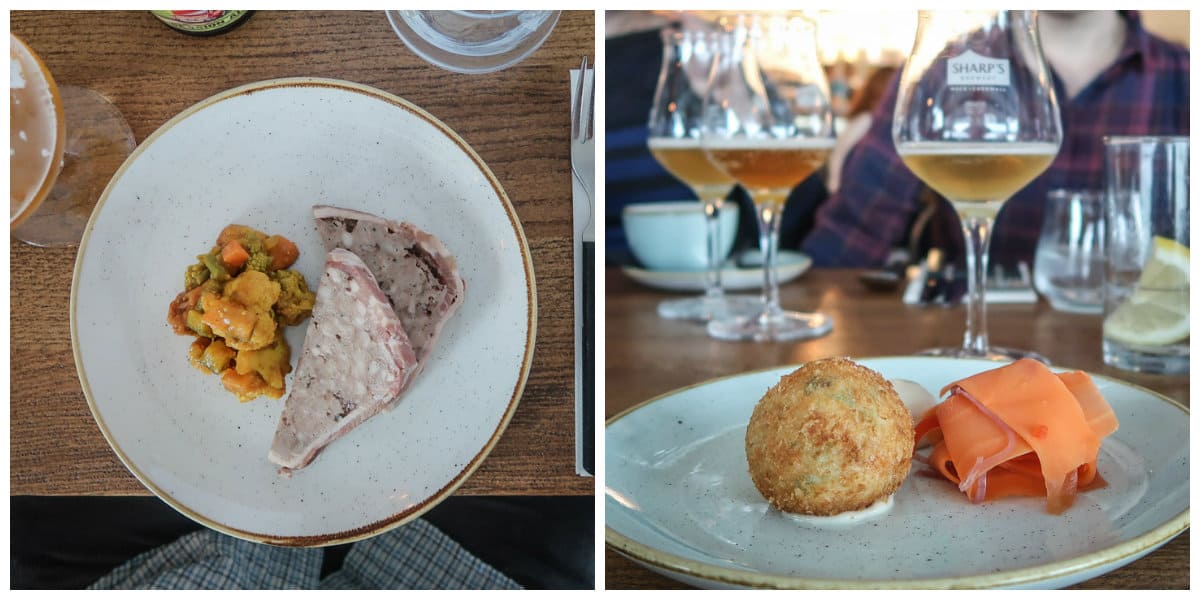 Jonny, being a total beer head, was in malty heaven from the moment we arrived to moment the last drop of Seven Souls dark ale was drained.
In case you were wondering this dark stout was served with chocolate mousse (or in my case a dairy free chocolate brownie) and the two together were utter perfection.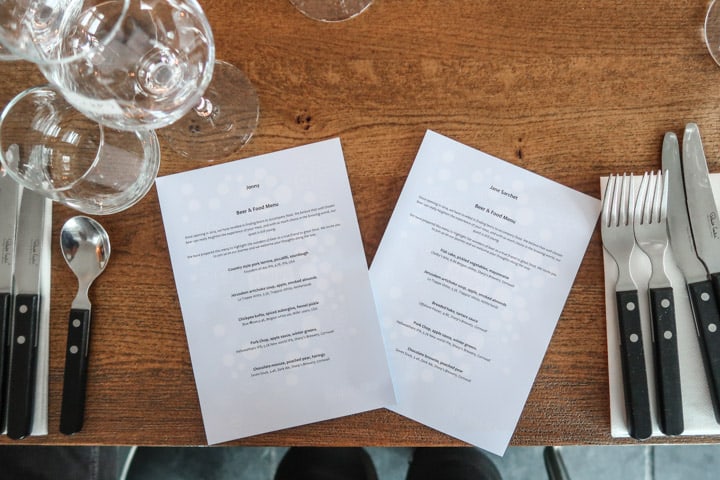 Being lactose intolerant makes dining out a pain to be honest.
And I always have to pre-warn restaurants when booking a table.
Add in to that the fact that Jonny won't eat any seafood, and we are a chefs worst nightmare.
Especially a chef in a kitchen with direct access to the days freshest catch.
However, The Mariners turned that right around and on arrival we were presented with our very own, personalised menu.
Such a nice touch and one more restaurants could offer to make those of us with intolerance's or allergies feel looked after, rather than an inconvenience.
Doom Bar Session on The Jubillee Queen
Doom Bar is the jewel in the Sharp's Brewery crown, being the UK's number one selling cask beer.
It's an amber ale named after the Doom Bar, a treacherous sandbar at the mouth of the River Camel, the river that Padstow and Rock both face each other over.
So it felt rather apt that we headed out into the choppy waters above the Doom Bar whilst sipping a cheeky Doom Bar. Or two.
We were aboard the Jubillee Queen, and had the pleasure of the one & only Huey Morgan on the decks keeping us all up and dancing.
I do hope you enjoy the following before & after shot.
Quite literally the calm before the Huey storm!!!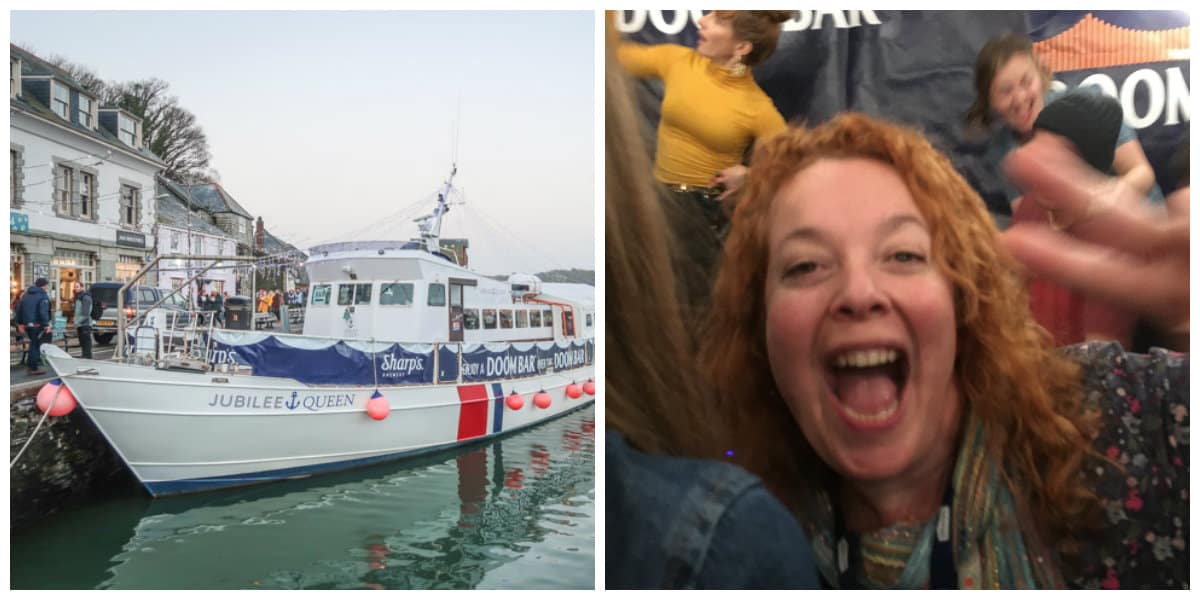 Padstow Christmas Festival
And now for the best bit. For one weekend a year, Padstow crams itself full of the counties best food, drink and craft producers.
Being so close to Christmas it is our last chance to stock up on all the special little bits and bobs that we like to indulge in over the festive period.
Here's some of my favourite foodie traders at the Padstow Christmas Festival:
Cornish Sea Salt (best salt ever!)
Cornish Duck (Love all their free range duck, but esp the Drakes Pudding and fresh duck livers)
Deli Farm Charcuterie (love their hot n spicy Cornish N'Duja)
Da Bara bakery (and their gigantic 1.75kg loaf of sourdough!)
Cornish Gouda (a delicious cheese, with a fabulous back story that's well worth checking out)
Wessex Pantry (actually from Devon, but we won't hold that against them as their pies are divine!)
Cornish Cheese Co (their Cornish Blue is amazing & features in the next recipe coming up soon!)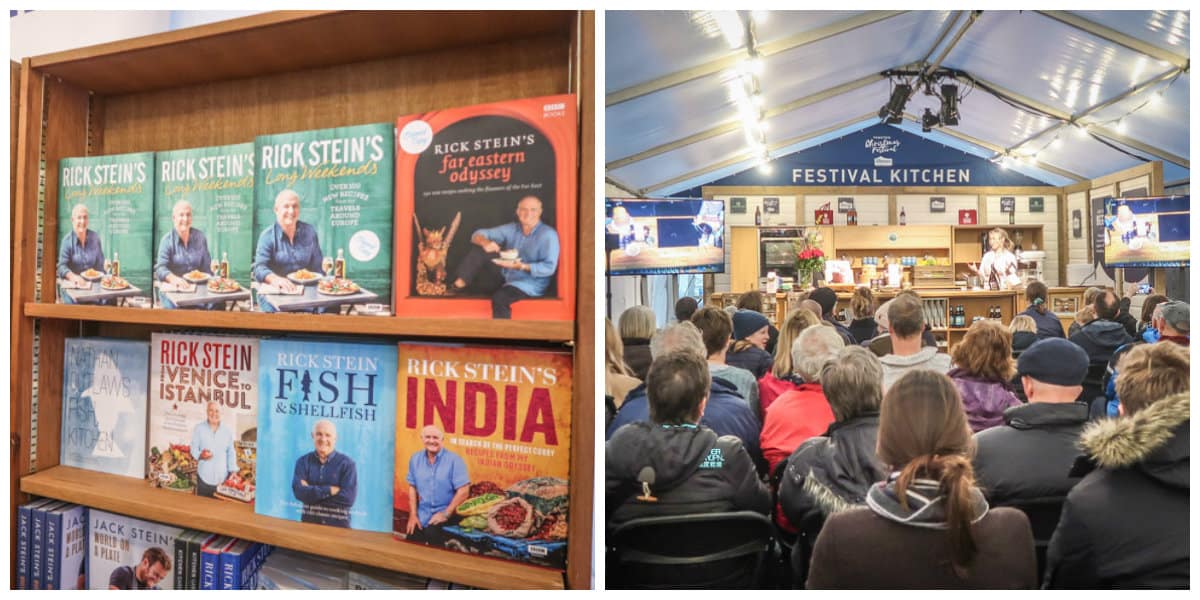 Between the two chef demo tents the festival boasted the counties top chefs.
From the renowned Rick Stein, Nathan Outlaw, Emily Scott, Paul Ainsworth, Michael Caines, Mitch Tonks and soooo many more.
With a festival bookshop just inside the main stage marquee, there's plenty of opportunity to get some tasty autographs across the weekend.
Just Add Beer, Sharp's Brewery Cookbook Launch
This was definitely the cookbook that stole the show!
Launched live during the Padstow Christmas Festival, Just Add Beer is as instructional as it is inspiring.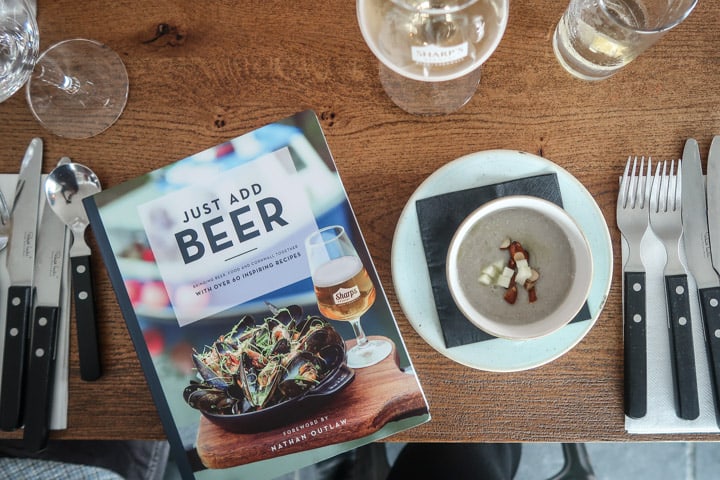 It's crammed with over 60 recipes from Cornwall's favourite chefs.
It will tempt your beer loving tastebuds and it makes a great festive gift for the beer lovers in your house.
Packed with tips on how to pair beers with various foods, understanding the different types of beer, and even what glass to best serve your beers in, this is so much more than just a cookbook.
Hats off to everyone involved in bringing this book together, it's a cracker!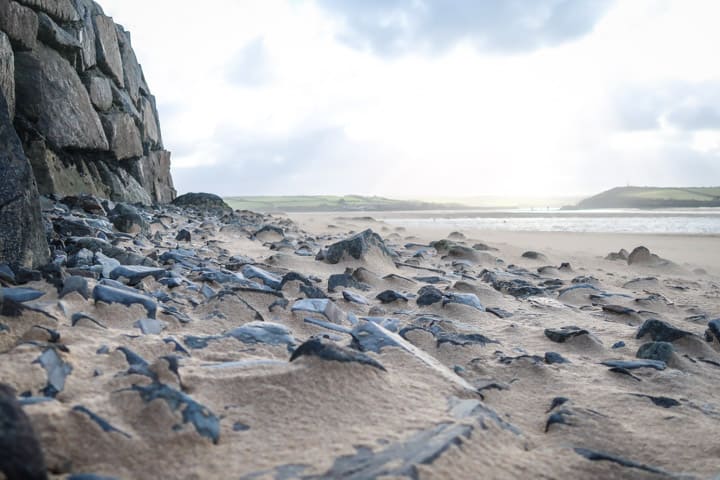 And before I sign off, here's a little montage of our weekend away at the Padstow Christmas festival. It features the upcoming recipe that has the Cornish Blue cheese at its heart, as well as a more in depth tour of the weekends antics.
Click here to watch the video on YouTube.
Don't forget, if you'd like to be in with a chance of winning a copy of Just Add Beer, head over to YouTube to enter!
Jane x
Huge thanks to Sharp's Brewery for spoiling Jonny & I rotten this past weekend. As always all thoughts are my own. And if you want more, here's an earlier review of the festival along with a Rick Stein recipe, from way back in 2013.