In its 6th year, the Padstow Christmas Festival has firmly stamped its mark on the foodie calender here in the South West.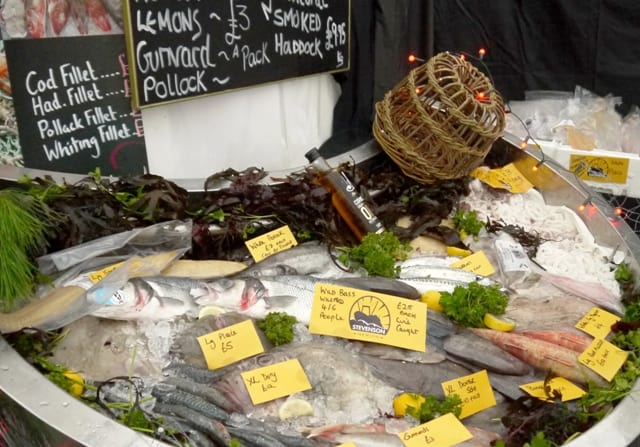 The chef to punter ratio of the town increases dramatically as chefs such as Nathan Outlaw, Michael Caines, Tom Kerridge and Nick Barclay (among many others) join Rick Stein to help promote, educate and enjoy all the wonderful foodie treats we have here on our doorstep in Cornwall.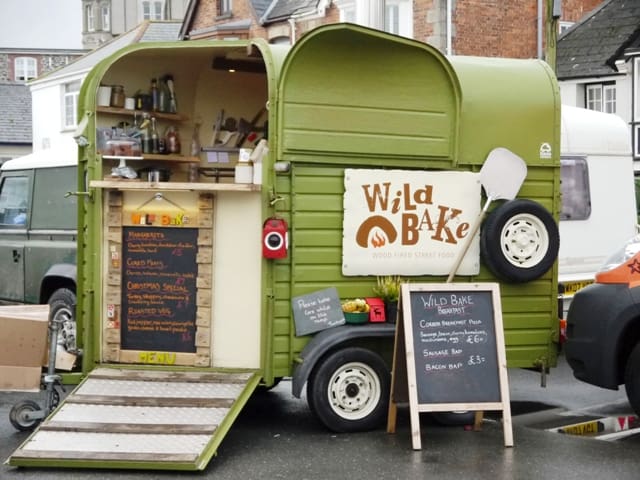 The freshest of seafood is found alongside wonderful cheeses, wines and ales, meat and charcuterie, and lots of yummy sweet treats.
Our regular favourites at these shows include Wessex Pantry Pies (big thumbs up for their Beef & Guiness), Worthy Cheddar (a waxed truckle of their cheese makes a great gift) and I finally got to taste Mrs Middleton's Rapeseed Oil which I have heard so many other foodies raving about.
With a higher smoke point than other oils it's perfect for cooking whilst being light and nutty and perfect for drizzling.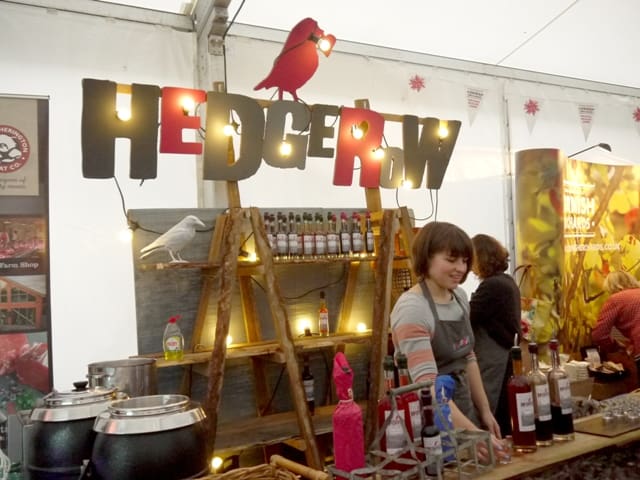 As Mum and I were lapping the marquee for the second time, just to make sure we hadn't missed anything uber tasty, I caught sight of a familiar face on the chef demo stage.
An old school friend Mark Puckey was up on stage cooking a Hot Smoked Salmon Kedgeree in front of a (drooling) audience.
I knew Mark worked for Rick Stein but what I didn't know was that he was now Head Chef Lecturer at Rick's Seafood School.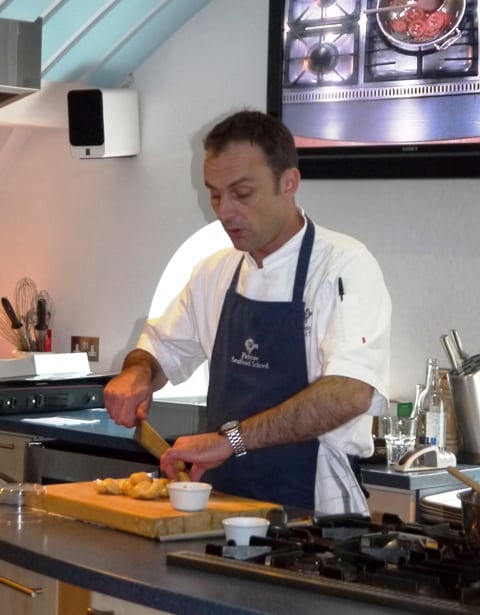 After his demo finished, we caught up and he invited Mum & I to have a tour of the school.
Clearly, we weren't going to pass up that invite! When we arrived at the school, he told us that 2 people had cancelled on the afternoon workshop & offered the spots to us.
Can you picture the size of the grin on my face?! I'll give you a clue, it was HUGE :)
So we spent the next few hours supping wine, cleaning squid (MESSY job!) and cooking a Squid & Potato Stew.
The layout of the school is brilliant, with 2 people working together at a mini kitchen workstation Mark would demo what we had to do at the front, then we'd scurry back to our workstations & replicate it.
I've never worked with squid before, not being the greatest fan of it, so being shown how to prep and cook it properly was fantastic.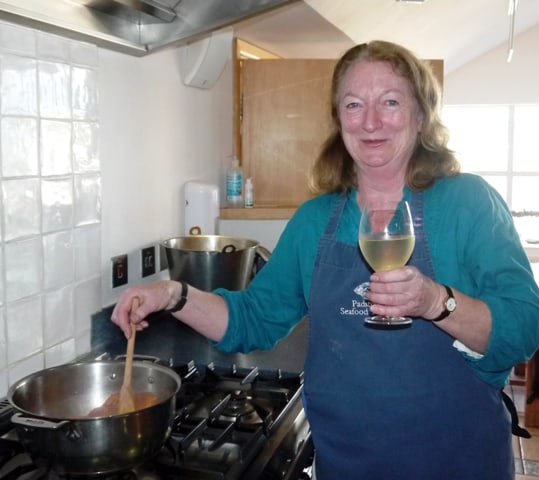 And, surprise surprise, it tasted great! No, better than great.
There was zero chewing necessary, it just literally melted in the mouth.
Even my Mum, who has spent the past 70 years detesting squid absolutely loved it!
And the nicest bit was after each couple had made their dish, we all sat along one big table and ate a lovely late lunch together. Happy, happy days.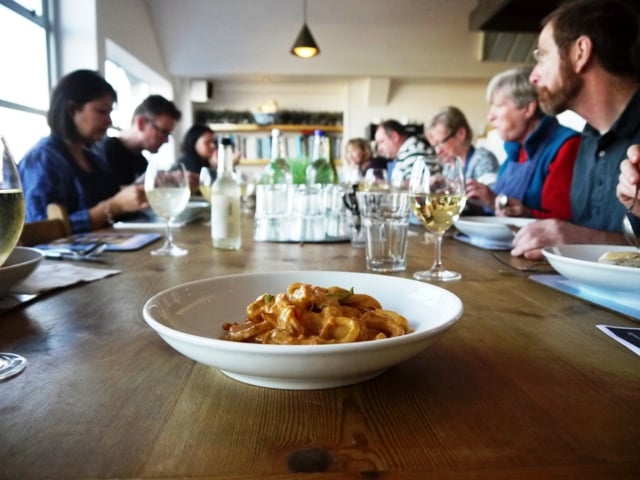 Rick Stein's Seafood School
If you fancy learning some new kitchen skills, take a peep at their classes and see if there's anything to tempt you.
I'm seriously considering the Indian Street Food, the Classic Seafood Dishes and any of their new 3 hour Skill Workshops. I couldn't think of a nicer location to squirrel away for a couple of days to recharge anyones love of good food.
The following recipe is reproduced with permission from Rick Stein's French Odyssey, courtesy of BBC Books Worldwide.
Along with the ingredients listed below for the stew, you'll also need to gather the ingredients to make the rouille (which can I just say is absolutely delicious). I found the same recipe that we were shown at the Seafood School here on The Guardian website.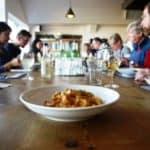 Squid & Potato Stew with Rouille
Keyword:
squid and potato stew
Ingredients
750

g

unprepared large squid

5

tablespoons

extra virgin olive oil

1

medium onion

halved & thinly sliced

3

cloves

garlic

sliced

60

ml

cognac

1

red pepper

seeded and thinly sliced

2

medium tomatoes

skinned & sliced

1

tablespoon

tomato purée

1

strip

orange zest

1

sprig

thyme

1

bay leaf

2

petals

star anise

180

ml

dry white wine

600

ml

chicken stock

250

g

evenly sized waxy potatoes

such as Charlotte, peeled and quartered lengthways

5

tablespoons

rouille

Salt & freshly ground black pepper

2

tablespoons

chopped flat-leaf parsley

to serve

Slices

of pain rustique to serve

rustic white bread
Instructions
Clean the squid and cut the pouches across into 1cm thick rings, and the tentacles and wings into similar sized pieces.

Heat 3 tablespoons of the olive oil in a large deep frying pan. Add the onion and garlic and fry gently until soft but not browned. Add the cognac, light it with a match and shake the pan until the flames have died down. Then add the red pepper, tomatoes, tomato puree, orange zest, thyme, bay leaf, star anise, white wine and stock and bring up to a simmer.

Heat another tablespoon of olive oil in a frying pan, add half the squid and a little seasoning and stir fry over a high heat for 2 minutes until lightly browned. Add to the sauce and repeat with a little more oil and the rest of the squid.

Season to taste with salt and pepper, part cover the pan and leave the stew to simmer gently for 1 hour, until the squid is tender and the liquid has reduced and thickened.

Meanwhile, put the potatoes into a pan of well salted water (1 teaspoon per 600ml), bring to the boil and simmer for 7-10 minutes until just tender. Drain well and set aside.

When the squid is tender, remove the the orange zest and pieces of star anise from the stew, add the potatoes and simmer for 5-10 minutes so that they take on some of the flavours.

Meanwhile, make the rouille. Take the pan of stew off the heat and add 2 tablespoons of the liquid from the stew to the rouille.

Mix well and stir it back into the pan, but don't put the pan back over the heat or it might curdle.

Adjust the seasoning if necessary, sprinkle with parsley and serve with plenty of bread.
Nutrition Facts
Squid & Potato Stew with Rouille
Amount Per Serving
Calories 535
Calories from Fat 198
% Daily Value*
Fat 22g34%
Cholesterol 441mg147%
Sodium 319mg14%
Potassium 1221mg35%
Carbohydrates 30g10%
Protein 35g70%
Vitamin A 1695IU34%
Vitamin C 67.8mg82%
Calcium 97mg10%
Iron 3mg17%
* Percent Daily Values are based on a 2000 calorie diet.