This Mushroom and Hazelnut Speedy Starter is a brilliant recipe to have up your sleeve for when you want to spend less time in the kitchen, and more time sat enjoying good food and conversation.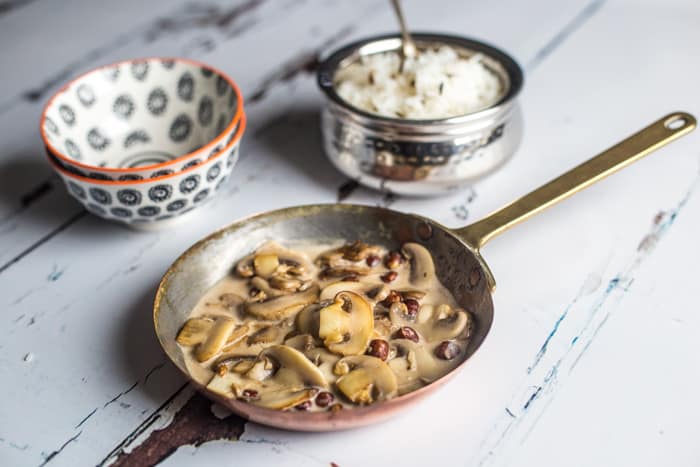 I first tasted a twist on this Mushroom and Hazelnut Speedy Starter when I was a fifteen year old silver service waitress in a local 4* hotel. I was vegetarian back then and had a culinary repertoire of jacket potatoes and Bean Feast.
I remember being so blown away by this dish that I have mentally stashed the recipe away ever since, which is helped greatly by the fact that it is so quick and so easy. That said, using regular wild rice means a pretty long cooking time of up to 45 minutes to soften those dark nutty grains, however with these new-to-me Veetee packets of Basmati and Wild Rice are ready in just two minutes so this entire course can be cooked and on the table within 10!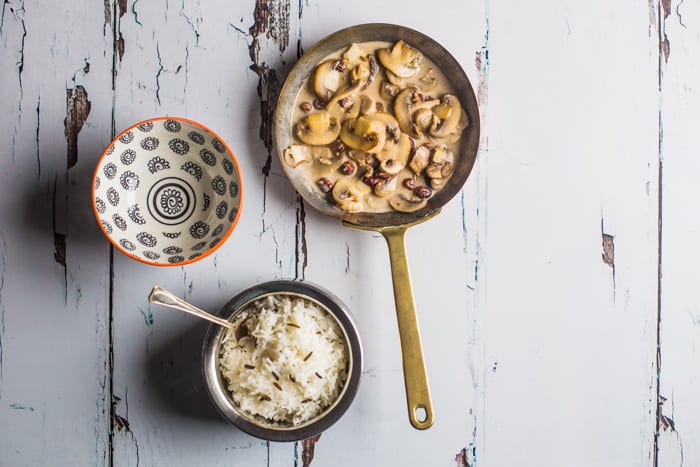 The other brilliant thing about using Veetee rice is that at this time of year our kitchen can have problems with damp. By simmering a pan for 45 minutes, I'm adding an awful lot of moisture to the air which if left unchecked can break out into areas of mould. With just two minutes in a microwave, there is no excess moisture to deal with and it's easier on the gas bill too.
And if you're a camper (did I mention I bought a campervan last week? You can bet I'll be sharing more news of this in the new year, EXCITED doesn't even come close!) stock up on the full range of Veetee products to save your camping gas and cut back on moisture in the van/tent. I'm especially looking forward to trying out their Spicy Mexican and New Orleans Style rice packs too, in fact I'm jotting down ideas for recipes I could use them in as I type!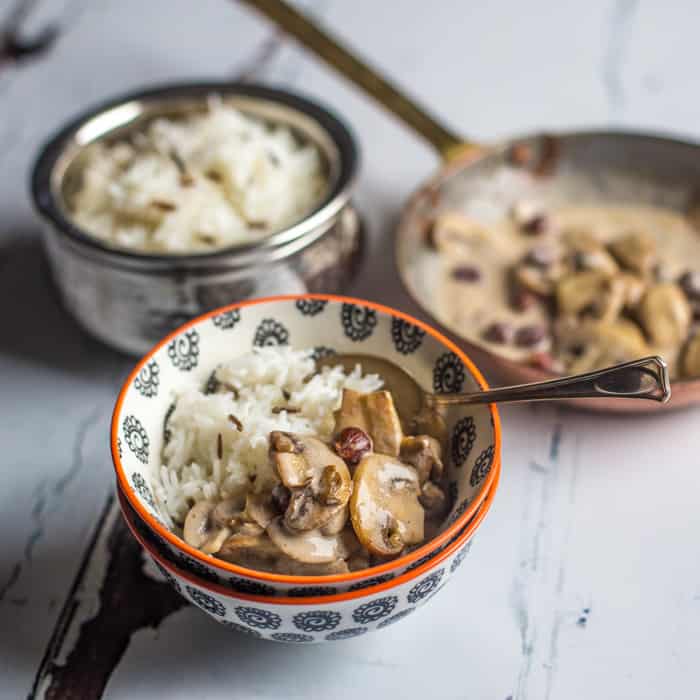 Back in my fancy hotel days, this dish was served as a starter and the recipe below serves two when followed by another course or as a light lunch. However if you're feeling particularly peckish, this would pass as a devilishly filling main meal for one! And whilst you can use any mushroom that takes your fancy, if looks are important to you, I would avoid any with dark gills such as Portobellos as the cream sauce will turn muddy.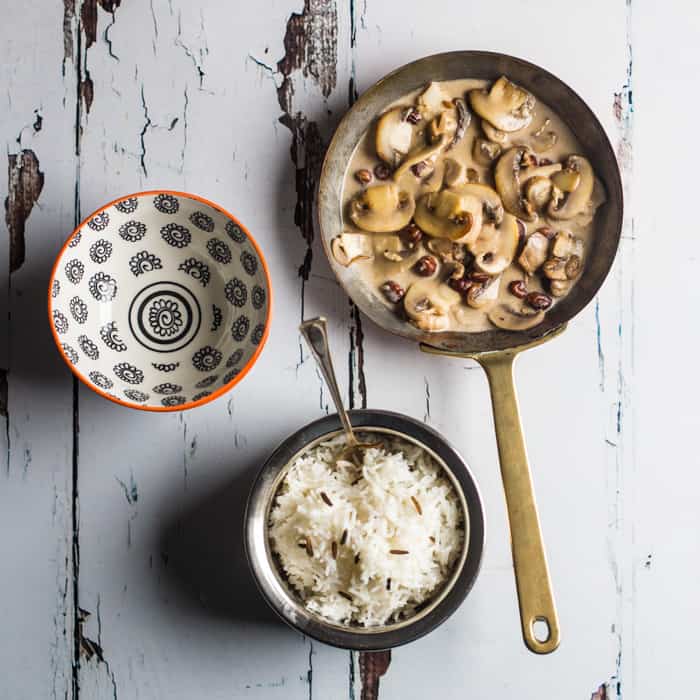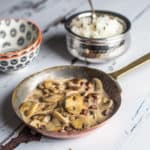 Mushroom and Hazelnut Speedy Starter
Ingredients
A tablespoon of your favourite cooking fat

10

medium size button mushrooms

wiped of dirt & sliced

1

clove

garlic

crushed

A handful of whole

raw hazelnuts

1/2

a carton of coconut cream,

double cream can be used instead, or the thick top part of a can of full fat coconut milk

1

pack of Veetee Basmati and Wild Rice
Instructions
Heat the cooking fat, then fry the mushroom slices until they are golden.

Add in the garlic and fry for 30 seconds before adding the hazelnuts and coconut cream.

Let simmer very gently for 2 minutes whilst the rice is cooking and serve.
Huge thanks to Veetee for supporting The Hedgecombers and sponsoring this post! As always all thoughts and leftovers are mine ;)
Janie x