This concise article will answer every question you never thought to ask about raising Muscovy ducks. They are the most wonderful creatures that make great pets, eggs layers or backyard flock.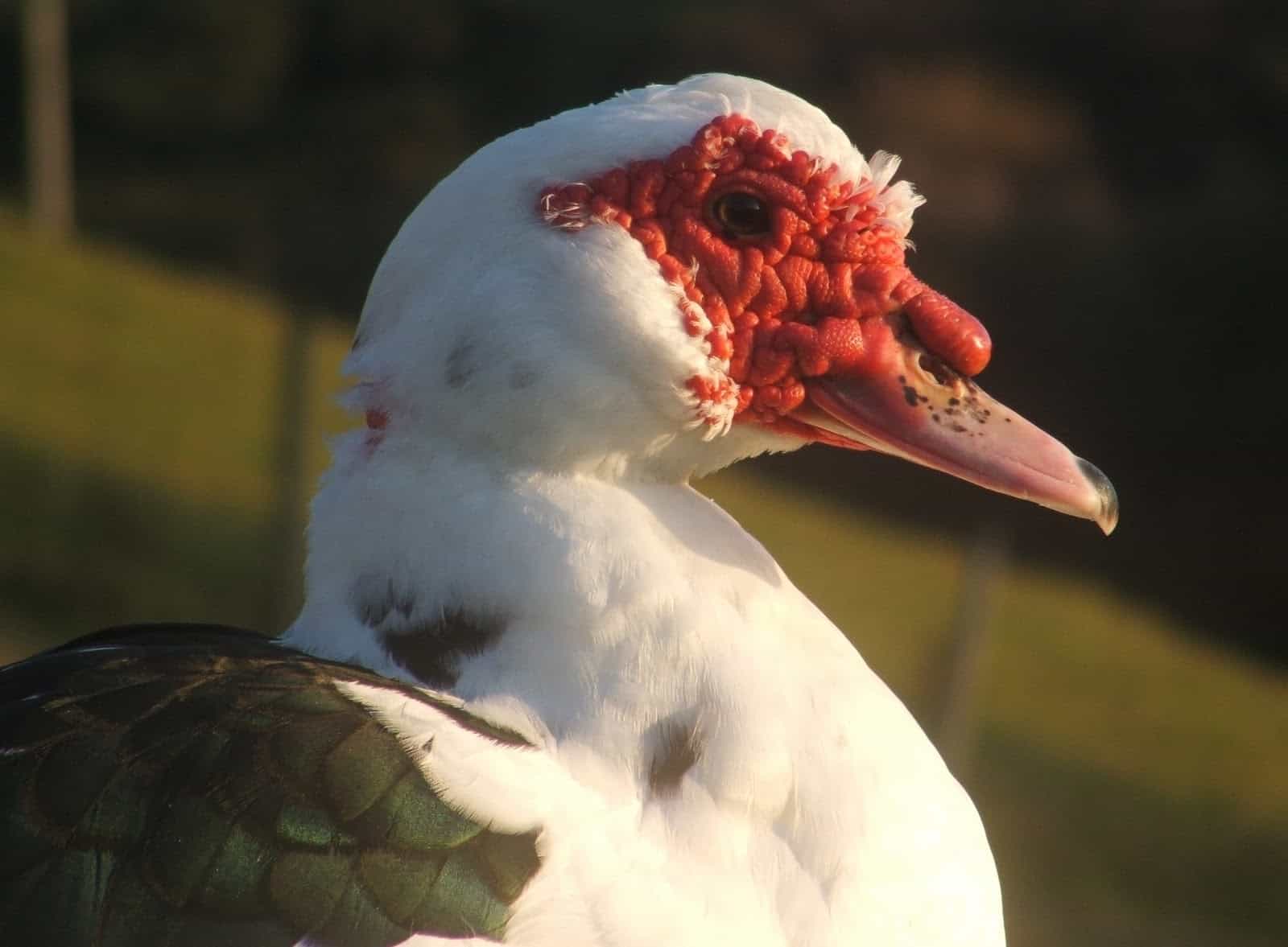 OK, get your sniggering out of the way. This is what a handsome, red blooded male Muscovy Duck should look like.
What Makes a Muscovy Duck Special?
Muscovies are not related to any other duck, in fact some believe they are descended from geese rather than ducks.
They originate from South America where their name is believed to come from their insatiable appetite for mosquitoes and their larvae. How great is that? A critter that turns mosquitoes into tasty protein! They also have a penchant for flies, small slugs, snails and even frogs & newts.
The most obvious difference between them and 'other' ducks are the carruncles (the red stuff) on their faces which is more predominant in the males.
Interestingly, in females the bright red dulls to a deep orange when they're broody, right through to raising their ducklings. A blatant visual warning to the males to stay away!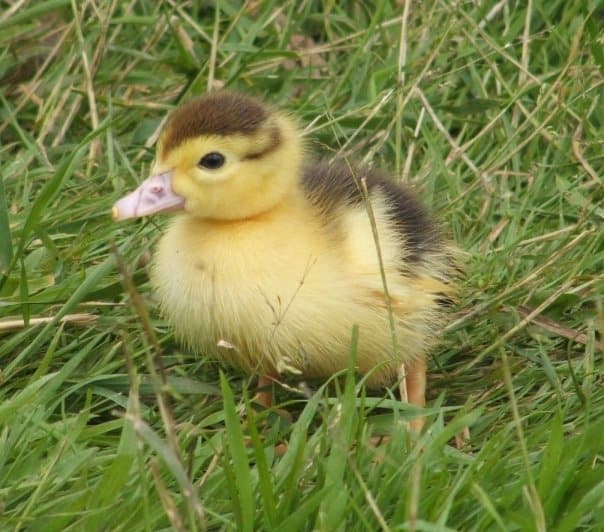 Another difference is they have long, sharp claws which are used to attach to tree branches at night when they roost. Due to these claws there's a right and wrong way to pick up a muscovy and the wrong way will end in bloodshed – yours that is.
Put your carrying arm over and around its body, pinning both wings in place and taking hold of one or both legs (depending on the size of the bird and the size of you) gently but firmly.
This needs to be done pretty quickly, as if they start to struggle with you they'll lash out trying to find their feet, and you'll have first hand experience of those claws.
Always an idea to do this manoeuvre with the duck facing backwards, as if they decide to relieve themselves whilst being carried you'll end up wearing it down your back.
Yep, sadly I speak from experience.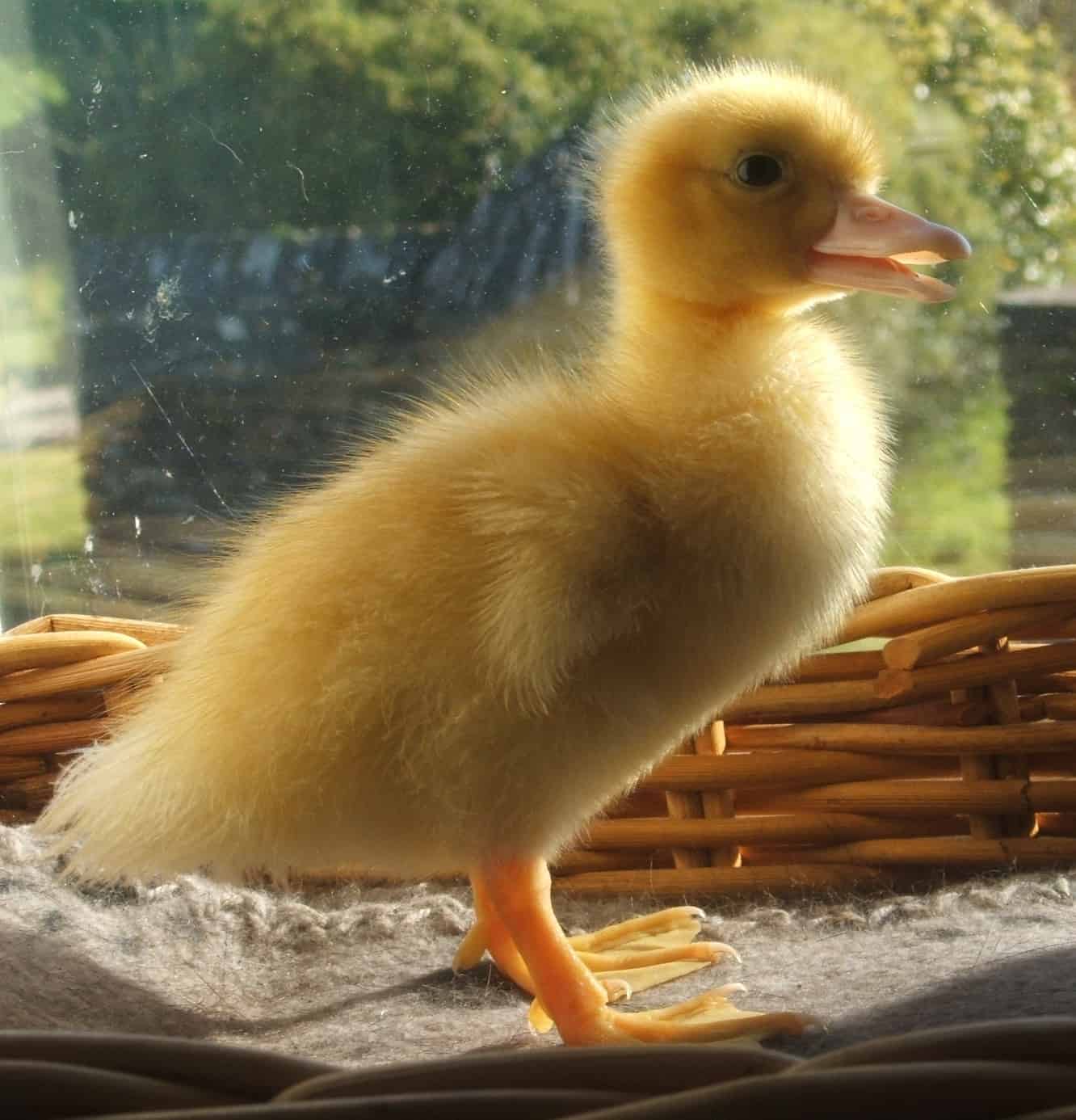 Muscovy Duck Eggs
Ducks eggs are the richest, creamiest, smoothest eggs going.
However, as wonderful as the Muscovy duck is, this isn't the breed to get if you are after an egg-laying machine. You may want to consider a Khaki Campbell or an Indian Runner as they lay far more per year.
Muscovy Ducks as Meat Birds
This is where Muscovy ducks excel, the meat is dark and very lean. If you've ever bought a supermarket duck (in the UK Aylesbury's are the most common meat bird sold) to roast at home you can almost watch the bird shrink in the oven, as the inch or more of fat under the skin melts.
This is all very well if you want to roast a gazillion potatoes to accompany the meal, but if you are striving for a healthier diet then the lean meat of the muscovy duck is definitely the duck of choice.
It's worth knowing that the boys weigh in much heavier than the girls, and if you're not sure of the age of the bird I would recommend a very slow roast to tenderise the meat as it can be tough on an older bird, and baste frequently as it is so lean.
Feeding Muscovy Ducks
In the summer months our birds will require very little extra food as they forage plenty, but in the colder months they'll need feeding a duck or unmedicated chicken feed twice a day. If you are growing them to eat, put them on a growers ration, but if they are just for laying or for looking pretty a layers ration will be fine.
Make sure they have plenty of clean water close at hand as the dry food alone will make them poorly.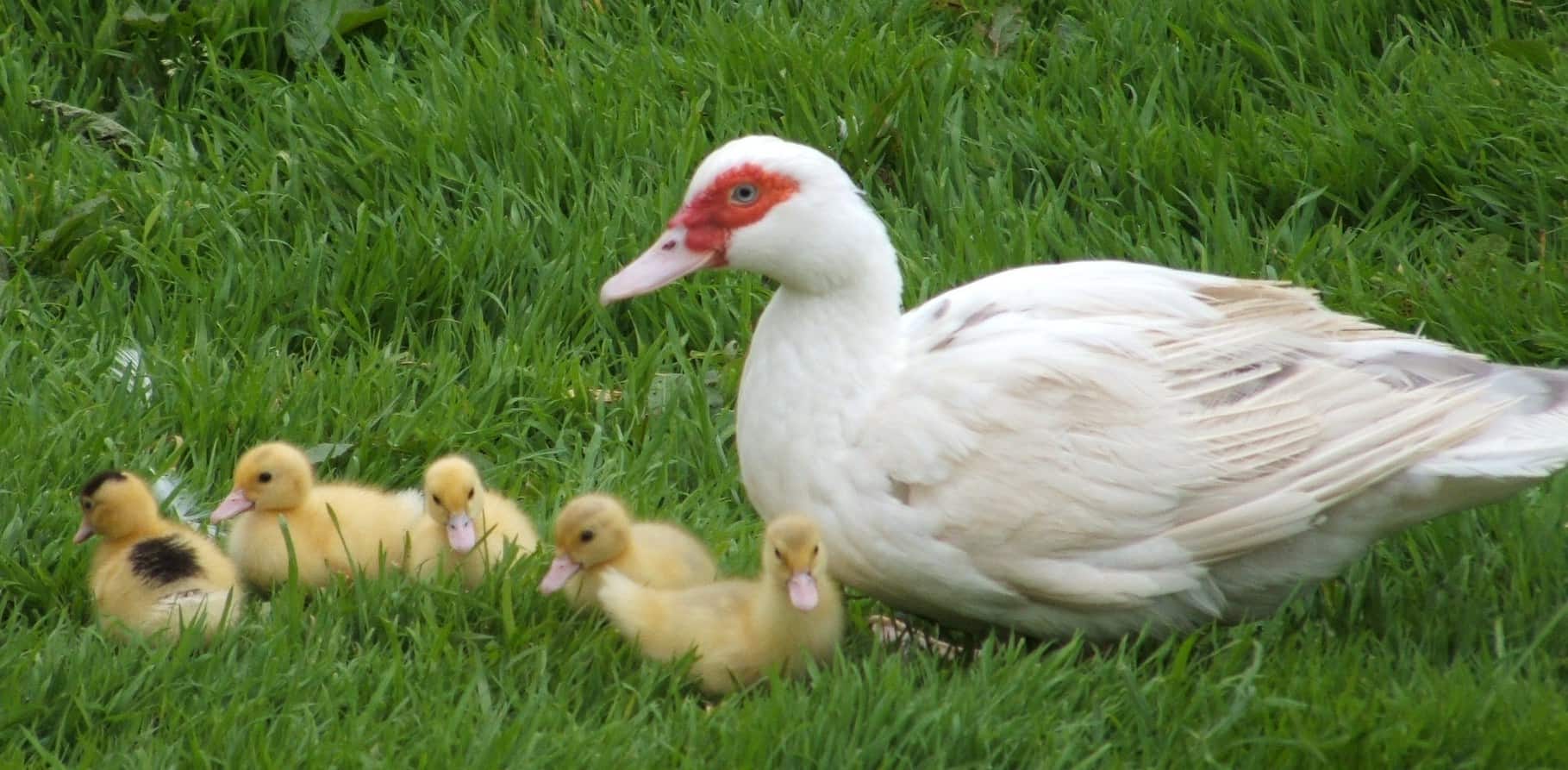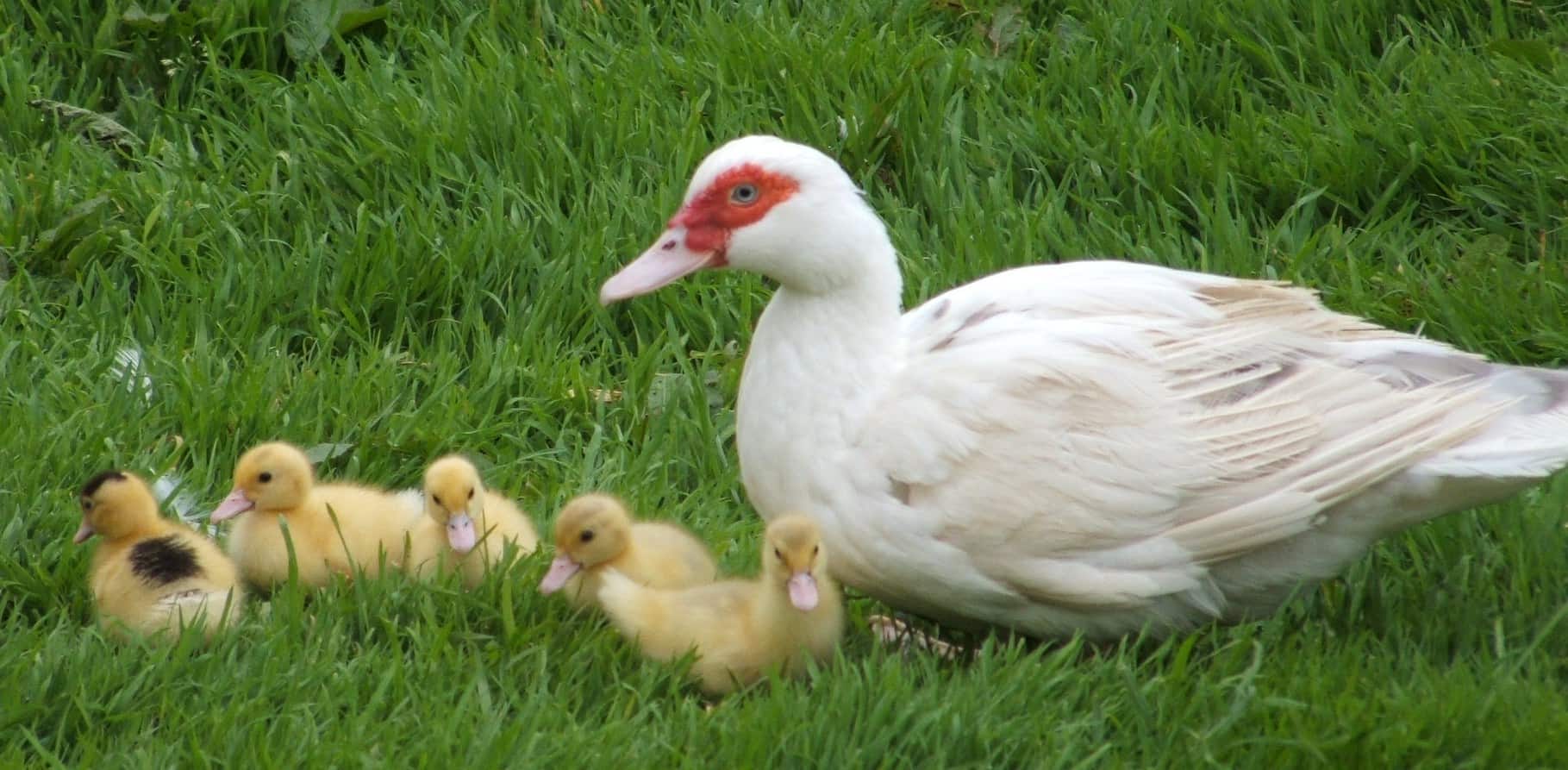 Broody Muscovy Ducks
When a Muscovy duck is ready to start her brood she'll find a nice, quiet nest site. You may have things lying around your homestead that will make great nest boxes. Think buckets, half barrels, large plant pots, wine boxes, dog crates etc.
They can all be put to good use by a broody Muscovy duck!
She'll start laying an egg every day in her new nest. As time goes by she'll start to pick out the soft, fluffy down from her chest to line the nest with. Then, when she has her perfect number of eggs in place, she'll start incubating them.
If you spend a lot of time with your ducks, you will see a change in her behaviour at this point. She will go from generally fussing around her nest and sitting down just to lay an egg, to sitting with great resolve and dedication for around 23 hours a day.
Hatching Muscovy Ducklings
At this point you can start counting, as the first day she sits with dedication, is day 1 of the eggs being incubated.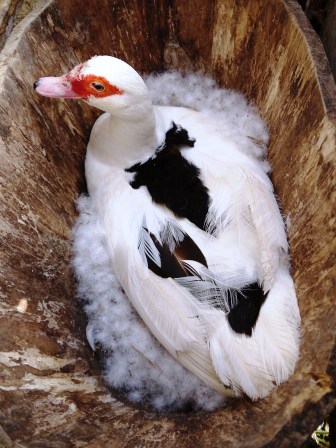 During this time don't disturb her, and keep her safe from predators and vermin.
She will only come off her nest to eat, drink and poop once or maybe twice a day. I will give you fair warning, the poop from a broody Muscovy duck is revolting.
It stinks, it's explosive and you do not want to be any where near her when she expels it!
It is imperative that she has food and clean water available at all times. In very dry weather she may leave her nest more frequently to bathe, thereby increasing the humidity of the eggs when she back down with wet feathers. Please ensure you change her water at least daily.
As only a fertile egg will hatch, if you haven't got a male Muscovy, you know the eggs are infertile. However long the mamma sits on them, nothing good is going to come out of that egg! So, although it feels very mean, it is worth waiting for the duck to leave her nest. Then removing and disposing of the eggs.
A female duck loses condition the longer she sits on a nest. If you know they will never hatch, the kinder thing to do is get her off them asap.
How long do Muscovy eggs incubate for?
A Muscovy duck egg needs 35 days to fully incubate. Interestingly, other breeds of ducks only need around 28 days to incubate.
And then this happens…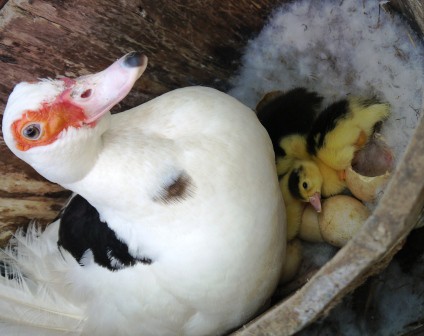 Muscovy Ducklings
Muscovy ducks make fantastic mothers. The most eggs we've had one hatch is 15, which is pretty amazing as the girls aren't all that big. We have had Muscovy ducks hatch chicken eggs too.
Although that can lead to problems when the mamma duck wants to teach her chicks to swim!
The ducklings will need access to water from day one. However they won't need duckling feed until day 2 or 3. In the interim they digest the remainder of the yolk in their digestive systems.
If you can't find duckling food, you can use an unmedicated chick feed. Or, as a last resort, you can grind up some duck feed in a kitchen blender.
Obviously this isn't the perfect nutrition for a duckling. But if you have an unexpected brood of Muscovy ducklings turn up at your door, this will suffice until you can get to the farm store.
Muscovy Duckling Colours
If a Muscovy duckling is bright yellow with a pink beak, like the ones below, they will grow up to be a white Muscovy duck. If they are yellow with any black in their beak then they will likely have patches of a darker colour among the white feathers.
When the ducklings are yellow and black, they will grow up a bird that is black and white.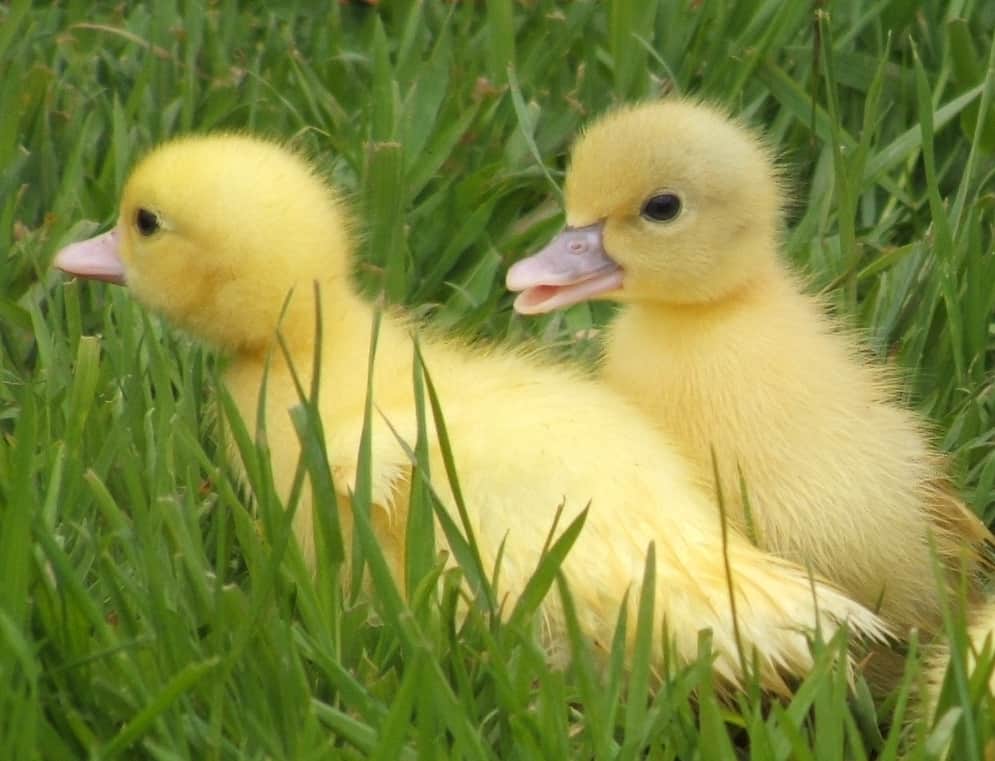 Muscovy Ducks – The Quiet Breed
One of the many reasons I am so smitten with my flock, is that they are very quiet. They don't 'quack' which if you've had the misfortune to meet a Call duck or an Aylesbury duck you'll appreciate (I'm sorry for offending all you Call & Aylsebury fans but seriously – HOW do you live with that noise???!)
Instead these guys nod their heads and have a gentle kind of hiss as a greeting. Oh, and they wag their tails. Seriously they are really cute to watch.
Left to their own devices, they would be far happier sleeping on a tree branch safely out of harms way than on a pond or in a hut, and they are the one duck breed not so in need of a large area of water.
We've raised birds here with just a 4 inch deep tray of water, a cat litter tray is good and pretty hard wearing. So long as the water is deep enough to get their nostrils and eyes under then it's fine. It will need changing twice daily as they will drink, clean, and probably poop in it, and everything around this area will get very, very muddy.
If you do venture into the world of duck keeping, I'm sure you won't regret it for a moment. Please, do let me know how you get on!