These Mini Scotch Eggs are made with teeny little quails eggs and make a great picnic treat or afternoon tea snack.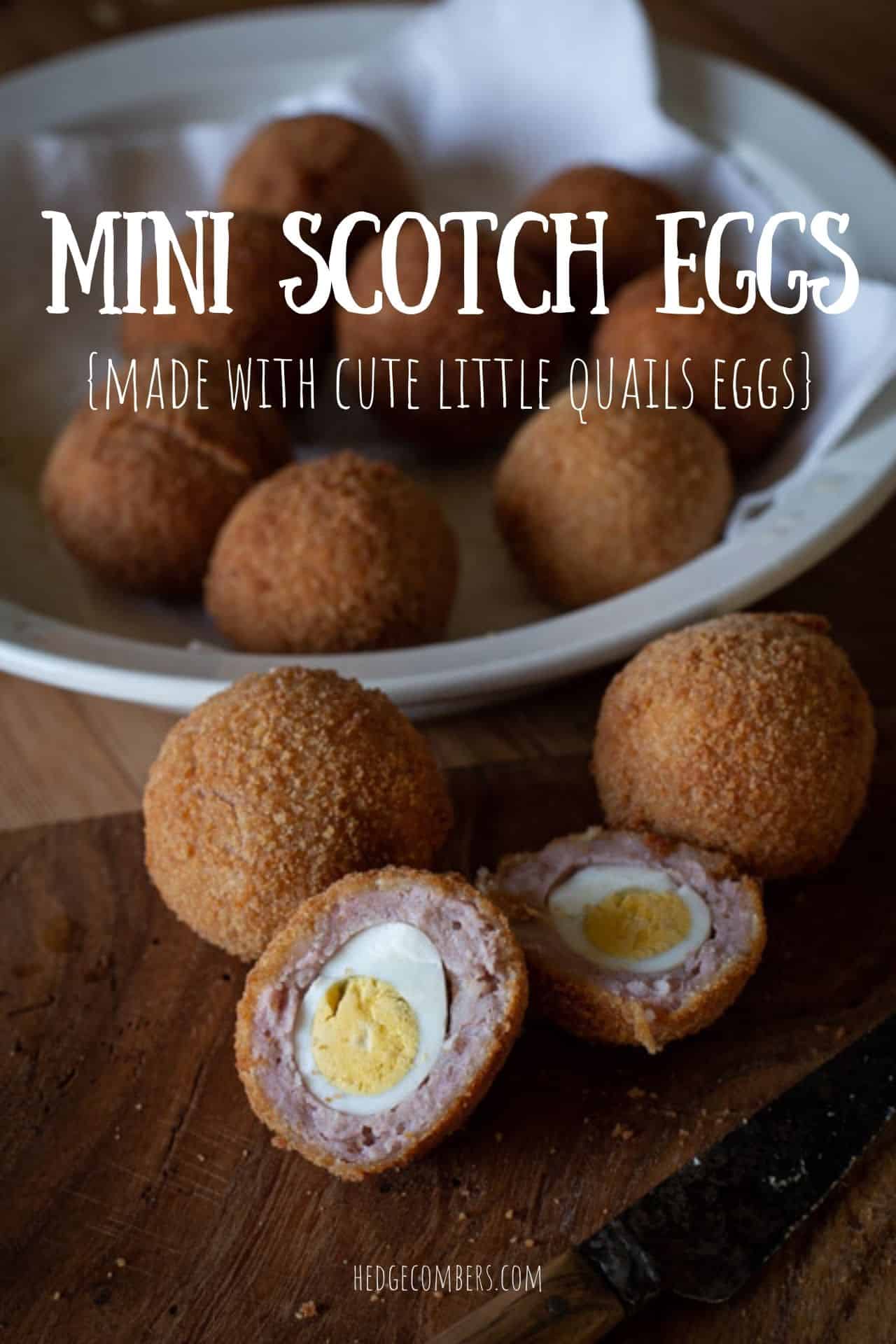 This recipe was originally written in 2013 and updated in 2020.
Whilst scotch eggs are usually made with chicken eggs. There's nothing stopping you making them with quails eggs.
They become a much more kid-friendly size. They're perfect for filling a little corner in a packed lunch box.
And did I mention they are cute as?!
I remade this recipe to take shiny new photos in December 2020. What with Christmas and covid, I couldn't find quails eggs in the shell in the shops. But I did manage to find a pack of hard-boiled, ready peeled ones!
If you are cooking your quails eggs from scratch, continue down to the full recipe where I have all the info you need to get yours perfect.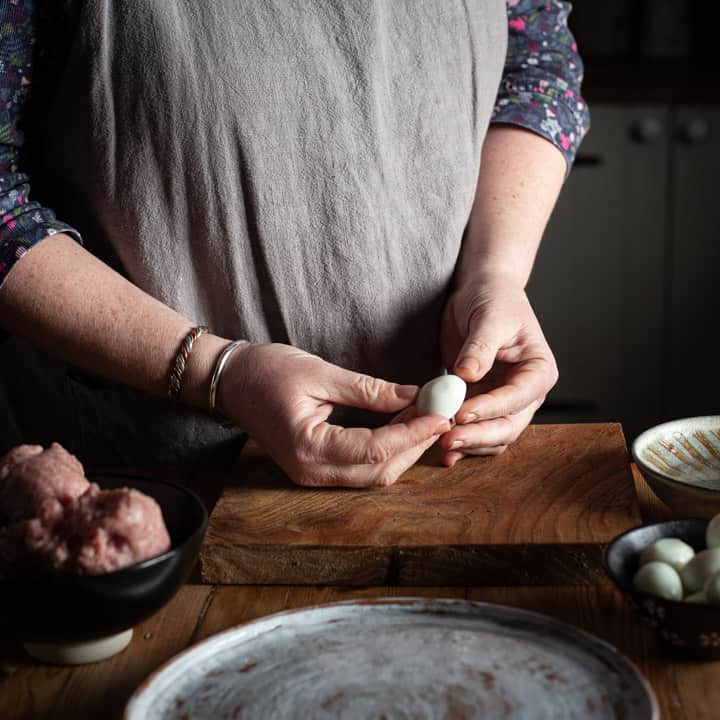 If you can source excellent butchers sausages, you can use that to coat your quails eggs. (You can either buy this in a single package or remove the sausage meat from the skins of regular sausages.)
However, I find the vast majority of sausages infinitely disappointing in one way or another.
So if you're not lucky enough to have a brilliant butcher nearby, I would recommend going with the pork mince version of the recipe below.
And if you're in Cornwall, here's my trusty butcher: O'Keeffe's Traditional Family Butchers. Their sausages are the best!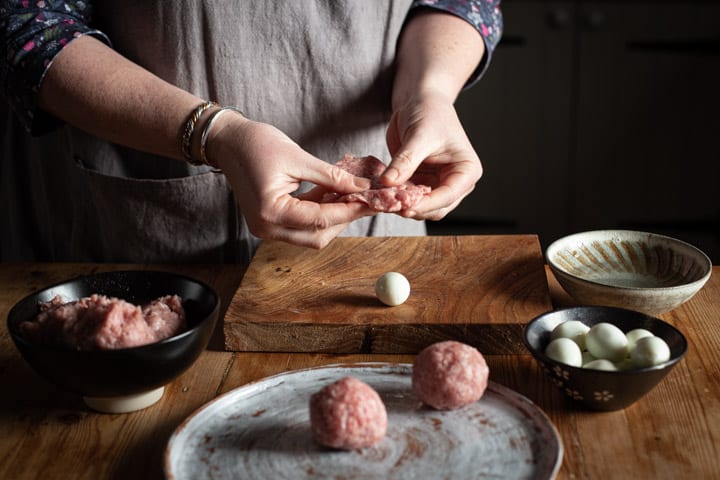 How to Make a Mini Scotch Egg
The full recipe is at the bottom of this post, however for those of you that prefer visual instructions let me walk you through the east process in photos first.
1/ shape the sausagemeat
Firstly, take a golf ball-sized piece of the meat.
Roll lightly into a ball, then flatten it into a disc with your palms.
If you keep a little bowl of cold water beside you as you work, you can wet your hands in between making each one.
This will help stop the meat from sticking to your hands as you work.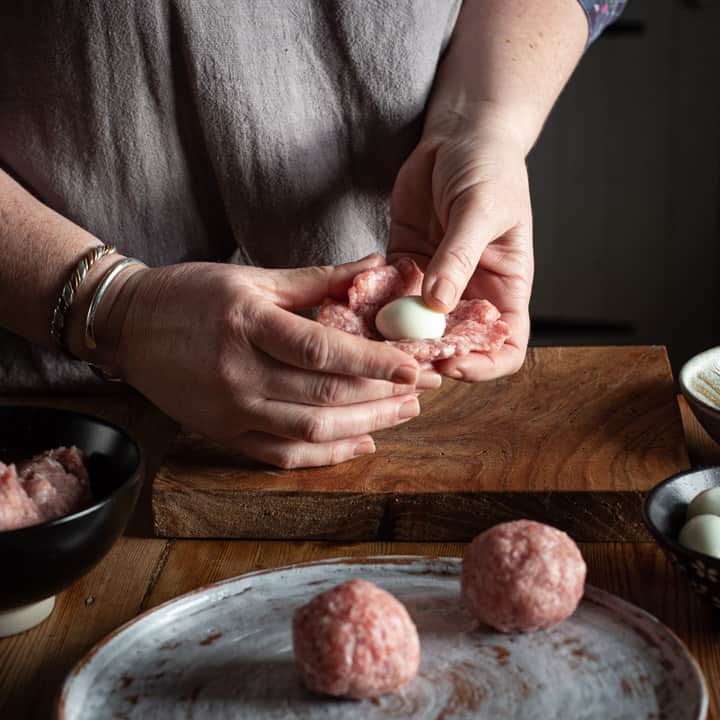 2/ hide a quails egg inside
Place a hard boiled quails egg into the centre of the meat, then wrap it around the egg.
You'll need to squish the meat together with your fingers where it joins.
Try to keep the meat in an even layer so that it'll cook evenly and safely.
Then gently roll each one between your palms to make a round shape.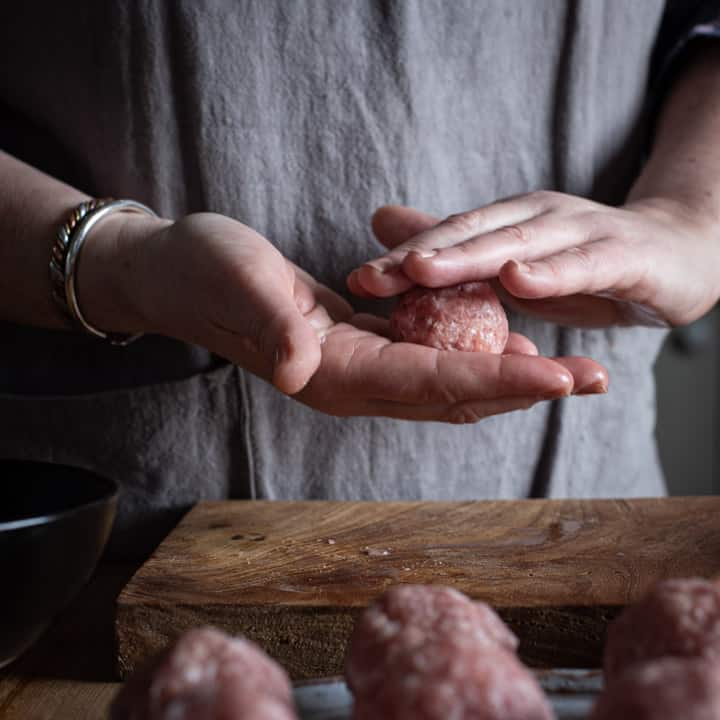 3/ coat Scotch egg in breadcrumbs
A really good Scotch egg has a lovely crusty, crunchy coating.
To get this, set up three little bowls.
In the first one add a tablespoon or two of plain flour.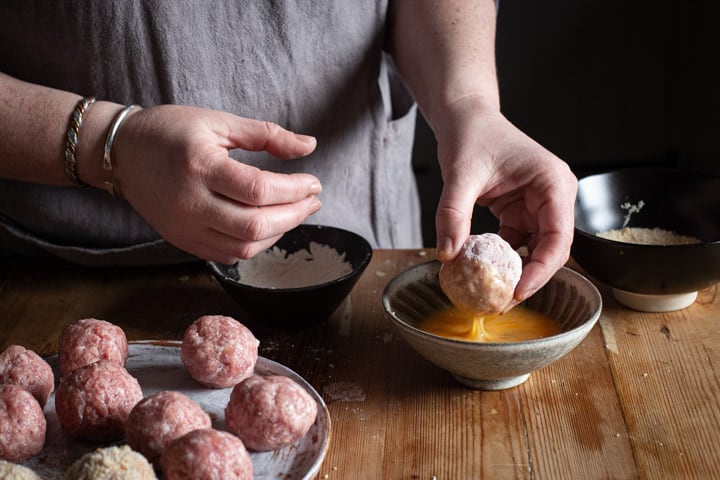 Crack an egg into the second bowl and beat well with a fork.
And finally, add some breadcrumbs to the third bowl.
You can use shop-bought regular or panko breadcrumbs. Or you can make your own by whizzing up stale bread in a food processor.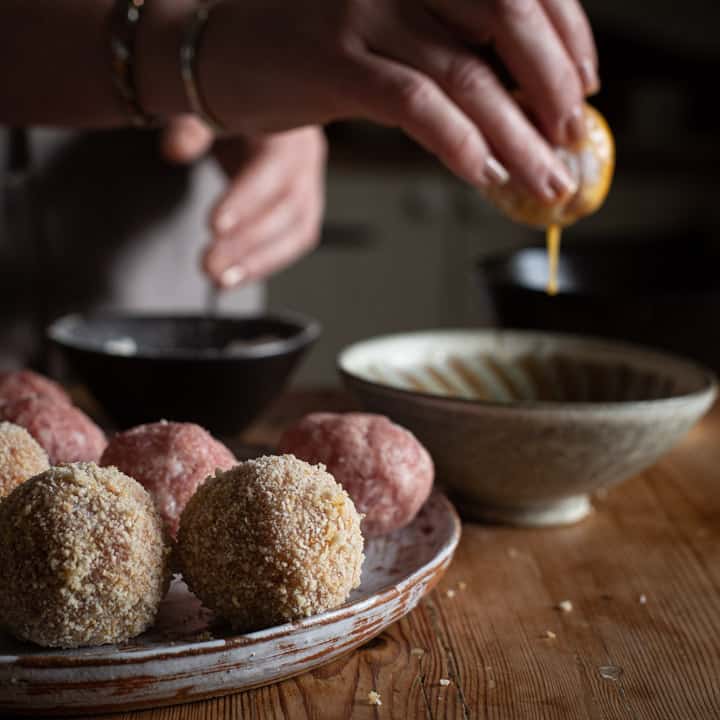 Then simply dunk each scotch egg into the plain flour, then the egg wash and finally the breadcrumbs.
Try to shake any excess of each coating off in between.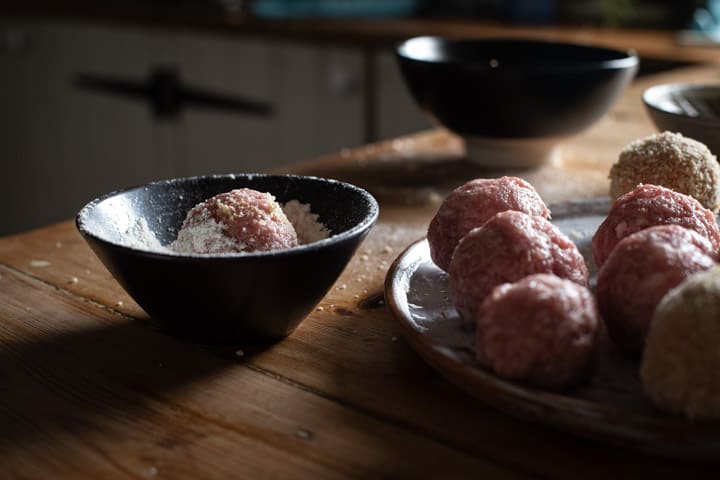 And if you want an extra crunchy coating, (highly recommended!), then once you've done the final coating of breadcrumbs, go back to the beginning and repeat.
This will mean that each scotch egg gets two coatings of flour, egg wash and breadcrumbs.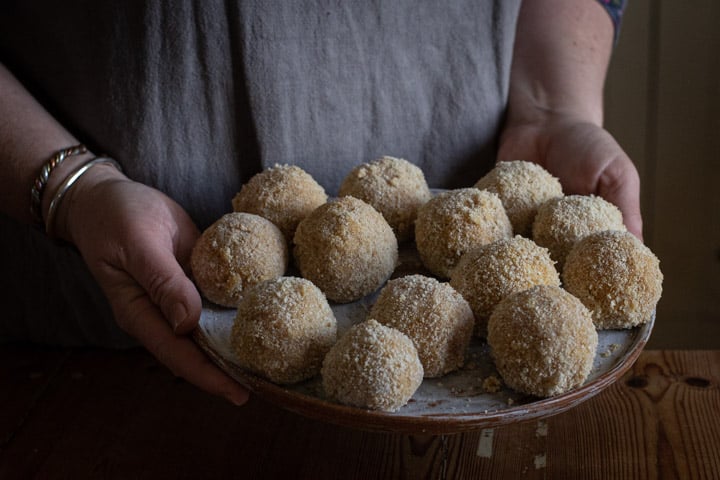 4/ cook your Scotch eggs
When your scotch eggs are all made, it's time to cook them!
As I only make them as a very occasional treat, I like to deep fry them in oil.
Traditionally lard would have been used, but I opted for sunflower oil.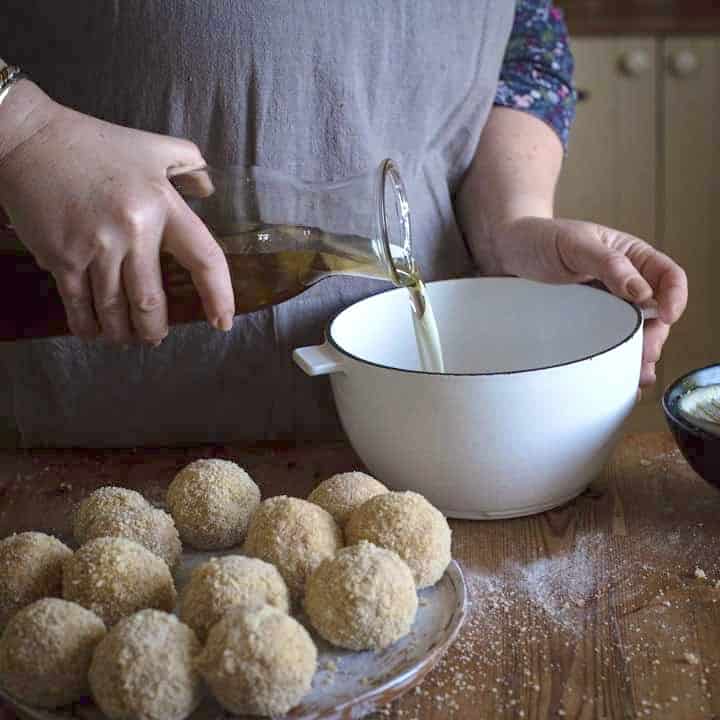 If you have a deep fat fryer then set the temperature to a stable 160C/320F.
As I don't have one, I had to keep testing it with an electronic thermometer and adjusting the stove as I worked.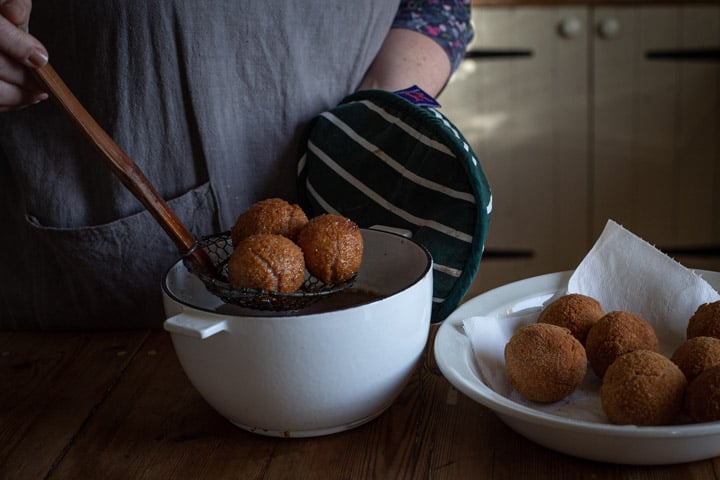 When the oil is at temperature, carefully lower between one and four scotch eggs into the pan.
The number depends entirely on the size of your pan.
You don't want them crowded, and you don't want to lower the temperature too much by adding too many at once.
In my pan, which is about 8 inches across, I comfortably fitted four in at a time.
Cook for four minutes until golden and carefully lift out with a slotted spoon.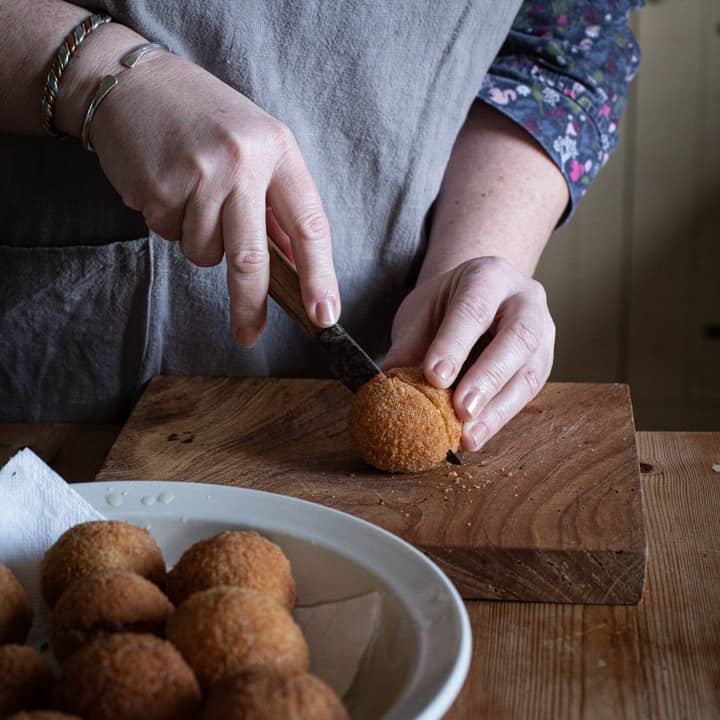 5/ drain and serve
Place on a plate that has been lined with a few sheets of kitchen paper to drain.
You can eat them hot, or let cool fully before storing in an airtight tub in the fridge.
They will last up to five days in the fridge, although they may start to lose that crusty, crispy shell.
I hope you love these little cuties as much as we do! Do let me know what you think, or feel free to tag me in any pics you share online – you can find me pretty much everywhere as @hedgecomber.
If you'd like to find more ideas for food-on-the-go, check out my full list here: Packed Lunch Ideas. A firm favourite for my readers is this British Pork Pie recipe. It's traditionally made with wholesome ingredients and bests any pork pie you'll fund on the supermarket shelves!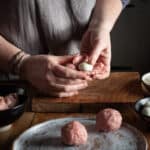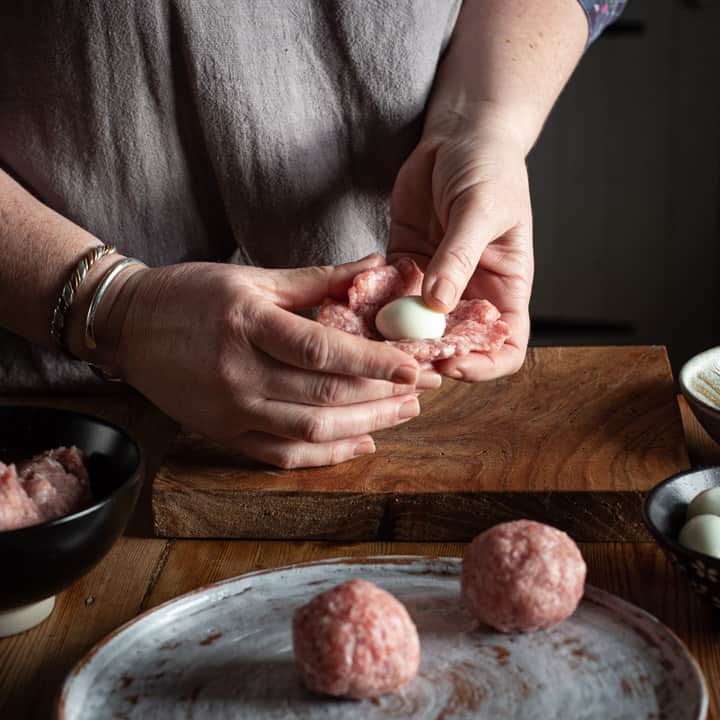 Mini Scotch Egg Recipe with Quails Eggs
Keyword:
mini scotch eggs, quails scotch eggs
Ingredients
To make the Scotch Eggs
12

quail eggs

450

g

sausagemeat

- top quality sausages required. If you can't source them, use pork mince instead and season well with salt, pepper and 1/2 tsp dried sage.
To make the breadcrumb coating
1

egg

- I used 1 chicken egg for the egg wash. Beat well.

1

tbsp

plain flour

2

tbsp

breadcrumbs
For cooking
sunflower oil

enough to just cover the scotch eggs during cooking
Instructions
To hard boil the quail's eggs
Bring a pan of water to the boil.

Carefully lower the eggs into the water using a slotted spoon.

If you want the yolks fully cooked, boil them for 3 minutes.

If you want the yolk a little soft, boil for 2 minutes (please note: these will be a little more fragile to work with than hard-boiled quail eggs, and are more likely to split whilst coating with meat).

When the cooking time is up, remove from the pan and place into a bowl of very cold water to cool.

This will prevent the white of the egg from turning grey. It doesn't affect the flavour or nutrition but it doesn't look very nice.

When cool, crack and peel the shells.

Quails eggs are notoriously time-consuming to peel. I find the easiest way is to remove a bit of shell, then pinch the white membrane underneath the shell with your thumbnail and peel that - the shell simply comes away with it.

If you've opted for a shorter cooking time and a softer yolk, the eggs will be more fragile to peel.

Pat each egg dry with some clean kitchen paper. If you skip this step you may have trouble getting the meat to stick to the egg and it will become a slippery mess!
To make the scotch eggs
Place the sausage meat into a bowl.

If using pork mince, season evenly and gently mix the seasoning through the meat.

Set up a small bowl of cold water next to you so you can regularly wet your hands to stop the meat from sticking.

Take a lump of meat, about the size of a golf ball, and squash it flat between your palms.

Place an egg in the middle, then fold up the edges of the meat and squish and pinch until it totally covers the egg.

Gently roll it between your palms until it is round and smooth.
To make the breadcrumb coating
Line up three small bowls. In the first one place the plain flour.

In the second bowl crack and whisk the egg.

And in the third bowl pour the breadcrumbs.

Roll one little scotch egg in the flour till covered. Shake off any excess.

Then roll it in the egg wash, allowing any excess to drain off.

And finally, roll it around in the breadcrumbs. I like to roll it between my palms at this stage to push the breadcrumbs into the scotch egg.
To deep fry the quail scotch eggs
Pour your oil of choice into a deep fat fryer or a saucepan.

If the latter, aim to have the oil deep enough to cover your scotch eggs.

Heat the oil to 160C/320F (or until you can brown a cube of bread within 30 seconds).

Using a slotted spoon, gently lower between 1 and 4 mini scotch eggs into the hot oil at an time.

Cook for 4 minutes. Repeat with the other Scotch eggs.

Remove from the oil and place on a plate lined with a few sheets of kitchen paper.

You can cut one open to ensure the meat is cooked, or insert the probe of a digital thermometer between the sausagemeat and the quails egg. For the sausagemeat to be safe to consume it must reach 75C/167F.

The inside of the egg does not need to reach this temperature as it's already cooked and perfectly safe.
Recipe Video
Nutrition Facts
Mini Scotch Egg Recipe with Quails Eggs
Amount Per Serving
Calories 142
Calories from Fat 99
% Daily Value*
Fat 11g17%
Cholesterol 117mg39%
Sodium 269mg12%
Potassium 113mg3%
Carbohydrates 2g1%
Protein 8g16%
Vitamin A 97IU2%
Vitamin C 1mg1%
Calcium 14mg1%
Iron 1mg6%
* Percent Daily Values are based on a 2000 calorie diet.