Mini (Quails) Scotch Eggs came about like this …My quail have started laying and I am in love with their little eggs for so many reasons and they taste amazing !!!
The shells are so pretty and anything you make with the doll sized eggs are immediately cuter. Like these mini Scotch eggs.
They're a bit of a faff to make, but definitely worth it. No shop bought Scotch egg will ever come close to the taste of one you've freshly made. This mix will work just as well with chicken or duck eggs, just double it up x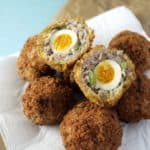 Mini (Quails) Scotch Eggs
Keyword:
Mini (Quails) Scotch Eggs
Ingredients
4

pork sausages

good quality,skins removed

250

g

pork mince

8-10

quails eggs

3

spring onions

8

sage leaves

2

chicken eggs

if you're using quail eggs for this bit you'll need about 10, whisked

Flour

Breadcrumbs
Instructions
Bring a pan of water to the boil and pop in the quail eggs to boil. If you want the yolks fully cooked, boil them for 3 minutes, if you like the yolk a little soft, go for 2. When the time is up, get them out of the pan with a slotted spoon & pop in a bowl of very cold water.

Meanwhile, mix together the sausage meat & pork mince. Add the finely chopped sage leaves and spring onions. Season it well with salt & pepper and get your hands in there to mush it all together.

Next you need to peel the eggs. Quails eggs are notoriously time consuming to peel, but I find the easiest way is to remove a bit of shell, then pinch the white membrane underneath the shell with your thumbnail and peel that - the shell simply comes away with it.

Take a lump of meat mix, about the size of a golf ball, and squash it flattish between your palms. Pop an egg in the middle, then fold up the edges of the meat mix and gently roll it between your hands until the meat has hidden the little egg.

Next line up 3 bowls; the first with a tablespoon or two of seasoned flour in, the second with the whisked eggs in, and the third with breadcrumbs in.

Roll one meaty egg ball (or should that be eggy meat ball?) in the flour till covered. Then roll it in the egg wash and lastly roll it round in the breadcrumbs.

Heat up 1/3rd of a pan of vegetable oil in a saucepan or fryer, until you can brown a cube of bread within 30 seconds.

Cook one or two Scotch eggs at a time, until the breadcrumbs are golden brown. This took me 4 minutes, but do cut one open and check the inside is cooked through.

Take out of the oil and sit on kitchen paper to drain.
Nutrition Facts
Mini (Quails) Scotch Eggs
Amount Per Serving
Calories 285
Calories from Fat 207
% Daily Value*
Fat 23g35%
Cholesterol 180mg60%
Sodium 405mg18%
Potassium 269mg8%
Carbohydrates 0g0%
Protein 16g32%
Vitamin A 195IU4%
Vitamin C 1.5mg2%
Calcium 25mg3%
Iron 1.5mg8%
* Percent Daily Values are based on a 2000 calorie diet.