I love me some pesto.
My favourite way to eat it is in a sandwich of toasted sourdough bread spread with a little more butter than is socially (or medically) acceptable. The fresh pesto is piled on next and then a couple of rashers of crispy smoked bacon. The bacon needs to be straight-from-the-pan hot so that it just starts to melt the butter before being snaffled up.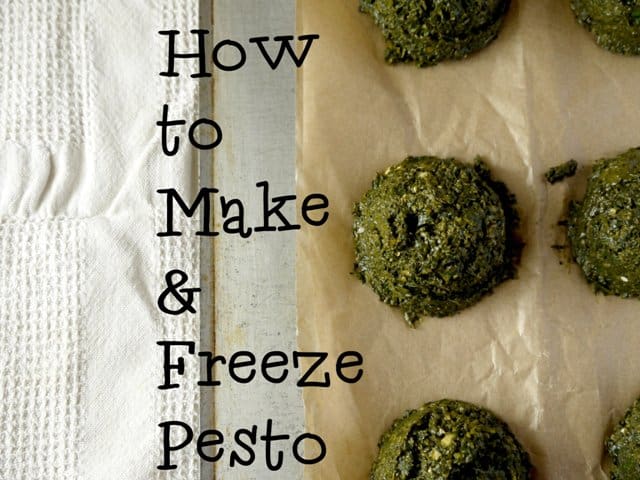 Delicious. And if you ever meet me and clock my ample waistline, you'll know I tend to enjoy this treat a little too often!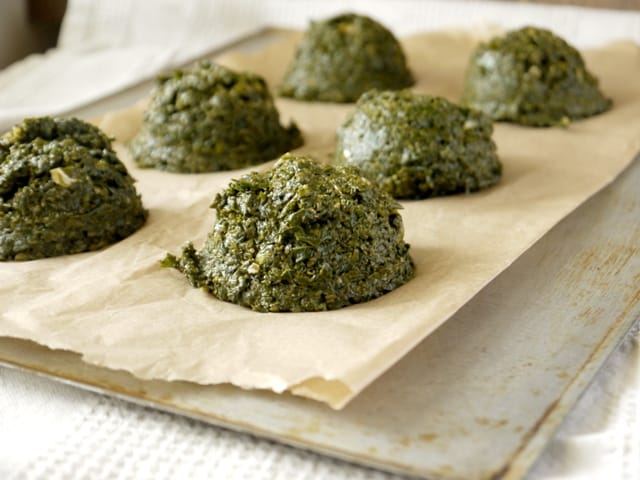 However, store bought pesto contains cheese which is off my menu so I ensure I grow a goodly sized patch of basil every year, purely for my own secret pesto stash. I then freeze it in handy serving sized lumps to use throughout the months ahead.
The recipe here includes a good chunk of parmesan, but I leave it out for a near perfect dairy free version.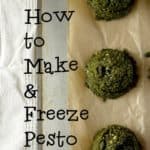 How To Make, and Freeze, Homemade Pesto
Ingredients
2

cloves

of garlic

2

tablespoons

pine nuts

pecans or cashews

Around 6 or 7 tablespoons of olive oil. Just enough to make the pesto look moist & hold together

Pinch salt

50

g

parmesan cheese. Omit this for dairy free version

A good mansize bunch of freshly picked basil leaves. Small

thin stems can go in too, just avoid the big woody ones.
Instructions
Whizz up the garlic, nuts, oil & salt and cheese to make an oily sauce (it smells so gooood!)

Pop in a small handful of leaves and blitz until smooth. Keep adding the basil and scraping down the sides until it looks, and smells, like heaven.

When done, scoop the pesto up with an ice cream scoop (pressing down firmly with your fingers to ensure the pesto holds together in the freezer) then release onto a greaseproof paper covered baking sheet.

Freeze overnight on the tray, then pop into a freezer proof tub the next morning to protect them in the depths of the freezer.

A lump will thaw in an hour or two or can be defrosted in a microwave if you're in a hurry.
What's your favourite way to eat pesto?