If you've ever wondered how to make, and freeze, homemade pesto, you're in the right place! This article will walk you through making the pesto with fresh herbs, and then freezing it to use later in the year.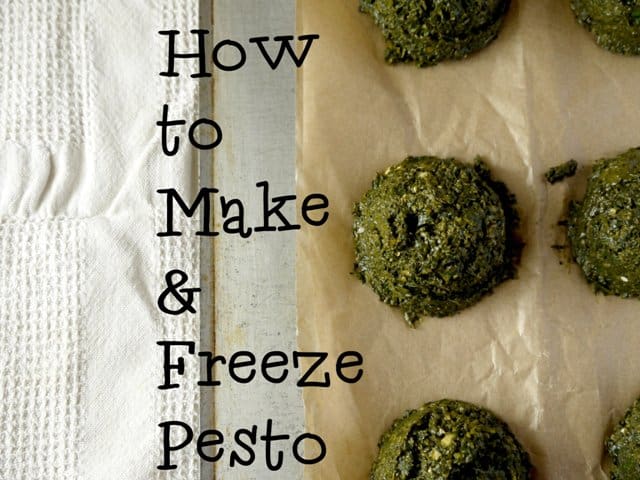 I love me some pesto.
My favourite way to eat it is in a sandwich of toasted sourdough bread spread with a little more butter than is socially (or medically) acceptable. The fresh pesto is piled on next and then a couple of rashers of crispy smoked bacon. The bacon needs to be straight-from-the-pan hot so that it just starts to melt the butter before being snaffled up.
Delicious. And if you ever meet me and clock my ample waistline, you'll know I tend to enjoy this treat a little too often!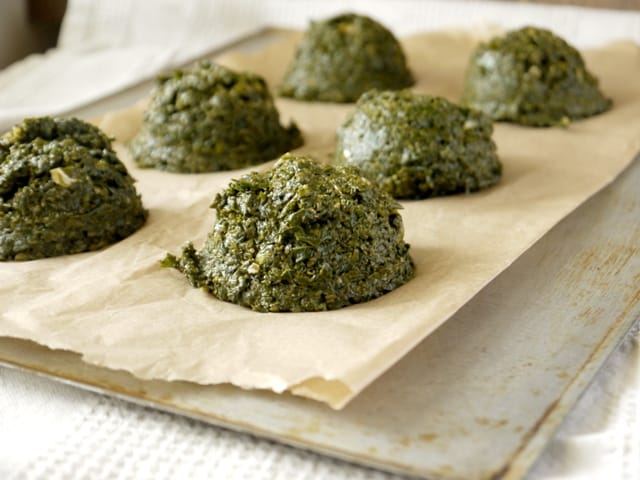 However, store bought pesto contains cheese which is off my menu so I ensure I grow a goodly sized patch of basil every year, purely for my own secret pesto stash. I then freeze it in handy serving sized lumps to use throughout the months ahead.
The recipe here includes a good chunk of parmesan, but I leave it out for a near perfect dairy free version.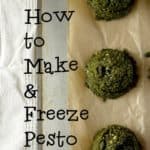 How To Make, and Freeze, Homemade Basil Pesto
Keyword:
freeze pesto, homemade pesto
Ingredients
2

cloves

garlic

2

tbsp

pine nuts

7

tbsp

olive oil

1

pinch

salt

50

g

Parmesan cheese

100

g

basil
Instructions
to make the pesto
In a food processor, blend together the garlic, pine nuts, olive oil and salt and Parmesan into an oily sauce.

Add in the basil, stalks and all, and blend again until it is all incorporated.

You may need to scrape down the sides of the bowl a few times to achieve this.

To use it fresh, add one tablespoon per serving to your cooked pasta, sandwich or other meal. If you wish to freeze it, keep reading…
to freeze the pesto
You can either pack the fresh pesto into ice cubes trays, or lay out scoops of it on baking trays like I did.

If you choose the latter, place a piece of baking paper onto a baking sheet.

Using a tablespoon, measure out portions and place them onto the baking paper an inch to two apart. Try to keep the pesto in little heaps, so that they stick together once frozen.

Place the Pesto into the freezer for a minimum of two hours, or preferably overnight.

Once frozen solid, each little pesto blob can be removed from teh baking paper and stored in a Tupperware tub or freezer bag.
to use the pesto
Whenever you wish to use the pesto, simply remove as many 'blobs' as you like, remembering that one blob = one serving.

Let thaw at room temperature for an hour or two, or overnight in the fridge.
Nutrition Facts
How To Make, and Freeze, Homemade Basil Pesto
Amount Per Serving
Calories 102
Calories from Fat 90
% Daily Value*
Fat 10g15%
Cholesterol 3mg1%
Sodium 71mg3%
Potassium 40mg1%
Carbohydrates 1g0%
Protein 2g4%
Vitamin A 473IU9%
Vitamin C 2mg2%
Calcium 65mg7%
Iron 0.4mg2%
* Percent Daily Values are based on a 2000 calorie diet.
What's your favourite way to eat pesto?