If you've ever wondered how to make, and freeze, homemade pesto, you're in the right place!
This article will walk you, step by step, through making the pesto with fresh herbs. And then we'll show you how to freeze it to use later in the year.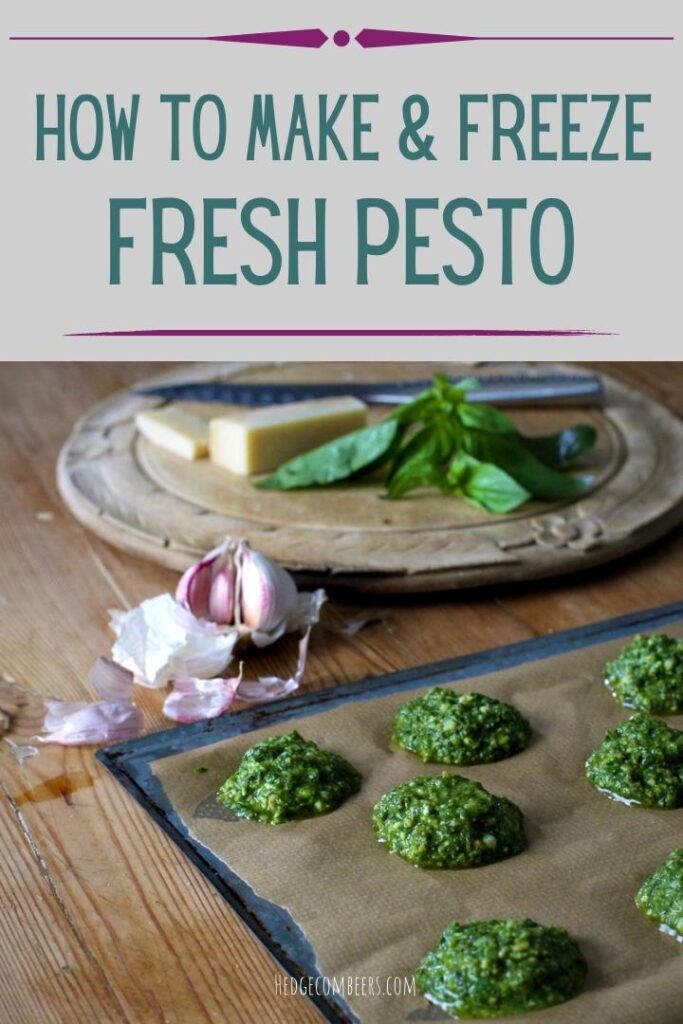 If you love pesto, yet you've never made it at home, then today's the day we change that my friend!
Fresh pesto, made with basil leaves that are super fresh has so much more flavour than the pesto that has been sat in a jar on a supermarket shelf for months on end.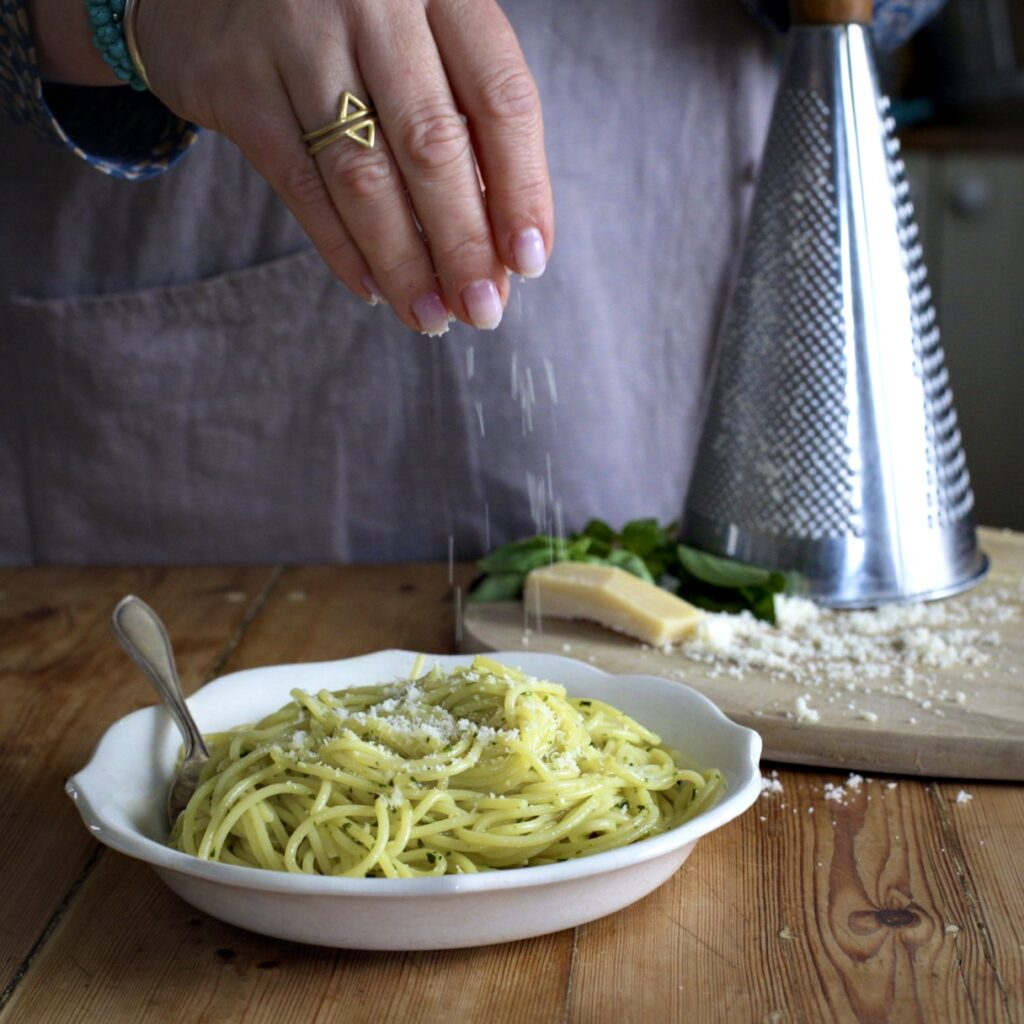 You get to control the quality of the olives oil that's used, as well as all the other ingredients too.
And the best bit is, it's ridiculously easy to make.
So why not make a big batch, whilst basil is cheap and in season.
Then freeze your leftovers to enjoy all year long.
How to Make, and Freeze, Homemade Basil Pesto
Scroll down to the bottom of this post to get the full recipe.
The measurements are available in both metric and imperial – simply toggle the switch and choose the option you most prefer.
You can use fresh basil from the greengrocers or supermarket, just be sure to wash and shake dry first. Or you can of course use homegrown basil.
In fact, this recipe is the perfect way to preserve the wonderful fresh flavours of a homegrown summer garden :)
1/ how to make fresh basil pesto
Add the pine nuts, garlic cloves and Parmesan cheese to a food processor bowl.
No need to cut up the garlic and cheese as the blade will take care of that.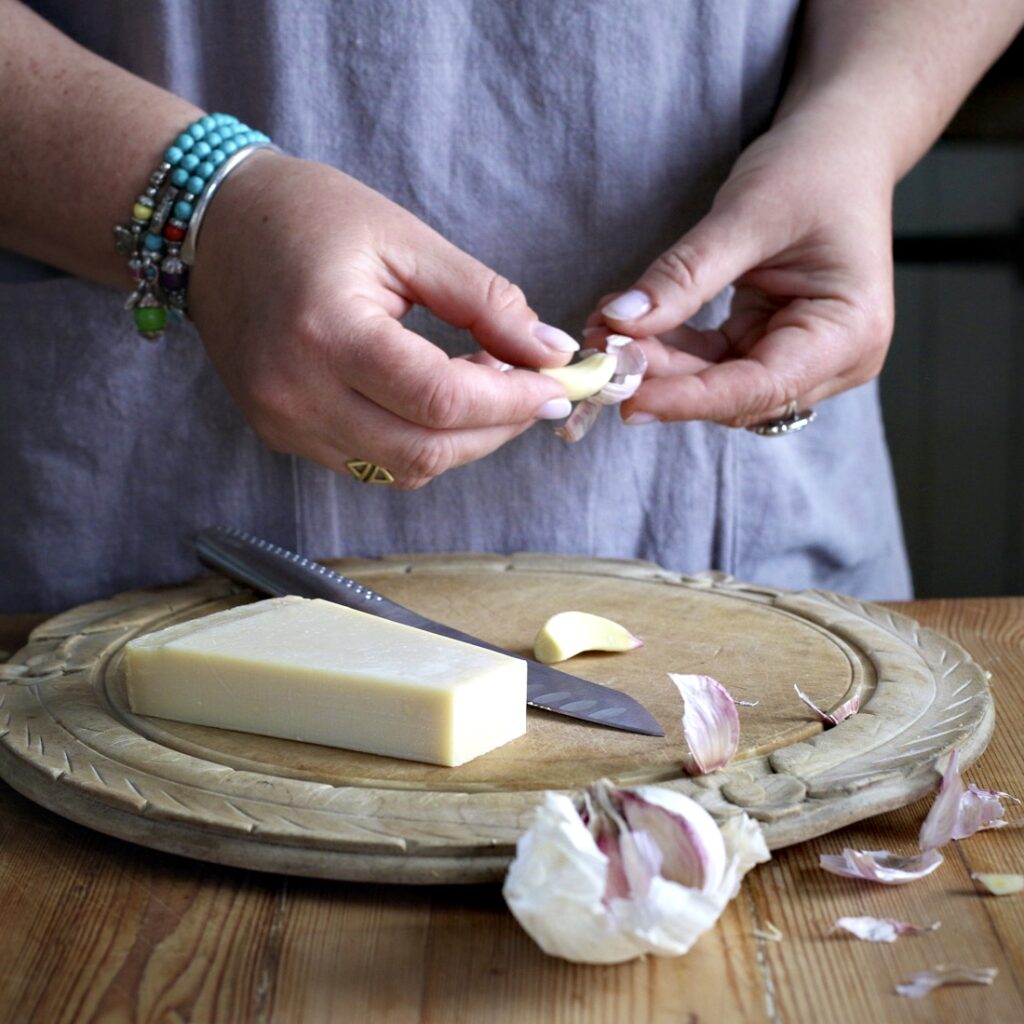 Next, measure out the olive oil and pour this into the food processor too.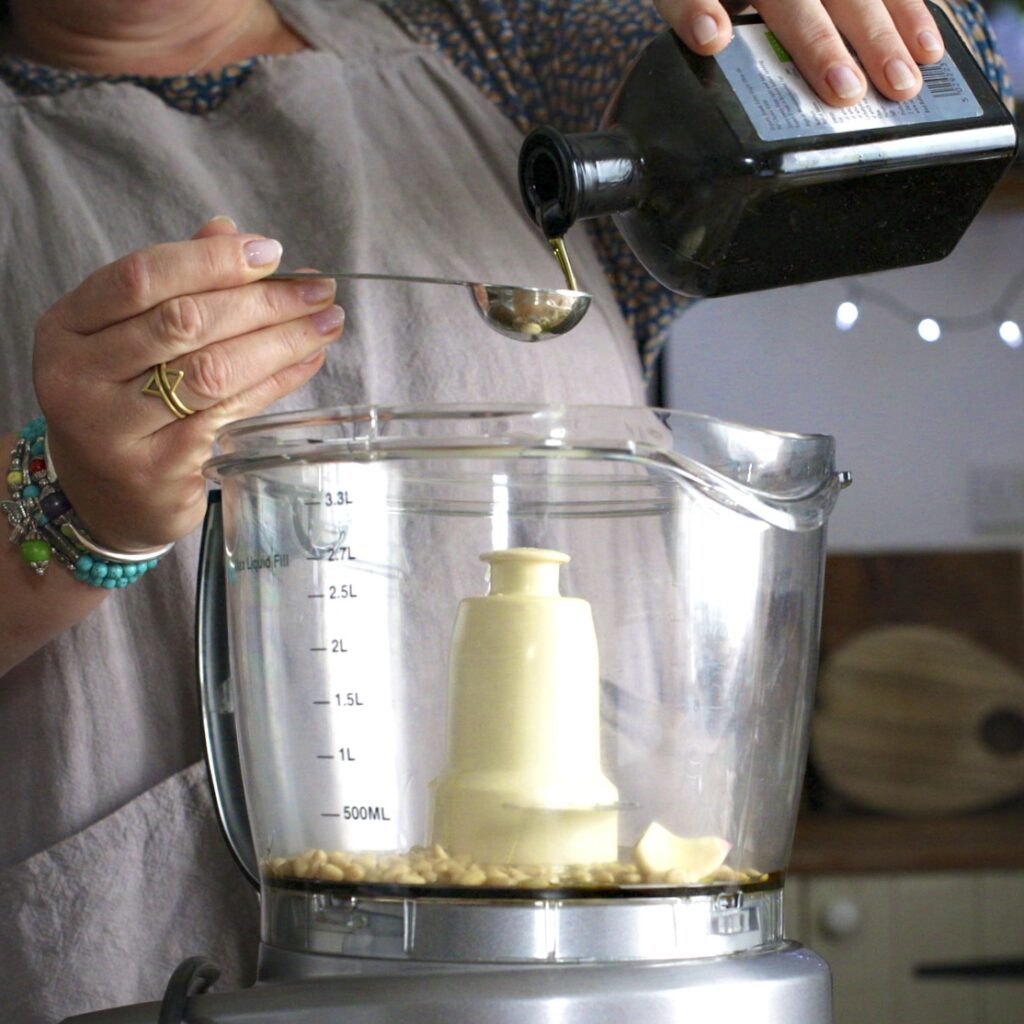 Blitz everything together until you have an oily, slightly lumpy sauce.
I'll admit that doesn't sound so tasty, but hang on in there. It gets better, I promise!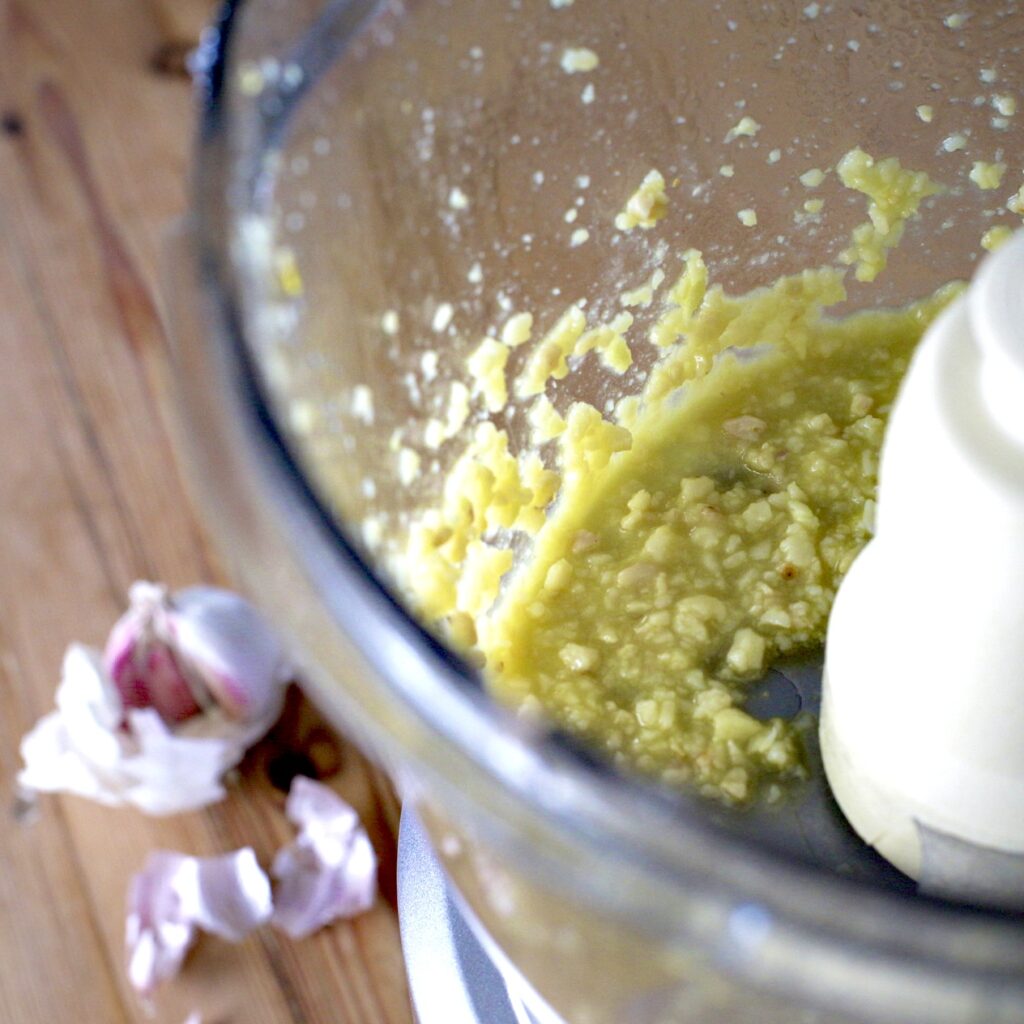 Add in the fresh basil leaves.
You can add in any stalks too, as basil stalks don't tend to get woody.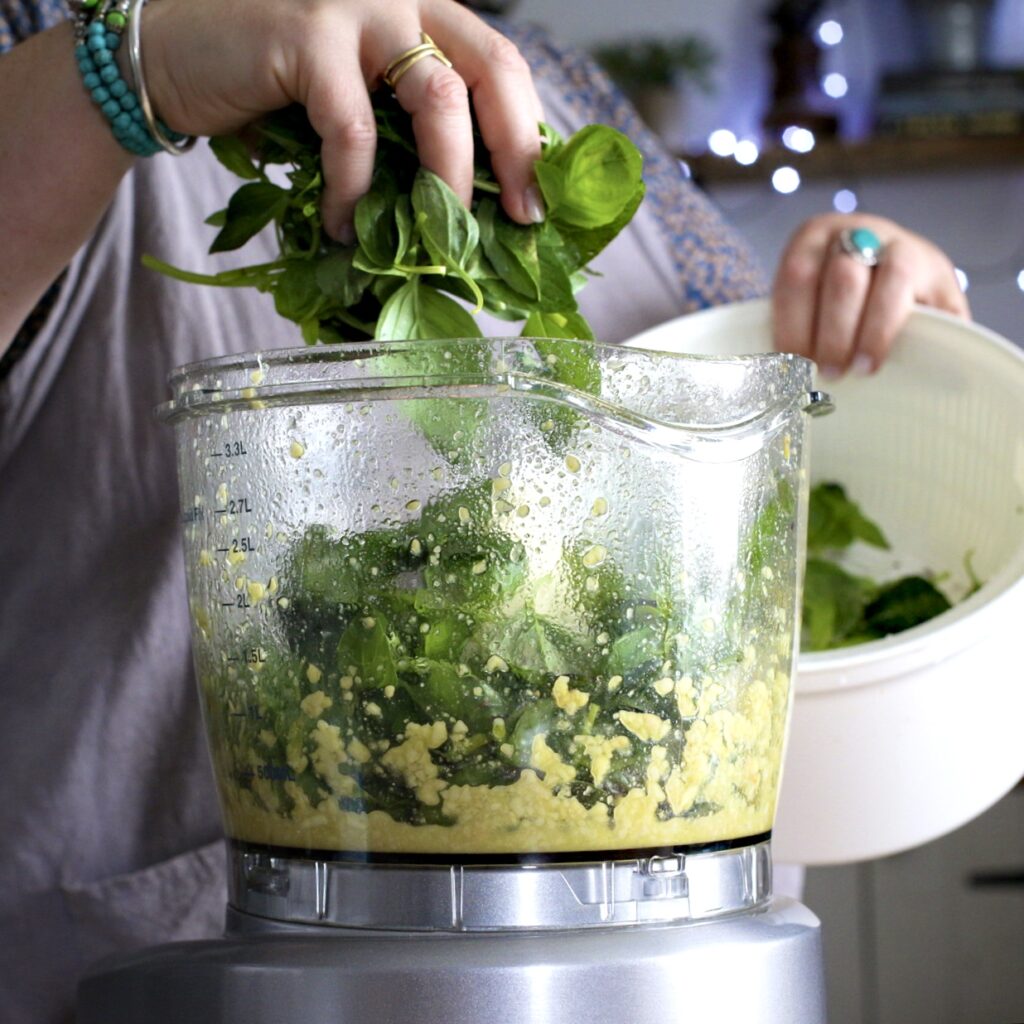 Blend this together until you have a beautiful, vibrant fresh pesto.
It can be used straight away, stored in the fridge where it'll last for a few days, or frozen where it'll last for months.
2/ how to freeze homemade pesto
If you like the idea of enjoying your homemade pesto for months to come, let me walk you through how to freeze it in portion sizes.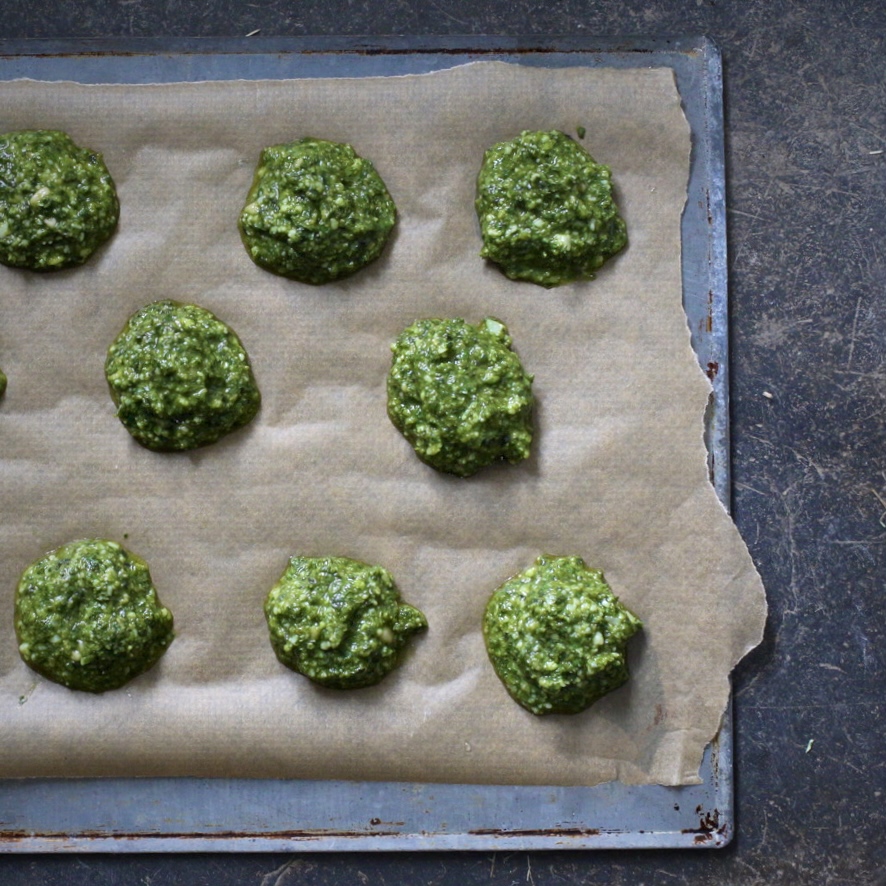 If you have an empty ice cube tray handy, you can fill the cubes with pesto and freeze.
However, I like to make these rustic little pesto bombs.
Simply cover a baking sheet with some silicone or baking paper.
Place tablespoon portions on the tray, then freeze for at least two hours.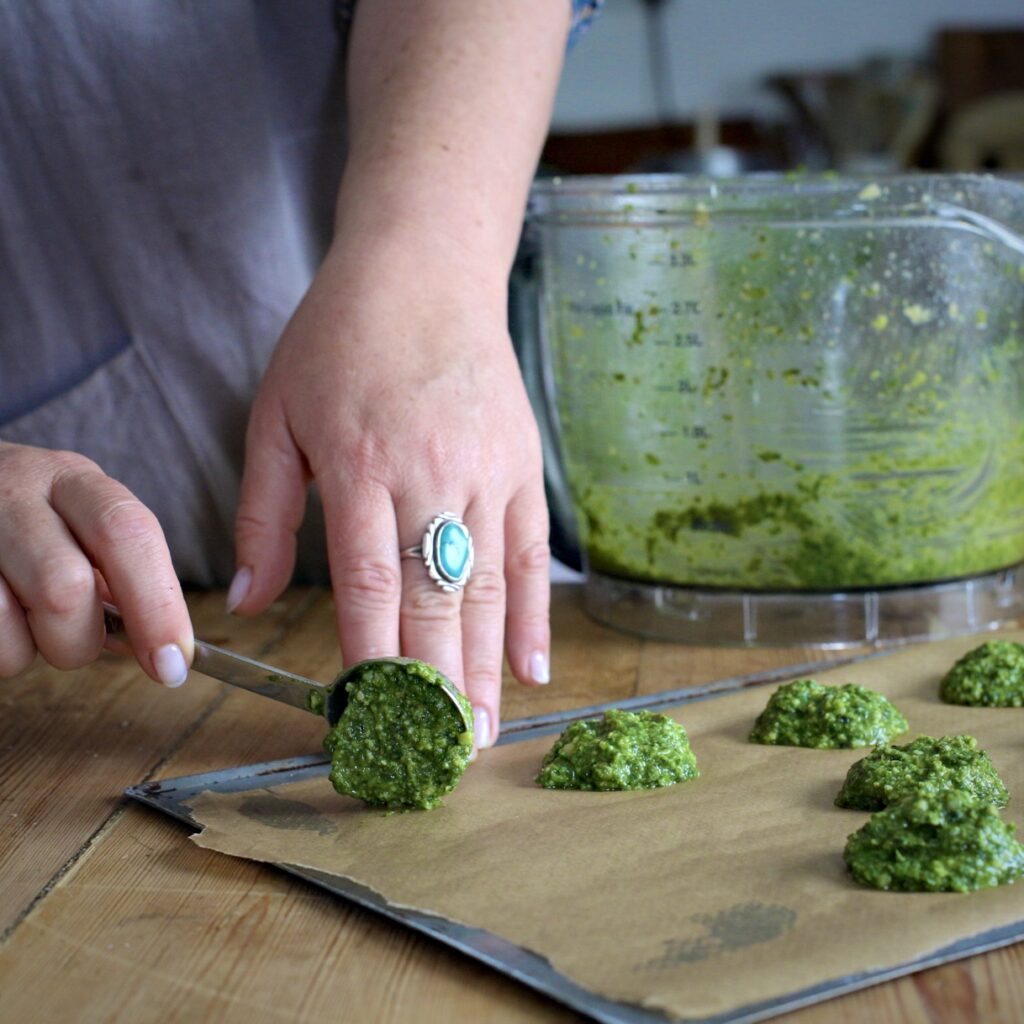 Once they are frozen solid, you can move them to a Tupperware tub or freezer bag.
Seal the tub/bag and they'll stay in perfect condition for several months.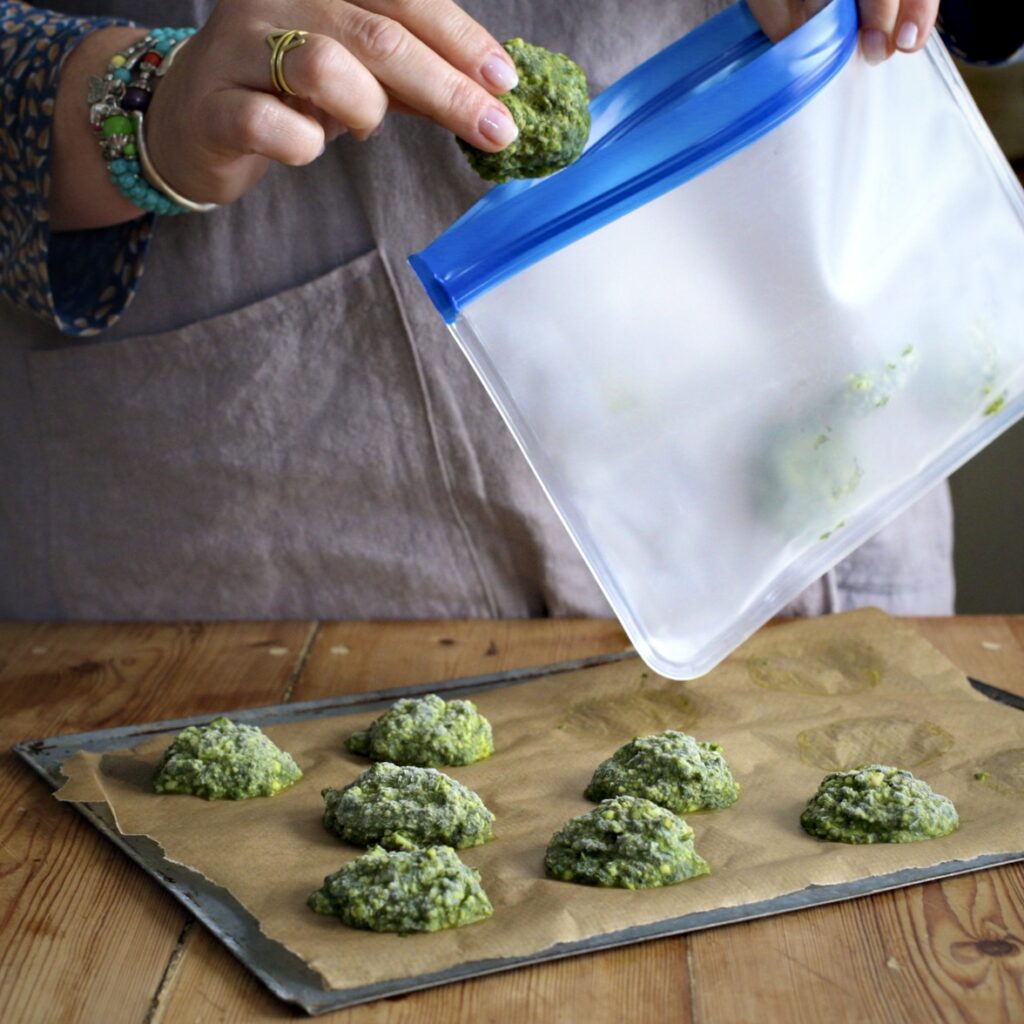 3/ how to use frozen pesto bombs
The best part about freezing your pesto in these little blobs, is that you can defrost and use just as much as you need with no waste.
One pesto bomb = one portion of pesto!
To use, simply pull out as many portions as you need and let defrost at room temperature for about 20 minutes.
However, if you're using it in a hot dish (such as this simple bowl of pasta), you can add one frozen pesto bomb to the hot, cooked and drained pasta. Just pop the lid back on for a couple of minutes, then stir round to coat the pasta evenly.
Because the bombs are oil based rather than water based, they defrost and melt really quickly.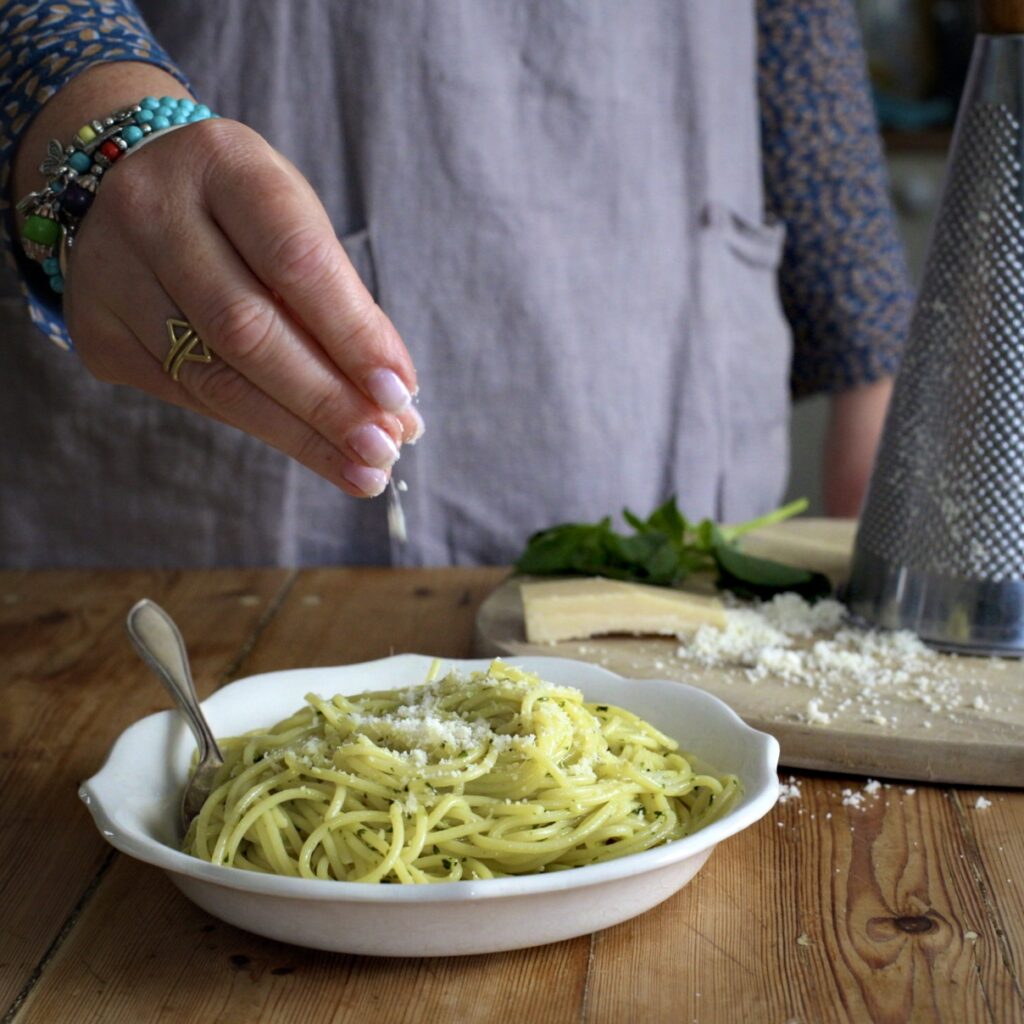 More ways to use your homemade basil pesto
Need some fun new ways to enjoy homemade pesto?
Here's some of my favourites:
on a pizza base, instead of a tomato pizza sauce
mixed with mayo and used in a chicken sandwich
in a bacon butty or BLT
mixed through scrambled eggs
topping a fillet of salmon or white fish and baked
blend with softened butter, chill in the fridge, then slice pieces off to top a steak
How do you love to eat pesto? Let us all know in the comments down below!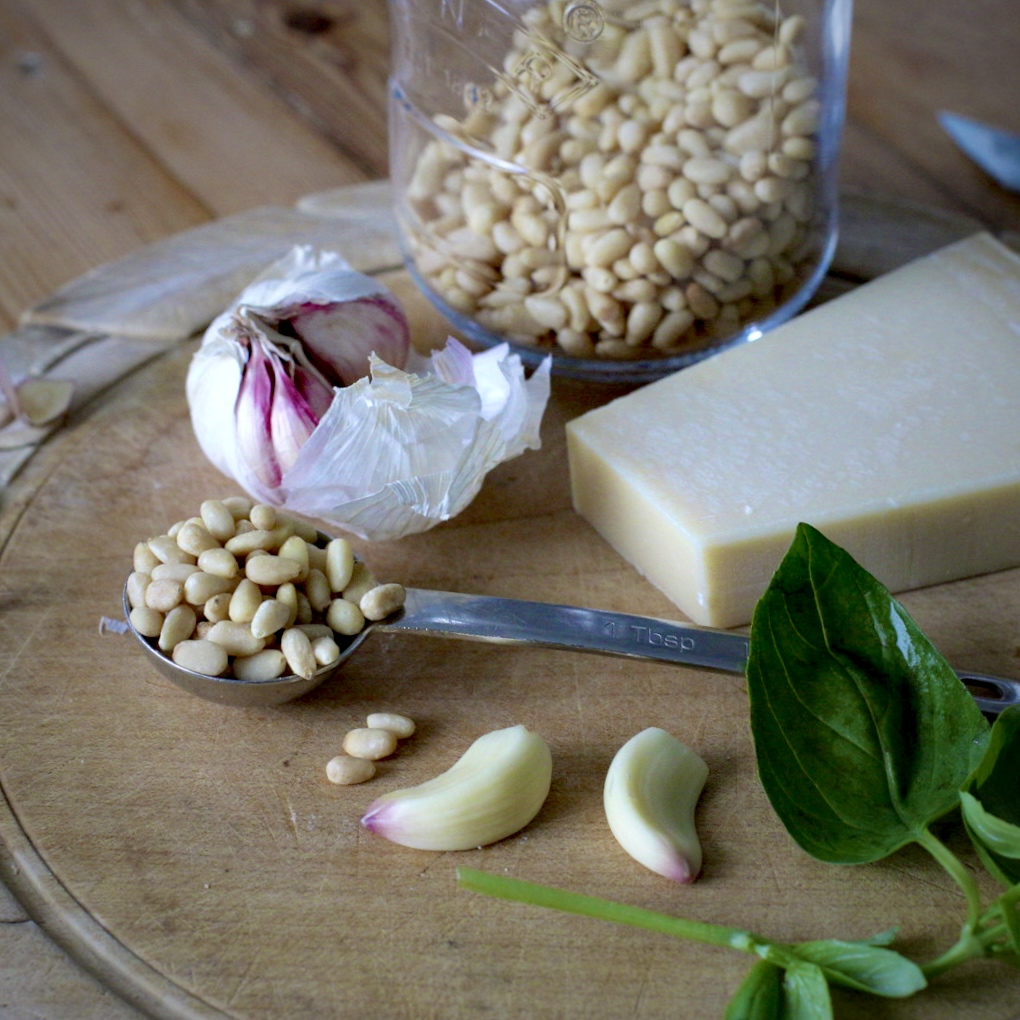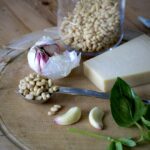 How To Make, and Freeze, Homemade Basil Pesto
Keyword:
freeze pesto, homemade pesto
Ingredients
2

cloves

garlic

2

tbsp

pine nuts

7

tbsp

olive oil

.5

tsp

salt

50

g

Parmesan cheese

100

g

basil
Instructions
to make the pesto
In a food processor, blend together the garlic, pine nuts, olive oil and salt and Parmesan into an oily sauce.

Add in the basil, stalks and all, and blend again until it is all incorporated.

You may need to scrape down the sides of the bowl a few times to achieve this.

To use it fresh, add one tablespoon per serving to your cooked pasta, sandwich or other meal. If you wish to freeze it, keep reading…
to freeze the pesto
You can either pack the fresh pesto into ice cubes trays, or lay out scoops of it on baking trays like I did.

If you choose the latter, place a piece of baking paper onto a baking sheet.

Using a tablespoon, measure out portions and place them onto the baking paper an inch to two apart. Try to keep the pesto in little heaps, so that they stick together once frozen.

Place the Pesto into the freezer for a minimum of two hours, or preferably overnight.

Once frozen solid, each little pesto blob can be removed from teh baking paper and stored in a Tupperware tub or freezer bag.
to use the pesto
Whenever you wish to use the pesto, simply remove as many 'blobs' as you like, remembering that one blob = one serving.

Let thaw at room temperature for an hour or two, or overnight in the fridge.
Nutrition Facts
How To Make, and Freeze, Homemade Basil Pesto
Amount Per Serving
Calories 102
Calories from Fat 90
% Daily Value*
Fat 10g15%
Cholesterol 3mg1%
Sodium 71mg3%
Potassium 40mg1%
Carbohydrates 1g0%
Protein 2g4%
Vitamin A 473IU9%
Vitamin C 2mg2%
Calcium 65mg7%
Iron 0.4mg2%
* Percent Daily Values are based on a 2000 calorie diet.