This Hot Prawn Madras Curry is composed of a spicy tomato & coconut milk based curry sauce studded with cooling juicy prawns and is a total delight.
Oh my goodness, I am over the moon with this recipe! The rich and creamy sauce will make your kitchen smell just incredible whilst it's cooking and with it being on the table in just 20 minutes it makes the perfect midweek meal.
Iceland recently asked me to cruise their aisles and grab inspiration for a recipe from a varied range of their freshly frozen foods. I've never actually shopped in Iceland before, partly as my nearest branch is a 40 minutes drive away and so I need to pre-plan getting the stuff home before it defrosts, and also because I had kinda assumed that their freezers would be full of ping meals which really aren't my thing.
What this little shopping trip taught me was that whilst you can certainly find plenty of convenience food in those freezers, if you look a little further you can find some great quality ingredients to keep on hand for when your pantry is looking sparse or pay day is a little too far away.
It is well documented that frozen fruit & veg contains more life enhancing vitamins, minerals and enzymes than those that sit in storage or on supermarket shelves for days, weeks or even months. And price-wise you can't complain as out of season fruit (such as raspberries in February) are 1/3 of the price of fresh imported ones in the nearest supermarket. That's a huge saving and perfect for those of you that love berries in your morning smoothie!
One product that totally blew my mind whilst doing the Iceland sweep was this…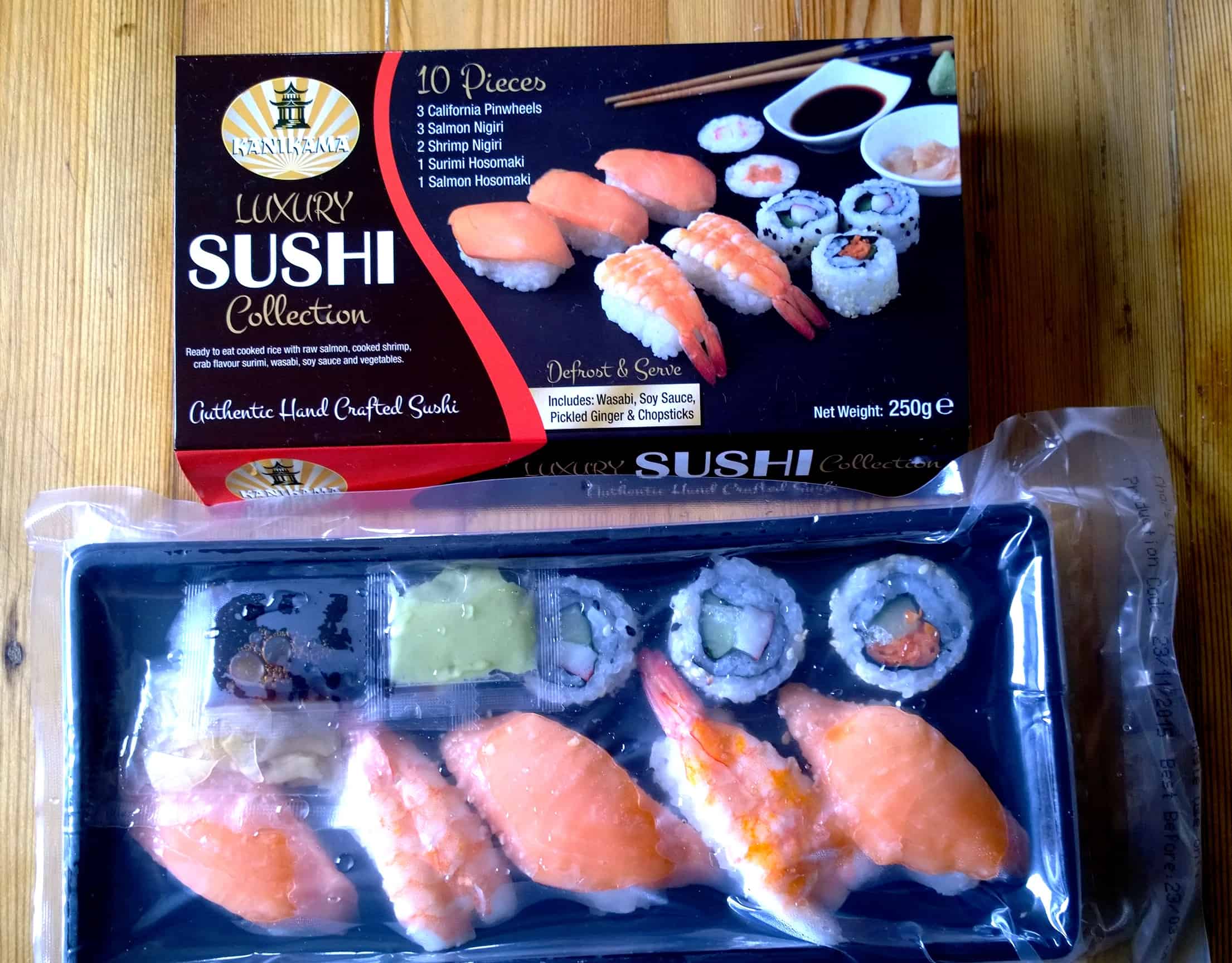 Frozen. Sushi.
Now I have to be honest, I am a sushi snob. I lived in Japan many years ago and it is my favourite meal in the universe. My initial reaction of seeing it in a pre-packaged frozen form was one of amused horror. However never one to shy away from a challenge I decided to buy & try before entirely dissing.
I won't lie, it was never going to be on a par with freshly made sushi. That said I often buy sushi from supermarkets as it is (mostly) dairy free*, and the defrosted box was better than the majority of the ones sold in the chiller cabinets. Very often the rice has dried out so much it sticks in my throat and give me hiccups (anyone else?), whilst the defrosted rice was moist and actually tasted good. The salmon & prawns both tasted OK too and I give the Kanikama sushi a surprised thumbs up for those times when you need lunch on the go and haven't had time to prep your own.
*A side note for any other lactose challenged out there – these Pain au Chocolat are also dairy free. You're welcome ;)
Hot Prawn Madras Curry
And so on to the Hot Prawn Madras Curry. Their frozen king prawns were the perfect juicy addition to a hot and spicy curry. As Jonny doesn't eat seafood (sigh) I made up the curry sauce and decanted a portion off into a smaller pan where I heated my thoroughly defrosted king prawns. It was utterly delicious.
To make the prawns go further, add in some vegetables to your taste. Peas would work well as would sliced peppers, or you could really bulk it out by cooking some new potatoes in the sauce before adding in the prawns. Oh, and don't forget if the prawns you source are grey in colour, it means they are raw and will need a minute or two extra cooking time than the pink ones that I used.
As far as heat goes, obviously set the heat levels to your personal preference. I used a tablespoon of chilli flakes in my curry, and remade it yesterday on a batch cooking day with my bestie and only used a teaspoon – it still tasted gorgeous. Likewise, if my 'hot' is your version of a korma, go pump it up ;)
If you're after a vegetarian curry, why not check out this Spinach and Chickpea Curry over at Hungry Healthy Happy, it looks deeevine!
If you give this hot prawn madras curry recipe a go, please do let me know what you think and if you're a regular at Iceland let me know what else I should look out for next time I'm there.
Hot Prawn Madras Curry
Keyword:
hot prawn madras, prawn madras
Servings
:
4
-6 depending on accompaniments
Ingredients
1

tablespoon

coriander seeds

1

tablespoon

black peppercorns

1

teaspoon

fennel seeds

1

tablespoon

chilli flakes

2

inches

fresh turmeric

2

inches

fresh ginger

4

cloves

garlic

1

red pepper

6

banana shallots

or 1 large onion

1

tablespoon

of your favourite fat or oil

1

carton

passata

or chopped tinned tomatoes

1

can

coconut milk

450

g

Iceland Fish Market King Prawns
Instructions
Heat a heavy saucepan and dry fry (with no oil) the coriander seeds, peppercorns, fennel seeds and cloves for 1-2 minutes or until they release their spicy aroma.

Remove from the hot pan, add the chilli flakes and grind together into a powder either in a pestle & mortar or coffee grinder. Put to one side.

Process the fresh turmeric, ginger, garlic, pepper and shallots in a food processor until it is a puree. Heat the oil in the saucepan and fry the puree for a few minutes (do not let it burn).

Add in the spices, passata and coconut milk, stir well and simmer for 5 minutes with the lid off until the sauce has thickened a little.

Add in the defrosted, cooked prawns and let simmer for 2-3 minutes or until the prawns are piping hot. Serve as is if you are paleo or with rice and popadoms for an authentic Indian meal.
Nutrition Facts
Hot Prawn Madras Curry
Amount Per Serving
Calories 397
Calories from Fat 234
% Daily Value*
Total Fat 26g 40%
Cholesterol 283mg 94%
Sodium 927mg 39%
Potassium 634mg 18%
Total Carbohydrates 16g 5%
Protein 27g 54%
* Percent Daily Values are based on a 2000 calorie diet.
Huge thanks to Iceland for sponsoring this Hot Prawn Madras Curry recipe and helping me continue to publish free tasty and inspiring content for my readers. As always all thoughts, and leftovers, are my own!
Janie x