These Honey and Sea Salt Roast Nuts make a great gift for anyone that lives for that sweet and salty hit!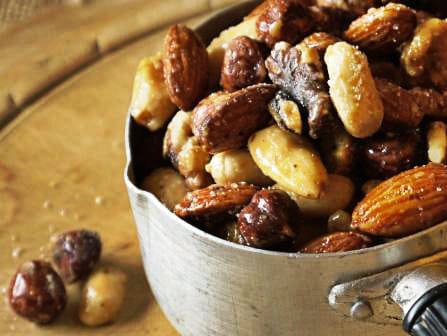 Oh hello Honey and Sea Salt Roast Nuts! These guys are SO moreish!
The mix of sweet & salty tastes has become one of my favourite mixes over the past few years.
I used Cornish Sea Salt for mine. Whilst clearly I'm a little biased living on the Cornish coast as I do, surely it has to be the best salt ever?
It is lush!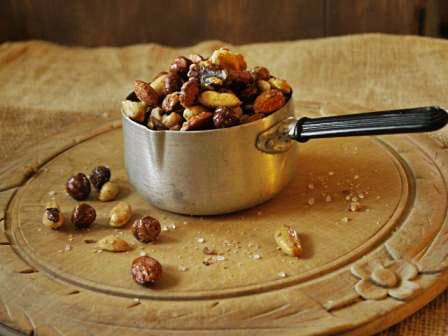 For another tasty option why not try these roasted cashew nuts, they have a more spicy flavour and sound delish!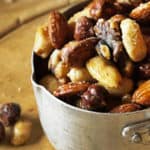 Honey & Sea Salt Roast Nuts
Ingredients
300

g

mixed raw

unsalted nuts

2

teaspoons

coconut oil or butter

3

tablespoons

honey

2

level teaspoons sea salt

4

level teaspoons brown sugar
Instructions
Preheat your oven to 300/150/Fan 130/Gas 2

Cover a baking tray or pan with a liner, either silicone or paper is fine. These beauties stick like superglue so please don't dodge this step!

Melt the oil & honey in a pan, mixing well.

Take off the heat, tip in the nuts and mix wildly, making sure every last crumb is covered.

Tip out onto the covered baking sheet, spreading out with the back of a large spoon until they are in a single layer.

Bake in the preheated oven for 5 minutes.

Take out and scoop the nuts from the edges into the middle, then spread out flat with the back of the spoon again.

Pop back in the oven, and repeat, every 5 minutes. Mine were in for 40 minutes altogether, but I use a fan oven so your's may need a little longer or a little less time.

When the nuts are just starting to take on some colour, remove and let cool on the sheet for around 10 minutes.

Mix the salt & brown sugar together, and sprinkle generously over the nuts as they are cooling. If they're too hot, the sugar & salt will melt right into them, and if they're too cold the glaze will no longer be sticky enough to grab hold of the sugar & salt. So keep a close eye on when you think they are ready.

Once covered in the dry mix, spread out for the last time to let cool completely before popping in an air tight container.