Today we share our Hario V60 coffee maker review to discover if it could become the best camping coffee maker for your next adventure.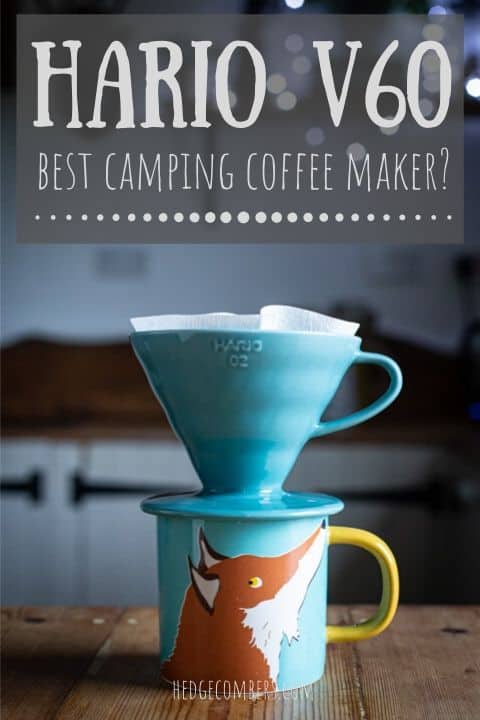 HARIO V60 COFFEE MAKER DETAILS:
• Link: Hario V60 Turquoise (affiliate link)
• Price: around £25
• Weight: 373g
• Measurements: 11cm (wide) x 10cm (height)
• Main material: ceramic
• Dishwasher safe? yes
• Do you need a kettle to heat the water? yes
• Need extras ie filters, batteries, pods etc? yes – size 02 filter papers (affiliate link)
• Does it work on an induction hob? N/A
• Amazon review score: 4.7 / 5
• My 7 day review score: 77 / 100
Whether you're into bushcraft, ultralight backpacking or have a campervan like me, over the next few weeks (or maybe even months?!) I will find you the perfect coffee maker.
Guaranteed!
Let me know in the comments below what you demand from a coffee maker, and let me help you find your perfect match!
HARIO V60 COFFEE MAKER REVIEW
Today I am focusing on the Hario V60.
It's a classic design drip coffee filter and is now available in some fun colours such as the turquoise version I'm using today.
It's made in Japan and has a simple, elegant feel we have come to except from Japanese design.
Being made of ceramic it may not be the best choice for a camping coffee maker, but as it feels substantial for its size and appears to be very high quality.
I think it would last well in my campervan.
However, there are a few different options in the Hario V60 range, including a plastic version if you are worried about dropping it on your travels.
It comes simply packaged in a small cardboard box, with no plastic or polystyrene waste (thank you Hario!)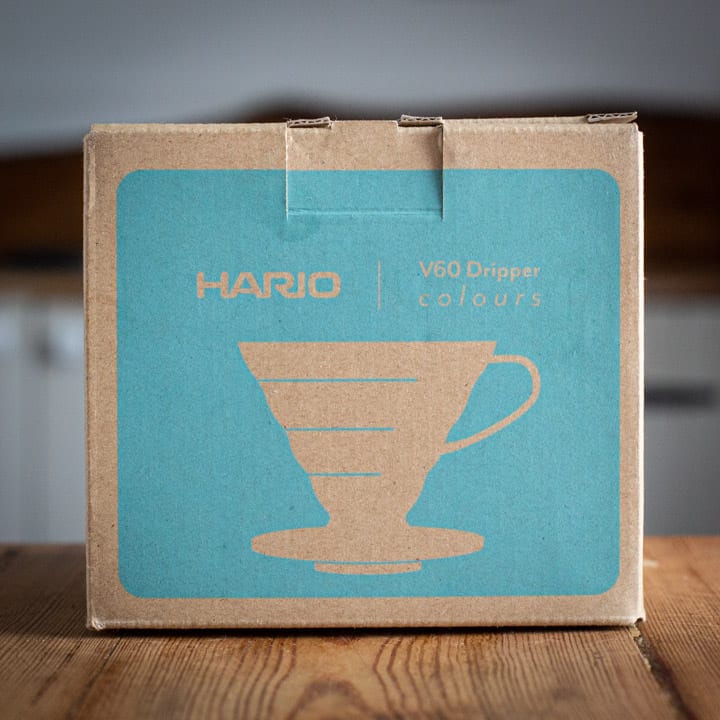 Inside the lid is a white coffee scoop, which makes brewing the perfect strength coffee for you very simple.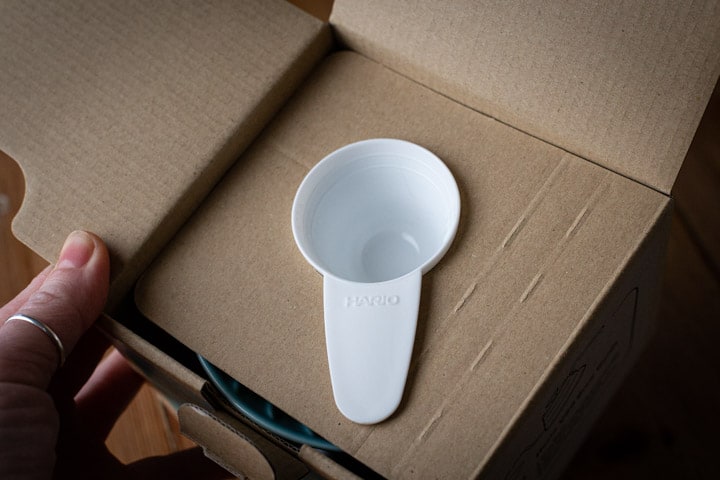 The instructions are very simple, in fact these as the most clear but basic instructions I've come across on my hunt for the perfect camping coffee maker so far.
See the Hario V60 on Amazon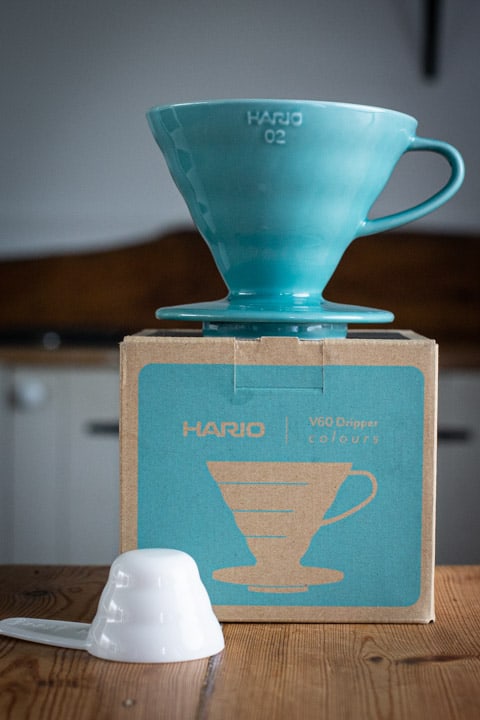 HOW DO YOU USE A HARIO V60?
Wash the V60 well in hot soapy water before trying for the first time.
Place over your favourite coffee cup.
Take one size 02 Hario paper filter and fold along each of the two seams.
They don't explain why you need to do this, but I believe it's so that the filter stays open in the Hario.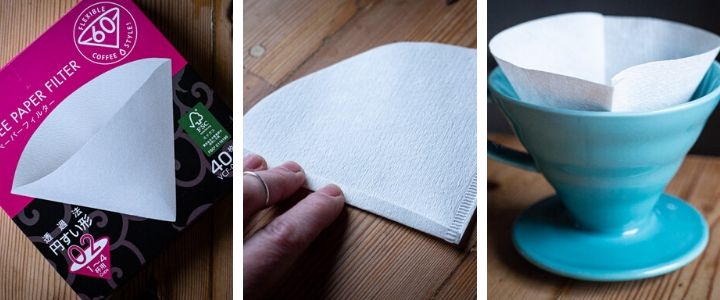 Place into the coffee maker, and add one full scoop of freshly ground coffee.
They recommend a fine-medium grind of your favourite beans to get the best extraction from each brew.
Shake the grounds lightly to create a level surface.
Boil your kettle, then wait 20-30 seconds for the temperature to drop enough to prevent burning your coffee.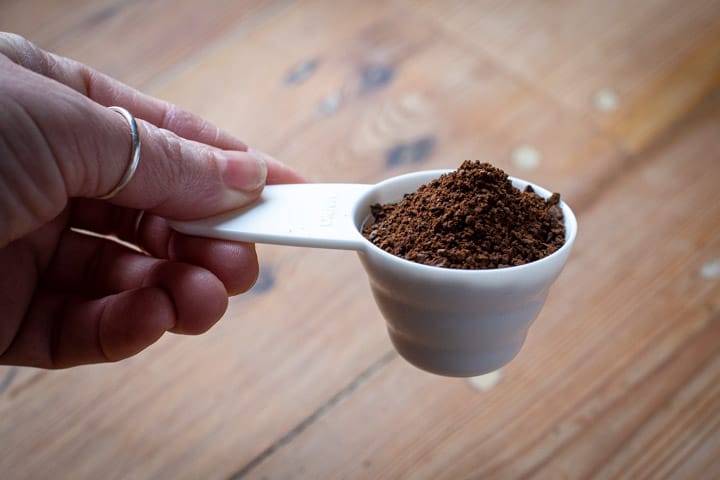 Then slowly pour the water over the grounds, pouring from the centre outwards, just enough to wet them.
Wait for 30 seconds.
This is called 'blooming' and allows the carbon dioxide that is naturally trapped in the bean after roasting, to disperse.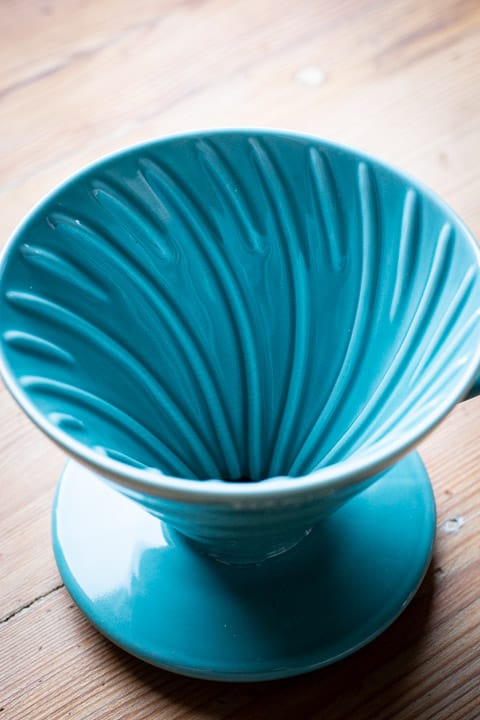 Finally, pour the rest of the hot water over the grounds in a circular motion.
It will take up to 3 minutes for the coffee to drip through the filter, when the process will be complete.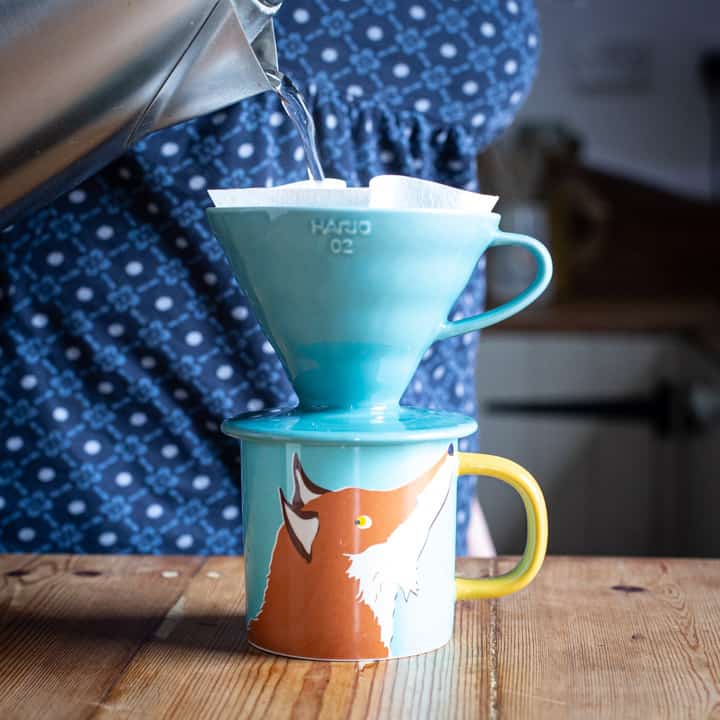 HOW MANY CUPS OF COFFEE DOES IT MAKE?
One.
Although there are bigger versions available that are used to drip coffee into a warmed pot rather than an individual cup.
WHAT COFFEE GROUNDS SHOULD I USE WITH THE HARIO V60?
It is recommended to use a fine- medium grind of beans.
If you use a coarse ground bean, the water will drip through the filter too quickly, without having chance to extract the flavours from the coffee.
If you use an extremely fine grind, the water will be held in the filter too long, thereby creating an over-extracted, bitter cup of coffee.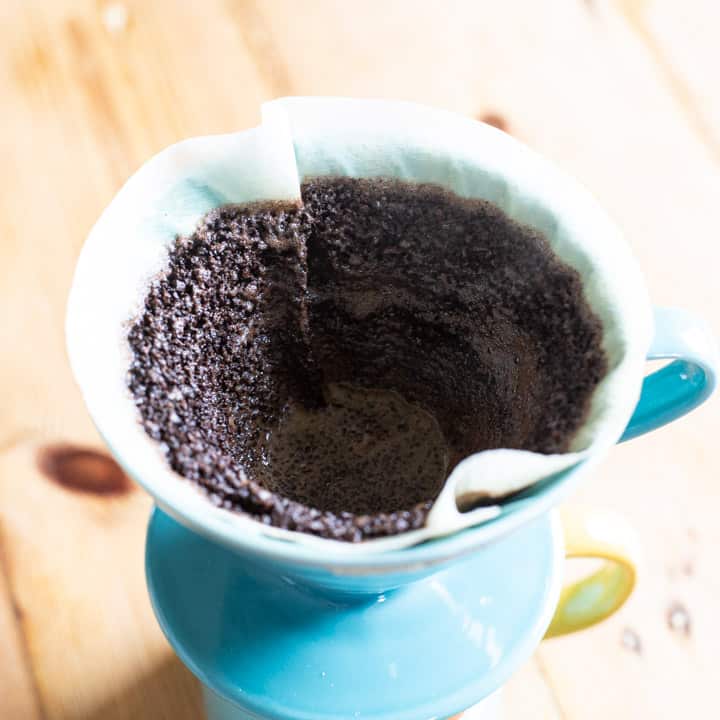 THINGS I LOVED ABOUT THE HARIO V60
The colour! Anyone that knows me will know I LURVE anything turquoise or teal :)
The classic, simple design.
This Japanese built coffee maker is elegant in its simplicity.
You will need to buy papers occasionally, but these are cheap to order online.
But most of all, the coffee it makes is superb.
In a 'taste off' between the Hario & the Aeropress, I did prefer the coffee made in the Aeropress, but it was a very close call (and worth noting that my tastebuds are used to drinking Aeropress coffee daily for years)
THINGS I DIDN'T LOVE ABOUT THE HARIO V60
I think it's a little overpriced for the simple design.
However it is exceptionally made, and if budget is a determining factor for you, the plastic version is available from as little as £5.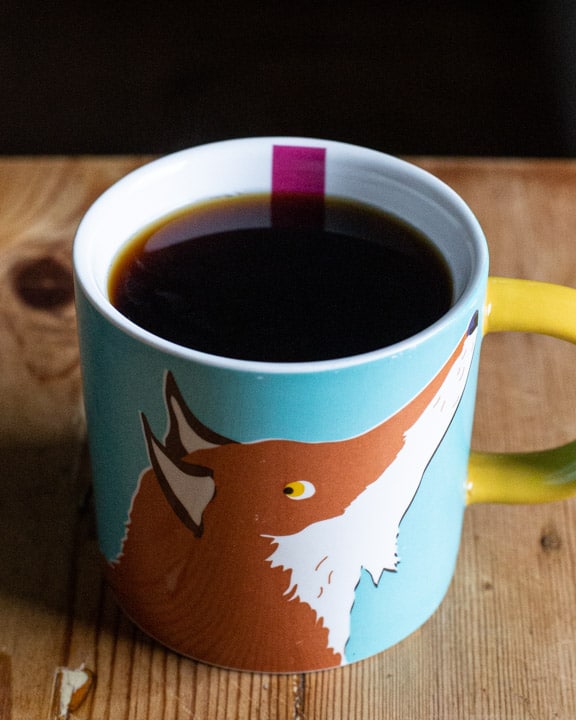 HARIO V60 COFFEE MAKER SCORES
• Ease of Use: 9
• Ease of Clean up: 10
• Quality of Brew: 7
• Value for Money: 5
• Style: 8
• Design: 8
• Durability: 8
• Waste: 9
• Weight/Storage: 9
• Wow Factor: 8
Total Score: 77 / 100
Overall I had a great week of coffee.
Thanks Hario!
You can watch my video review of this coffee maker here!
CAN YOU HELP ME FIND THE BEST CAMPING COFFEE MAKER ON THE MARKET?
Do you know the perfect offgrid way of making coffee using real coffee grounds in the outdoors?
If so, let us know in the comments below and we may end up reviewing your favourite coffee maker in the near future too!
WANT TO STAY UP TO DATE WITH ALL FUTURE CAMPING COFFEE MAKER REVIEWS?
• Subscribe to the Hedgecombers YouTube channel and get access to the new review video every week
• Sign up to our mailing list, and you'll get an email each time we publish a new blog & video review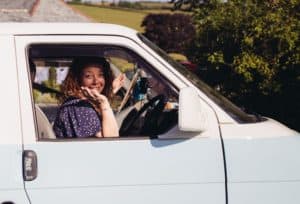 HOW I TEST & REVIEW CAMPING COFFEE MAKERS
The first time I use a coffee maker, I follow the included instructions.
I then spend the next 7 days perfecting the brew and learning all there is to know about it.
I watch other videos, read blog reviews & Amazon comments, and play around with different brewing techniques.
Finally I finish off the review with a round up of all I have learnt, and give it a total score out of 100.
***
Huge thanks to Owens Coffee, a 100% Organic coffee roaster in Ivybridge, Devon. Please note this review was not sponsored, but they did supply me all the coffee beans to make this review possible. To find their full range of freshly ground beans, check out their website here: Owens Coffee. PS I highly recommend their Dart blend ;)
This article may contain affiliate links. This means we may earn a small commission if you follow, and shop through our links, at no extra cost to you. Thank you for helping support the work we do here at hedgecombers.com :)
Janie x