These foraged Green Hazelnut and Chocolate Brownies make use of the fresh nuts straight from the tree.
If it's out of season, or a bad year, feel free to substitute with regular dried hazelnuts that are available all year round.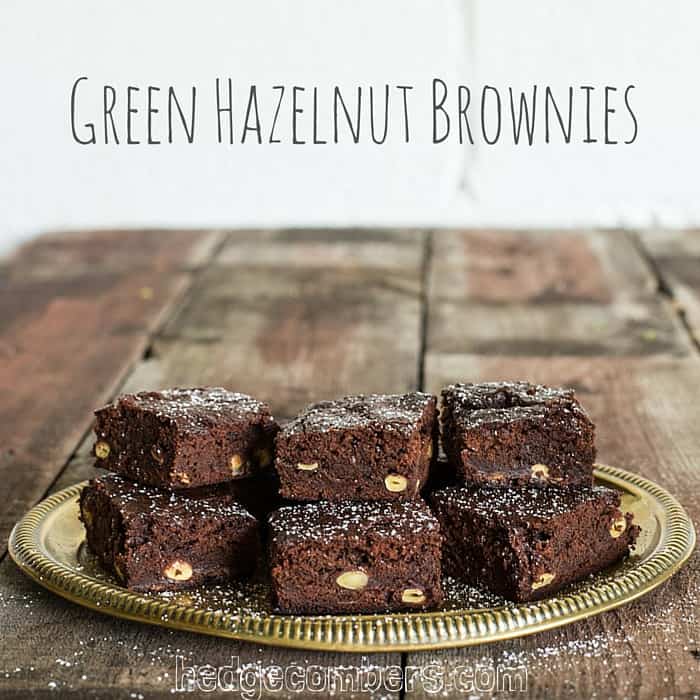 2015 is turning into the best year for hazelnuts I have ever seen.
In fact I've never cooked with green hazelnuts before as there has never been enough left over from my foraging trips to warrant dreaming up a recipe.
Normally they'd just get cracked straight form the shell and munched on immediately.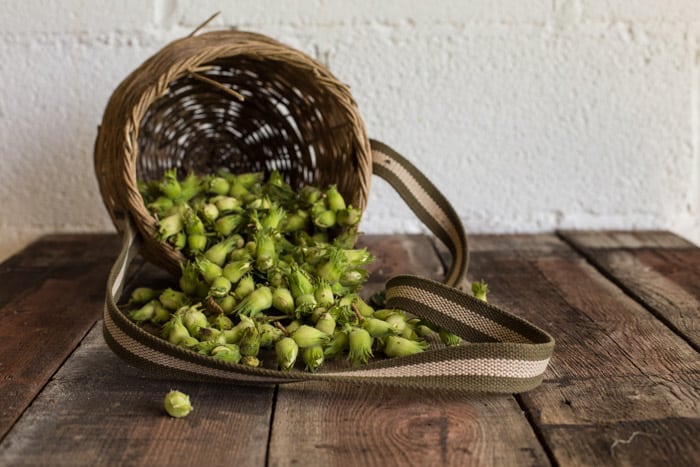 For those that have never had the pleasure of eating a green hazelnut fresh from the tree, the flavour is milder and not as nutty as the dried variety.
They have a slightly milky texture with more of the crunch you'd get from eating an apple then the crunch of eating a dried nut.
Not sure my description has done them any justice at all, so perhaps instead I should just say that they taste lovely.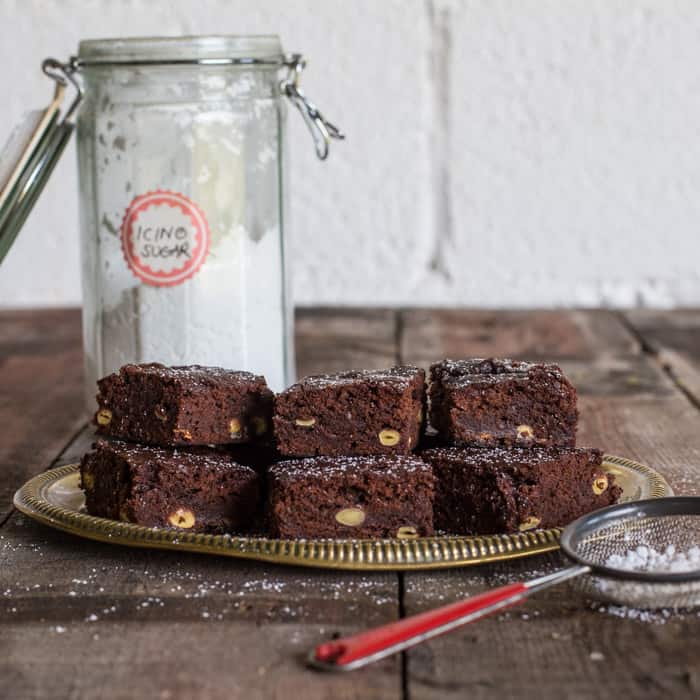 To avoid getting nutcracker RSI, rope in as many passers by as is possible to help you crack your way through a good haul.
Not every shell will deliver a plump juicy nut. But those that do will soon build up into a nice little bowlful.
Green hazelnuts will need drying if you plan to store them for any length of time and it just so happens I have another post coming soon that will walk you through that simple process.
Meanwhile, enjoy your brownies whether you make them with freshly foraged nuts or store bought dried ones ;)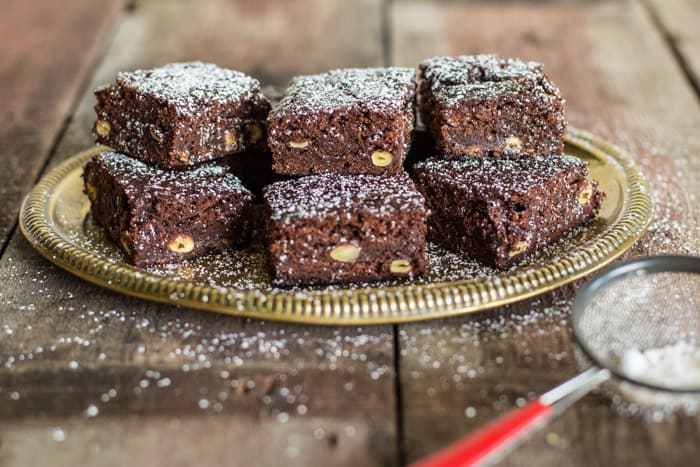 Green Hazelnut and Chocolate Brownies
Here's the full recipe for these green hazelnut brownies. If you'd rather see the recipe in US measurements rather than metric, simply toggle the little button to swap between the two.
And if you need more baking inspiration, these healthy flapjacks taste great, and contain no added sugar!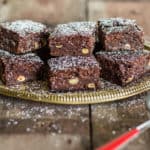 Green Hazelnut and Chocolate Brownie
Keyword:
Green Hazelnut and Chocolate Brownies
Ingredients
150

g

dark chocolate

check it's dairy free if necessary

90

g

plain flour

140

g

icing sugar

3

tablespoons

cocoa powder

level

90

g

coconut oil or butter

2

tablespoons

golden syrup

2

eggs

30-50

g

Green Hazelnuts

fresh
Instructions
Preheat the oven to 180/ fan160/gas 4. Grease & line a 10 inch baking tin.

Carefully melt the chocolate, coconut oil or butter and syrup in a bain marie or small bowl over a pan of gently simmering water.

As the chocolate melts, sift the flour, icing sugar and cocoa into a large bowl.

Once the chocolate has melted and the ingredients combined, take off the heat and leave to cool for 2-3 minutes.

Stir the eggs into the chocolate mix and when combined pour over the sifted ingredients. Add the nuts, and carefully fold the mixture until all is combined.

Pour into the baking tin and bake for 25-35 minutes or until the top is looking crusty but the inside is still a little gooey. Leave to cool for 15 minutes in the tin, then take out and let cool fully on a cooling rack or enjoy them warm and melty. Yum!
Nutrition Facts
Green Hazelnut and Chocolate Brownie
Amount Per Serving
Calories 337
Calories from Fat 180
% Daily Value*
Fat 20g31%
Cholesterol 36mg12%
Sodium 18mg1%
Potassium 191mg5%
Carbohydrates 36g12%
Protein 4g8%
Vitamin A 60IU1%
Vitamin C 0.2mg0%
Calcium 25mg3%
Iron 3mg17%
* Percent Daily Values are based on a 2000 calorie diet.