These gluten free camping breakfast recipes are the perfect answer to high energy, low hassle gluten free breakfast that the whole family can dive into and not feel they're missing out.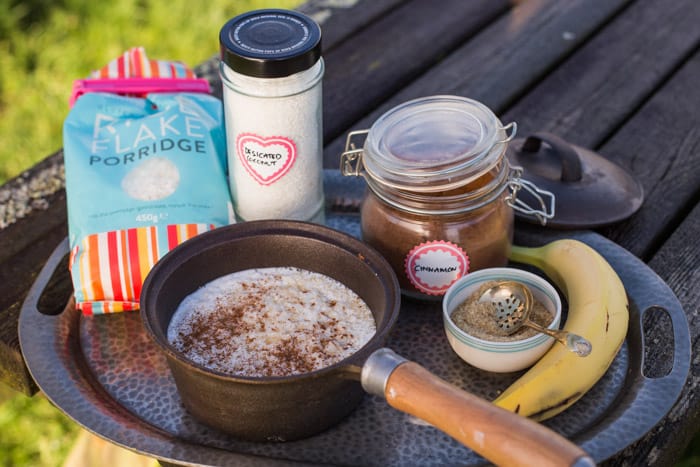 As many regular readers will know I am intolerant to lactose, and my nephew has Coeliac disease (meaning he can't eat even the smallest amount of wheat). So when Delicious Alchemy got in touch to give some of their gluten free products a try, I nearly bit their arm off! :D
And with Easter fast approaching I am in serious camping mode, so the two had to be combined into these yummy gluten free camping breakfast recipes.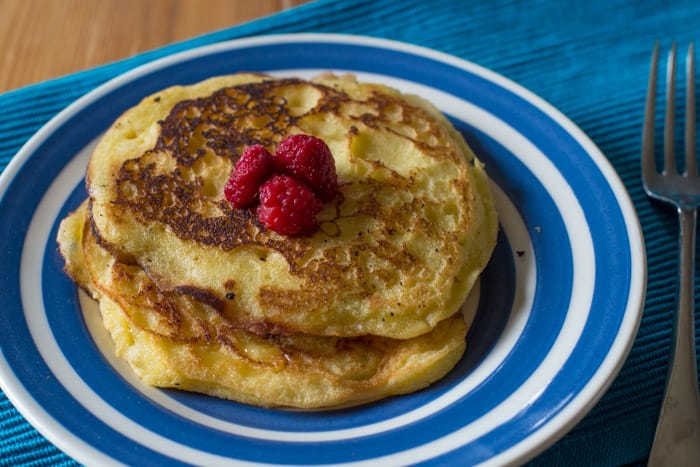 The 5 minute rice pudding needs no fresh ingredients so can be saved for the end of your camping trip – all you need is a packet of the Delicious Alchemy Rice Flake Porridge and a can of coconut milk.
For the Vanilla Puffy Pancakes you'll need eggs, water and some oil along with a packet of the Delicious Alchemy Vanilla Sponge Cake mix.
These are both really high energy breakfasts so are perfect if you have an active day planned. For those who enjoy a more sedate camping trip, you may want to give their gluten free porridge oats a go instead ;)
5 Minute Rice Pudding

This is a ridiculously tasty gluten and dairy free rice pudding which is rich, creamy and so comforting we reckon this'll become a firm favourite at any time of day. However, we're championing it for a divine camping breakfast.
Mix through chopped bananas, desiccated coconut and/or cinnamon for an extra flavour boost.
One can of coconut milk is enough for two servings and you can use full fat or reduced fat coconut milk. I used full fat and it was seriously rich & creamy!
Keep scrolling down for the full recipe…
Vanilla Puffy Pancakes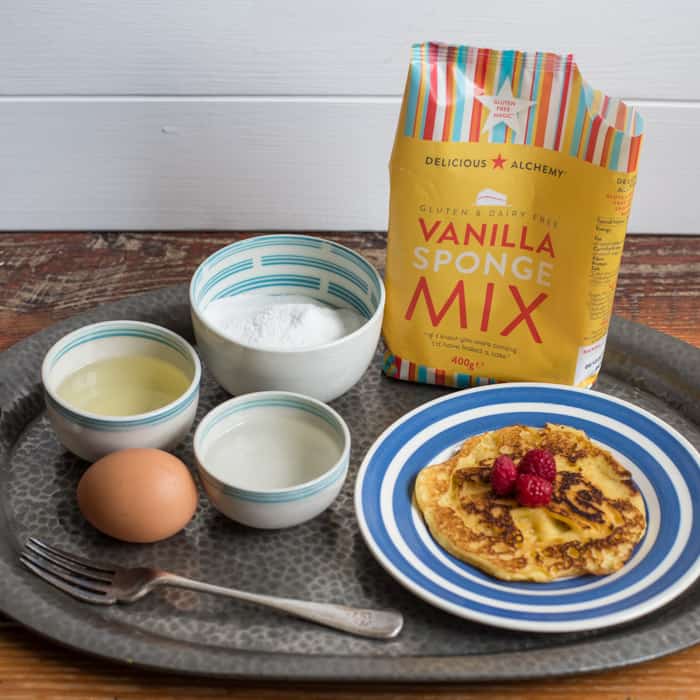 I may have bent the rules ever so slightly for this recipe, but who's to say that the Delicious Alchemy Vanilla Sponge Cake Mix can only be baked in an oven, in a cake pan? Sometimes thinking outside the box will extend your meal options when camping, and especially if your diet is confined by a food intolerance.
The texture of these little puffy pancakes is superb – they have the slightest hint of a biscuity crust and Jonny gave them an enthusiastic thumbs up (and scoffed FOUR for his lunch!).
Want to see how easy they are to make? Well, here you go then :)
https://youtu.be/G7qZNxxVH2w
I'd love to know your favourite tips for others with intolerances, feel free to leave a comment below or come and join the conversation on Instagram, Facebook or Twitter.
Gluten free camping breakfast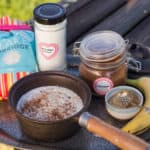 Gluten Free Camping Breakfast Recipes
Keyword:
Gluten Free Camping Breakfast
Ingredients
5 Minute Rice Pudding - serves 2
100

g

rice flake porridge

400

ml

can coconut milk

Other flavours to serve such as cinnamon

banana, brown sugar, fresh fruit or desiccated coconut
Vanilla Puffy Pancakes - makes 4 small, fluffy pancakes
1/3

pack

vanilla sponge mix

4

tablespoons

water

1

egg

60

g

vegetable oil or melted butter

Fresh berries or maple syrup to serve.
Instructions
5 Minute Rice Pudding
Mix the rice flakes and coconut milk together and gently bring to a simmer. Keep stirring and within a few minutes you'll have thick, yummy rice porridge.
Vanilla Puffy Pancakes
Mix all the ingredients together to form a thick batter reminiscent of custard!

Heat a little more oil in a frying pan and pour in a dollop of batter, swirl round the pan to form a pancake and cook for a few minutes. When the pancake is holding together and you can see it is golden on the underneath, slide a spatula under it and carefully flip it over. Repeat the cooking on the other side and serve when golden brown and cooked through.
Nutrition Facts
Gluten Free Camping Breakfast Recipes
Amount Per Serving
Calories 1229
Calories from Fat 828
% Daily Value*
Fat 92g142%
Cholesterol 81mg27%
Sodium 701mg30%
Potassium 1339mg38%
Carbohydrates 108g36%
Protein 17g34%
Vitamin A 120IU2%
Vitamin C 5.6mg7%
Calcium 257mg26%
Iron 14.8mg82%
* Percent Daily Values are based on a 2000 calorie diet.
Huge thanks to Delicious Alchemy for sponsoring these recipes, and allowing me to continue providing you with tasty & free content! As always all opinions (and leftovers!) are my own.