My Foodies Guide to the North Coast 500 is a great resource if you're planning a road trip around the Scottish Highlands. From great coffee stops, to fab butchers and restaurants with amazing views.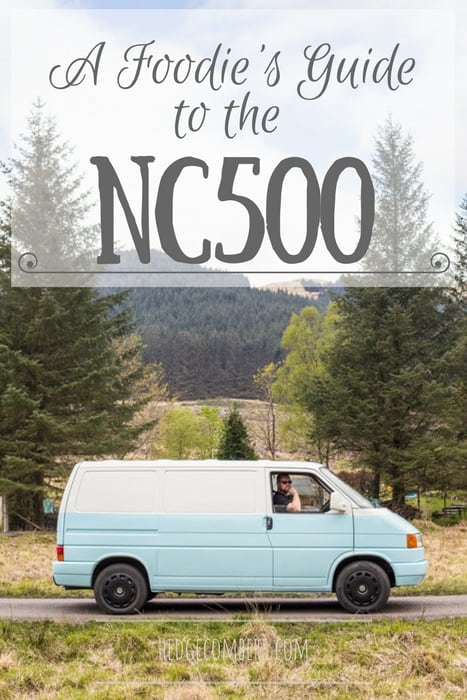 Oh boy, writing this Foodies Guide to the North Coast 500 has made me pine for the Scottish mountains, the countless sunsets, and the freedom that living on the open road brings. Scotland is a wonderful place to visit in a campervan and we are both missing it terribly.
The North Coast 500 is a recently created official tourist route throughout the Scottish Highlands. It starts and ends at Inverness Castle and has been likened to the US Route 66. It is a serious destination these days for anyone who loves travelling by road and you'll find yourself sharing these remote, often single track lanes, with everything from gigantic motorhomes to the latest Porches and lycra clad cyclists.
What makes this route so interesting? The views, the sense of remote isolation, the mountains and the coastline (especially the beaches!). It is quite possibly the most breath taking part of the entire UK.

Our adventure started on May 1st, 2017. We had no strict plans other than a couple of dates to catch a ferry over to Orkney & Shetland. I had a few foodie contacts lined up before we left home, but I wanted to keep the trip as spontaneous and free as possible. We decided to make the bulk of the research as organic as possible and get personal recommendations from the travellers and locals we met along the way.

Foodies Guide to the North Coast 500
Check out the Google map below which has the official NC500 route marked on. As we had the luxury of travelling with a kitchen on board, you can expect to find a real mix of places. From butchers to fishmongers, as well as fab cafes and restaurants.
The blue flags are places on or close to the route that we think are worth pulling over for.
The red flags are nowhere near the NC500 route but are places we stopped and highly recommend if you happen to be passing. Randomly there's a motorway services just south of Gloucester on the map that is well worth a stop if you're also from the south. And there's a couple of flags on Shetland* if you're planning to take a trip out to the islands.

Have you done the NC500 recently? Are there awesome places we missed? If so please tell us, and other readers, in the comments below. Let's give a shout out to all those venues that go the extra mile to serve great quality food in this extremely remote corner of the UK.
* We travelled to Orkney and Shetland courtesy of North Link Ferries, who are foodie pioneers in their own right. Each ship has an award winning restaurant, and items on their menu come with a little flag to denote whether the product came from Shetland, Orkney or Mainland Scotland.
We loved our time in Orkney, but Shetland was the star of the show for us – it's just beautiful. If you're making the pilgrimage to do the NC500, and you have a little extra time, I promise you won't regret making the trip out. You can catch a ferry to either set of islands from Thurso (Scrabster).
Happy travels!
Jane x
Huge thanks to NorthLink Ferries for giving us the opportunity to travel to Shetland, I'm pretty sure we'll be back soon! As always all thoughts are my own.