Cooking a Dutch Oven Roasted Chicken over the embers of a campfire will ignite your inner caveman and make your friends very, very happy!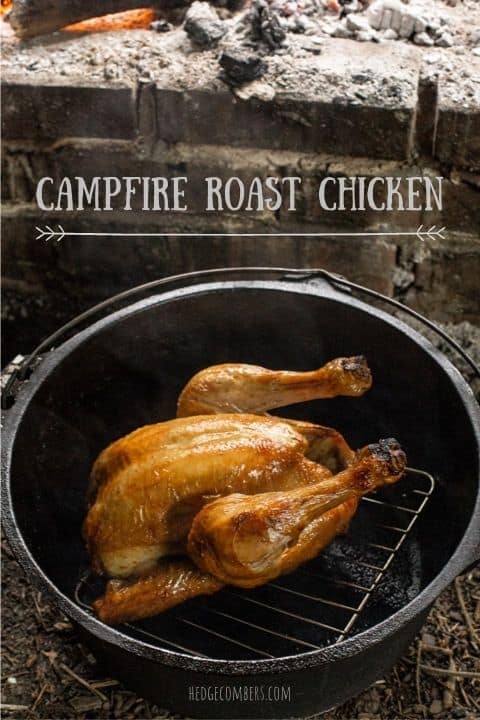 This sponsored recipe post was originally published in 2016
This recipe takes all the things I love the most. Being outdoors, real wood fires and of course good food.
And morphs them all together in the most basic, yet tremendous meal.
It is campfire cooking at it's most simple, using just one ingredient, and imbuing it with a hint of woodsmoke that all good outdoor meals deserve.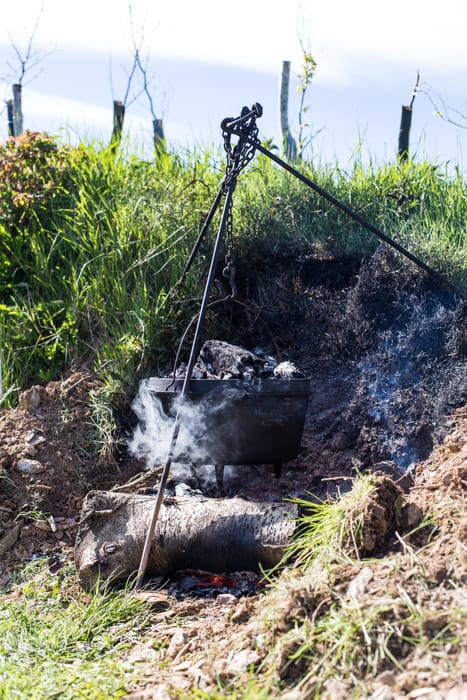 Cooking over a campfire, and especially in this hands-off approach, is just so relaxing.
You don't want to wander too far from the fire, so grab a comfy chair, a good book and a brew and settle yourself down.
Over time the crackle of the campfire turns into the sizzle of the roasting chicken.
And the smell of woodsmoke occasionally gets peppered with the waft of meat cooking.
It's a wonderful experience. And one that I recommend you enjoy with all your senses.
And definitely switch any tech off before you settle, so as to avoid distractions.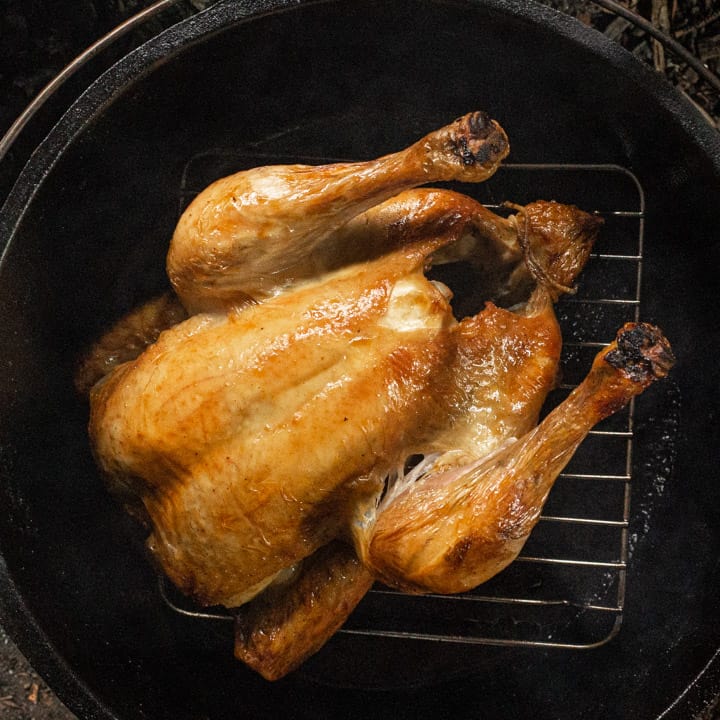 How to Cook a chicken in a Dutch oven
When roasting a whole chicken in a Dutch oven, you want to raise the meat of the base of the pan to prevent it burning.
The first time I cooked a chicken this way, I used a layer of root vegetables on the base.
I wasn't too worried if they burnt (and they did indeed end up being sacrificial!).
But they kept the meat safe and it came out moist, tender and delicious.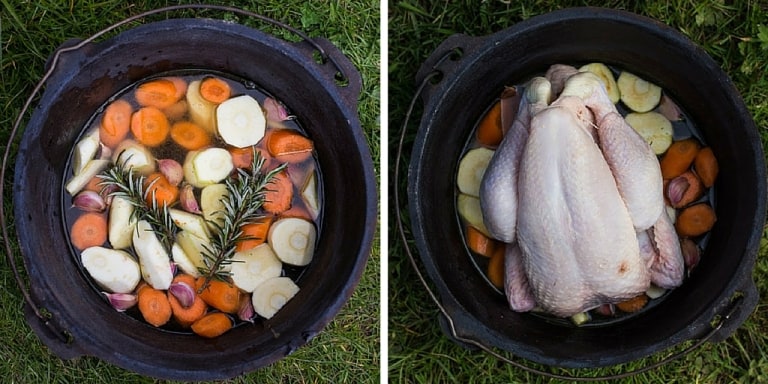 This past weekend we went camping and I wanted to remake this recipe for some updated photos.
Rather than wasting all those veggies, I placed a trivet at the bottom of the Dutch oven, sitting the chicken on that.
As you can see my trivet doesn't actually fit the pan. But it served the purpose perfectly!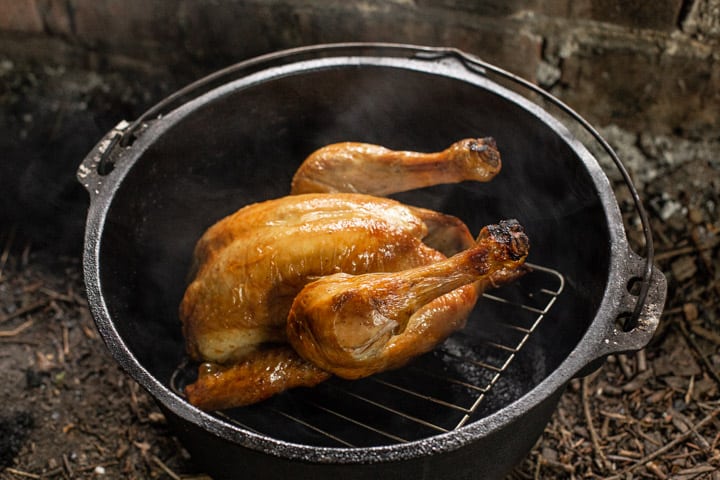 The trivet allows the heat to circulate around the whole bird, getting that gorgeous crispy skin all around. And it keeps the meat safely off the base too.
How to Prepare the Perfect Campfire for Cooking
I aim to get the fire going at least an hour before I want to start cooking on it.
Initially, just get that puppy HOT!
Build it big, and about twice the size of the actual cooking fire you need.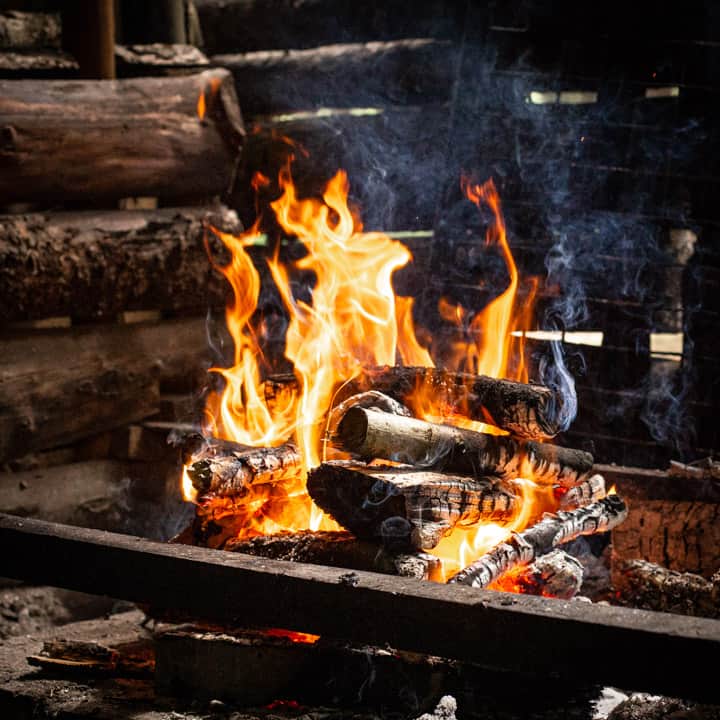 If you have a choice over the logs you burn, it's worth noting that harder woods (like ash and oak) will give you longer lasting embers than softwoods like pine or firs.
That's not to say you can't cook with the latter, you absolutely can, just that harder woods will give you slightly more control.
When you are starting to get some good embers, and you're almost ready to start cooking, you want to split the fire in two.
On one side you want to keep the fire burning.
Think of this as your 'ember factory'.
You don't need this fire to signal an aeroplane or heat the woodland for the next 6 hours. Just to keep up a good production of embers that will see you through the entire cooking process (and likely boil water afterwards for coffee & clean up).
Feed it when it gets low with smaller logs, about 2-4 inches in diameter is perfect.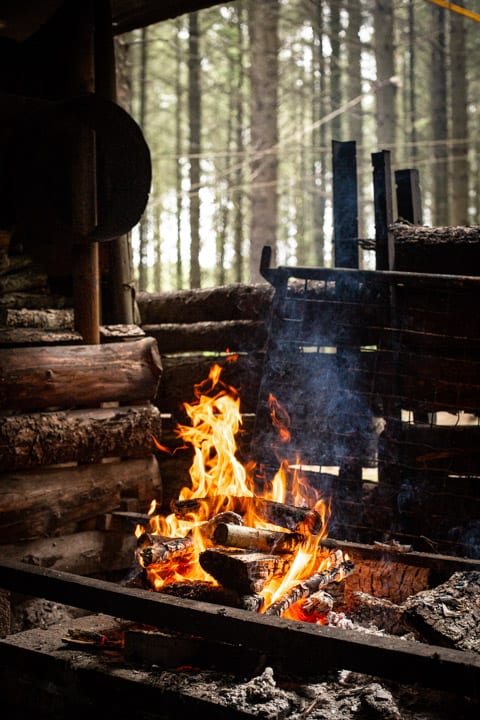 On the other side, you're going to create your cooking fire.
Here you don't want any burning wood, only embers.
Start by creating a nice bed of hot coals on the base.
You can use a stick, long-handled tongs, welders gloves or a shovel to move coals.
And now, you're ready to cook!
Pop your Dutch oven on the coals, and then pile more embers up onto the lid.
This will create the perfect cooking conditions – heat from above and below – in which to cook your chicken into a crispy, golden piece of heaven.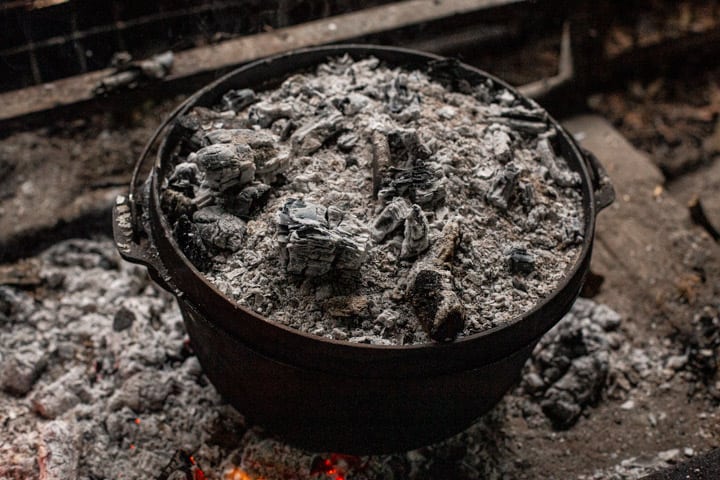 How Long to Cook a Chicken in a Dutch Oven on a Campfire?
OK, there are no hard and fast answers to this I'm afraid as there as so many variables such as:
The type of wood, and whether the wood is green or dry and well seasoned
The temperature of the chicken going in
The internal temperature your Dutch oven gets to
So, let me tell you how I guesstimate the cooking time.
Plus the 2 methods I have for ensuring the chicken is safe to eat and won't give anyone food poisoning!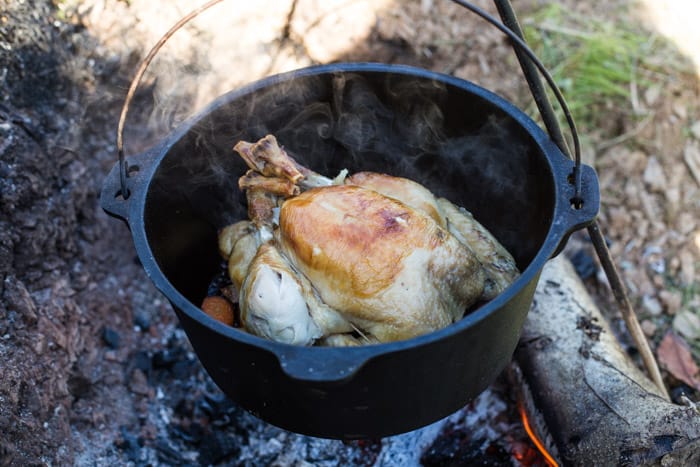 Whenever I cook chicken, either in the oven or the woods, the old adage "20 minutes a pound, and 20 over" is my starting point.
If you know that your bird weighs 4lbs (around 1.8kg). You need to cook it for 100 minutes (20mins x 4lbs = 80mins, + 20mins = 100mins, or 1 hour 40 minutes)
So as my fire will likely burn hotter than my oven set at 180°C, I would start checking the meat at around the 1-hour mark.
If it is still raw and bloody inside, but show signs of burning on the outside, I would move some embers away and aim for a slightly cooler roast.
Click here to watch this recipe over on YouTube!
How to Check if a Chicken is Cooked and Safe to Eat
Whilst no one ever wants to get food poisoning, the thought of getting it whilst camping a definite no-no!
So, how do we make sure it's safe and fully cooked through when our heat source is so variable?
Method 1 – Cooking by Temperature
If you are nervous about cooking chicken, are feeding customers, children, pregnant ladies or the elderly, or just prefer to be 100% safe, you need to test the internal temperature of your chicken.
To do this you'll need a digital thermometer.
I use a Thermapen (see below for more details) and test it by sticking the probe (the pointy end) into the thickest part of the meat.
Chicken is safe to eat at or above 74°C (165°F).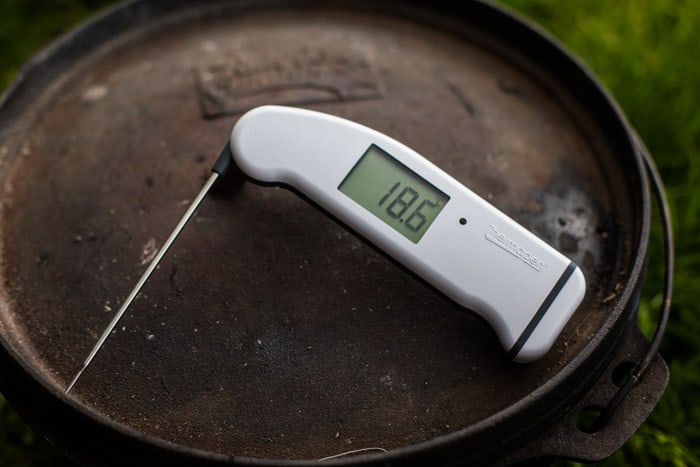 Thermapen are high-quality electronic thermometers that are proudly made in the UK. They come in a variety of fun colours, the LCD display is large and clear and auto rotates so it can be used in either hand and any position (handy when trying to dodge the smoke!)
They help you get the perfect steak every time, take all the guesswork out of jam making and make a great gift to anyone that is renowned for serving up burgers and sausages that are incinerated on the outside whilst still dripping in the centre!
Method 2 – Cooking by Sight
This is the way that my Nan and my Mum taught me to check if a chicken was cooked.
It's very simple, and you don't need any equipment.
Simply pull one of the legs away from the body.
If the bird is cooked, the leg will pull right back with no tension, splitting the skin and showing the inside of the joint with no effort.
Very often the bone will slip right out (see the video for proof of this!).
If the bone tugs, or stays nestled in close to the body of the bird, then it needs more cooking time.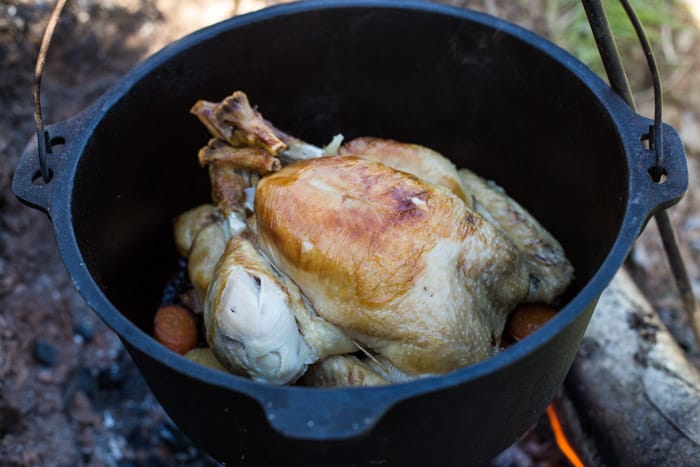 Dutch Oven Roasted Chicken Recipe
The following 'recipe' is a little vague for obvious reasons.
But hopefully, it will give you the confidence to try roasting a campfire chicken next time you're camping.
Oh, and if you're after a more foolproof camping recipe, my Cowboy Stew recipe is a brilliant way to feed a crowd!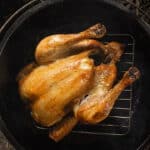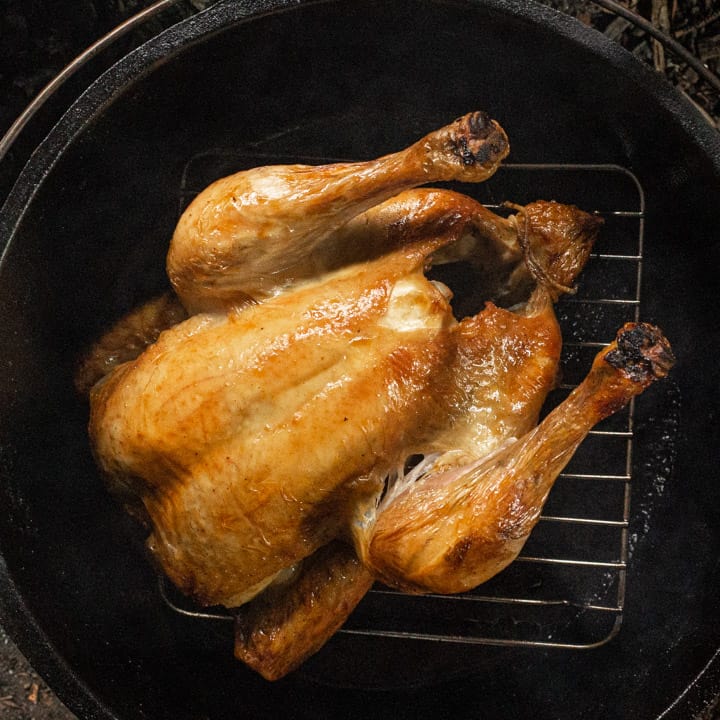 Dutch Oven Roasted Chicken
Keyword:
Dutch Oven Roasted Chicken
Ingredients
1.8

kg

chicken

Free range or organic
Instructions
Take note of the weight of your chicken and guesstimate how it will need to cook: A chicken takes 20 minutes per pound of weight + 20 minutes extra.

(please note this is not at all scientific as I have no way of testing the internal temperature of the Dutch oven - see above to find how to ensure the meat is cooked and safe to eat)

About an hour before you want to start cooking, build up a good strong fire.

Separate the fire into two - a small fire on one side producing new coals and a good bed of embers on the other side for cooking on.

Place a trivet in the bottom of your Dutch oven. You can also use a layer of root vegetables, or even a bunch of scrunched up tin foil. Anything that will raise the chicken off the bottom of the pan to prevent it burning.

Lay the chicken on the trivet. Pop the lid on and place the Dutch oven on to the embers. Using a shovel, tongs or a welders glove, cover the lid of the Dutch oven with hot coals.

Keep an eye on the time (or set an alarm on your phone) for halfway through the guesstimated cooking time.

Using a digital thermometer (or Method 2 as mentioned above) check to see if the chicken is cooked all the way through. If not, replace the lid and cook for longer.

When cooked remove from the fire and serve in crusty baguettes with mayonnaise. Delicious!
Nutrition Facts
Dutch Oven Roasted Chicken
Amount Per Serving
Calories 478
Calories from Fat 297
% Daily Value*
Fat 33g51%
Cholesterol 167mg56%
Sodium 156mg7%
Potassium 420mg12%
Carbohydrates 0g0%
Protein 41g82%
Vitamin A 340IU7%
Vitamin C 3.5mg4%
Calcium 24mg2%
Iron 2mg11%
* Percent Daily Values are based on a 2000 calorie diet.
Huge thanks go out to Thermapen for sponsoring this recipe and helping me to keep bringing you tasty content, for free! As always all thoughts are my own. Please note that links are affiliate links.
Janie x