Cooking a Dutch Oven Roast Chicken over the embers of a campfire will ignite your inner caveman & make your friends very, very happy!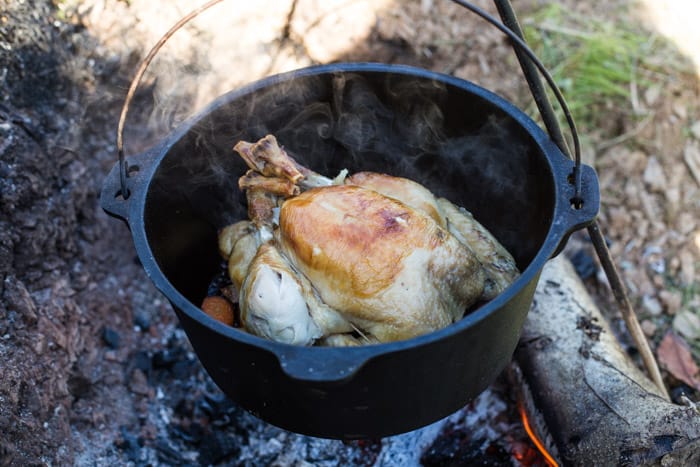 This is my most favourite new recipe I've shared with you this year. It takes all the things I love the most – being outdoors, real wood fires and of course good food, and morphs them together in a heavy cast iron Dutch oven.
I've wanted to cook a Dutch oven roast chicken for the longest time, but just never got around to it opting for ready diced breast or thigh for a quicker cooking time and because honestly, I didn't know how to be sure I wasn't going to poison everyone from serving under-cooked chicken.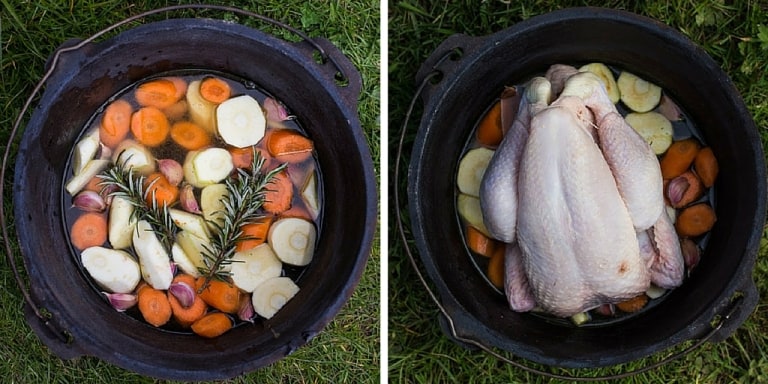 Thermapen makes cooking chicken safe and easy
Happily the fear of giving food poisoning to my family & friends is now a thing of the past as I was recently sent a Thermapen to try. It's a British made super duper electronic thermometer that comes in a variety of fun colours (bit sad I went for white now!) that will take pride of place in my camp kitchen from here on in. The display is large and clear and auto rotates so it can be used in either hand and any position (handy when trying to dodge the smoke!)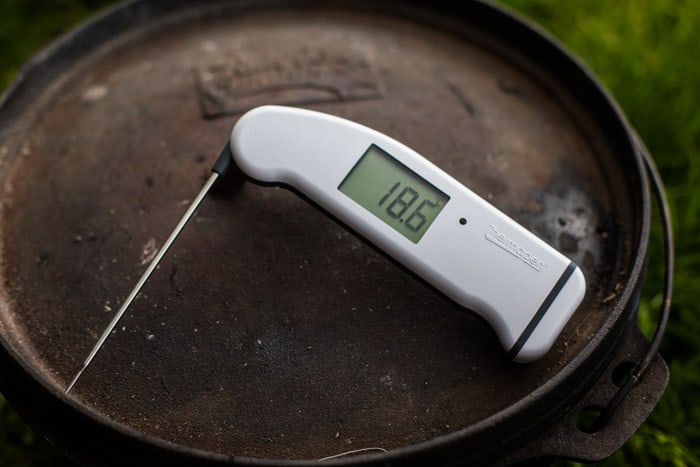 You can use this tool to tell you when your steaks are perfectly cooked irrelevant of their thickness, amount of heat on the BBQ or level of 'doneness' necessary. They also take the guess work out of traditional jam thermometers as that tiny line you're squinting for over a steaming pan of molten lava is replaced with an exact number you can watch rise from a comfortable distance, and know that your marmalade or toffee will set perfectly every time. And as it switches itself into sleep mode when not being used and automatically 'wakes up' when it is moved the battery will last a loooong time.
And if you have a BBQ buddy who is renowned for serving up burgers and sausages that are incinerated on the outside whilst still dripping in the centre, may I recommend wrapping one of these up for them this Christmas ;)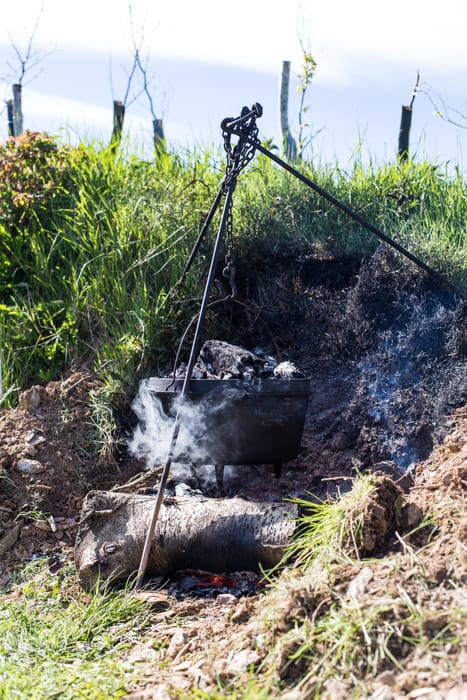 And so onto my chicken… We dug out a little fire pit in the garden and set up my tripod into the bank. Jonny lit a fire with logs that came from the farm whilst I prepped the chicken.
Dutch Oven Tutorial
When you watch most Dutch oven tutorials, they use charcoal briquettes and lay a certain number of coals below the pan and on the lid to get a speicific temperature inside the oven. The pot gets turned one way whilst the lid gets turned another every so often to avoid hot spots that'll burn the food inside, and it is all very scientific.
You may have noticed that I don't tend to cook very scientifically, and I sure as hell wasn't going to go and buy a bag of charcoal when we have a bunch of seasoned logs on hand. So I covered the bottom of the Dutch oven with vegetables that would be nice to eat, but was happy for them to be sacrificial if it meant the chicken came out unburnt.
Turns out the veggies were indeed sacrificed, but the chicken was moist, tender and (according to my Thermapen) perfectly safe to eat :) In case you were wondering, chicken is safe once you've hit the magic temperature of 74°C or 165°F.
Next time I'll pop a trivet into the bottom of the oven to sit the chicken on, and cook the veggies separately.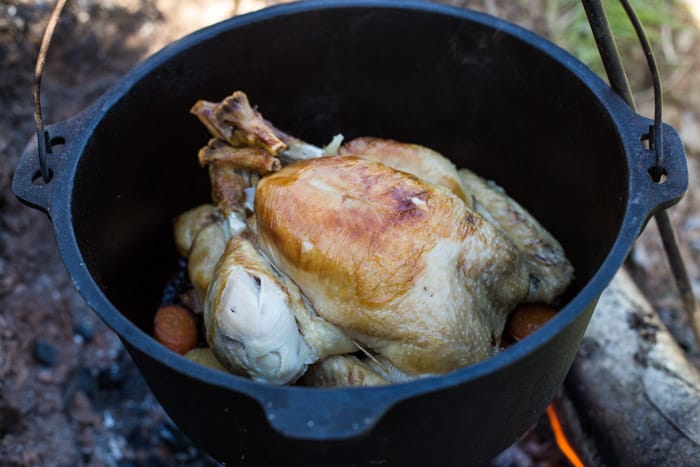 The 'recipe' below is suitably vague, but take the adventurous path and just give it a go. I shall update this post as and when I make breakthroughs in the cooking of my Dutch oven roast chicken :)
Fancy winning yourself a Thermapen of you very own? Can't say I blame you! To enter, simply fill in the Rafflecopter below telling us what colour you'd plump for – you can see the full range here. Extra entries can also be gained if you are determined to win. Good luck!
Dutch Oven Roast Chicken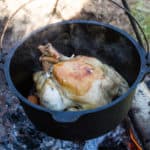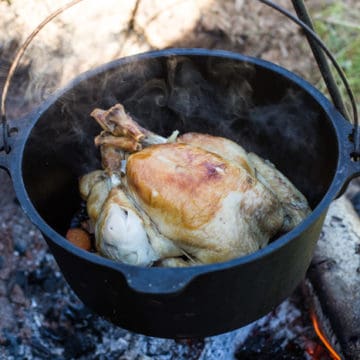 Dutch Oven Roast Chicken
Keyword:
Dutch Oven Roast Chicken
Ingredients
1

free range or organic chicken

1

mix

carrots

potatoes, garlic, parsnips etc to cover the bottom of the pan

2-4

sprigs

rosemary

1/2

litre

stock or water

Butter or oil to wipe the chicken with and a little salt to sprinkle on the skin.
Instructions
Chop up the veggies and cover the bottom of the Dutch oven (or save the veggies and use a trivet!)

Pop in the rosemary sprigs and stock.

Lay the chicken on top, ensuring it's not directly touching the walls, lid or base of the oven.

Wipe the skin of the chicken with oil or butter, season the skin and pop on the lid.

Suspend the Dutch oven from a tripod, or stand slightly elevated above the embers (so the embers aren't directly touching the base of the oven - this will only work with an oven with little legs) and pile some embers onto the lid.

Assuming that the oven reaches an internal temperature of 180, you will need to cook for 20 minutes per pound of weight + 20 minutes extra.

(My chicken weighed 3lbs so needed 60 minutes of cooking time + the extra 20 minutes)
Nutrition Facts
Dutch Oven Roast Chicken
Amount Per Serving
Calories 478
Calories from Fat 297
% Daily Value*
Fat 33g51%
Cholesterol 167mg56%
Sodium 156mg7%
Potassium 420mg12%
Carbohydrates 0g0%
Protein 41g82%
Vitamin A 340IU7%
Vitamin C 3.5mg4%
Calcium 24mg2%
Iron 2mg11%
* Percent Daily Values are based on a 2000 calorie diet.
Huge thanks go out to Thermapen for sponsoring this recipe and helping me to keep bringing you tasty content, for free! As always all thoughts are my own.
Janie x
This post is shared with the Eating Al Fresco linky party.