WHY have I never ventured into the realms of adding alcohol to muffins before??? Silly, silly me!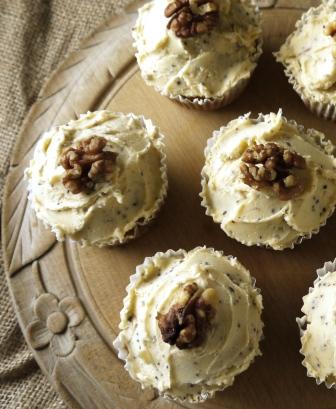 The rum knocks this recipe up several notches in my opinion, it's moistens it beautifully, the flavour is mild but definite and the aroma is a knock out.
As it's Jonny's favourite cake, I made him an extra special one too :)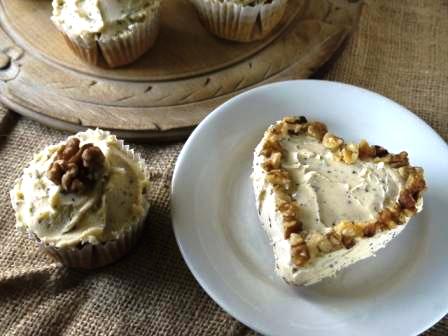 And if you're into coffee as much as we are, why not give this delicious Cardamom Coffee recipe a go? I'm not generally one for adding anything to coffee, but freshly ground cardamom seeds are a definite exception!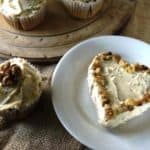 Coffee, Walnut & Dark Rum Muffins
Ingredients
Dry ingredients

9

oz

plain flour

3

teaspoons

baking powder

1/2

teaspoon

salt

3

oz

sugar

1

level tablespoon instant coffee

Wet ingredients

1

egg

7

floz

milk or water

3

floz

vegeatble oil or melted butter

1

floz

dark rum

Topping ingredients

4

oz

butter

6

oz

icing sugar

2

teaspoons

dark rum

Handful of walnuts to decorate
Instructions
To make the muffins;

Preheat oven to 375/190/170fan/gas5. Line a muffin tray with paper or silicone muffin cases.

Sift all the dry ingredients into a large bowl.

Whisk all the wet ingredients in a large jug.

Pour wet into dry and work quickly to incorporate the two, without over stirring. You don't want to be able to see any dry bits left.

Spoon the mixture into the waiting cases and bake for 20 - 25 minutes.

They're ready when they spring back when pressed, or a skewer comes out clean when inserted into the centre.

Take out of the tray and let cool.

To make the Topping;

Cream the butter & icing sugar until smooth. Add the dark rum and mix well.

Using a butter knife, spread generous amounts onto each muffin.