These Coconut Chocolate Bites have just two ingredients and make a great snack. They are also on the healthier side of the naughty scale!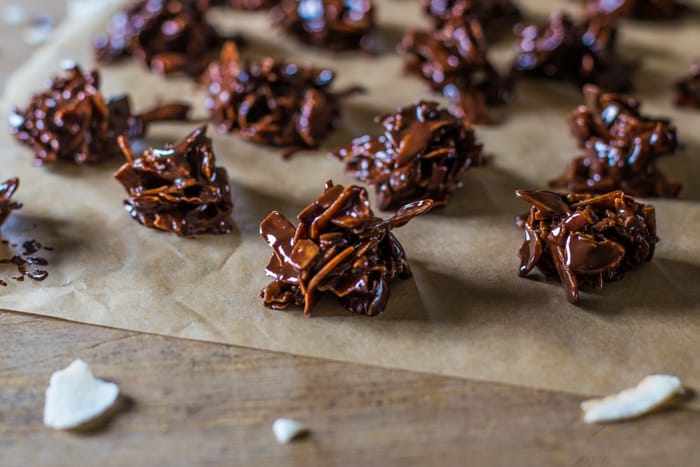 I'll admit I totally pinched this idea :)
My darling Mum bought me a bag of coconut chocolate chips recently and they were stupendous. Admittedly they didn't last long, and when I went to replace them I was horrified at how pricey they were.
Yikes.
Out of the cupboard flew a bag of toasted coconut flakes and a bar of dark chocolate.
I melted the chocolate, mixed with the coconut, then piled up the mix into little mountains on a piece of baking paper.
The absolute hardest part of this entire recipe is waiting for the chocolate to harden. As however good you think they taste warm, just wait till you pop one straight from the fridge!
YUM!!!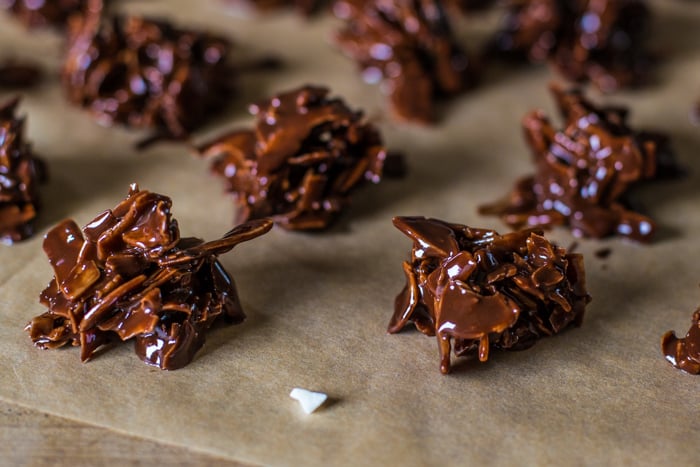 They are very moreish so I recommend hiding the tub at the back of the fridge or, and I may try this with my next batch, freezing them individually so that you just take 1 or 2 (rather than 8 or 9!)
However this may well make the coconut pieces soften. If you try it before I do, please let us know how you get on.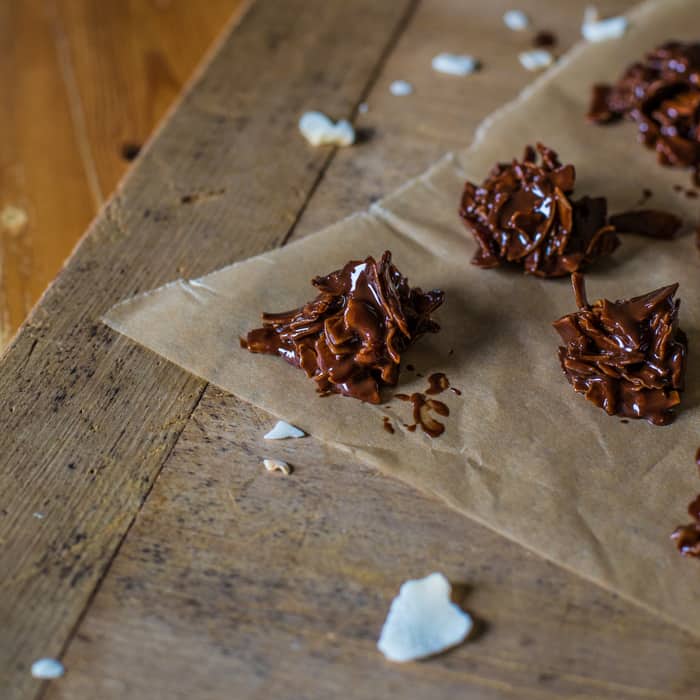 You could of course use any coconut flakes when making these coconut chocolate bites. But I have a real soft spot for the toasted variety.
They are slightly nuttier in taste and pair remarkably well with dark chocolate.
These coconut chocolate bites would of course make a great gift too. Pile them up in a little repurposed chocolate box, or wrap in a cellophane bouquet.
Enjoy!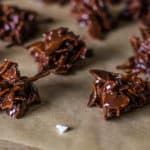 Coconut Chocolate Bites
Keyword:
chocolate coconut
Ingredients
100

g

toasted coconut flakes

- unsweetened

200

g

dark chocolate

- check ingredients if making for lactose intolerant or vegan
Instructions
Create a Bain Marie by placing a small, heatproof bowl over a saucepan of gently simmering water.

Break up the chocolate bar into pieces and place into the bowl.

Gently melt the chcocolate until it is smooth and glossy.

Add a handful of coconut flakes and stir well.

How much coconut you use will depend on the strength/darkness of your chocolate bar.

Add a little at a time and stir well.

Aim for each piece of coconut to be well coated with chocolate, as this will prevent the bites from softening in storage.

Using two teaspoons pile up little mouthful sized piles onto a baking tray lined with a piece of greaseproof paper.

Pop in the fridge to harden, then enjoy!
Nutrition Facts
Coconut Chocolate Bites
Amount Per Serving
Calories 62
Calories from Fat 45
% Daily Value*
Fat 5g8%
Cholesterol 1mg0%
Sodium 3mg0%
Potassium 66mg2%
Carbohydrates 4g1%
Protein 1g2%
Vitamin A 3IU0%
Vitamin C 1mg1%
Calcium 6mg1%
Iron 1mg6%
* Percent Daily Values are based on a 2000 calorie diet.