The Chub Coffee Maker Review is the first in our new series to hunt down the BEST camping coffee maker for your next adventure!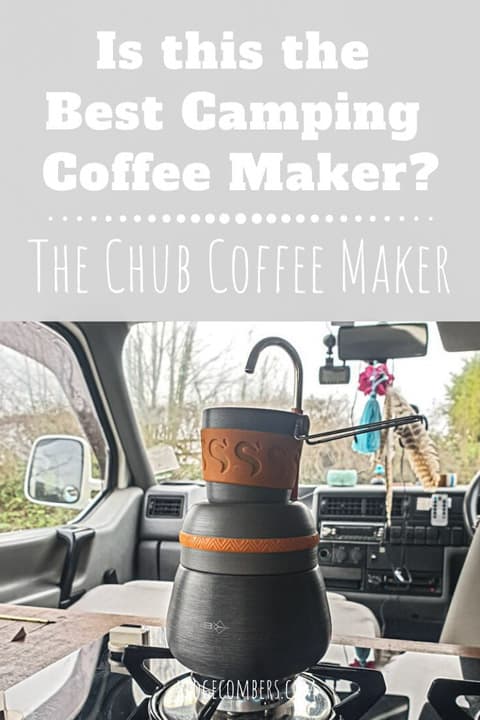 Chub Coffee Maker details:
Price: around £30
Weight: 515g
Measurements: H: 21cm X W: 11cm
Main material: Anodised Aluminum
Dishwasher safe? Yes
Do you need a kettle to heat the water? Officially no, if you drink espresso. However I found the coffee burnt if I made it using cold water, and I needed extra boiled water to turn the espresso into an Americano
Do you need extras ie filters, batteries, pods etc? No
Does it work on an induction hob? No
Amazon review score: 4/5
My 7 day review score: 32.5/100
Watch my video review of this coffee maker here!
Whether you're into bushcraft, ultralight backpacking or have a campervan like me, over the next few weeks (or even months?!) I will find you you perfect coffee maker. Guaranteed!
Let me know in the comments below what you demand from a coffee maker, and let me help you find your perfect match!
Chub Coffee Maker Review
Today I am focusing on the Chub Coffee Maker, which has been designed for anglers and fishermen to make a hot pot of coffee on the riverbank.
Now, whilst I don't have the patience to try and catch a monster trout.
I do like to be able to brew up a top notch coffee, offgrid.
And I loved the design of this coffee maker so much, I figured it would be a great place to start off this series of coffee maker reviews.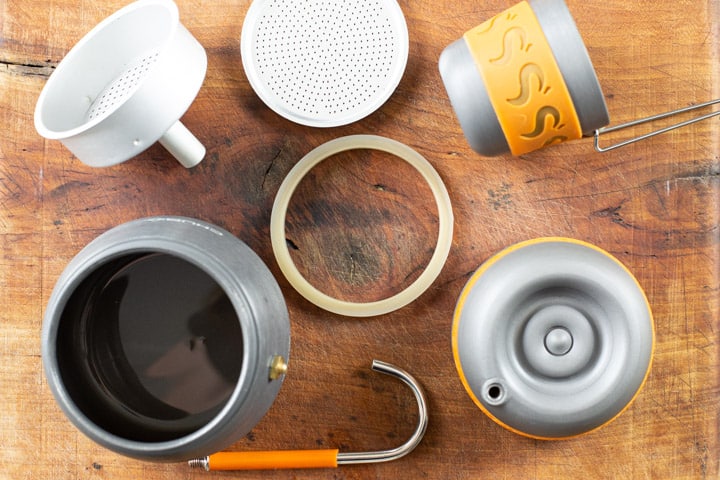 The Chub Coffee Maker design is based on the Moka Pot, an iconic coffee pot first created in the 1930's.
Fresh ground coffee is placed in the funnel basket.
Water is heated in the pot below, and as the pressure builds it is forced up through the coffee and out through the spout.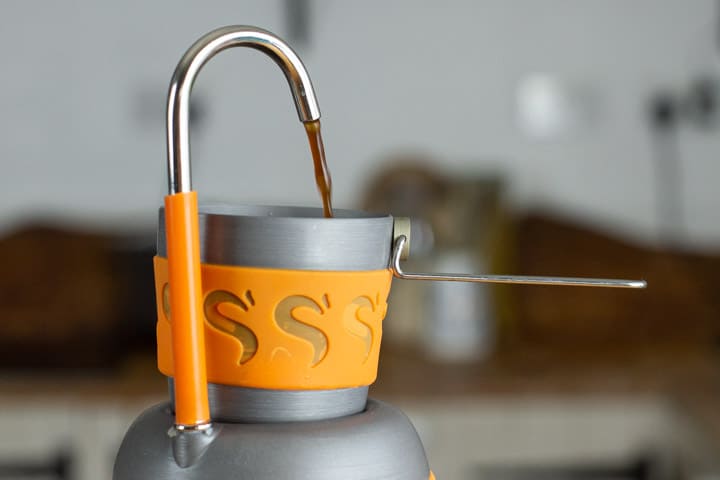 Things I loved about the Chub Coffee Maker
I love how cute it looks.
Sadly, that's where this list ends.
Things I didn't love about the Chub Coffee Maker
Ready? Here we go…
I found the Chub made an almighty mess, spitting coffee everywhere.
This happened every single time I used it.
Whether I used the tiny supplied cup, or a regular sized mug.
Clean up was a pain.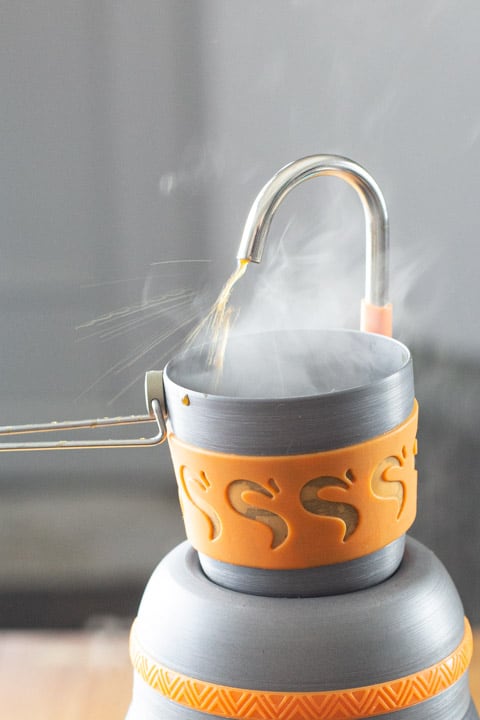 If I used cold water in the chamber, it burnt the coffee.
But there was no mention in the instructions of what temp if water to use.
If you happen to own one of these coffee makers, definitely put pre-boiled water in the chamber and the coffee will be better (not great, just better).
The silicone band 'handle' was too narrow, and too thin, to be of any real use.
This made picking up the coffee pot whilst hot almost impossible.
Getting the unit open, removing the filter plate and removing the basket funnel to clean up was pretty much impossible whilst the pot was hot.
I like to have my coffee maker washed up before I even sit down to drink my brew, so I found this very annoying.
The screech of the aluminium parts as you tighten the pot is very unpleasant.
And more times than not the lid cross threads as you try to screw it onto the body.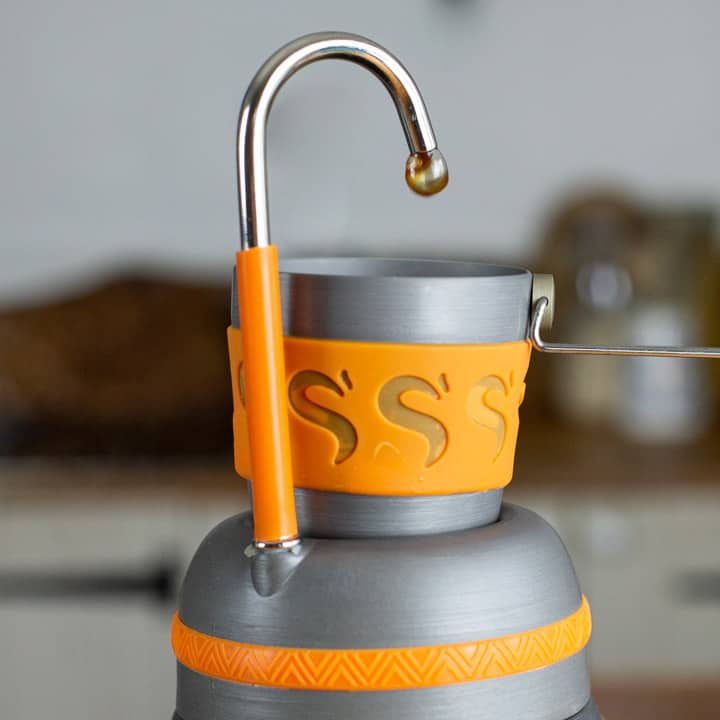 Although the pot comes with a pressure relief valve on the side, steam & hot water forces its way out of the seam between the body & lid of the pot.
This happened every time I used it, however tight I'd done the lid up, and however I positioned the silicone seal inside.
It felt pretty unsafe, and made more of a mess.
Chub Coffee Maker Scores
Ease of Use: 0
Ease of Clean up: 0
Quality of Brew: 4
Value for Money: 2
Style: 6
Design: 2
Durability: 4
Waste: 5
Weight/Storage: 6
Wow Factor: 3.5
Total Score: 32.5 / 100
All in all, this was a very disappointing week of coffee.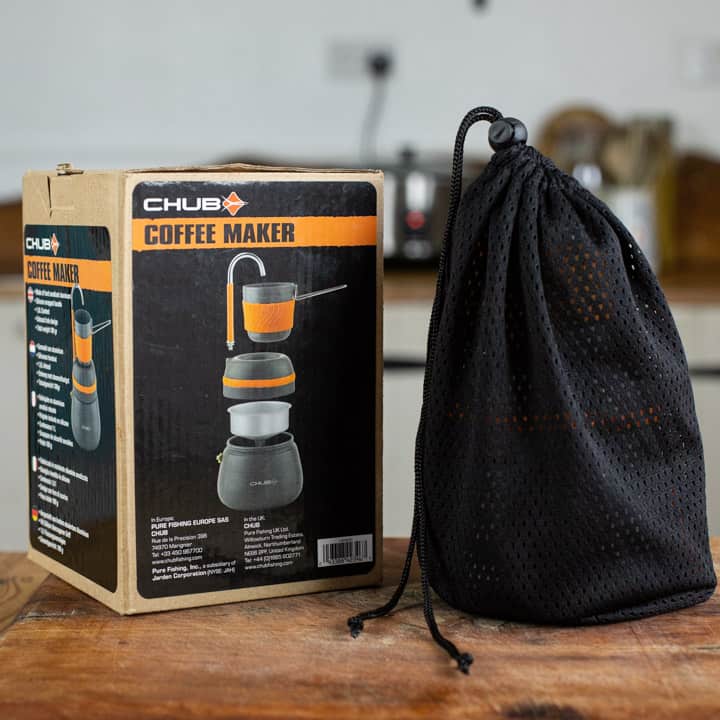 Can you Help me Find the BEST Camping Coffee Maker on the Market?
Do you know the perfect offgrid way of making coffee using real coffee grounds in the outsdoors?
If so, let us know in the comments below and we may end up reviewing your favourite coffee maker in the near future too!
Want to stay up to date with all future camping coffee maker reviews?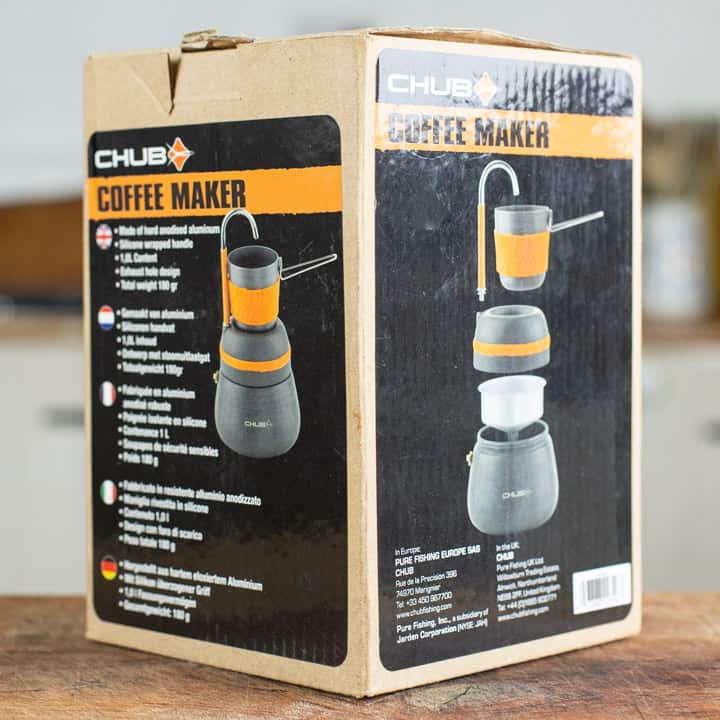 How I Test & Review Camping Coffee Makers
The first time I use a coffee maker, I follow the included instructions.
I then spend the next 7 days perfecting the brew and learning all there is to know about it.
I watch other videos, read blog reviews & Amazon comments, and play around with different brewing techniques.
Finally I finish off the review with a round up of all I have learnt, and give it a total score out of 100.
***
Huge thanks to Owens Coffee, a 100% Organic coffee roaster in Ivybridge, Devon. Please note this review was not sponsored, but they did supply me all the coffee beans to make this review possible. To find their full range of freshly ground beans, check out their website here: Owens Coffee. PS I highly recommend their Dart blend ;)
This article may contain affiliate links. This means we may earn a small commission if you follow, and shop through our links, at no extra cost to you. Thank you for helping support the work we do here at hedgecombers.com :)
Janie x
Huge thanks to Owens Coffee, a 100% Organic coffee roaster in Ivybridge, Devon. Please note this review was not sponsored, but they did supply me all the coffee beans to make this review possible. To find their full range of freshly ground beans, check out their website here: Owens Coffee. PS I highly recommend their Dart blend ;)
This article may contain affiliate links. This means we may make a small commission if you follow, and shop through our links at no extra cost to you. Thank you for helping support the work we do here at hedgecombers.com :)