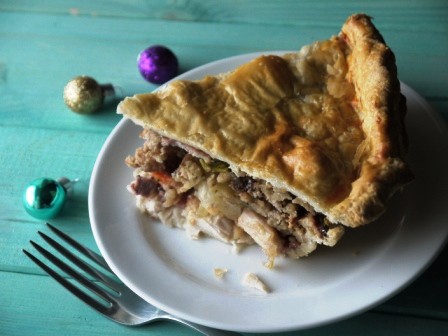 How's your fridge looking? Still groaning under the weight of the leftovers?
Still your beating heart whilst you gaze upon our Leftovers Pie. OK, I could have found a sexier name for it, but I was too busy sitting down to eat :)
Basically, line a pie dish with shortcrust pastry. Fill to the rafters with everything that featured in your Christmas main course (and maybe your starter too?) Chop it all up into bite size chunks and throw it in.
Our leftovers consisted of chicken, sprouts, cabbage, shallots, roast potatoes, parsnips & carrots, broccoli, stuffing, sausage meat balls, the jelly goo under the chicken and the leftover gravy.
I topped it off with a pastry lid, eggwashing between the layers and on the top. It was then baked for around 45 minutes in a medium hot oven, until all inside was piping hot.
As I was feeling particularly exhausted after all that chopping, and there was so much veg inside the pie, I served it naked. Yep, just a plate of pie. Happy Days :)
What have you rustled up with your leftovers this year?