This Chorizo and Sweet Potato Frittata makes light work of a glut of eggs, turning them into a delicious and hearty lunch.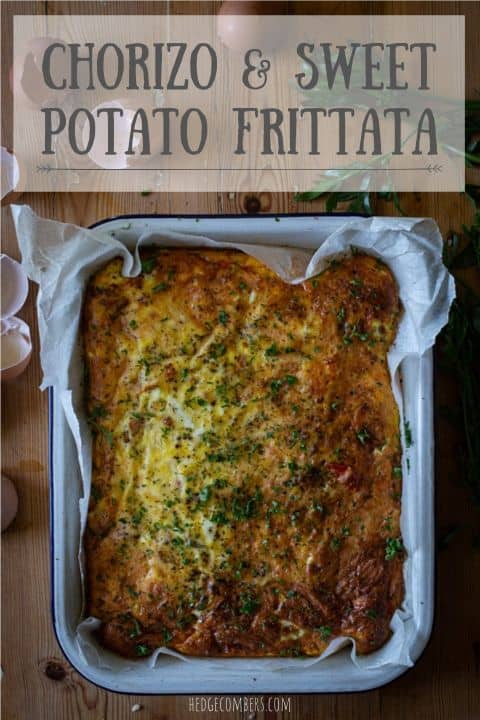 Just before quarantine kicked in we managed to stock up on our laying hens.
We welcomed 6 new 'point of lay' chickens to our farm. We moved them, along with the older ladies we keep out of sentimentality rather than productivity, into a brand new coop and run.
The new chicken coop is an adapted 6′ x 8′ shed and makes my life as a chicken keeper SO much easier!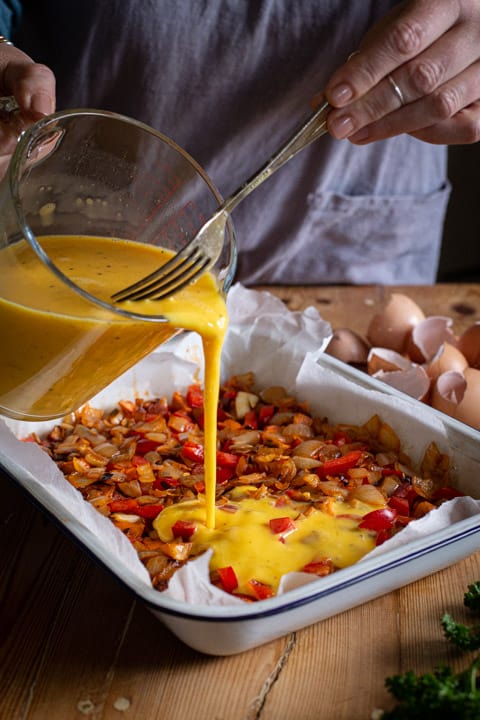 Along with having new, young hens, comes the wonderful problem of having too many eggs.
We are gifting a tonne to our neighbours, but I need to get down a few recipes that turn a large amount of our eggy stash into quick meals that both Jonny & I look forward to very, very regularly!
If those recipes can be bulk made ahead of time, then all the better.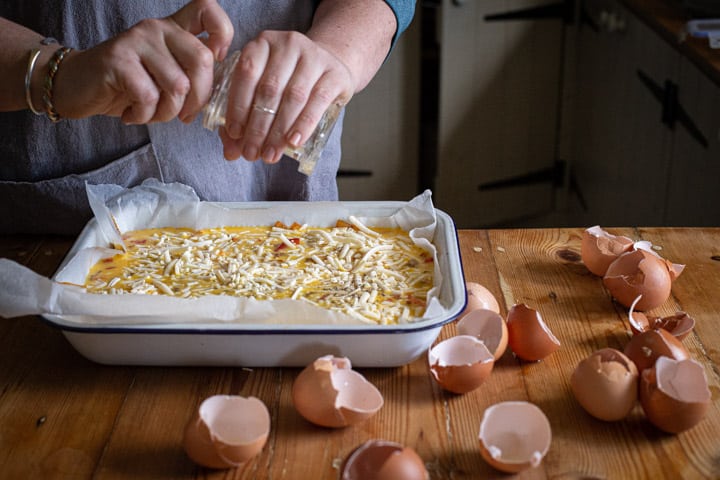 Chorizo and Sweet Potato Frittata Recipe
A traditional frittata recipe is started in a frying pan and then finished off under the grill.
However, as I was aiming to use 12 eggs in my frittata (yep, TWELVE!), I needed a bigger pan.
Like I said, if you keep hens and get the occasional glut of eggs, you need this recipe!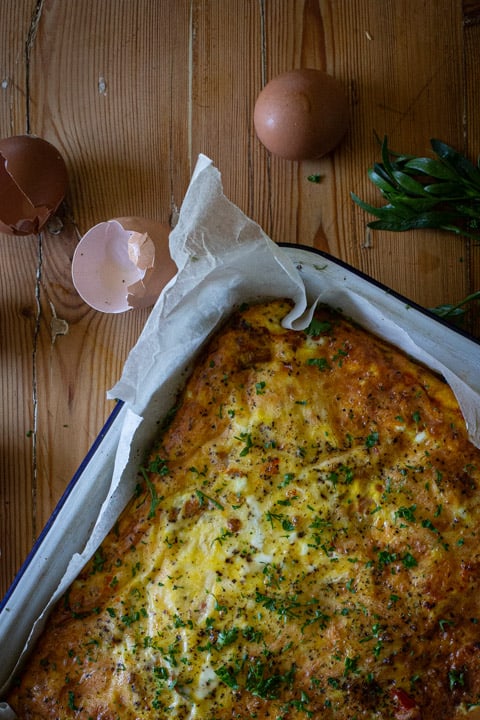 For the main flavour combo in this frittata, I paired the smoky taste of chorizo with the sweetness of roast sweet potatoes.
Along with caramelised onions, fresh parsley, peppers and eggs, this dish is bursting with all the flavours of the rainbow!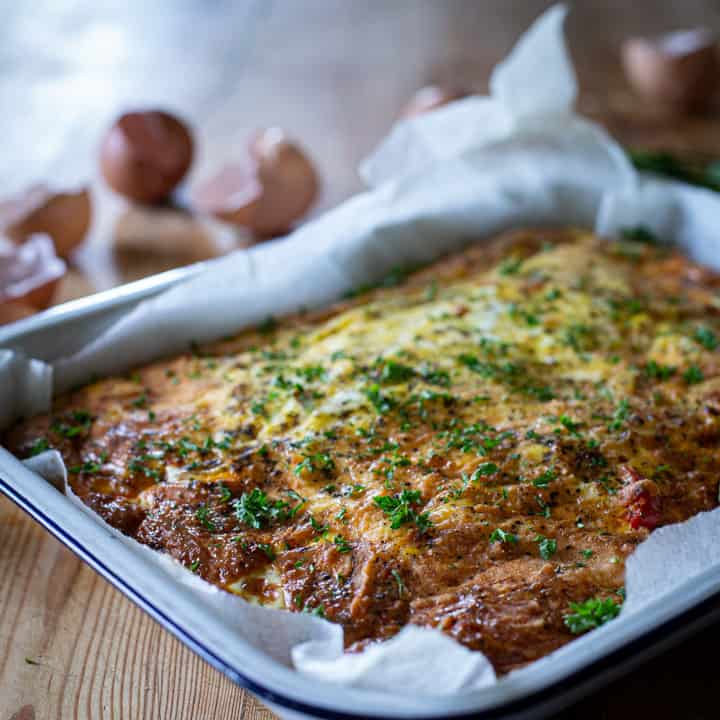 If you give this recipe a go, do let me know in the comments below how it went! And if you use social media, please do share pics with me too – you can find me pretty much everywhere as @hedgecomber.
Janie x
PS if you'd like some more packed lunch inspo, take a peep at my corner of the website dedicated to it: Packed Lunch Recipes
Or if you'd like to head directly to one of my readers favourite recipes, check out this Authentic British Pork Pie recipe. It's divine!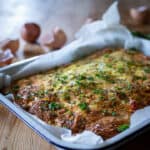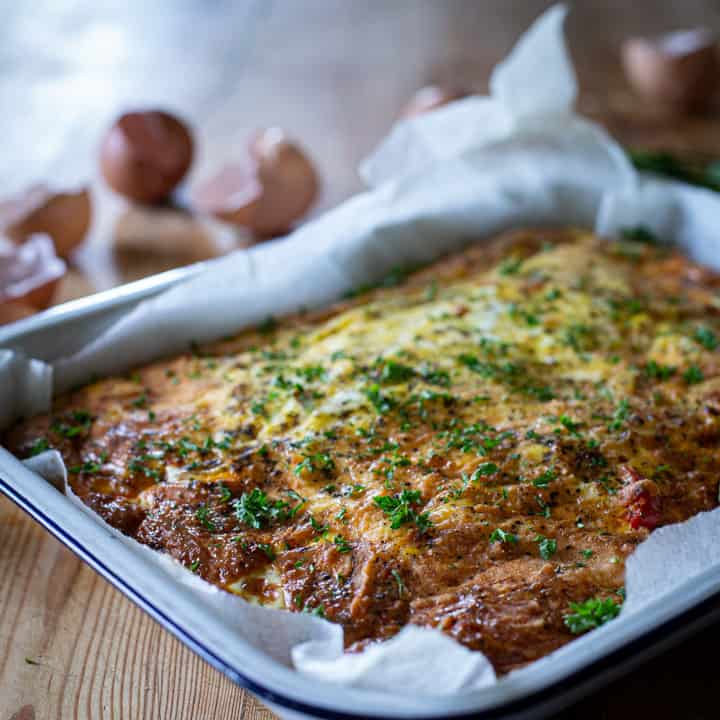 Chorizo and Sweet Potato Frittata
Keyword:
chorizo and sweet potato frittata
Ingredients
225

g

chorizo

finely diced (remove the skin first!)

1

onion

chopped

400

g

sweet potato

diced

12

eggs

100

ml

milk

(I used oat milk, but any milk is fine)

1/4

tsp

salt

1/2

tsp

black pepper

1

bell pepper

(any colour)

1

tbsp

fresh parsley

finely chopped

100

g

cheddar cheese

grated

black pepper & parsley to serve
Instructions
Preheat the oven to 180C/350F/Gas 4

Heat a heavy frying pan over a medium high heat.

Add in the chorizo chunks and fry until a red oil has been rendered out into the pan, and the edges of the meat are going golden and toasty looking.

Remove the chorizo into a small bowl and put to one side.

Pour most of the red chorizo oil into a baking tray, leaving around 1 tablespoon of it in the frying pan. Return the frying pan to the heat, and gently fry the onion in the red oil.

Tip the sweet potato chunks into the baking tray, and toss in the red chorizo oil until well coated. Add in one or two teaspoons of your favourite cooking oil if there isn't enough chorizo oil to coat them all lightly.

Roast the sweet potaoes for 30 minutes, tossing a couple of time during the cooking process. At the end of the cooking time they should be lightly golden around the edges and soft in the middle.

Tip the sweet potatoes into the bowl with the chorizo, and line the baking tray with a silicone baking sheet, baking paper or greaseproof paper.

In a large jug or bowl, best the dozen eggs along with the milk. Season with the salt and pepper.

To assemble your frittata, tip in the chorizo and sweet potato, the (raw) bell pepper and the fried onions into the lined baking tray. Sprinkle with the fresh parsley, then smooth out everything out so each bite will have a good mix of flavours.

Gently pour over the egg mixture, and finally top with the grated cheese and another really good grind of black pepper.

Bake for 30 minutes, or until the top is golden and the centre is firm when pressed. As it cools, sprinkle with a little more chopped parsley for colour.

Serve hot or cold, with salads and sides or as a simple meal alone.
Nutrition Facts
Chorizo and Sweet Potato Frittata
Amount Per Serving
Calories 445
Calories from Fat 261
% Daily Value*
Fat 29g45%
Cholesterol 380mg127%
Sodium 834mg36%
Potassium 602mg17%
Carbohydrates 19g6%
Protein 26g52%
Vitamin A 10804IU216%
Vitamin C 29mg35%
Calcium 215mg22%
Iron 3mg17%
* Percent Daily Values are based on a 2000 calorie diet.