Chocolate Cornflake Cakes are so quick and easy to make, and the perfect introduction to baking for children.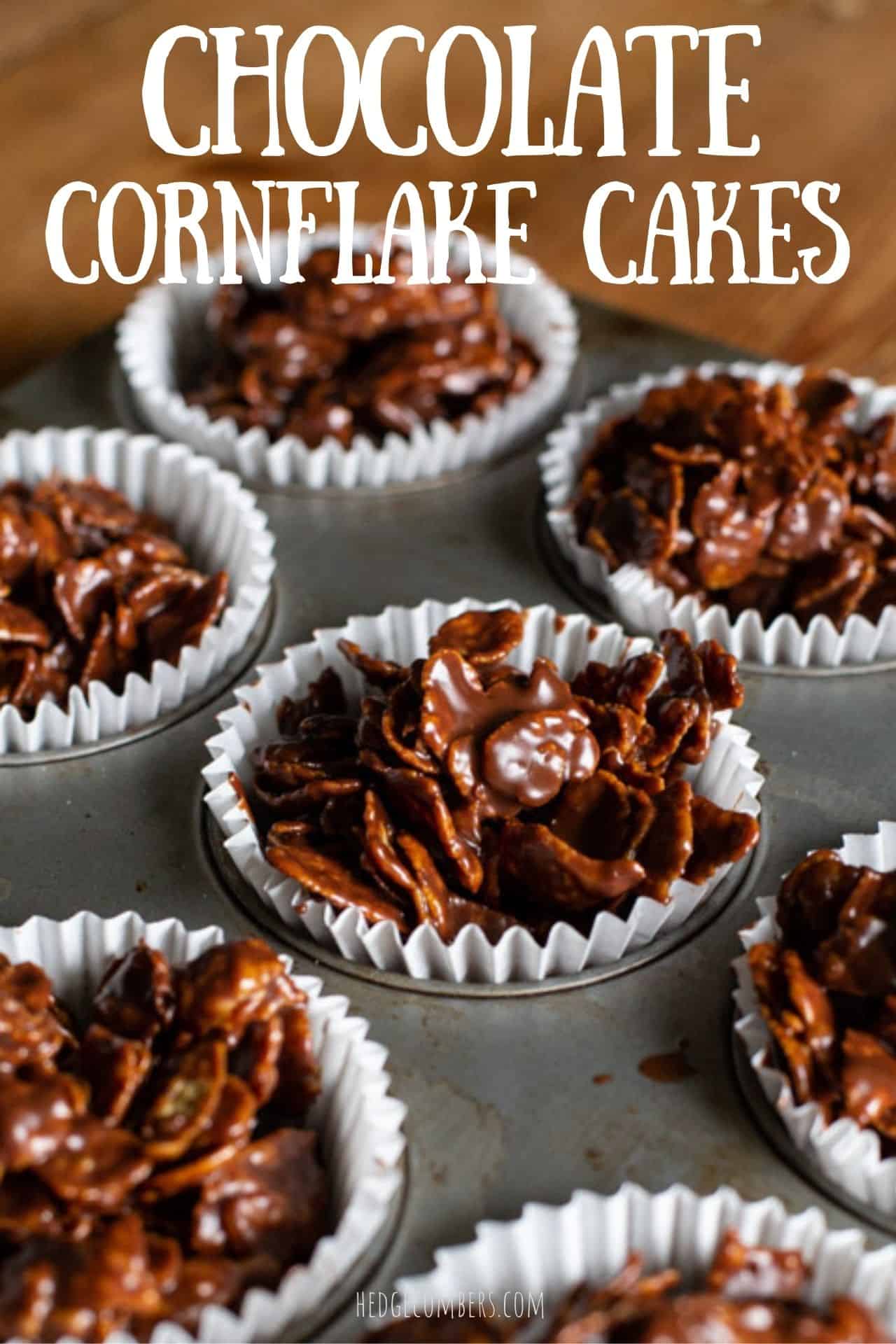 In fact, this recipe is from my childhood recipe book (that is covered in stains and bad handwriting!)
Making these easy little no-bake chocolate cakes bring back so many memories for me.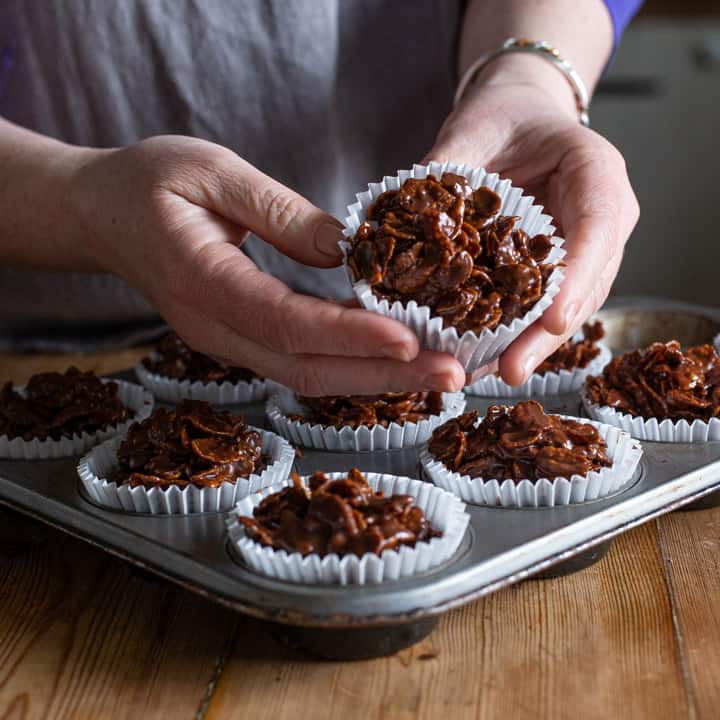 How to Make Chocolate Cornflake Cakes
This recipe really couldn't be easier.
And with no oven baking to worry about, it's very safe for children to help you make.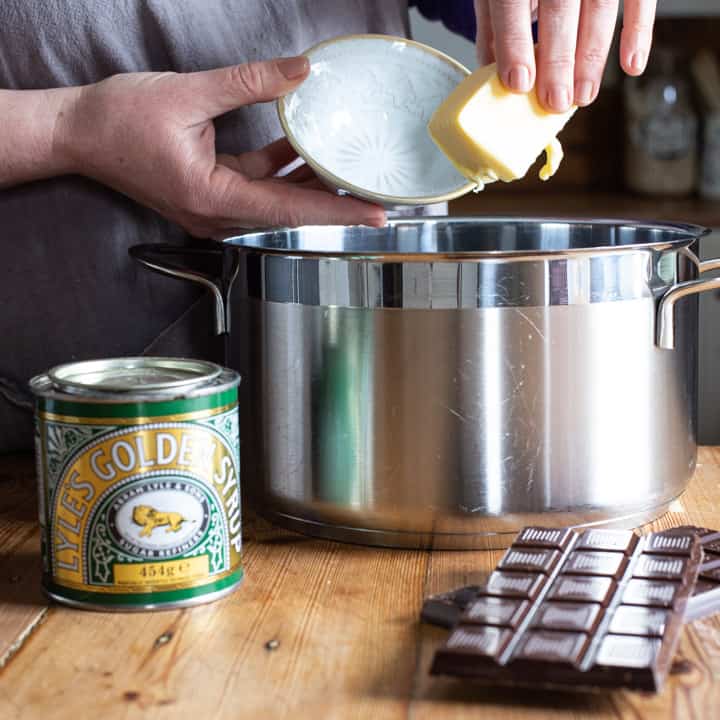 Firstly, you need to make the delicious chocolate coating.
In a large saucepan, add the salted butter, the dark chocolate…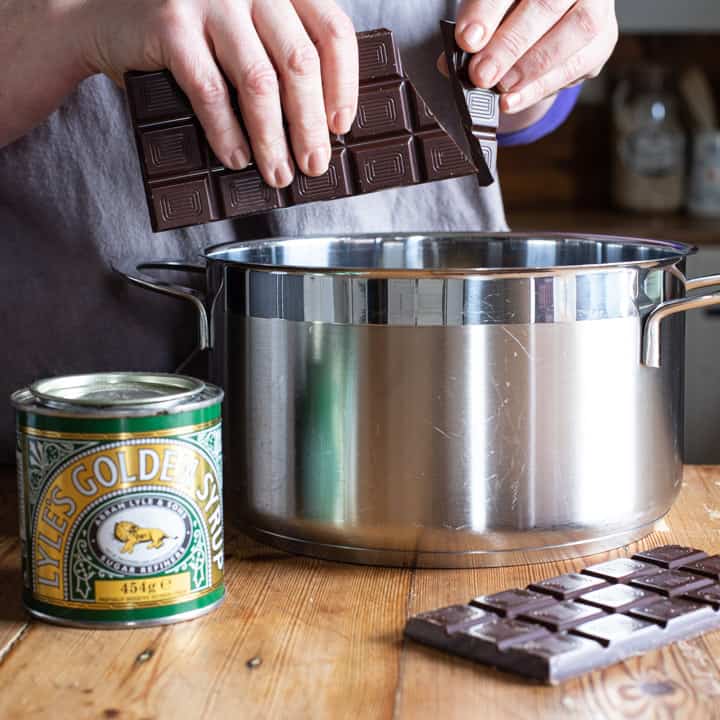 And the Golden Syrup.
If you aren't able to source Golden syrup in your corner of the world, you could try swapping it out for honey, maple or agave syrup.
Please note I haven't tried any of these substitutions, but I imagine they would all be delicious.
Do let me know how it goes below if you try any of them!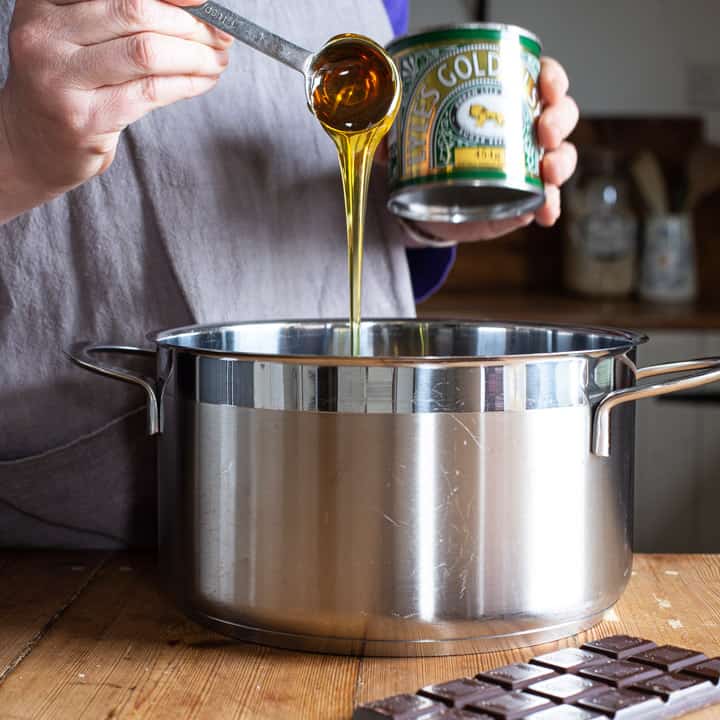 Put the pan over a very gentle heat, and stir regularly until it is all melted.
I find it very hard to make this recipe without stealing a taste at this stage!
It's a gorgeous, silky smooth mixture that blows my mind as much today as when I was a kid!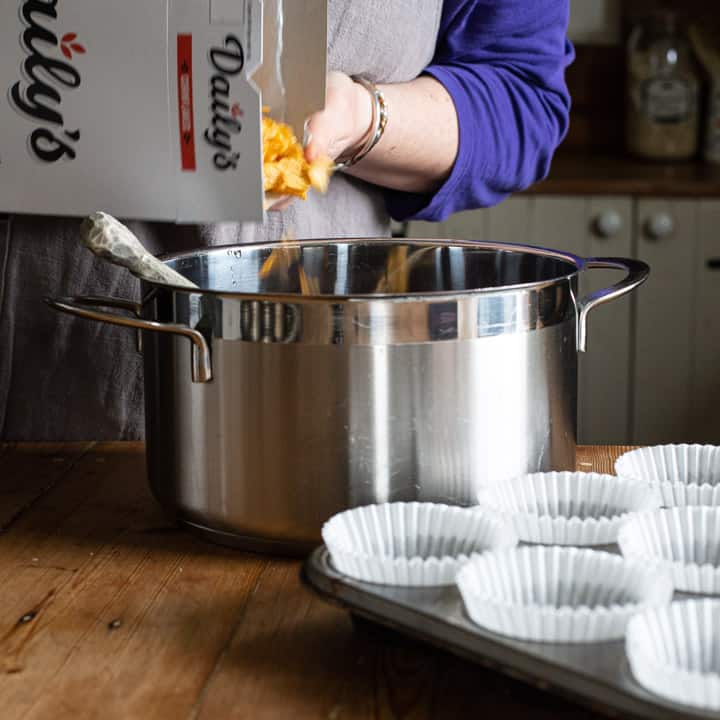 Pour in the cornflakes. Mix with a wooden spoon.
Ideally, you want every single flake to be coated in the chocolate mixture.
If you like your cornflake cakes extra chocolatey (and who doesn't?!), add in slightly less cornflakes that the recipe below suggests.
This way, the extra chocolate will pool a little in the bottom of the cupcake case.
And when it hardens in the fridge, it's an extra treat!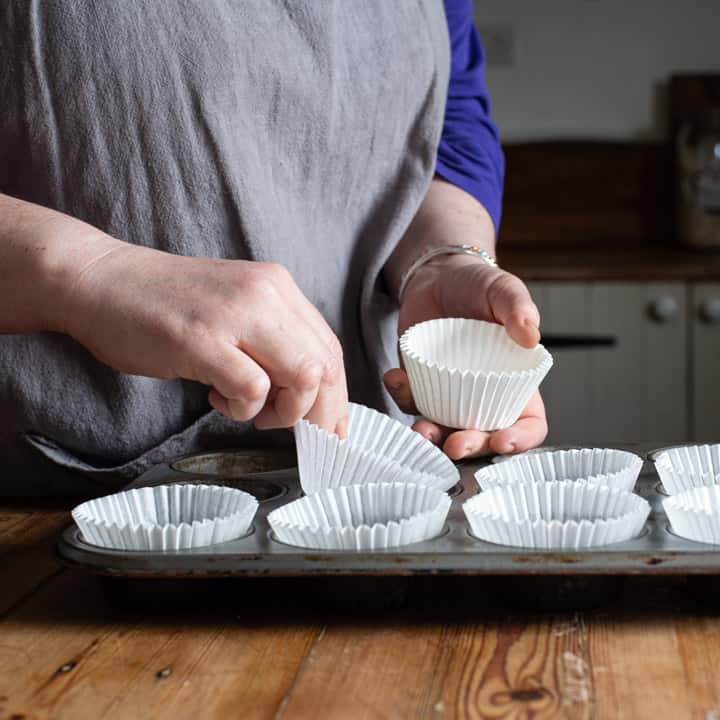 The next step is to line a cupcake tray with paper or silicone cupcake liners.
This recipe will make about 12 individual cakes.
But another thing I've recently tried is making one giant cornflake cake instead of lots of little ones.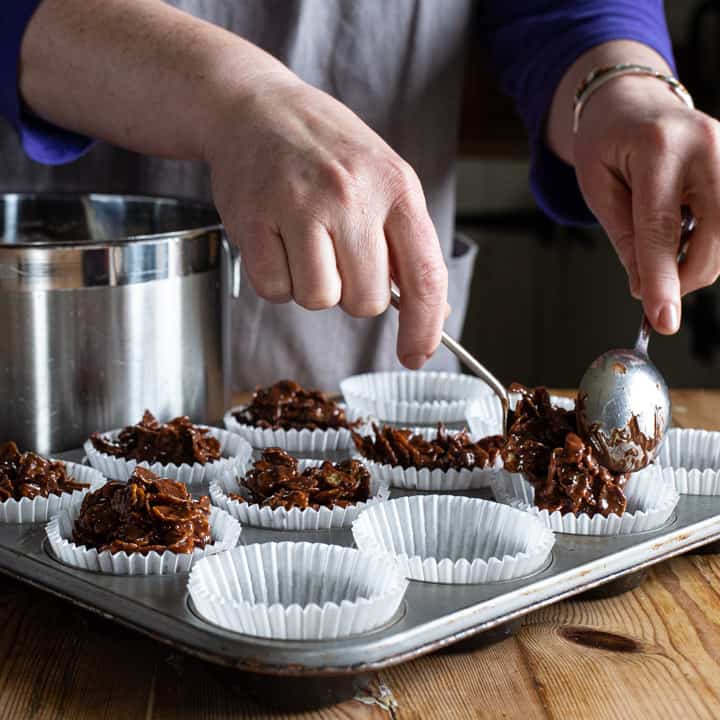 For this I lined an 8″ x 8″ baking tin with foil.
I then poured the chocolate mix in and let it set in the fridge, before cutting into wedges with a sharp knife.
It's a bit more messy, but really good fun!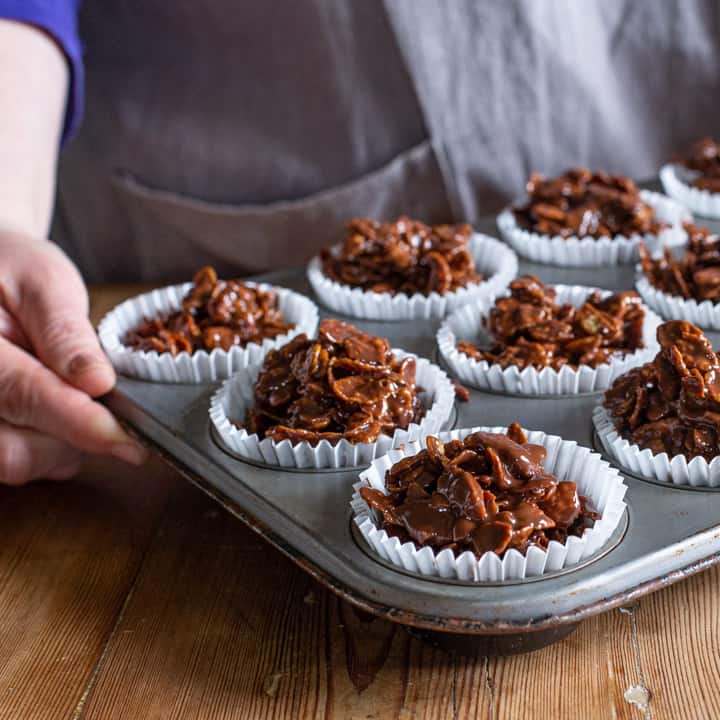 When you've loaded up your paper case, or baking tin, place them into the fridge for 30-60 minutes to set.
The chocolate will harden giving you the most amazing sweet, crunchy, melty experience!
Chocolate cornflake cakes the BEST!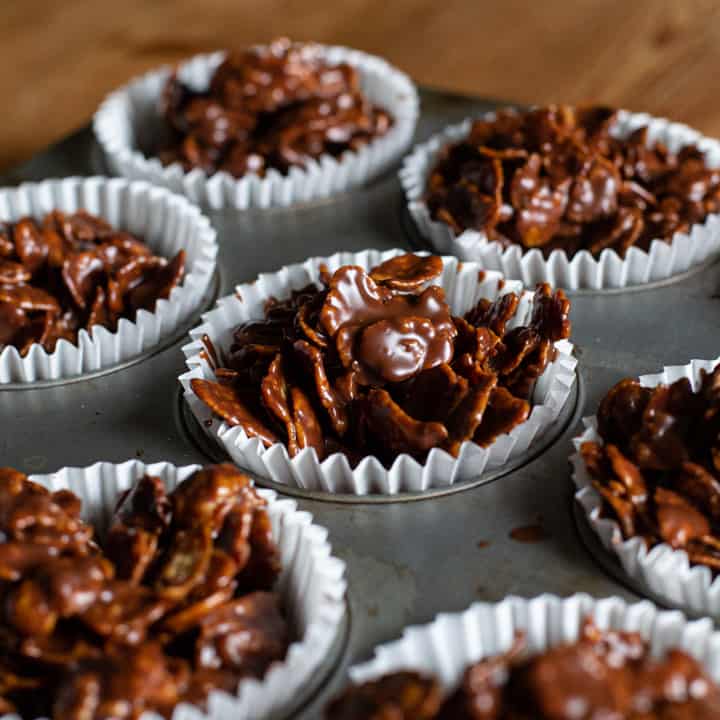 If you'd like more chocolate inspiration, please check out all my Chocolate Recipes here.
If you'd like to see me make this recipe, plus a couple of other no-bake chocolate desserts, here's my latest YouTube video:
3 x Chocolate No Bake Tray Bakes! Easy Camping Desserts
Over on my channel I make tonnes of easy one-pot camping foods, so why not subscribe whilst you're there!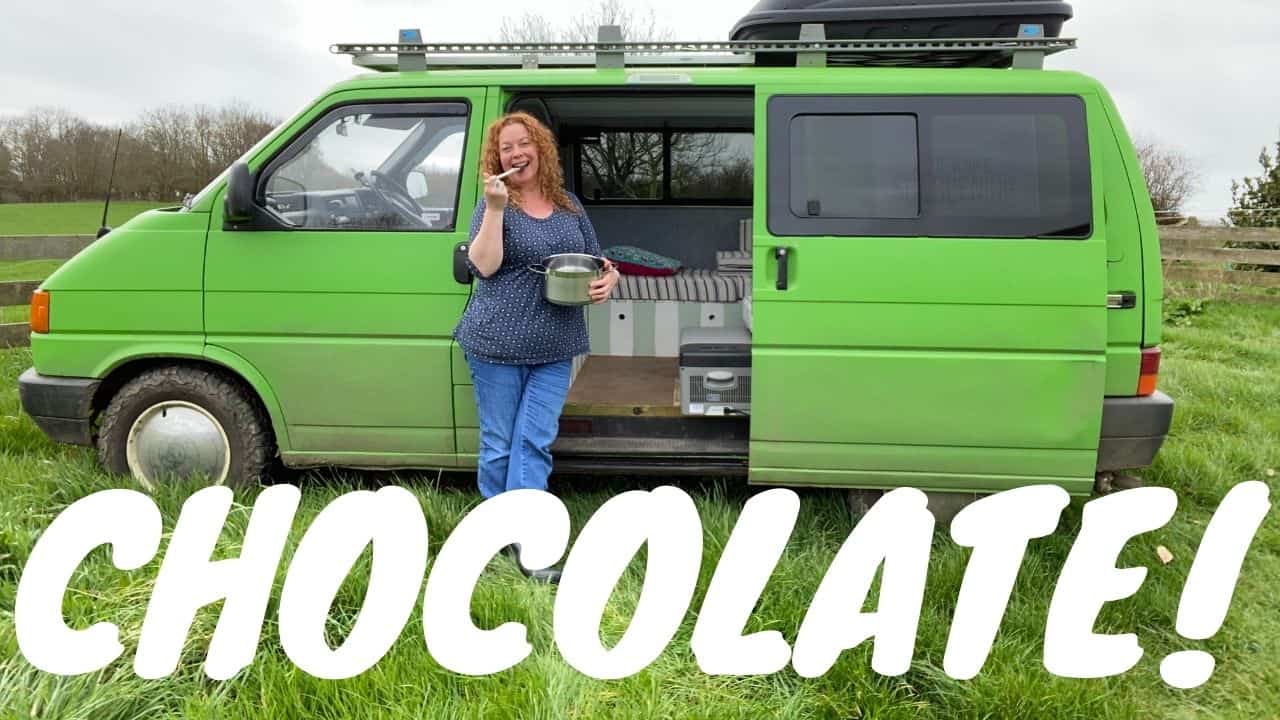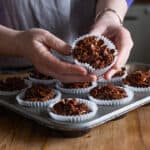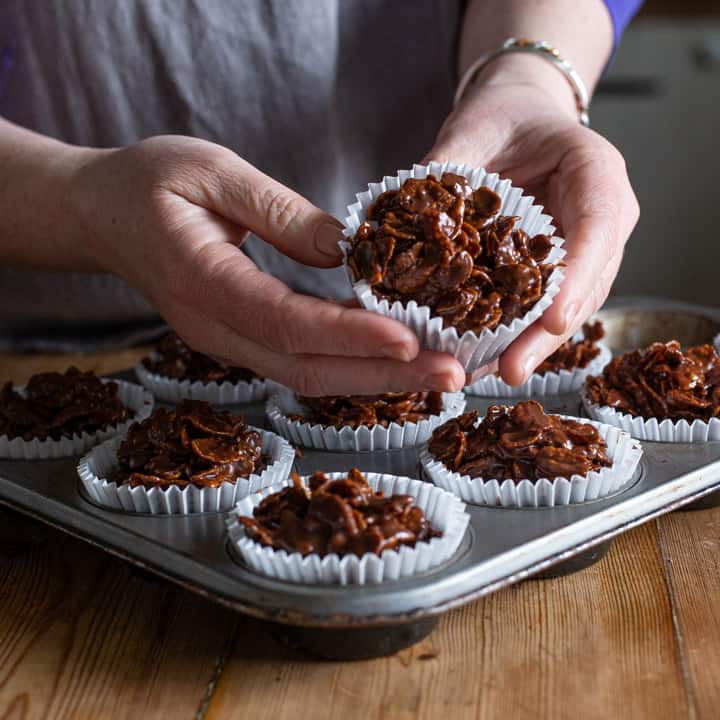 Chocolate Cornflake Cakes
Keyword:
chocolate cornflake cakes
Ingredients
100

g

dark chocolate

50

g

butter

2

tbsp

golden syrup

90

g

Cornflakes
Instructions
In a large saucepan, gently melt the chocolate, butter and golden syrup together.

Stir through a large handful of cornflakes, being sure to coat them all.

Add in more cornflakes, one handful at a time, until there's no more molten chocolate in the bottom of the pan.

Keep stirring until there are no yellow flakes left on show.

Stand 12 paper cupcake cases on a tray or in a cupcake tray.

Spoon the chocolate coated cornflakes evenly between the cases.

Then place the whole tray into the fridge until set.
Nutrition Facts
Chocolate Cornflake Cakes
Amount Per Serving
Calories 123
Calories from Fat 63
% Daily Value*
Fat 7g11%
Cholesterol 9mg3%
Sodium 86mg4%
Potassium 79mg2%
Carbohydrates 13g4%
Protein 1g2%
Vitamin A 242IU5%
Vitamin C 2mg2%
Calcium 8mg1%
Iron 3mg17%
* Percent Daily Values are based on a 2000 calorie diet.