These Chilli Beef Pies are a brilliant way to use up leftover chilli, or tasty enough to warrant making a fresh batch from scratch!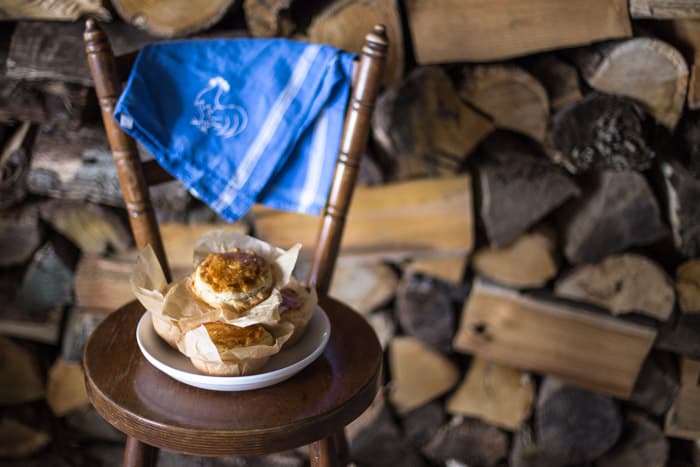 Happy British Pie Week!!!
If ever there was a cause for celebration in the foodie calendar, nodding our heads in grateful appreciation to the humble pie in all of its crispy, comforting glory has to be it!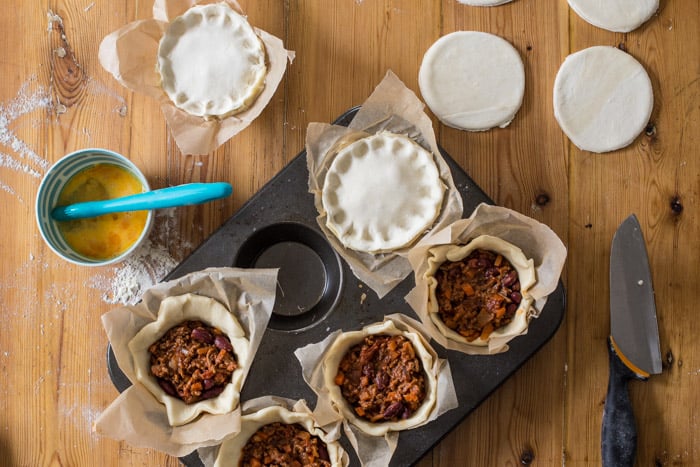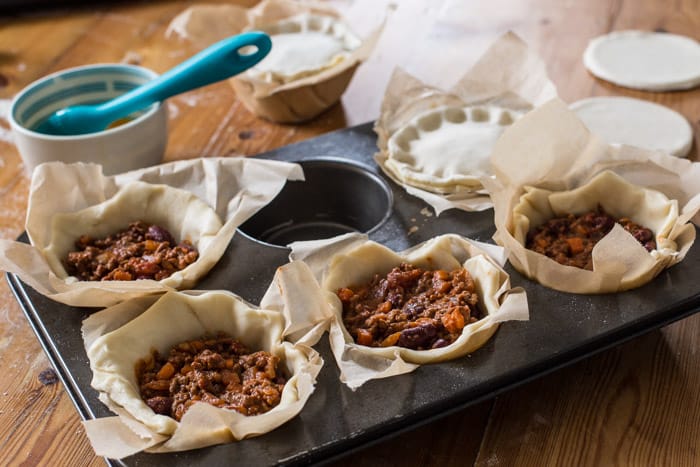 Chilli beef pies
When Jonny requested Chilli Beef Pie, as in minced beef with beans, I initially thought it was a dumb idea (sorry Jonny).
So I threw round some other flavour ideas.
But I kept coming back to the idea of chilli, in a pie.
And so, here we are.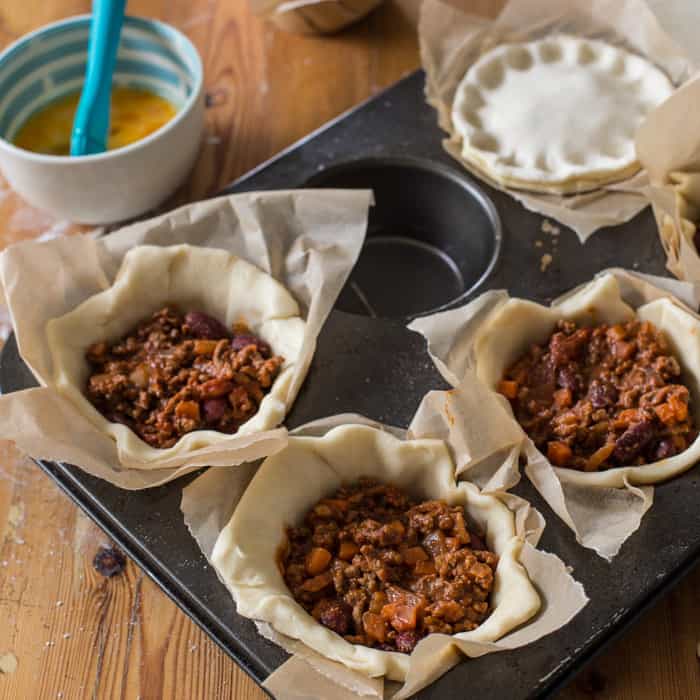 This isn't a spicy chilli, although you are more than welcome to notch up those heat levels as high as you want to take them.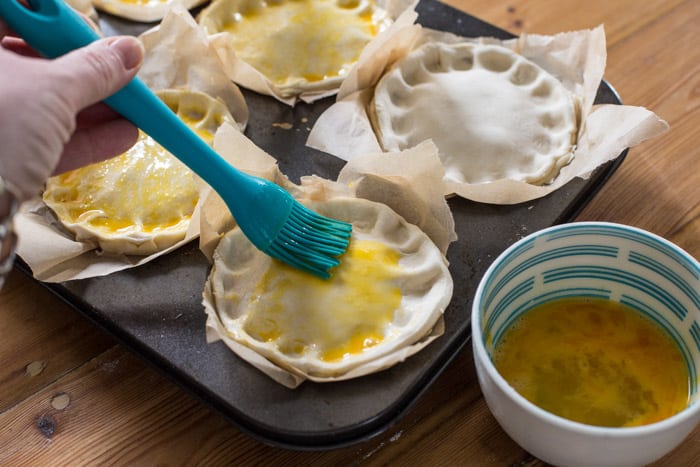 This is more a nourishing, comforting, rich and decadent tasting chilli. Almost like a cuddle wrapped up in a yummy pastry shell.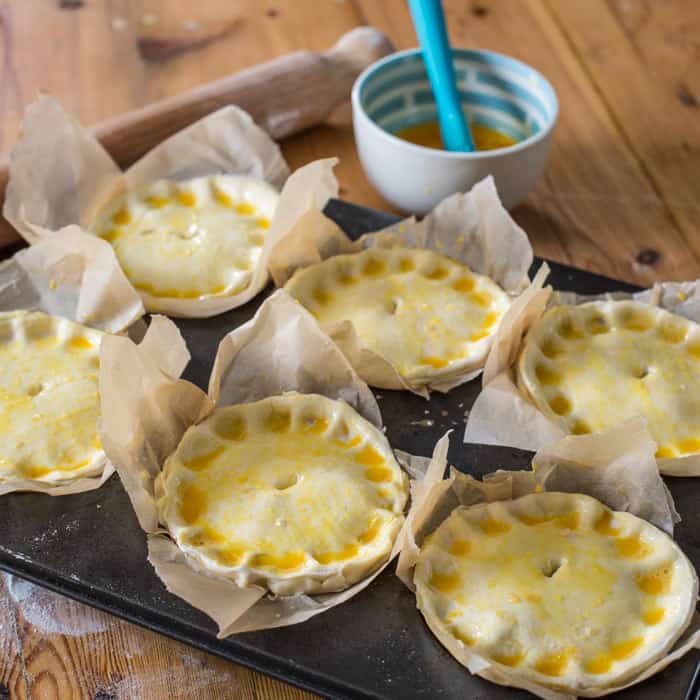 Mums bestest ever pies
Talking of pastry, my Mum taught me many years ago that the bestest ever pies have shortcrust pastry on the base and puff pastry as the lid. And I have come to agree with her.
Sure you cold make this with all shortcrust and it would still be a fine tasting little pie.
But by mixing it up on the top & bottom, you create new textures that I feel would be hard to beat.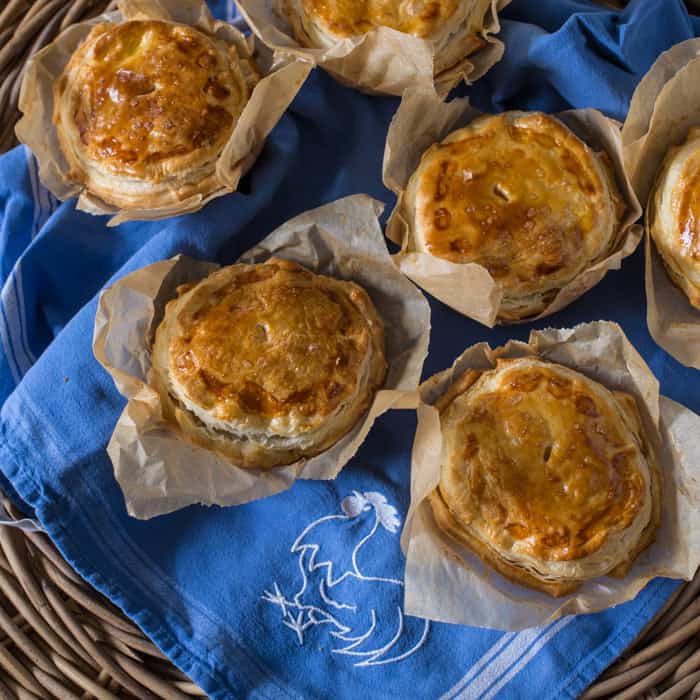 The recipe below will make you enough filling for 12 individual chilli beef pies, but the pastry will only stretch to 6.
If you want a full batch of 12 be sure to double up that pastry on your shopping list.
I popped the leftover chilli into the freezer for a another day and will probably it serve it more traditionally with rice.
My pie tray looks like a giant muffin tray and each indent measures 3.5″ x 2″.
If you use different sized pie dishes, obviously you'll get a different number of pies than me ;)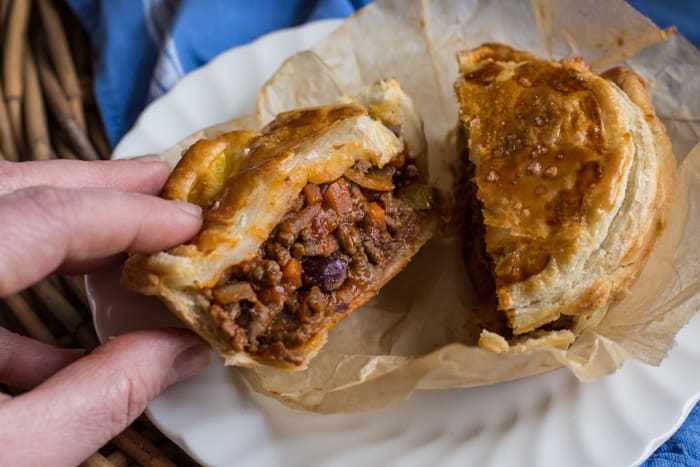 If you don't have access to a brilliant butcher, or you're not a fan of minced beef, why not try this recipe with Quorn mince and veggie stock cubes instead? YUM!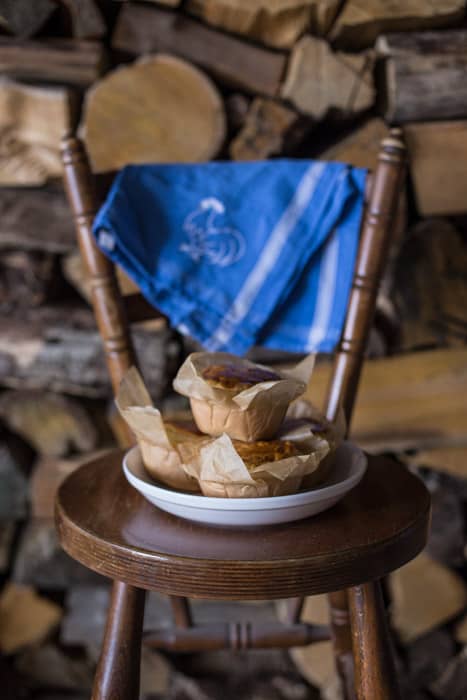 Feeling Pie-inspired? Go check out these little beauties! There's my traditional Cornish Pasty recipe that's hard to beat.
And for a sweet treat, how about my beautiful Cardamom Treacle Tart?
It's INSANELY impressive and so cheap to throw together.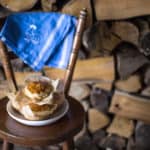 Chilli Beef Pies
Ingredients
500

g

block of puff pastry

defrosted

425

g

block of shortcrust pastry

or 500g, defrosted

1

tablespoon

oil

1

onion

diced

500

g

beef mince

2

cans

tomatoes

3

cloves

garlic

3

inches

tomato puree

1

teaspoon

chilli powder

or more to suit your taste

1

can

red kidney beans

drained & rinsed

1

beef stock cube

1

egg

beaten or a little milk to stick and top the pies

A little crunchy sea salt to sprinkle on the pies before baking
Instructions
Get your pastry out of the freezer the day before to defrost, and bring it up to room temperature before you start cooking the pie filling.

Heat the oil in a large pan to medium hot. Add in the beef mince and break up with your spatula (or hands) so there are no clumps of meat. Leave to take on a little colour then add in the tomatoes, garlic, tomato puree and chilli powder.

Let simmer for 30-40 minutes before adding in the beans and the stock cube. The sauce should have thickened up nicely by this point but if it still looking too wet, stir in a little cornflour mixed with a splash of cold water and let simmer for another minute or two.

Roll out the shortcrust pastry to the thickness of a £1 coin (about 3mm) and line individual pie dishes with, leaving a little overhang of pastry on the edges. Fill each one with the chilli, brush the edges with beaten egg mixture or milk. Roll out the puff pastry and cut a circle out with a glass or small bowl to fit the top of each pie. Lay on the puff lid, crimp the two pastry's together with your fingers and stab a little hole in the middle of each pie to allow steam to escape during baking.

Brush the pastry lids with the egg wash or milk and sprinkle with a little crunchy sea salt for even more flavour.

Pop into a oven preheated to 180/350/gas 4, and bake for 25-30 minutes or until the tops are golden brown.

Serve hot with mash & veg, and any leftover pies can be cooled and popped cold into a lunch box or frozen for another day.
Nutrition Facts
Chilli Beef Pies
Amount Per Serving
Calories 926
Calories from Fat 495
% Daily Value*
Fat 55g85%
Cholesterol 86mg29%
Sodium 783mg34%
Potassium 377mg11%
Carbohydrates 77g26%
Protein 26g52%
Vitamin A 140IU3%
Vitamin C 1.8mg2%
Calcium 42mg4%
Iron 6.2mg34%
* Percent Daily Values are based on a 2000 calorie diet.
Huge thanks to Iceland for sponsoring this recipe and enabling me to continue to bring you tasty (and free!) recipes. As always all thoughts (and leftovers) are my own.
Janie x