In this Bodum Travel Press review we look at all the pro's, and cons, of this minimalist mini cafetiere/travel mug.
Will it will become the best camping coffee maker for your next adventure?!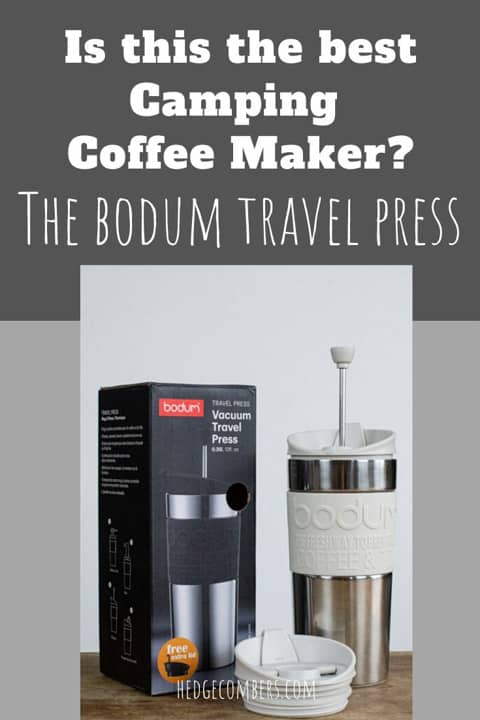 Bodum Travel Press details:
• Link: Bodum Travel Press
• Price: around £16
• Weight: 352g with plunger lid / 325g with cup lid
• Measurements: 19cm x 8cm
• Base width (for cup holder) – 7cm
• Main material: Stainless steel
• Dishwasher safe? yes
• Do you need a kettle to heat the water? yes
• Do you need extras ie filters, batteries, pods etc? no
• Does it work on an induction hob? N/A
• Amazon review score: 4.5 / 5
• My 7 day review score:
Whether you're into bushcraft, ultralight backpacking or have a camper van like me, over the next few weeks (or even months?!) I will find you the perfect coffee maker. Guaranteed!
Let me know in the comments below what you demand from a coffee maker, and let me help you find your perfect match!
BODUM TRAVEL PRESS KIT REVIEW
Today I am focusing on the Bodum Travel Press Kit.
It can brew both fresh coffee and loose leaf tea.
There are a few different options in the range, in materials, size and colour:
• You can get either a BPA free plastic, or a stainless steel version.
• There are two sizes. The small holds 0.35l / 350ml / 12 fl oz of liquid. And the large holds 0.45l / 450ml / 15 fl oz of liquid.
• There are also various colour options for both the silicone bands and the plastic lids.
I am reviewing the small, stainless steel version, in white.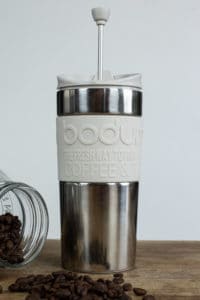 The Bodum Travel Press Kit comes with 2 lids.
One is a regular travel cup lid with a flip up clasp covering a good sized sipping hole and allows you to carry hot or cold drinks.
It is also perfect to take to the coffee shop instead of using disposable takeaway cups.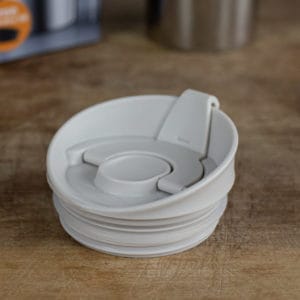 But the real value comes in the form of the second lid.
It has a cafetiere/French press plunger attached so you can brew fresh coffee directly into the cup.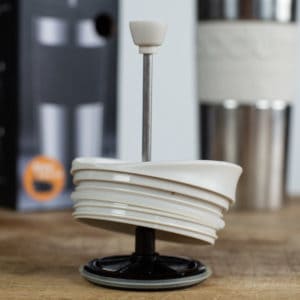 Both the plastic & stainless steel versions are double-walled.
This makes them extremely well insulated, meaning your coffee will stay hot much longer than in a regular single-walled travel cup.
In fact, mine keeps my black coffee scalding hot for ages.
If you use milk this will cool it down quicker, or you could add a splash of cold water if you wish to drink it immediately.
How do you use a Bodum Travel Press?
Place one measure (around 15g, more or less to suit your taste) of coarsely ground fresh coffee in the base of the cup.
Boil your kettle.
Wait 30 seconds for it come 'off the boil', and pour into the cup until it is an inch from the top.
If you add too much coffee you risk having coffee ground escaping into your brew.
Place on the cafetiere lid, and gently screw it down.
Wait 4 minutes, plunge the filter 'stalk' until it clicks into place in the lid, and you are ready to drink.
If you add too much coffee to the base, you will prevent the handle from clicking locked.
If the coffee is too weak for you, simple leave to brew longer than 4 minutes.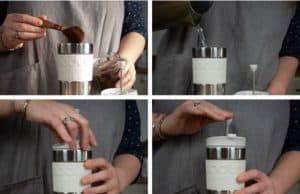 How many cups of coffee does it make?
One.
Even though it is a French Press style of coffee maker, you cannot add enough coffee to the base for more than one cup as you will prevent the plunger stalk from locking shut.
What coffee grounds should I use with the Bodum Travel Press?
It is recommended to use a coarse ground bean in the cup.
Fine grounds will clog up the filter making it hard to press down and it is more likely you will damage the unit.
Also, fine grounds can escape more easily from the base into the cup.
Using coarse grounds I had no problems with gritty coffee at all.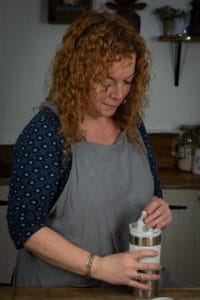 How do you add milk/sugar/creamer/syrup to my coffee?
That is a very good question, and has left me a little confused.
For the record, I drink my coffee black so haven't tried any of these. But here's my initial thoughts…
• According to one Amazon review I read that some people add their extras along with the coffee grinds at the beginning. As someone that would baulk at the idea of putting milk into the cup along with the tea bag and then adding hot water, this idea doesn't sound at all right to me!
• Maybe you have to partly lift the lid/press up and try to sneak the sugar etc in that way? But then how do you stir the sugar to dissolve and disperse it?
• Or perhaps you should tip/pour your flavourings in through the sipping hole? Sounds potentially messy, and you still don't get to stir the sugar into your coffee.
• I imagine the easiest and most efficient way of mixing your freshly brewed coffee with whatever extras you crave would be to pour the coffee out of the travel press and into a separate mug. Which means you could just get a small cafetiere instead.
• Even better, learn to drink your coffee black, just as the gods intended :)
If you have any experience of using this coffee maker with your favourite additions, please drop a comment below with your top tips!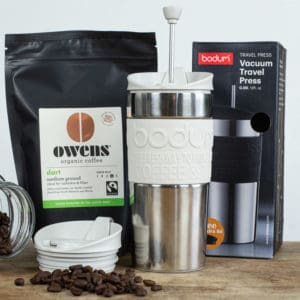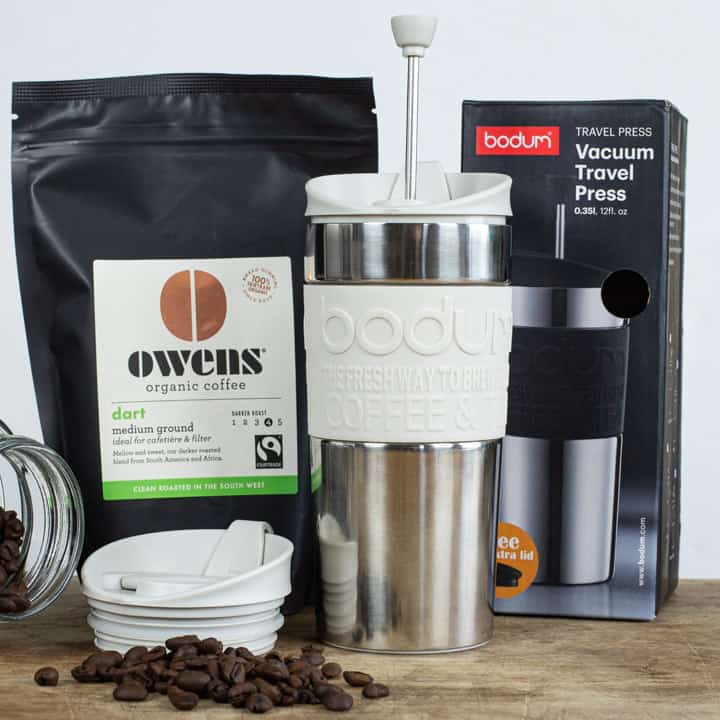 Things I loved about the Bodum Travel Press
It's very classy looking.
The stainless steel looks high end, and the silicone band and colour coordinated plastic lid looks great.
It's a pleasure to carry around and the lid is comfortable to drink out of.
All parts are dishwasher safe.
BIG tick for me.
The fine metal gauze filter is rimmed with a silicone seal.
This maybe commonplace on cafetieres these days, but it's the first time I've seen it and I'm impressed.
Hopefully, it will prevent the age-old problem of metal cafetiere filters going wonky through use, allowing grounds to seep out into the brew chamber.
Being a coffee maker and travel mug all in one, it's one of the most minimal and space saving designs I've seen so far.
Perfect for small homes, caravans & camper vans.
It is seriously well insulated.
The outside of the cup doesn't even get warm to the touch, and my black coffee stayed hot for at least two hours.
This makes it perfect for long journeys, or for those that get easily distracted and always end up drinking their coffee cold.
Side note – it would make the perfect gift for new mums!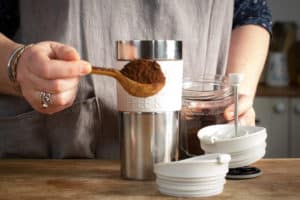 Things I didn't love about the Bodum Travel Press
The lid isn't water tight.
Now this isn't a deal-breaker, and wouldn't stop me from recommending it, but it would have scored even higher if the whole unit could be sealed safely enabling you to throw it in a bag until you were ready to drink.
When the plunger locks in place, I imagined it would press all of the water out of the grinds, thereby halting the brewing process.
However when you open the press to clean it, there is an inch or so of water in the base along with the grinds.
Surely, with the action of drinking out of the cup you will be rocking water through the grounds extracting more coffee and making a stronger brew the further you get down the cup?
I honestly haven't noticed a difference in the strength, flavour or bitterness of my coffee as I drank lower down the cup, but I'm a little befuddled why not.
Please let us know below if you do notice a difference.
One other thing that I can't comment on, but is worth mentioning here: the plastic version of this cup gets a lower overall score in the Amazon reviews.
It appears that the build quality, and longevity of the stainless steel one is worth the small increase in price.
Watch my video review of this coffee maker here!
BODUM COFFEE MAKER SCORES
• Ease of use: 9
• Ease of clean up: 4
• Quality of brew: 7
• Value for money: 8
• Style: 10
• Design: 9
• Durability: 8
• Waste: 9
• Weight/Storage: 9
• Wow factor: 8
Total Score: 81 / 100
This was a great week for my coffee addiction.
I'm going to definitely add this to my Aeropress collection as my road trip mug.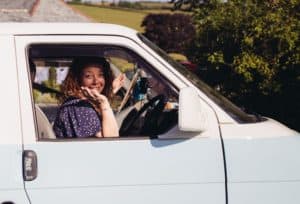 CAN YOU HELP ME FIND THE BEST CAMPING COFFEE MAKER ON THE MARKET?
Do you know the perfect off-grid way of making coffee using real coffee grounds in the outdoors?
If so, let us know in the comments below and we may end up reviewing your favourite coffee maker in the near future too!
Want to stay up to date with all future camping coffee maker reviews?
• Subscribe to the Hedgecombers YouTube channel and get access to the new review video every week
• Sign up to our mailing list, and you'll get an email each time we publish a new blog & video review
How I Test & Review Camping Coffee Makers
The first time I use a coffee maker, I follow the included instructions.
I then spend the next 7 days perfecting the brew and learning all there is to know about it.
I watch other videos, read blog reviews & Amazon comments, and play around with different brewing techniques.
Finally, I finish off the review with a round-up of all I have learnt, and give it a total score out of 100.
***
Huge thanks to Owens Coffee, a 100% Organic coffee roaster in Ivybridge, Devon. Please note this review was not sponsored, but they did supply me all the coffee beans to make this review possible. To find their full range of freshly ground beans, check out their website here: Owens Coffee. PS I highly recommend their Dart blend ;)
This article may contain affiliate links. This means we may earn a small commission if you follow, and shop through our links, at no extra cost to you. Thank you for helping support the work we do here at hedgecombers.com :)
Janie x