Blackberry vodka recipe, anyone? If you're out foraging blackberries soon, why not use them to brew this delicious Blackberry Flavoured Vodka. It's so easy, and so tasty and would make a gorgeous homemade Christmas gift!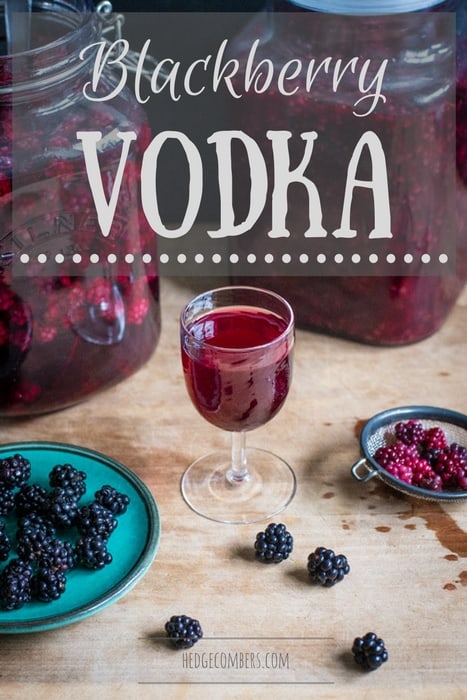 Remember how I recently told you about my adorable friend Kate and her freshly published Veggie Desserts cookbook?
Well today I'm bringing you this blackberry vodka recipe courtesy of another beautiful cookbook, written by another beautiful friend!
At this rate I'm going to have to get a dedicated bookshelf just to hold the work of all my blogging buddies!
Today we are focusing on the work of Ren Behan. Not only does she write a beautifully styled blog, but she has also written plenty of recipes for the one and only Jamie Oliver too.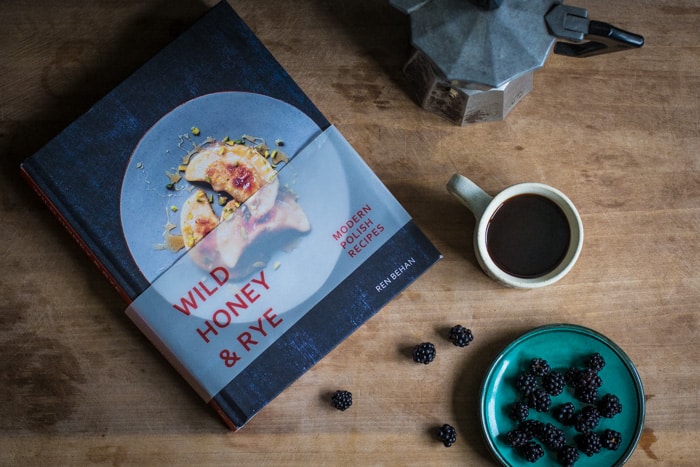 Wild Honey & Rye: A Cookbook by Ren Behan
Ren comes from Polish descent, and her book is a tribute to her food heritage. Wild Honey & Rye is chock full of traditional Polish recipes with a modern twist. The food is full of fun and the book is interlaced with engaging family tales and of course, sumptuous photography.
Please take the time to read Ren's story on bringing her cookbook dream to life here. And you can find yourself a copy on Amazon here: Wild Honey and Rye – Modern Polish Recipes (affiliate link).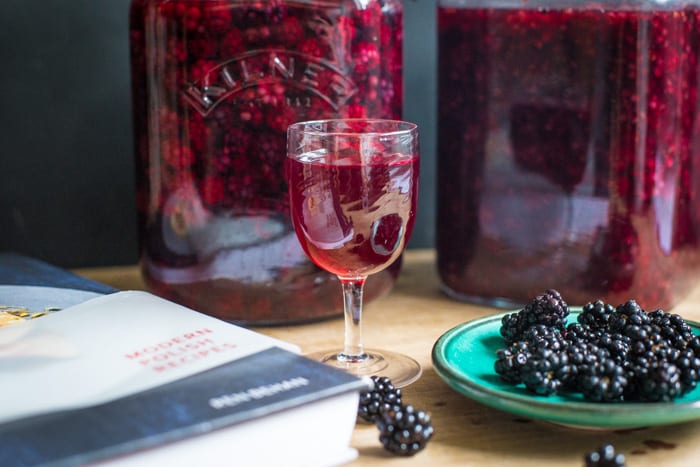 For anyone with a love of Polish food, or a desire to connect with their Polish roots, this book would make the most perfect gift.
I was flipping through to find a recipe to make and share with you today, and I stumbled over the recipe for blackberry flavoured vodka.
Funnily enough, this recipe has been on my to-do list since mid summer, when I first saw the blackberries ripening down here in Cornwall! Seems this was blackberry flavoured fate :)
I've made this blackberry vodka recipe on a BIG scale as a) it is a fantastic year for blackberries, and b) I'm making this in advance as Christmas gifts for friends and family this year.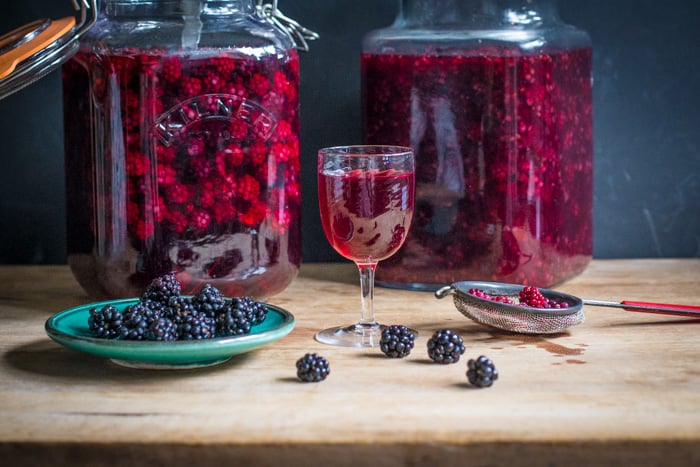 Blackberry infused vodka
Wild blackberry picking for me conjures up memories of childhood days scouring the hedgerows. Getting that special feeling when you find a big group of berries that haven't yet been found by anyone else. Attempting not to 'try them all out'. Saving some for later to make homemade blackberry and apple crumble or pie.
Oh and if those dishes make you want to go and bake, I did a little mash up and combined the two right here in my Blackberry and Apple Crumble Pie recipe.
It goes without saying that blackberry vodka was never on the menu back in my childhood days. I am ALL over this recipe now! ;)
If you've been lucky enough to find yourself a big haul of blackberries, I can think of few better ways to to use them all up and preserve them, by popping them into alcohol!
And if you haven't found any yet, go see what you can forage! The wild blackberry season usually starts late summer ALL the way through to the end of October.
This blackberry infused vodka couldn't be simpler to make.
If you give this recipe a go (and you manage not to break into the stash in the meantime) please join me in raising a glass to Ren on Christmas day :)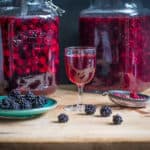 Blackberry Flavoured Vodka Recipe
Keyword:
Blackberry Vodka
Ingredients
1

kg

blackberries

250

g

granulated sugar

1

bottle (70cl)

good quality vodka
Instructions
Wash the blackberries and place them in a sterilised 1.5 litre preserving jar.

Add the sugar and lightly crush the berries with the sugar.

Pour over the vodka, seal the jar and shake. Leave to infuse in a cool place for 2-4 weeks.

Strain the vodka into a sterilised bottle.

Serve your delicious blackberry vodka chilled, preferably from the freezer.
Nutrition Facts
Blackberry Flavoured Vodka Recipe
Amount Per Serving (0 g)
Calories 77
% Daily Value*
Fat 0g0%
Cholesterol 0mg0%
Sodium 0mg0%
Potassium 90mg3%
Carbohydrates 19g6%
Protein 0g0%
Vitamin A 120IU2%
Vitamin C 11.6mg14%
Calcium 16mg2%
Iron 0.3mg2%
* Percent Daily Values are based on a 2000 calorie diet.