This Green Apple and Elderflower Smoothie offers an early summer twist on a refreshing and healthy classic.
So get out foraging and make the most of this delightful flower whilst you still can!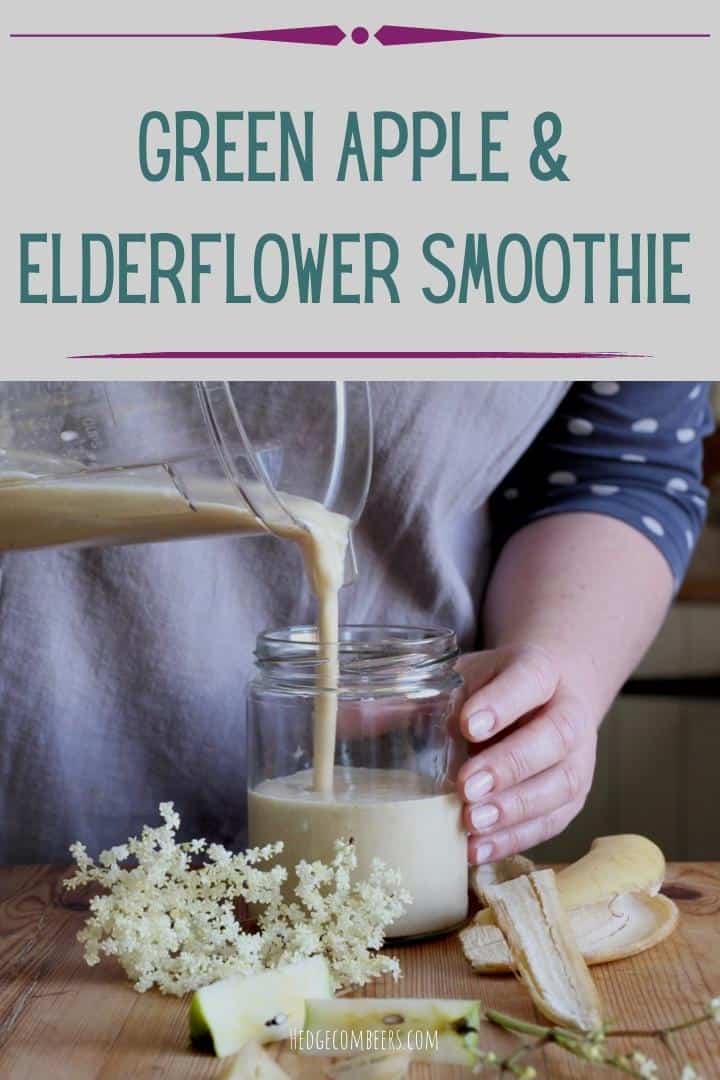 How to Forage and Prepare Fresh Elderflowers
Sweetly scented elderflowers are best picked on a dry, warm and windless day. Not always possible in our climate I admit!
As the unpicked heads of the little white flowers mature over the summer months into elderberries in Autumn, only ever pick what you can use in the same day.
Even if you or your neighbours don't put those elderberries to good use, the wild birds certainly will.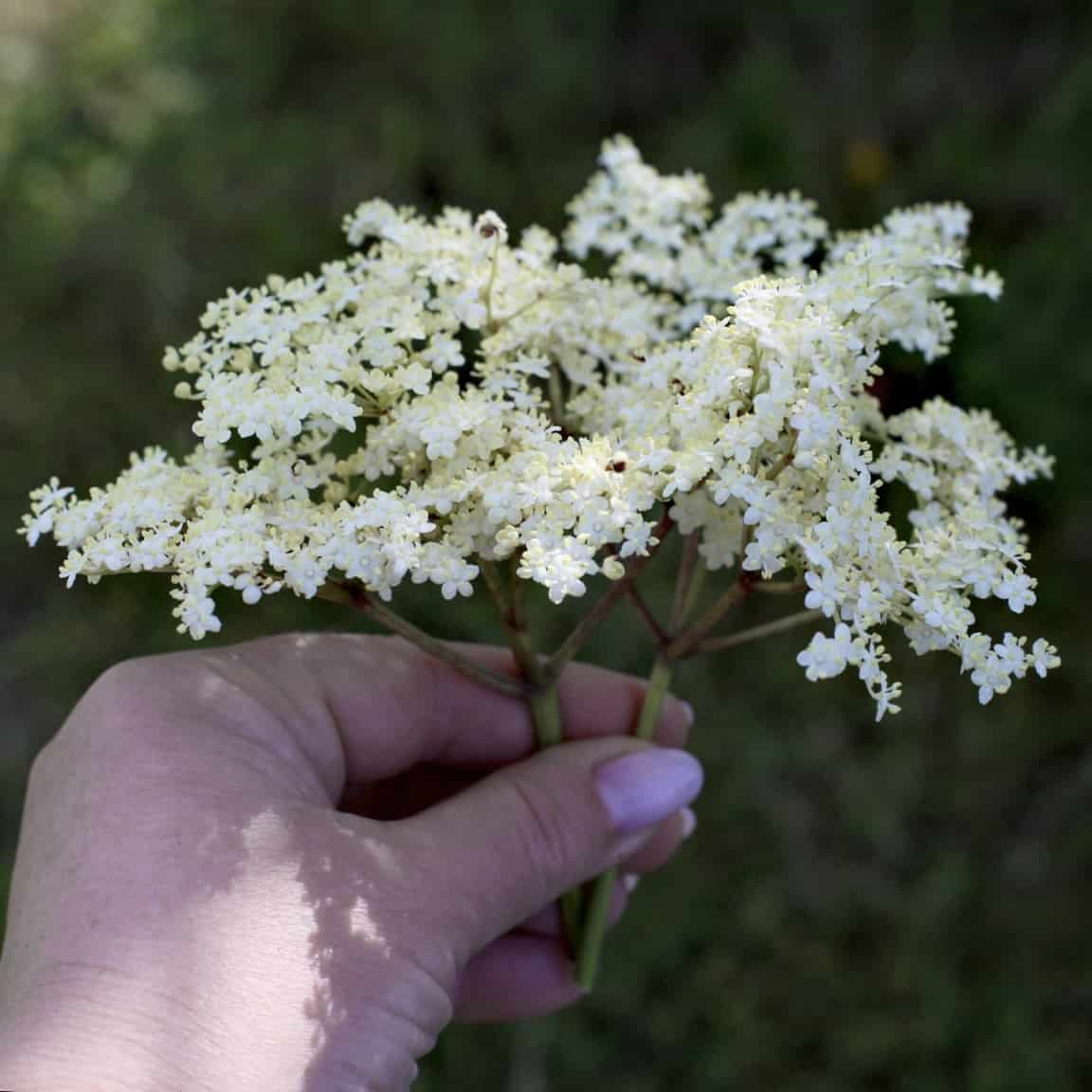 Gently shake and nudge any bugs and wildlife out from between the tiny little flowers.
Don't wash them or shake too vigorously as you'll lose much of the pollen.
Next remove the flowers from the stems.
I use a pair of scissors to snip the flowers and the tiniest bit of the stem they attach to off.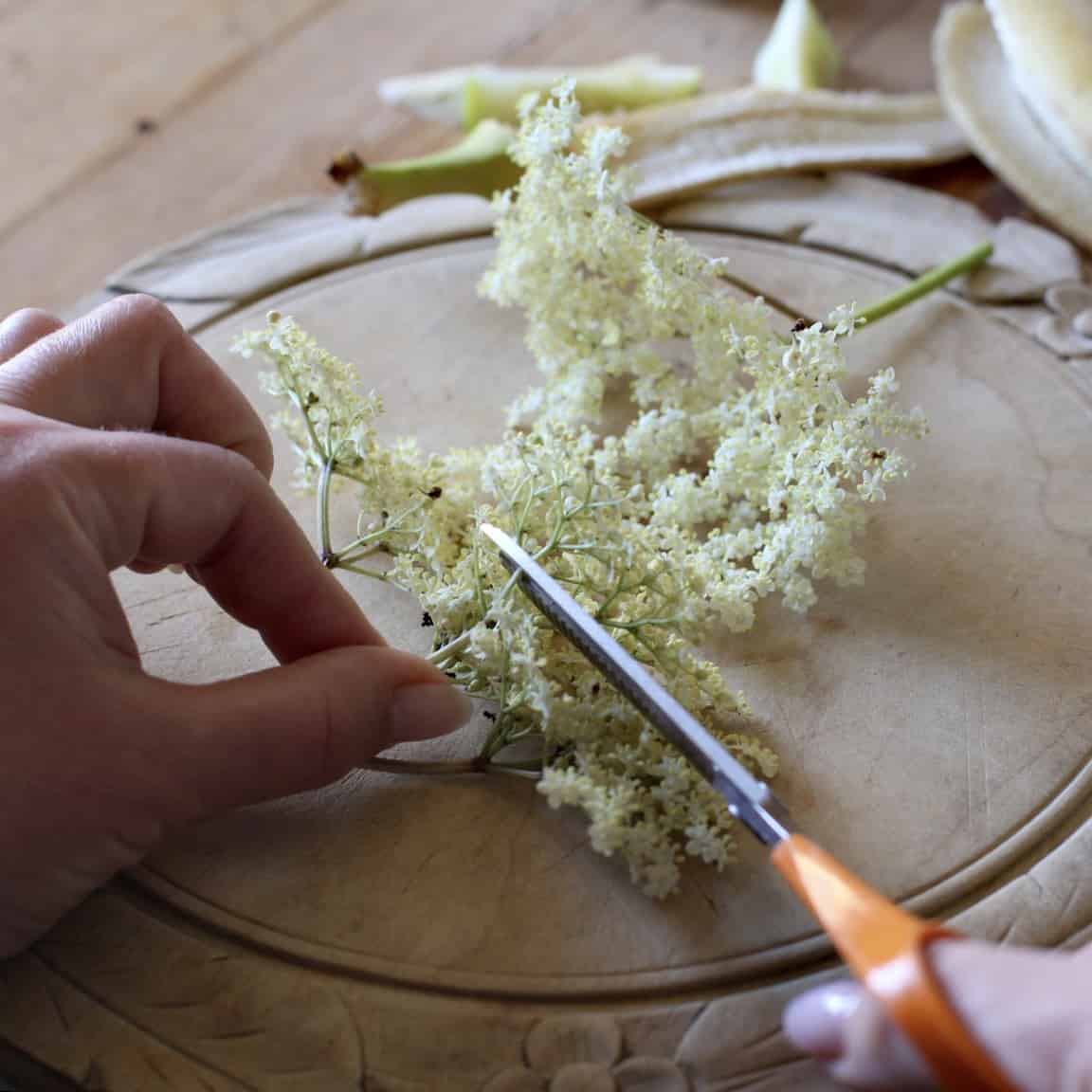 It's fiddly work. But it's worth noting that whilst the flowers and the berries of the elder tree are edible, the leaves and stems are poisonous [source].
Different sources give different information on the levels of toxicity and how dangerous it is.
So as always I would advise erring on the side of caution and avoiding it.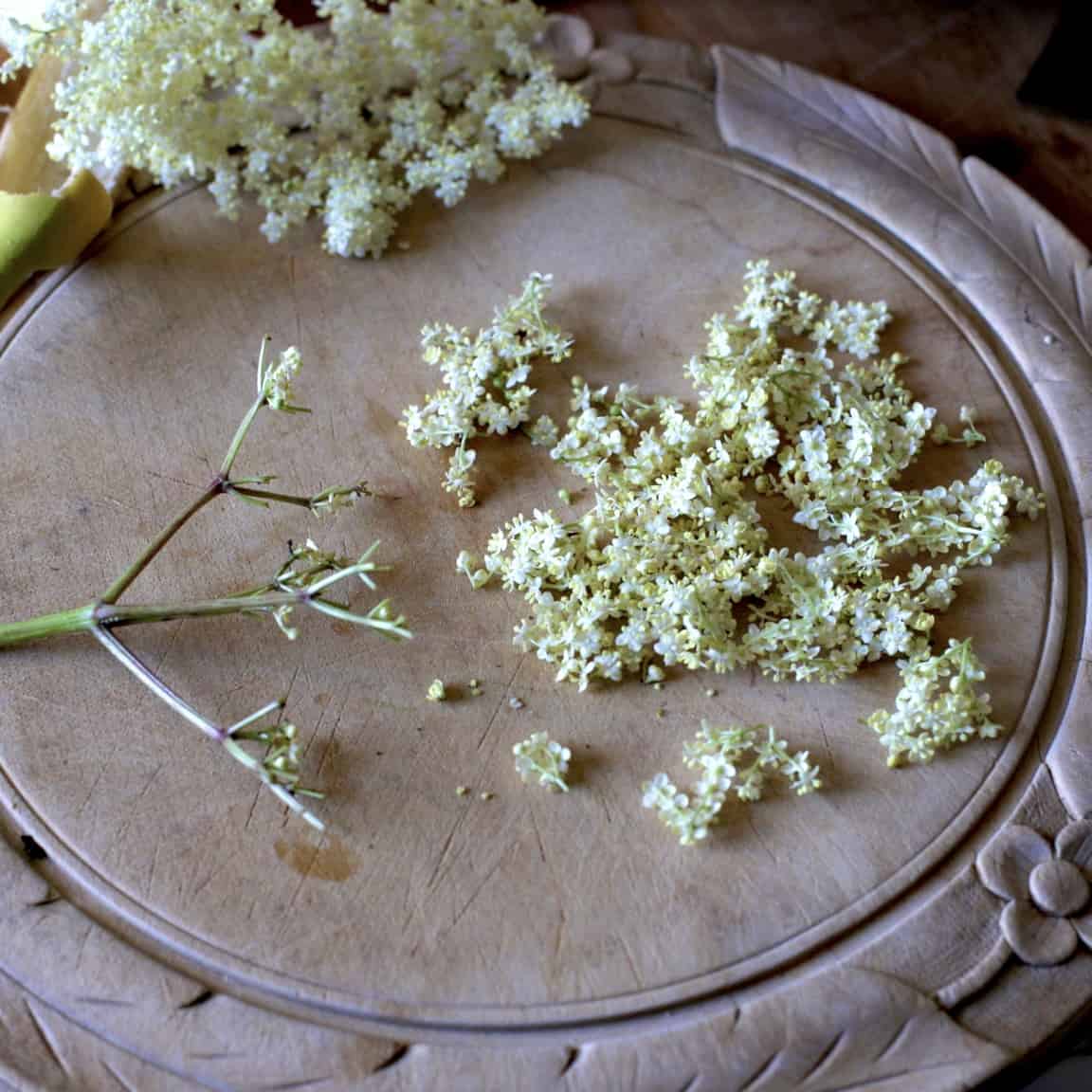 How to make a Green Apple and Elderflower Smoothie
OK, now let's walk you step by step through this easy peasy recipe!
1/ prepare your fruit
Wash your apples, remove any stickers and chop in half.
Cut out the core and dice the apple flesh into chunks.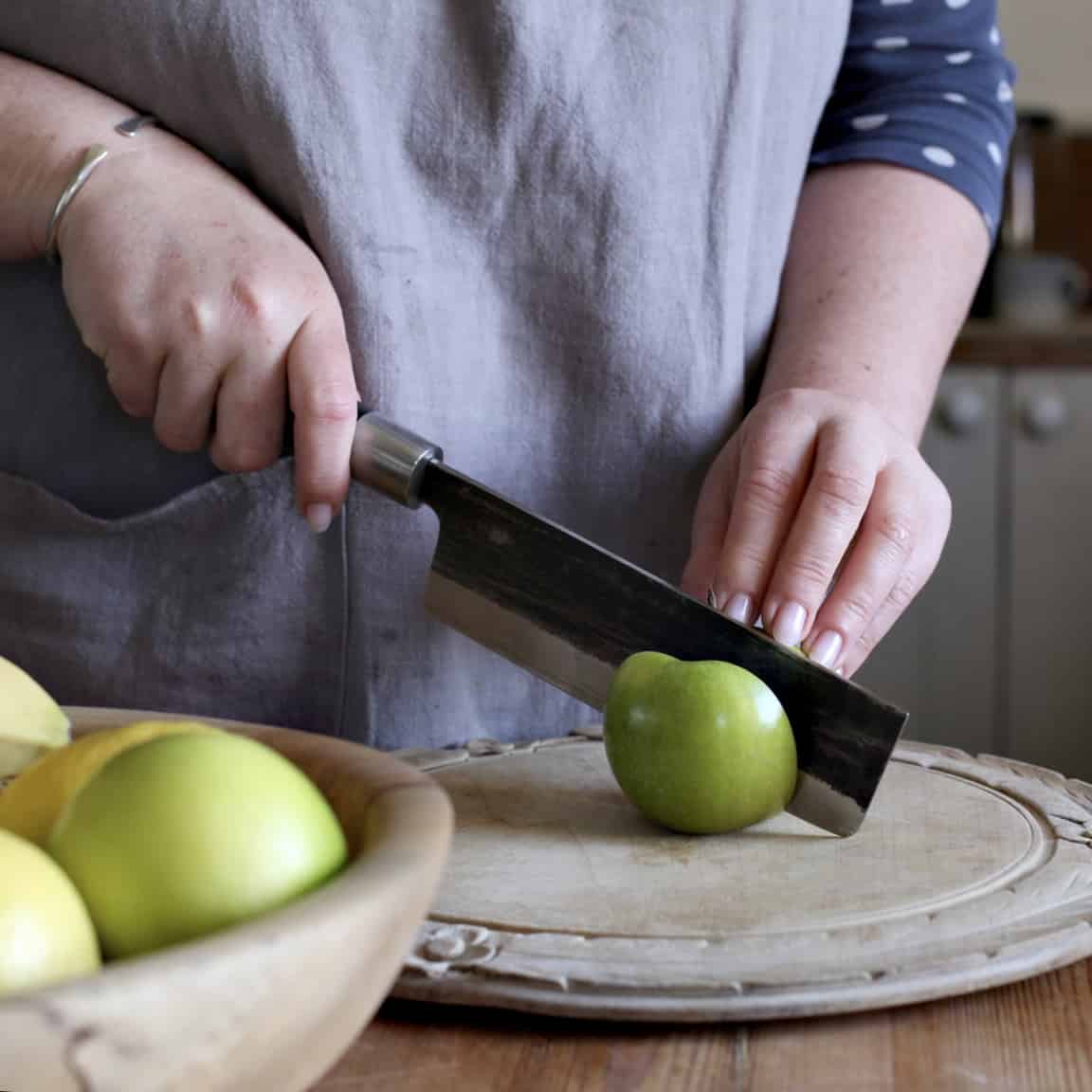 Chop the banana up too and add this to the blender along with the apple pieces.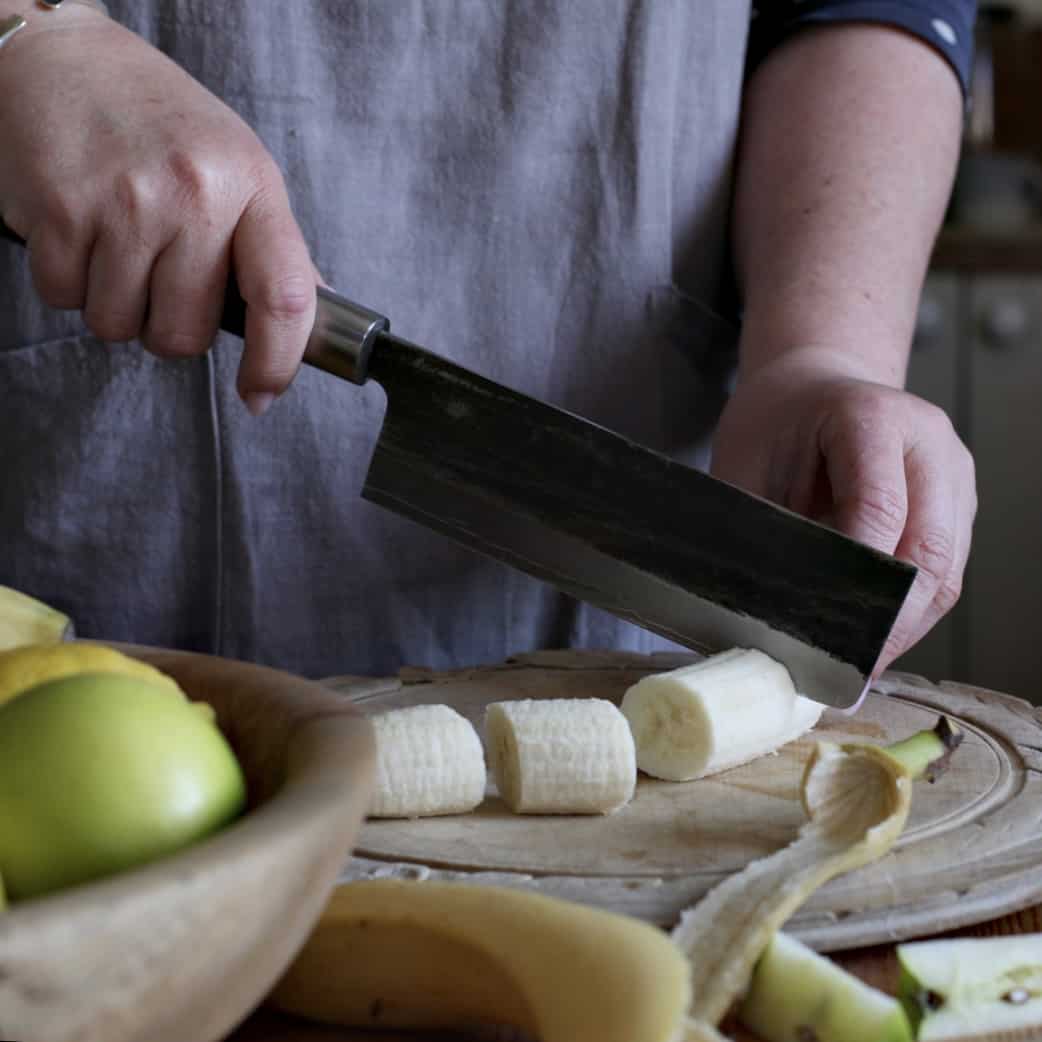 2/ add the milk and nut butter
Measure out the milk and pour this in too.
I'm lactose intolerant so I used oat milk in my smoothie. This is what the nutrition data below is based on.
However you can swap this out for your favourite dairy or non dairy milk. Just adjust the macros if you track them.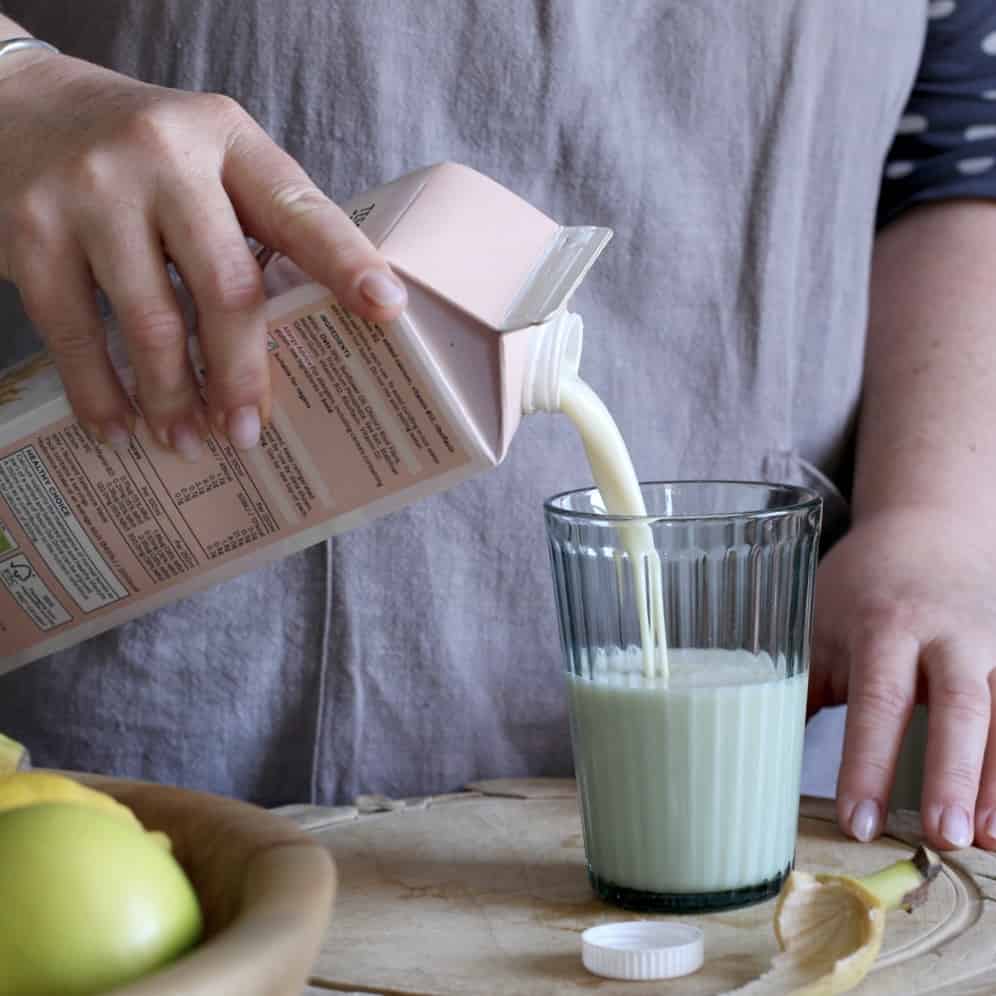 Unless you'll be eating a proper meal within an hour or so of consuming this smoothie, you'll want to add a source of healthy fat to it.
Without the fat content, you'll be ravenous in no time.
I used peanut butter (again, that's what the macro data below reflects), but you could swap this out for any nut or seed butter.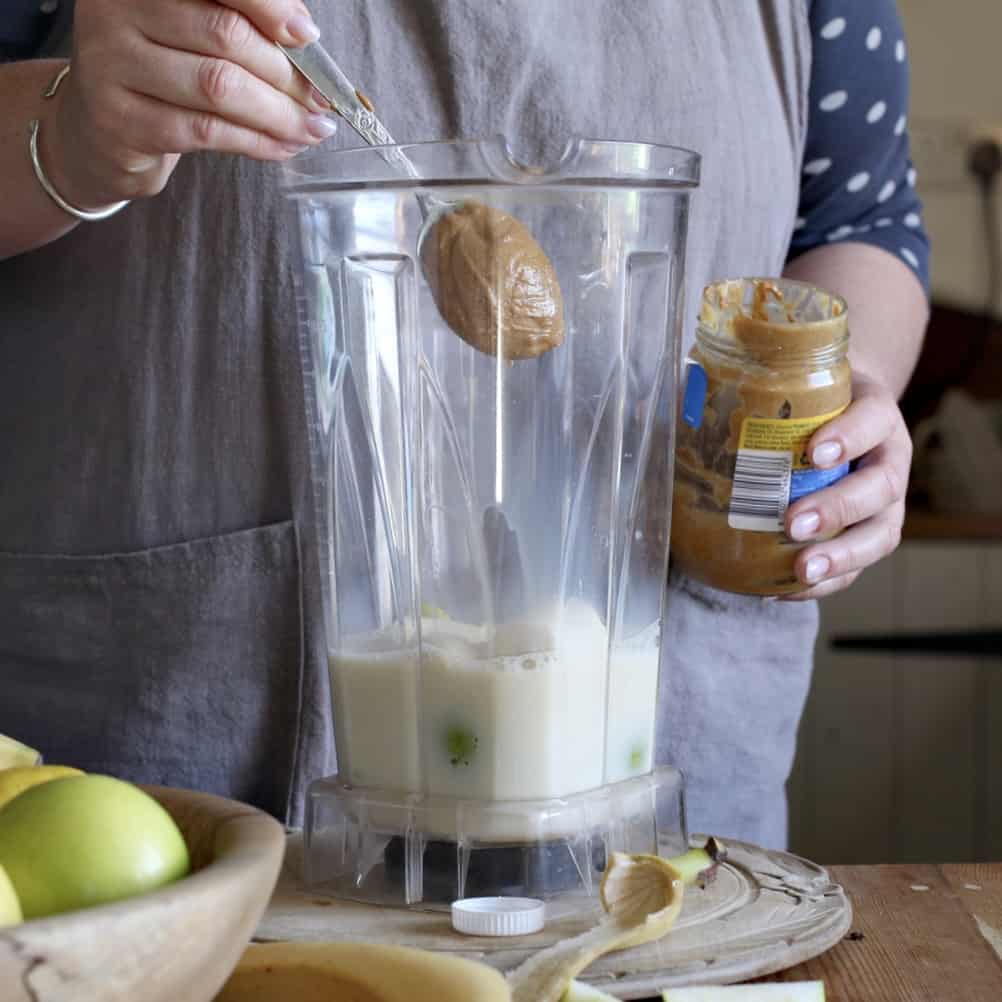 Another option, would be to add some oil (liquid coconut or MCT oil spring to mind), some avocado, or maybe swap some of the milk out for a can of coconut milk.
As well as making you feel fuller for longer, any of those options will make your smoothie taste extra creamy too!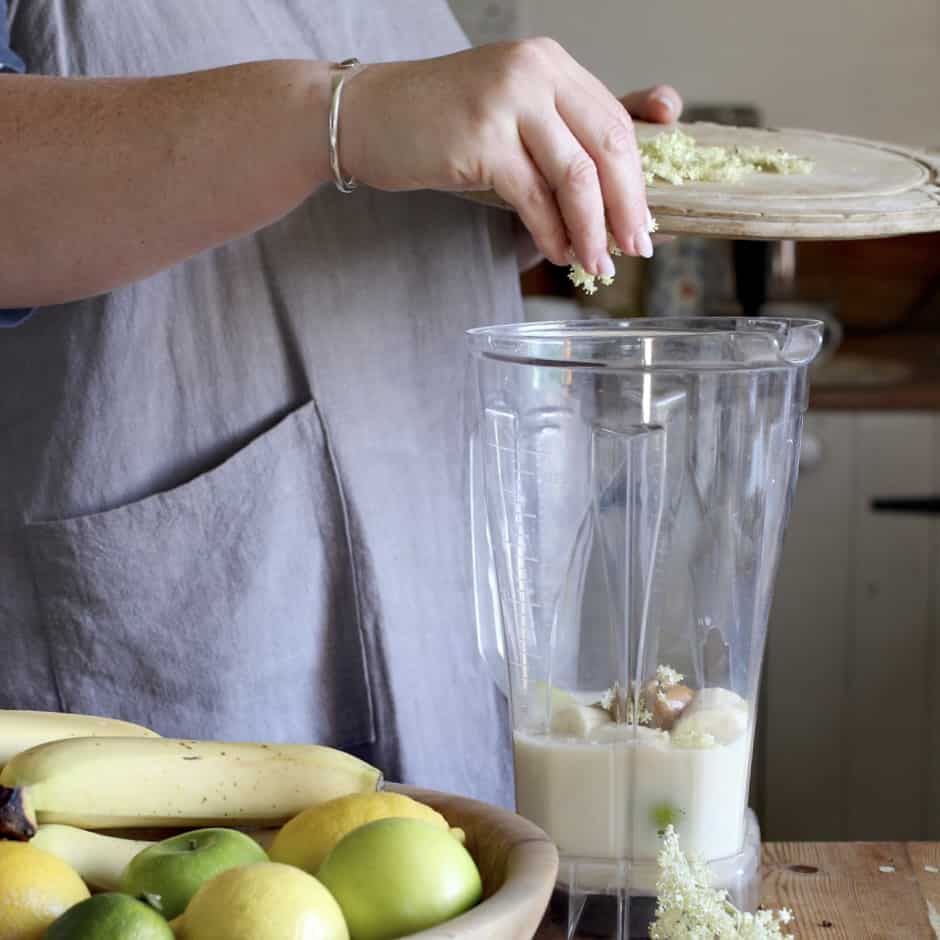 4/ add the elderflowers
Using the advice above, add in the tiny little flowers that you've removed from the stems.
I also like to add a little pinch of salt to my smoothie, which will help make the flavours pop.
Doesn't it all look beautiful!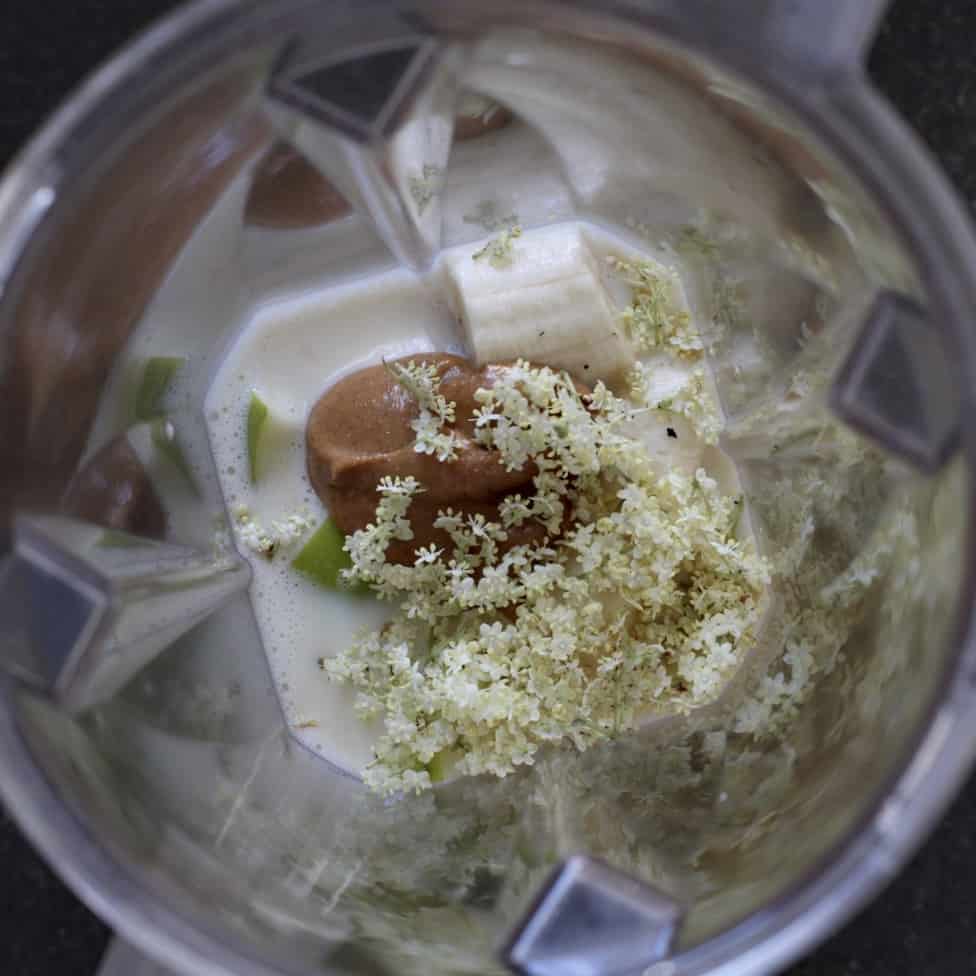 5/ blend your green apple and elderflower smoothie
Blitz all of the ingredients in a blender.
Give it a couple of minutes at full speed, and you'll end up with a thick, creamy smoothie with all the scent and flavour of a warm summers day.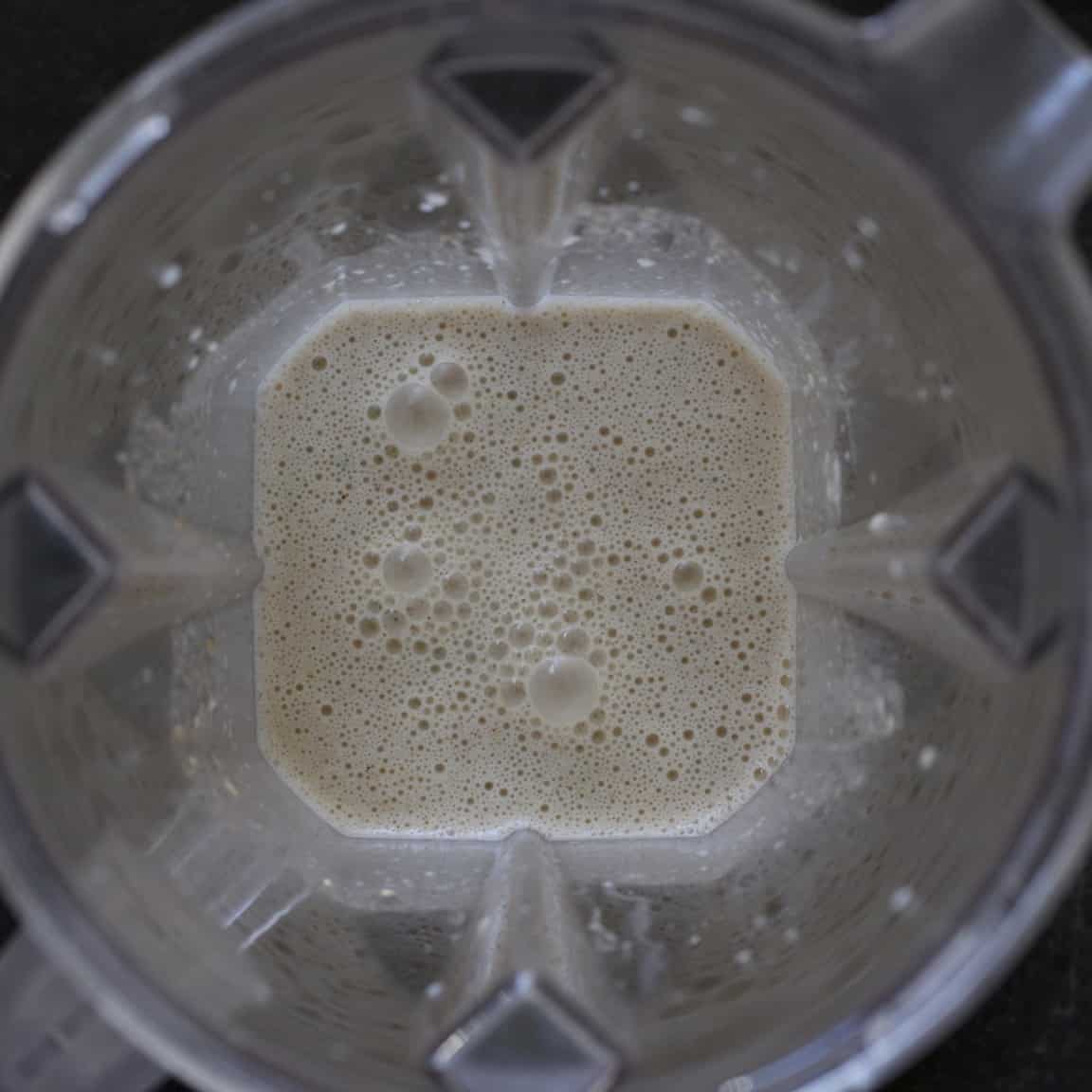 6/ pour and enjoy!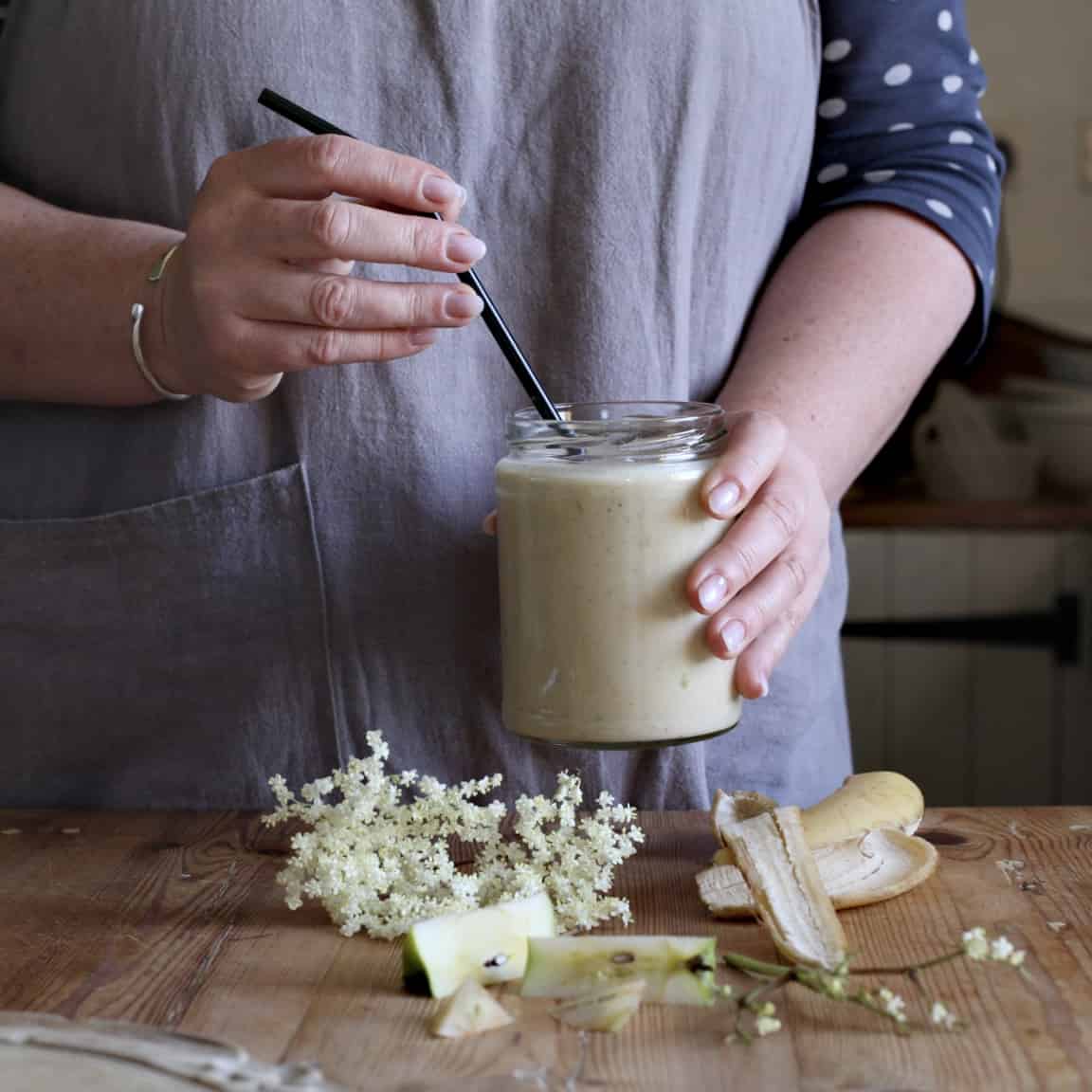 I do hope you love this recipe as much as we do!
As always, if you give it go please feel free to tag me in any pics you share online. You can find me pretty much everywhere as @hedgecomber. I try to share all the pics I see :)
Janie x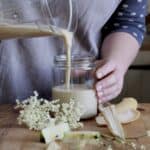 Green Apple and Elderflower Smoothie
Course:
Breakfast, Drinks
Keyword:
green apple smoothie
Ingredients
1

green apple

1

banana

1

elderflower head

350

mls

oat milk

1

tbsp

peanut butter

1

pinch

salt
Instructions
Pick the elderflower heads. 1-2 per serving is about right.

Snip off the tiny flowers as shown in the article above. Place in the blender jug.

Wash the apple and remove any stickers. Chop into chunks and add to the blender.

I recommend you don't peel your apple as the skin is full of fibre. However if you don't like any texture to your smoothie you may wish to peel it first.

Add the chopped banana, milk, nut butter and salt.

Blend for two or three minutes, or until it's creamy and smooth.

Pour into a large glass and enjoy!
Nutrition Facts
Green Apple and Elderflower Smoothie
Amount Per Serving
Calories 485
Calories from Fat 117
% Daily Value*
Fat 13g20%
Sodium 278mg12%
Potassium 882mg25%
Carbohydrates 91g30%
Protein 11g22%
Vitamin A 902IU18%
Vitamin C 19mg23%
Calcium 535mg54%
Iron 3mg17%
* Percent Daily Values are based on a 2000 calorie diet.