This Apple and Elderflower Smoothie offers an early summer twist on a refreshing and healthy classic. Get out foraging and make the most of this delightful flower whilst you still can!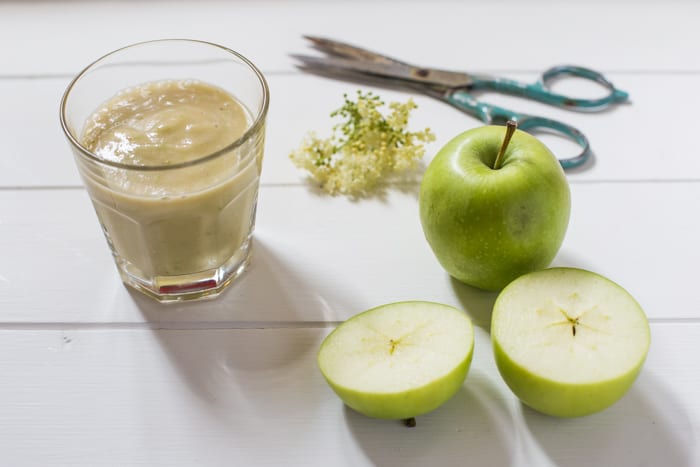 The sun is shining here in Cornwall, however briefly, so to celebrate I grabbed my basket and headed out to my favourite elder tree to pick a handful of blooms.
I didn't fancy baking a cake this time, craving something light and refreshing instead. One glance at the fruit bowl and I settled on a smoothie pairing the flowers with crisp green apples and bananas to give it a yummy creamy base.
Foraging Elderflowers
Sweetly scented elderflowers are best picked on a dry, warm and windless day. Not always possible in our climate I admit, but if you pass a tree heavy with blooms surrounded by the perfect weather conditions it's always worth picking what you can use. As the unpicked heads of little white flowers mature over the summer months into elderberries, only ever pick what you can use in the same day. Even if you or your neighbours don't put those elderberries to good use, the wild birds certainly will.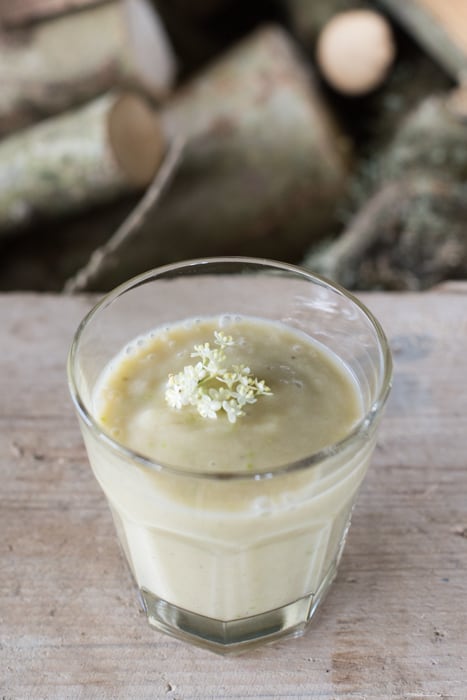 Gently shake and nudge any bugs and wildlife out from between the tiny little flowers. Next remove the flowers from the stems. This is fiddly work but it's worth noting that whilst the flowers and the berries of the elder tree are edible, the leaves and stems are poisonous*. Different sources give different information on the levels of toxicity and how dangerous it is so as always I would advise erring on the side of caution and avoiding it.
Apple and Elderflower Smoothie
Blitz all of the ingredients for your apple and elderflower smoothie in a blender (I used my trusty high powered Thermocook. You'll end up with a thick, creamy smoothie with all the scent and flavour of a warm summers day. Just delicious!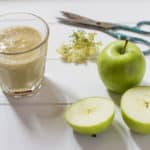 Apple and Elderflower Smoothie
Keyword:
smoothie recipes
Ingredients
1

green apple

1

banana

ripe

1

elderflower head

Cold water or your favourite milk
Instructions
Chop up the apple and banana and add to your high power blender or smoothie maker. Pick the tiny elder blossoms off the stem and add them to the blender too.

Blend for a few moments until thick but smooth, then add enough cold water or milk to make the smoothie the consistency you like. Give a final whizz before pouring into glasses or a bowl.
Nutrition Facts
Apple and Elderflower Smoothie
Amount Per Serving
Calories 199
% Daily Value*
Fat 0g0%
Cholesterol 0mg0%
Sodium 3mg0%
Potassium 617mg18%
Carbohydrates 52g17%
Protein 1g2%
Vitamin A 175IU4%
Vitamin C 18.6mg23%
Calcium 11mg1%
Iron 0.5mg3%
* Percent Daily Values are based on a 2000 calorie diet.
*  Source: Sambucus Nigra If you're at all interested in foraging I recommend you bookmark the Plants for a Future website which holds a massive database of edible and medicinal plants that we refer to often in identifying and learning about the wild plants all around us.
This post contains affiliate links to the Thermocook. If you use this link and buy your own machine it won't cost you a penny more, but helps support the work that I do here. So thank you :)
Janie x