Mum's annual fundraiser was last weekend. She managed to raise over £750 for St Luke's Hospice which takes her well over £7000 of her £10,000 target she wants to raise for the hospice where Dad spent his final weeks.
By the way, if you're new here & would like to find out more about my inspirational Mum, check out her 70th Birthday Adventure.
CRAZY, FABULOUS WOMAN!!!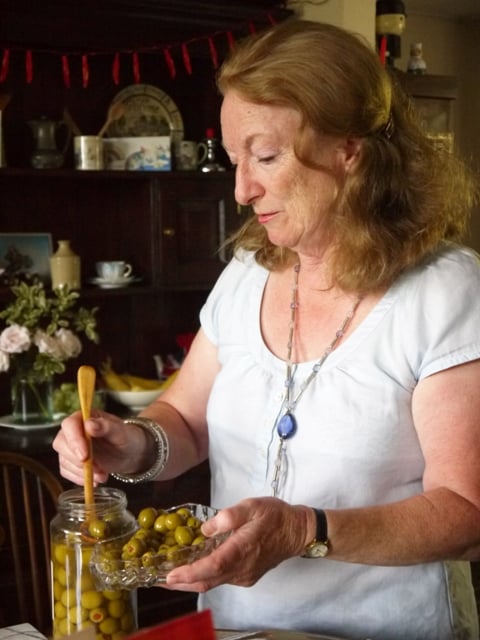 This year I did most of the cake baking so she could concentrate on the house & garden, and I LOVED it! These are my top tips…
1/ Get organised.
A few days before, print out each recipe on a single sheet of paper, breaking up the text with extra paragraphs if necessary to make it a doddle to see what step you're up to at a glance. Make one shopping list from all these print outs and get the shopping a few days before. You can always plan a mini shopping run on baking day for things like fresh berries & milk if needed.
I slid each recipe into a poly pocket & sellotaped them to the kitchen wall as I was baking which kept me on track.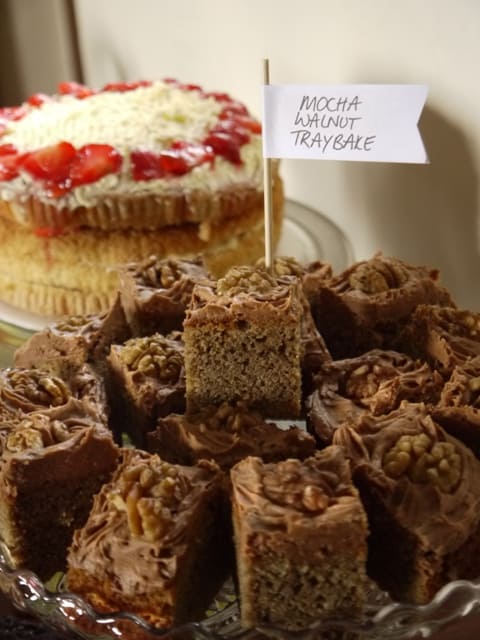 2/ Use recipes that you've made before.
Having one or maybe two new ones may not be a problem, but if you've got 15 different bakes to do and they are all new to you, you're going to have to really concentrate the entire time.
All of the recipes I used were my own and I'd made them several times before.
In fact some of them I knew so well I didn't even need to follow the recipe. It makes for a much more relaxed day.
3/ Ask for help.
Get friends to bring a dish or two if you can't manage it all yourself.
One of Mum's friends, Sue, is the best baker I know, She kindly brought along savoury pies, a fruit cake and a stunning strawberry gateau.
And one of our neighbours own a Thai restaurant and kindly offered to set up a little Thai street food stall in the garden cooking delicious pork satays, chicken wings and veggie skewers!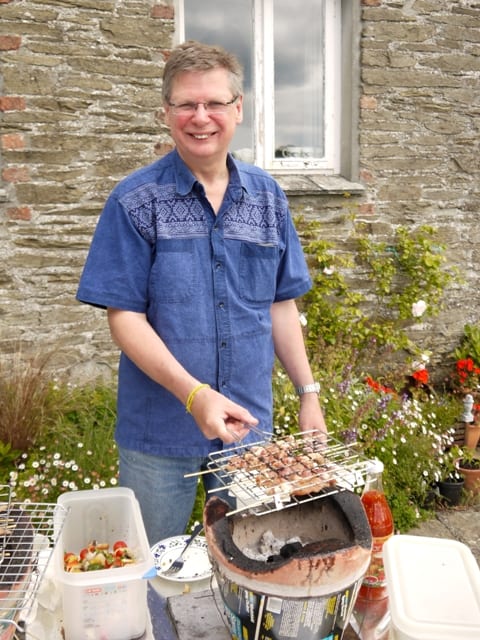 4/ Clear the diary.
Plan nothing else for the day before the event so you can prep, bake, decorate and (the worse bit) clean up.
This is the perfect excuse to order a take away as you'll be sick of the sight of your kitchen by tea time!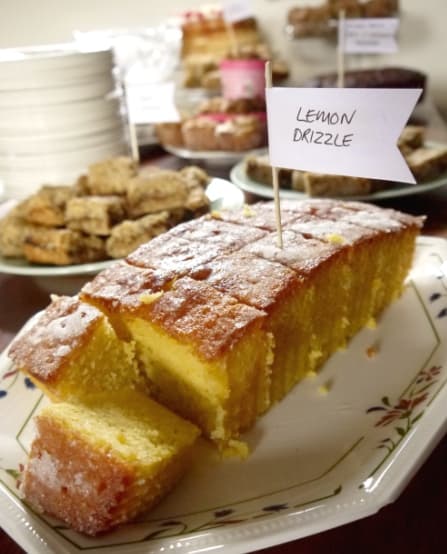 5/ Beg, steal or borrow the equipment necessary to make the day easier (OK, don't really steal, as that would undo all your good baking karma).
Make sure you have all the baking trays, cooling racks and baking paper you need. Lining trays with baking paper will help your flapjacks and sponges come out perfectly.
Work out how you'll present each bake beforehand & make sure you have enough large plates, cakes stand or cling film if you'll be selling the cakes whole.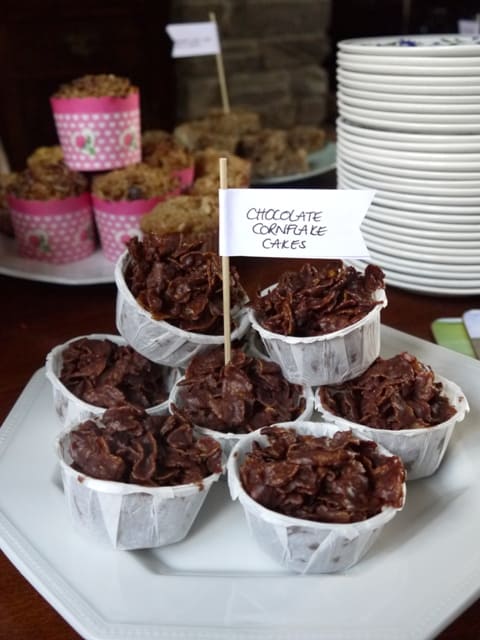 6/ Cater for everyone.
Aim for at least one sugar-free bake for any diabetics (such as this Healthy Flapjack Recipe) and one Gluten & Dairy free option too (these Chocolate Cornflake Cakes and these Flapjacks can both be made dairy & gluten free.
Please make sure you read the small print on all ingredients used, and keep these bakes & all equipment used for them isolated from the others – even one stray breadcrumb can cause real problems for people with celiac diesease. The little flags I made were useful as I listed all the ingredients on the back of each flag.
If you're offering savoury foods, a vegetarian/vegan choice would be thoughtful too.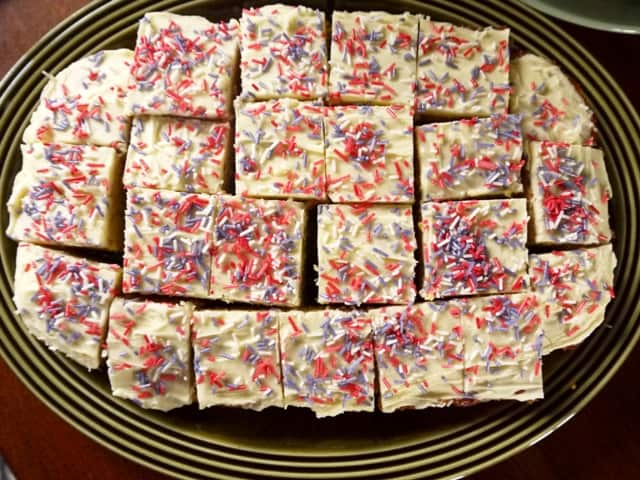 7/ If something goes wrong, don't stress!
This pretty vanilla sponge was supposed to be the Mocha & Walnut Traybake, but it wasn't until I'd got it out of the oven to cool I realised I'd forgotten to put the coffee in!
Rather than fret, I made up another batch with coffee & topped this one with a plain buttercream and sprinkles. It was lush!
And on that note, it's always worth buying more butter, sugar, eggs & flour than you think you'll need. Just in case!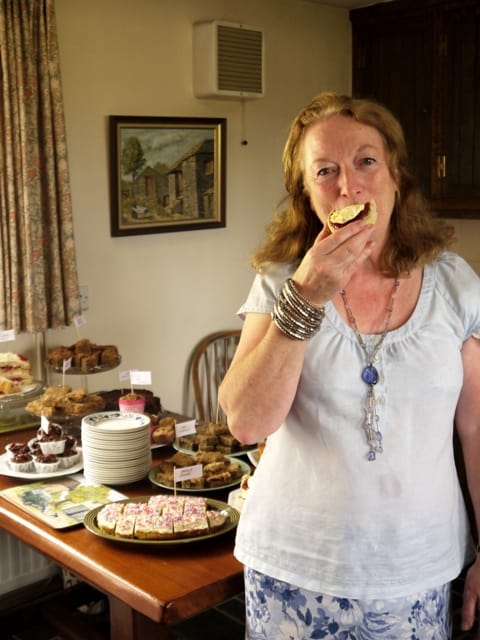 8/ And most importantly, enjoy yourself!
Once people start arriving, get their help with making the teas & coffees, and rope someone else in to sell the raffle tickets.
People love to help out and after all your graft getting everything ready, you deserve to mingle and stuff your face with scones. Eh Mum? :)