I'm bringing you these 5 Top Tips to Perfect Camping Coffee because being off-grid doesn't mean you should miss out on well prepared, great tasting coffee!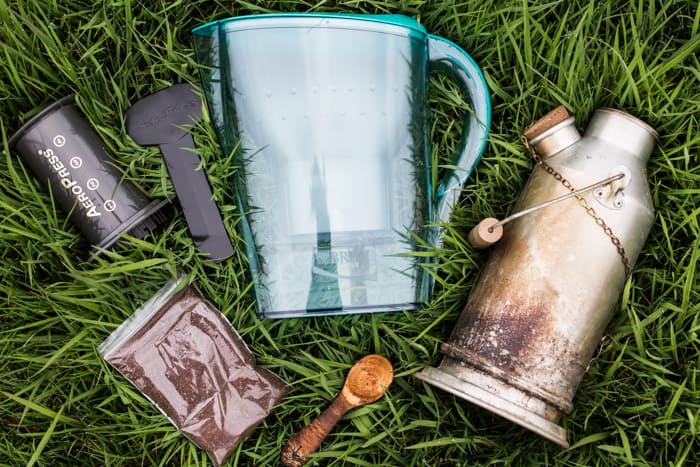 I am kinda new to the coffee scene, at least this time around.
Way back in the 90's when I was backpacking round New Zealand I had become a little addicted to coffee. To the point of getting extremely cranky if my caffeine levels got low.
One day, my good friend Phil & I had hitch-hiked to a new town. And to get to the friends house we were staying at, we had to climb a big old hill, fully laden up with our worldly possessions.
I was tired, decaffeinated and at the bottom of the hill was coffee shop with an ethereal, mirage like shimmer to it.
I'm ashamed to say that I had the BIGGEST toddler-worthy tantrum when it became apparent that we didn't have time to stop and grab a takeaway.
Phil, please forgive me for being such a brat.
Not long after that I gave up coffee for about 20 years. Happily I recently rekindled my love of the bean, albeit in a little more moderation. And I do tend to stick to decaff at home just to keep those addictive brain gremlins at bay.
How to Make Perfect Coffee When Camping
1/ milk or no milk?
Whilst I love a soya latte as much as the next lactose intolerant girl, it's not always possible to whip up a frothy little number when camping deep in the woods.
You have less elements to control when you omit the milk or creamer. So my first advice is learn to love the bean in all its naked glory.
Keeping it simple makes for a far happier camper.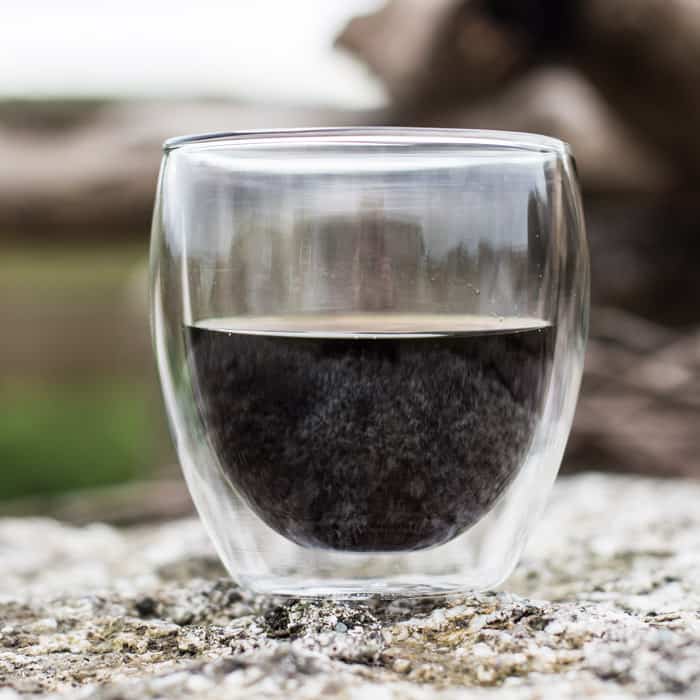 2/ what's the best way to brew coffee in the woods?
Over the winter I invested in an Aerobie AeroPress Coffee Maker
which is superb bit of gadgetry for coffee lovers that like to be off grid.
Ground beans in. Hot water in. And 30 seconds later you have the perfect cup of coffee.
Clean up is easy, and it's light enough to carry with you hiking.
It's also one of the cheapest brewing systems around.
And now it's the only way I choose to brew coffee, at home or away.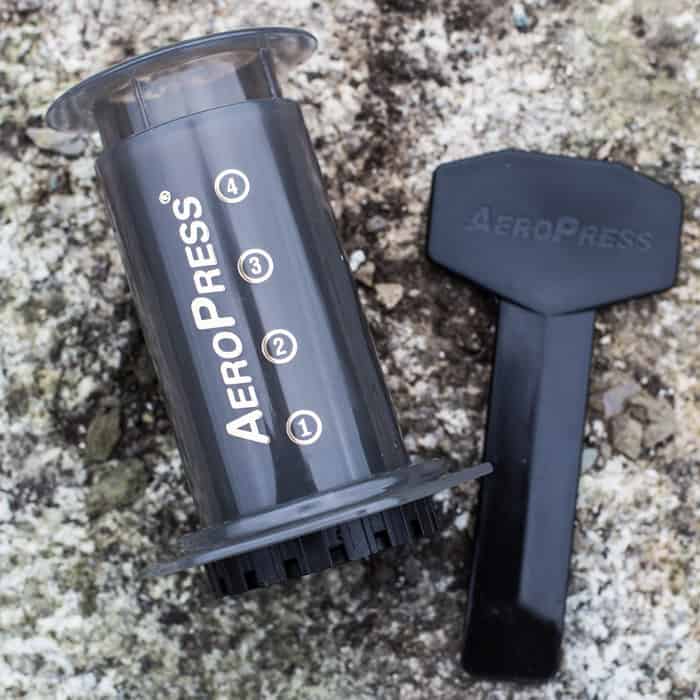 3/ what about the water?
Bearing in mind that coffee is 98% water, this is another important element to take into consideration.
Here on the farm we're lucky enough to have a borehole which means our water comes from deep underground and is clean, clear and completely chemical free.
However, I have stayed on enough campsites to know what funky tasting tap water tastes likes.
Not good. Even when boiled.
For those that are car camping or travel with a campervan, a Brita water filter doesn't take up much room and is just the job for removing that bleachy taste of chlorine from your morning brew.
The filter also prevents the build up of limescale in your kettle, removes heavy metals and other impurities and is perfect for filling up your water bottles which prevents you buying & throwing away countless plastic bottles.
And Brita seems to love coffee as much as we do, as they just sponsored UK Coffee Week :)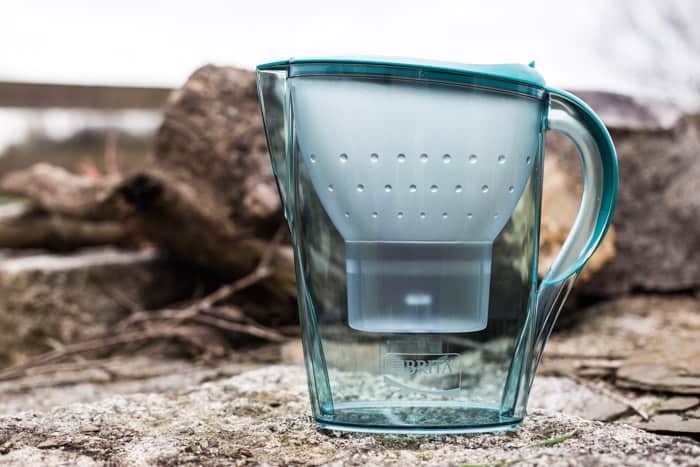 If the water on your campsite is really bad, and the Brita can't remove all the nasty flavour, I have another idea for you. The exotic flavour and scent of tiny little cardamom seeds should be enough to mask any nasty taste, and they complement a strong black coffee perfectly. Check out the recipe here: Cardamom Coffee.
4/ get your water boiling
We use a Kelly Kettle® for boiling water quickly when we don't have the time or inclination to light an entire fire.
So long as you have some dry tinder (leaves, twigs, grasses, paper, cardboard etc) to hand, it heats the water really quickly. It's also easy to pop in your backpack for taking with you on hikes, and leaves the water with a lovely lightly smoky taste.
Gas fires with camping kettles are just as quick and don't taint the water with smokiness, but aren't half as much fun!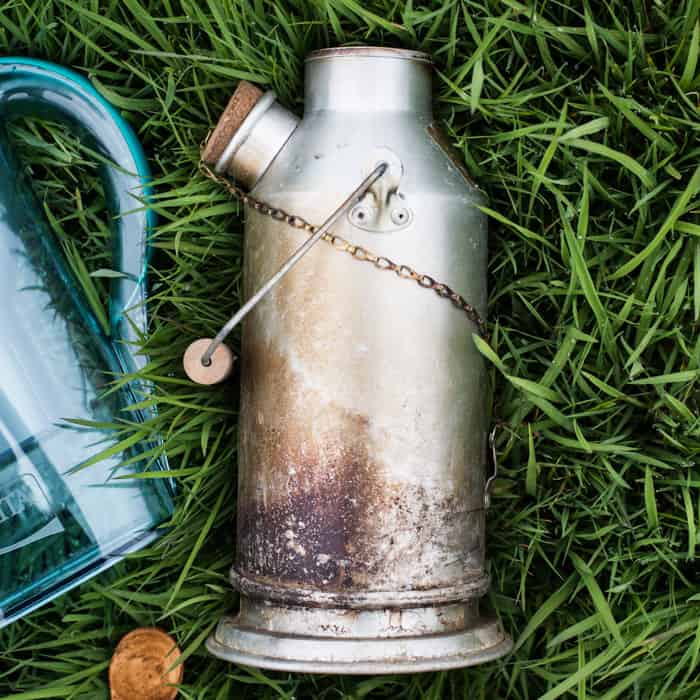 5/ it's all about the beans, baby!
Next up is the coffee itself. I have researched this topic a lot and there is a lot of conflicting advice out there.
Overall, the majority of artisan coffee roasters (who I'm guessing are pretty wised up on the subject) would prefer us to keep our beans in a cool, dark place rather than the fridge or the freezer. And then to grind them in small batches as they are needed.
So just before your trip, grind up your beans, decant into a small ziploc bag or similar. Squeeze out all the air and seal.
Oh, and and when you're settled and cosy around your fire. Why not try your hand at whittling yourself a bespoke coffee scoop like this one Jonny made me. I keep telling him he should open a little online shop, what do you think?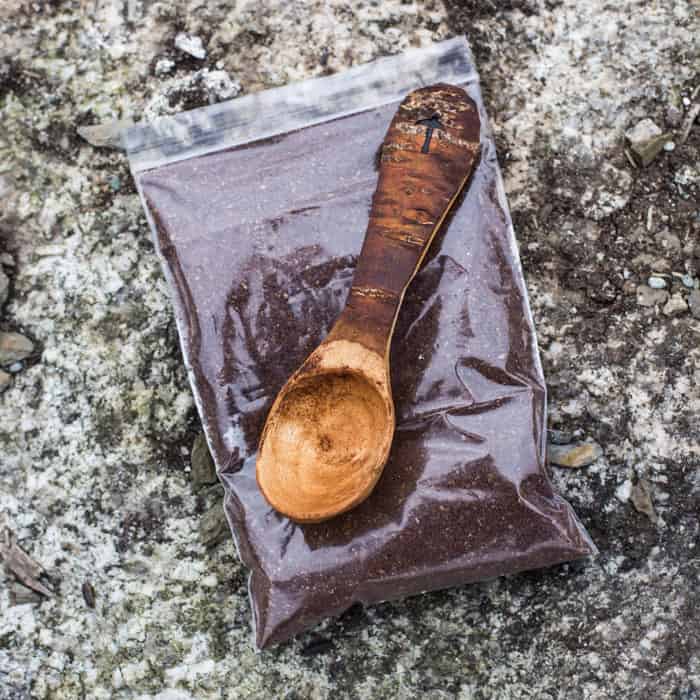 BONUS TOP TIP!!!
6/ hunt out local coffee roasters!
A final thought; as small artisan roasters are popping up all all around the country, why not investigate these as part of your camping adventure?
If you find one with a shop or a cafe attached (not all of them are open to visits from members of the public) the beans you can buy will be fresher than anything you find on a supermarket shelf as they tend to roast small batches once or twice a week.
You'll also find the brewing & storing advice will flow freely. And the passion that they dedicate to the humble bean of the Coffea plant will be evident.
EXTRA BONUS COFFEE RECIPE!!!
As if I could let this opportunity pass to throw in a recipe for Cold Brew Camping Coffee! No hot water needed, just soak your grounds in cold water over night (12-16 hours), filter twice and indulge.
The following recipe makes a litre of very strong of coffee. Feel free to reduce the amount you make to suit your needs.
It can be diluted with milk or more filtered water, and you'll soon find your perfect ratio.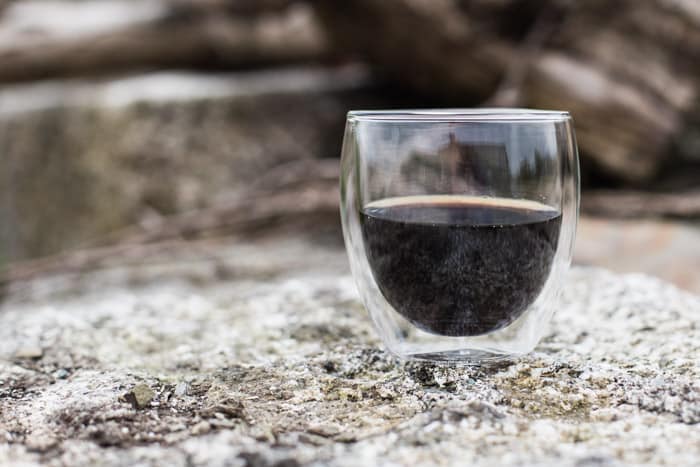 Happy caffeinating friends!
Janie x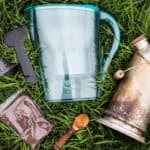 Cold Brew Camping Coffee
Ingredients
Use the ratio of 2:10 coffee to water ie:

200

g

freshly ground coffee

1

litre water
Instructions
Pop the filtered water and ground coffee into an air tight container.

Stir the mixture a few times and after 2 minutes all the coffee should be floating on the top, stir for another minute and then leave in the fridge, coolbox or somewhere cool for 12-16 hours.

Filter twice through the aeropress, cafetiere or other coffee filter.

Drink neat or if it's too strong for your taste dilute with more filtered water. Enjoy it black for a caffeine kick, with cold milk as a frappe, or even add a shot to your morning smoothie!
Please note that any Amazon links above are affiliate links which means I make a small commission on the sale without it costing you any more, thank you for supporting everything we do here at hedgecombers.com :)
Huge thanks to Brita for sponsoring this content and allowing me to continue to bring you tasty posts, for free! As always, all views (and leftovers) are my own!