This Wintry Summer Pudding celebrates the best of both seasons by pairing frozen summer berries with warming wintry spices. And it tastes just as good as it looks!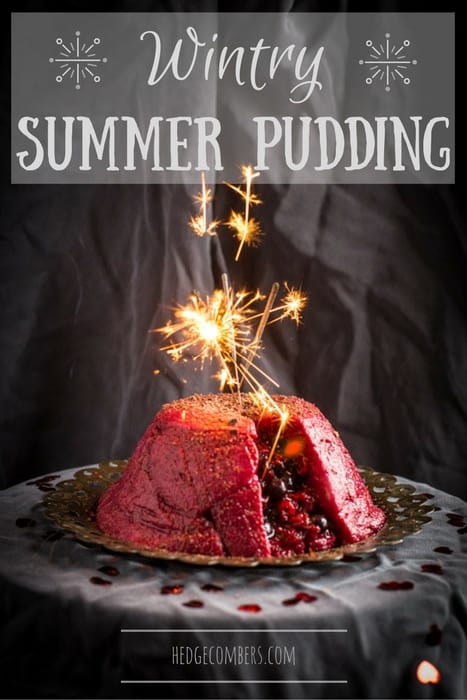 Before I share todays recipe with you, I wanted to let you know that this little food blog turns 9 today :)
In blog terms, that makes hedgecombers.com a granny. Or even a great granny! I never would have imagined the adventure writing that first post would eventually lead to, or that blogging would one day become my job!
Huge thanks to all my long term readers, I appreciate you more than you'll ever know :)

Wintry Summer Pudding
In other news we're getting all loved up here today!
Valentines Day is fast approaching and Iceland asked me to come up with a smooch-worthy dessert using their frozen fruit. Being that it's still the middle of winter I couldn't quite bring myself to make an ice cream or sorbet. I wanted to make something that was warming and comforting without being heavy or stodgy. You know, just in case you were whisked out dancing after dinner…
To highlight one of the many reasons I am shopping more & more at Iceland, I decided to create a recipe around a bag of Iceland's red fruit summer berries. In the bag you'll find a good mix of raspberries, blackberries, redcurrants and blackcurrants. The berries will have been picked and frozen at the height of the growing season. This means that not only will they be perfectly ripe, but also bursting full of flavour, vitamins and antioxidants. That's the #PowerOfFrozen at work right there.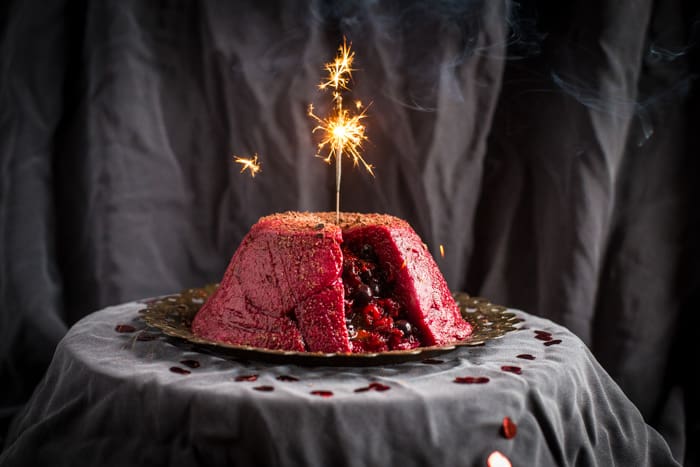 To delight in the fact that I can enjoy summer berries in February, I decided to pair them with a warming blend of winter spices. Think cinnamon, nutmeg and ginger. Think yum.
Wintry Summer Pudding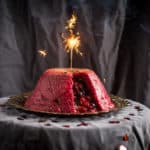 Wintry Summer Pudding
Keyword:
Wintry Summer Pudding
Ingredients
A pudding basin or smallish bowl

my pudding basin measured 5.5 inches across the top and was 4 inches high

3-5

slices

of medium cut white bread

500

g

bag of frozen mixed red fruit or summer berry mix

80

g

sugar

1/2

teaspoon

cinnamon

1/2

teaspoon

ginger

Generous scraping of nutmeg

25

ml

creme de cassis or cherry brandy

optional

Grating of dark chocolate to serve
Instructions
Line the pudding basin with cling film.

Cut the crusts off the bread and fully line the bowl with bread. Start with a disc at the bottom then build up the sides. Small overlaps are good, gaps are bad ;)

In a small pan gently heat the fruit to defrost and let some of the juices flow. You don't want to boil it or turn it to a puree. Aim for the majority of the fruit to still be plump and plenty of juice in the bottom of the pan. If some berries are still a little frozen don't worry, they'll defrost fully in the fridge.

Mix through the spices and alcohol if using.

Pour the spiced fruit through a sieve, catching the juices in a bowl blow.

Dismantle your slices of bread and carefully soak each one in the fruit juices. Rebuild the bowl with the juicy bread lining.

Tip in the fruit. Cover with another slice of bread, cutting it to fit. Pour any leftover juiced over the last slice.

Fold the cling film over the top of the pudding and pop in the fridge, preferably overnight.

To serve unpeel the cling film. Pop a small plate on top of the pudding basin and flip over.

Tug gently on the cling film to dislodge the pudding onto the plate.

Sprinkle with a little grated dark chocolate and top with a min firework if the feeling grabs you :)
Nutrition Facts
Wintry Summer Pudding
Amount Per Serving
Calories 213
% Daily Value*
Fat 0g0%
Cholesterol 0mg0%
Sodium 98mg4%
Potassium 132mg4%
Carbohydrates 47g16%
Protein 2g4%
Vitamin A 375IU8%
Vitamin C 2.7mg3%
Calcium 55mg6%
Iron 1.1mg6%
* Percent Daily Values are based on a 2000 calorie diet.
So there we have it, my romantic nod to a tastier Valentine's day! Huge thanks to Iceland for sponsoring this recipe and allowing me to continue to bring you tasty recipes, for free. As always all thoughts, and leftovers, are my own! (Although I guess I should probably share my leftover with Jonny just this once…)
Big love friends, and I hope you have a wonderful Valentine's day, whoever you choose to share it with <3
Jane x